CHARLOTTESVILLE, Va. – Virginia basketball fans have helped to create one of the best home court advantages in all of college basketball at John Paul Jones Arena.
Virginia Men's and Women's Basketball supporters now have the opportunity to purchase "Hoos in the Crowd" fan cutouts to be put on display this season for home games.
Fan cutouts are on sale for $75 each through FanCutouts.com. Virginia men's and women's basketball season ticket holders as well as current UVA students received an email on Nov. 20 with a promo code to apply at checkout for a discounted price.
Click Here to Create your Hoos in the Crowd Cutout Today!
FOR ALL VIRGINIA CUTOUTS
For All Virginia cutouts honor University of Virginia staff who have made tremendous contributions to help our community during the COVID-19 pandemic. These individuals care deeply about serving our community and the love cheering for the Cavaliers! For All Virginia cutouts are $40 each. A list of  UVA Health and UVA Operations staff members who are recognized is below. Click here to purchase a For All Virginia fan cutout.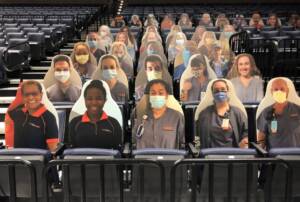 UVA HEALTH FOR ALL VIRGINIA CUTOUTS
The Acute Care Special Pathogens Unit has, in team terms, been in a building season. This unit was enhanced specifically to meet new patient needs in the face of a pandemic. All of our team members are stars on the frontlines facing COVID-19, but this is an opportunity to give an extra cheer to one of the teams providing expert care to those fighting this virus. Team members: Crystal Anderson, RN, WenLing Massey, PCT, Alex Kadl, MD, Matt Burns, RN, Dorrie MacGregor, RN, Winnie McKenzie, RN, Mary Wakeman, RN, Ashlee Bishop, RN, Stephen Shiflet, CAN, Lillian Novak, RN, Lindsey Clair, RN, Jerold Gutierrez, HUC, Ameina Brown, CAN, Kevin Weyrick, RN, Scott Darrah, CNS
The labs at UVA Health have always been busy, but since the pandemic began it's been a full-court press. Adding tests, increasing the numbers received and turn-around times have been key to providing top-tier support to our patients and other team members. Core Labs team members: Stacie Edmonds, Susan Andersen, Jordan Dudley, Kara Bass, Heather Merson, Brenda Lawson, Becky Kneller, Patricia Detroia
UVA Health front door teams may have made the biggest pivot in job responsibilities in the face of a pandemic. Always committed to an ideal patient experience, these folks have gone from helping patients safely navigate to their appointments to manning mini clinics, taking temperatures, monitoring symptoms and being the first line of defense for UVA Health facilities. Front door staff members recognized are: Melinda Kalenga and Laura Pryor.
UVA OPERATIONS FOR ALL VIRGINIA CUTOUTS
As the pandemic affected the financial circumstances of students and their families, staff in Student Financial Services (SFS) have helped them obtain essential financial support. Lloyd Dollins and Amy Nolasco from SFS helped to create and implement processes to get aid to students quickly and efficiently.
Across the University, many staff members took on responsibilities outside their usual job descriptions throughout 2020, stepping in wherever help was needed. Treasury Associate Naomi Ward quickly volunteered to provide administrative support at a satellite COVID testing clinic on Grounds.
The Facilities Management team includes specialists and utility players who have made a tremendous difference in managing UVA's response to the COVID-19 pandemic. In spring 2020, they developed and implemented enhanced cleaning protocols based on evolving guidance from the CDC and industry, training custodial staff on best practices that remain in place. Throughout the summer, they designed, fabricated, and installed signs and barriers and rearranged furniture and fixtures to promote physical distancing across Grounds. They devised a plan to recycle window coverings from the renovation of Alderman Library when plexiglass for barriers became hard to find. FM staff also installed thousands of hand sanitizer dispensers in hundreds of buildings in preparation for the return of students, along with more faculty and staff as the fall semester began. They studied airflow and HVAC systems and monitored evolving public health guidance to determine if changes should be made to reduce transmission of the virus indoors. They partnered with physicians on UVA's residence hall wastewater screening program and helped set up COVID testing sites and a UVA Health lab on Grounds. They coordinated the installation of tents across Grounds to provide students places to gather safely in small groups outdoors and spend time between classes. And during a time of great uncertainty, they kept our physical plant running smoothly when many colleagues were working remotely.
Facilities Management would like to recognize the following staff members for their extraordinary contributions: Stacy Barringer, Marip Bernard, Robert Bishop, Kelly Branch, Vibha Buckingham, Todd Campbell, Sona Chitadze, Jamyang Choedon, Svetlana Cupovic, Teresa Dillard, Moise Djunga, Nina Fortune, Brandon Garland, Katie Goodrich, Ryan Gumlock, Norman Hughes, Sheila Jones, Jamie Joyner, Doug Livingston, Abir Magar , Mike Merriam, Ken Moyers, Vincent Muscarella, Allen Peters, Corey Poole, Barbara Price, Stephanie Strother, Shawn Ragland, Cameron Ratliff, Ethan Rodriguez, Lydia Santangelo, Roi Seng, Warren "Hubba" Wood and Roland Zumbrunn.
FAN CUTOUT LOCATION AND SHIPPING / PICK-UP INFORMATION
Jan. 11 Update: Lower level cutouts are sold out. Fan cutouts will now be placed in available upper level seat locations.
Fans who purchase cutouts will have the opportunity to pick them up at the conclusion of the season. Fans may also choose to have the cutout shipped to them at the end of the season by selecting the cutout shipping option. In addition, 10 cutouts will be randomly selected to be autographed by head coaches Tony Bennett and Tina Thompson.
All proceeds from Hoos in the Crowd fan cutouts will go directly to Virginia Athletics to provide funding for student-athlete support services including in the areas of academic support, strength and conditioning, sports medicine and sports nutrition.
Click here for Hoos in the Crowd Fan Cutouts FAQ's