By Jeff White (jwhite@virginia.edu)
VirginiaSports.com
With 4:19 left, junior forward Trey Murphy III hit a 3-pointer to give the University of Virginia men's basketball team a six-point lead in its ACC opener.
As they had all night at Purcell Pavilion, the Notre Dame Fighting Irish battled back and closed the gap on 23rd-ranked UVA. So then it was junior point guard Kihei Clark's turn.
Posting up against 6-5 Cormac Ryan, the 5-9 Clark scored with his off hand and drew a foul. His free throw made it 60-53 with 2:50 to play, but Notre Dame answered again, the last two of 6-10 junior Nate Laszewski's career-high 28 points cutting the Cavaliers' lead to five.
Finally, fifth-year senior Sam Hauser took center stage for Virginia. The 6-8 forward buried a trey to make it an eight-point game with 1:38 remaining, and this time the Irish had no response.
For Virginia, the result was a 66-57 victory in Notre Dame, Ind. The Wahoos (5-2, 1-0) were far from perfect, but coming off a humbling loss to top-ranked Gonzaga, they showed clear improvement, especially on the defensive end.
"We were better effort-wise, we were sounder with the ball, and we'll take it and improve a little at a time," head coach Tony Bennett said.
For the Irish (3-5, 0-2), their struggles against UVA continue. The victory was the Cavaliers' fifth straight in a series they lead 15-2.
Notre Dame came in with five players averaging at least 10.3 points per game apiece, led by guard Prentiss Hubb (16.4). The Hoos, led by Clark, held Hubb to four points on 1-for-8 shooting. The Irish's second-leading scorer this season, 6-6 senior Dane Goodwin, finished with five points.
UVA's defense wasn't nearly as good against Laszewski or Juwan Durham, a 6-11 reserve. Durham finished with 19 points, nearly 13 more than his average, on 7-for-11 shooting.
"Durham and Laszewski hurt us," Bennett said. "We've got to kind of shore up guarding some of these [big men] and do the job."
At the other end of the court, UVA shot 46.6 percent from the floor and turned the ball over only five times, a season low. Clark, who had six turnovers in Virginia's 98-75 loss to Gonzaga, had none against Notre Dame. He finished with 19 points and five assists—both team highs—and grabbed three rebounds.
"Being a point guard, you got to take care of the ball, so I'm just trying to be conscious and just be more sound, as Coach Bennett calls it," Clark said. "I was just trying to pick my spots in the offense."
Foul trouble limited Jay Huff to 24 minutes, but the 7-1 fifth-year senior still contributed 15 points (on 7-for-9 shooting) and five rebounds. Hauser also delivered for the Cavaliers. He made only 5 of 13 shots from the floor, but three of those field goals were 3-pointers.
A transfer from Marquette, Hauser finished with 13 points and 10 rebounds, his first double-double as a Cavalier, and also had four assists. For the season, he's shooting 48.6 percent from the floor. That's not up to Hauser's usual standard, but his final trey Wednesday night effectively sealed the win for Virginia.
"It went down and it came at a crucial point in the game," Hauser said. "I'm going to stay with it. I know they're going to fall. Every shot felt good tonight."
To be missing shots he usually makes is frustrating, Hauser acknowledged, "but you just gotta stick with it. You shoot like the next one's going to go down, and it's just kind of what my mentality was."
Bennett's message to Hauser?
"Let me tell you when you need to turn it down. You don't have to figure stuff out. Use your mind, use your feel, be aggressive, be assertive," Bennett said.
Virginia took the lead for good on a left-handed jump hook by the right-handed Huff less than a minute into the game. The Cavaliers led by nine late in the first half and by 11 early in the second half. Still, Notre Dame never conceded.
"It was hard at times," Bennett said.
When the Cavaliers needed a play, though, somebody always seemed to deliver, whether it was Clark or Hauser or Huff or Murphy or sophomore Justin McKoy, a 6-8 forward who had six points and six rebounds in 10 minutes off the bench.
'It was kind of everyone chipping in," Bennett said, "and that's how it'll have to be with this team. We gotta chip in and help each other defensively and offensively."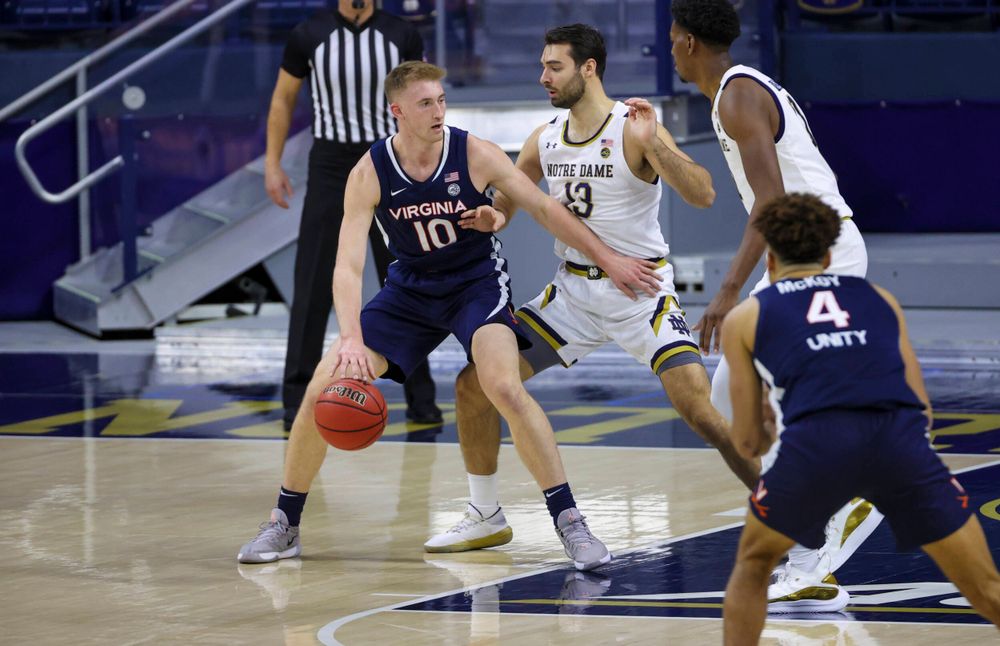 WORK IN PROGRESS: In Fort Worth, Texas, Gonzaga shot 60.3 percent from the floor against UVA. They're the only opponent to shoot better than 59 percent against the Hoos during Bennett's 12 seasons as head coach. The Zags' 98 points were the second-most Virginia has allowed under Bennett.
The Irish shot 40 percent from the floor Wednesday night and didn't come close to matching their scoring average of 74.4 points.
"I thought we kept the ball in front better," Bennett said. "Still gave up some of the stuff at the rim and had some gaping breakdowns or holes in our defense. But it was up a notch effort-wise and helping each other."
Hauser said: "We definitely made a step in that right direction. Gonzaga really exposed us at that end of the floor. That didn't leave a good taste in our mouths, so we took that personally, and it showed tonight. We played pretty well on the defensive side. Obviously, there are still some things to clean up, but we definitely improved for sure."
Clark agreed.
"I think we did a better job of anticipating when [to be] getting to the ball and getting to shooters," he said. "I think we could still improve. There were times where we did make a couple mistakes, but that's going to happen. I think defensively we did take a step in the right direction tonight."
Bennett wants to see more progress defensively from Huff and Hauser, two of the Cavaliers' most gifted offensive players.
"They've got to shore up our defense better and be more alert," Bennett said. "They did some wonderful things offensively … But I think it comes down to just having an awareness and alertness, because it's happened repeatedly, so that's got to change. I want Sam and [Huff] to take a step defensively, and they gotta keep working and it's gotta matter [to them]."
ENERGY BOOST: With the COVID-19 pandemic ongoing, the Cavaliers have been playing in nearly empty arenas, and that was the case again at Purcell Pavilion. On this night, though, the players on the UVA bench cranked up the volume, as Bennett had challenged them to.
"We practiced a couple cheers, all right, put it that way," Bennett said, laughing. "We went old school. I asked the guys, 'What are some of your best chants [from] when you were on AAU or high school?' "
Bennett singled out walk-ons Chase Coleman, Jayden Nixon and Austin Katstra for their vocal support Wednesday night.
"They just were great," Bennett said. "You could hear them, and the other guys were involved too."
When reviewing the film of UVA's loss to Gonzaga, Bennett paid close attention to how his players carried themselves with the outcome decided late in the game.
"I was watching on tape our bench, and I was watching our effort," Bennett said, "and that mattered to me a lot. And I thought guys on the floor battled hard, and I watched the guys off the court, and they battled hard [as well].
"As the saying goes and our pillar of unity says: Do you have players that you can lose with first before you win, and go through adversity? No matter what the score is, you have to muster it up. As you look around college basketball [this season], this is unlike anything in terms of atmosphere and what it's like. You have to try to get some of that."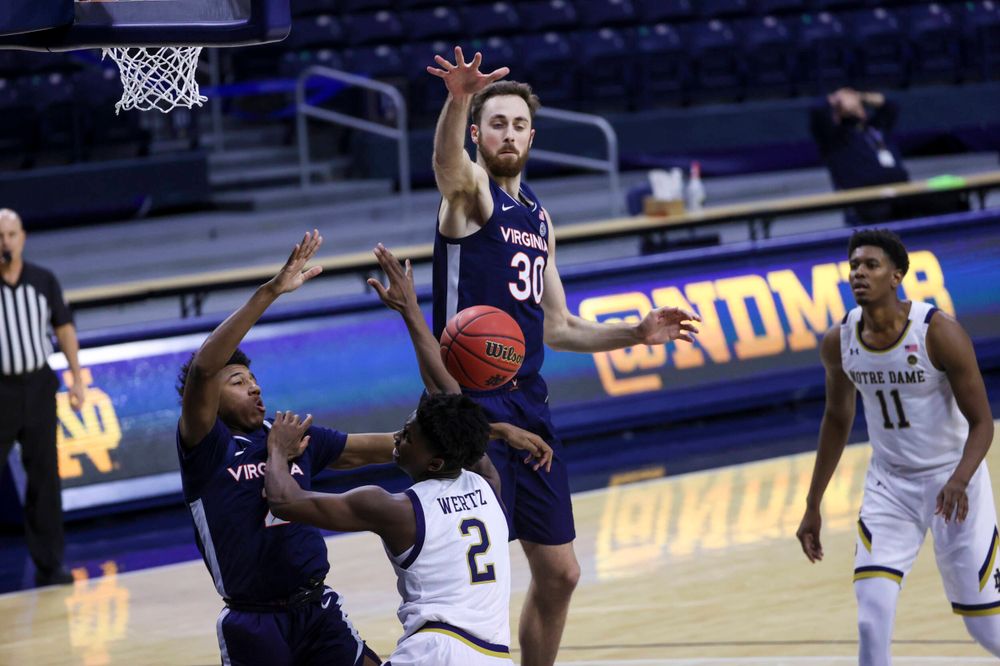 SOUND BITES: UVA improved to 12-0 in ACC openers under Bennett. Among the postgame comments Wednesday night:
* Bennett on Clark's performance: "Last year a lot was asked of him, and early it was a lot. I remember we put a lot on his plate, and he battled and struggled through some hard games, with some turnovers. I think that prepared him for more situations like this, and he showed up and he was tough … He was aggressive, and at times we threw it to him in the post and he can make some plays, whether it's for himself or create for others, so I like that."
* Clark on his low-post game: "When I get in the post, I just take my time and I'm just trying to work on it. We work on it a lot in practice. It's something that we worked on in the past, so we call it the playmaker spot. Just trying to pick my spots during the offense and just being aggressive and taking what the defense gives me."
* Clark on the chants during possessions when UVA needed a defensive stop: "That's something we've implemented to try to get us going without the crowd."
* Hauser on playing with so few fans in attendance: "You really gotta rally together and have a camaraderie, maybe have a couple tricks up your sleeve to get yourself going as well … Our bench kind of came together and started some chants, and that's kind of where the energy is going to have to come from throughout this whole year."
* Bennett on the Hoos' defense: "Better, but miles to go before we sleep. We've got a ways to go."
COMMONWEALTH CLASH: The first of UVA's two regular-season games against Virginia Tech is Saturday at John Paul Jones Arena. The 4 p.m. game will air on ACC Network.
"Both teams will come ready to play," Bennett said.
The 24th-ranked Hokies improved to 8-1 overall and 2-0 in conference play Tuesday night with an 80-78 win over Miami at Cassell Coliseum.
UVA has won seven of its past nine games with Virginia Tech and leads the series 95-56. The longtime rivals are scheduled to meet Jan. 30 in Blacksburg.
To receive Jeff White's articles by email, click here and subscribe.