By Jeff White (jwhite@virginia.edu)
VirginiaSports.com
CHARLOTTESVILLE –– There was more to Reece Beekman's offensive game than the 6-3 guard had been showing early in his University of Virginia basketball career. Tony Bennett knew that. And so the Cavaliers' head coach encouraged Beekman, a freshman from Baton Rouge, La., to not be content deferring to his older teammates.
"We need you to be aggressive," Bennett told Beekman, and that was especially true with sophomore guard Casey Morsell unavailable for No. 22 UVA's game against ACC rival Wake Forest at John Paul Jones Arena.
"I told him, 'You can play poorly. That can happen. But you can never play [passively],' " Bennett recalled.
Beekman played assertively and effectively against the Demon Deacons. He finished with 12 points and five steals––both game highs––and added three assists in Virginia's 70-61 victory late Wednesday night.
"I was just looking for my shots," Beekman said. "Just trying to be me, so I'm making the plays I know I can."
Beekman, who helped Scotlandville Magnet High School win four consecutive state titles in Louisiana, came in averaging 4.1 points per game and had attempted more than four shots only twice as a Cavalier. Against Wake (3-2 overall, 0-2 ACC), he was 4 for 8 from the floor.
"Reece gave us a really good lift," Bennett said. "I think you saw some of his potential."
For the Wahoos (6-2, 2-0), the game was their first since a Dec. 30 win over Notre Dame, and, because of issues related to COVID-19 testing and contact tracing, they didn't have anything close to their full roster.
Unavailable were Morsell, senior Austra Katstra, and junior swingman Kody Stattmann, who's sidelined indefinitely with a cardiac problem unrelated to COVID-19. Moreover, Bennett was missing five members of his staff, including associate head coach Jason Williford.
Assisting Bennett in practice Sunday, Monday and Tuesday, and on the bench Wednesday night, were director of player personnel Johnny Carpenter and Ronnie Wideman, UVA's associate athletics director for basketball administration/operations. Also pressed into service at practice this week was Erich Bacher, who handles media relations for the program.
"So it was an interesting time," Bennett said, "but we just talked about banding together … We knew we were going to have to come together. I thought we had a spirited week of practice."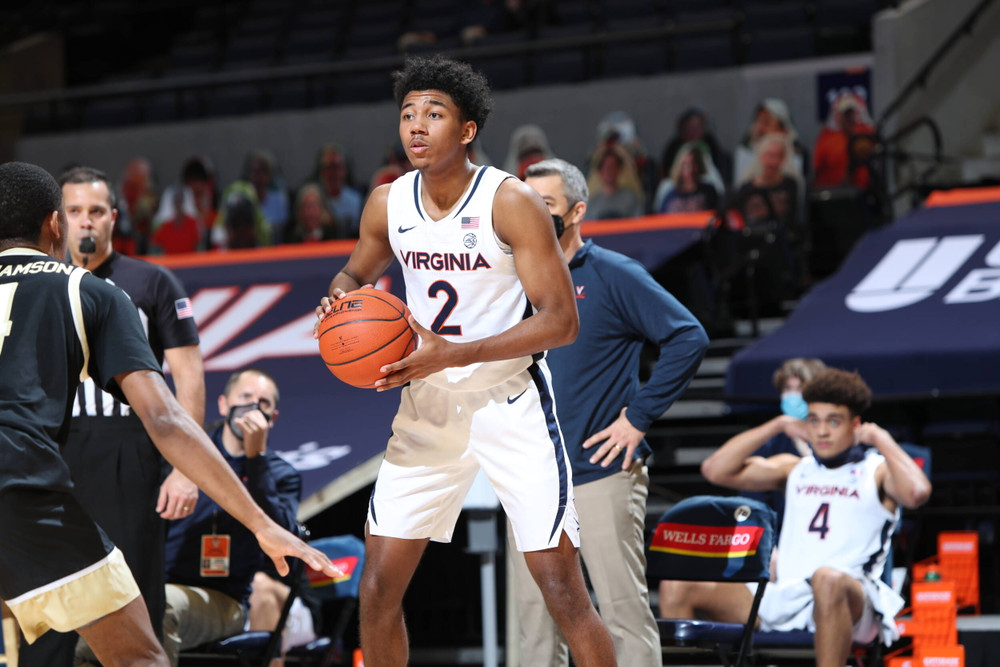 At the end of a turbulent day dominated by headlines about the unprecedented scene at the U.S. Capitol in Washington, D.C., Bennett urged his team to stay together and to "try to take a step in the right direction."
By game's end, the Cavaliers had done so, but things did not start auspiciously for them. Wake hit five of its first six attempts from 3-point range and led 26-14 with 8:30 left in the first half. By halftime, the Hoos had cut their deficit to five points, but the Deacons went into the break shooting 60 percent from 3-point range and 62.5 percent overall.
"I thought offensively we were pretty good in the first half. We got the shots we needed," Bennett said. "But defensively we had a lot of trouble."
Wake cooled off in the second half, shooting 38.1 percent from the floor in the face of considerably more resistance from Virginia.
"I thought the ball pressure stepped up," Bennett said.
Beekman had four of his game-high five steals in the second half. The difference, he said, was the Cavaliers' improved on-ball defense.
"At first we weren't really pressuring the ball," Beekman said, "and then in the second half we really started pressuring the ball. We were trying to make them make mistakes and make it tough on them, because when you just sit back and let the team run their offense, they're going to get the shots that they want."
Bennett, tongue in cheek, credited his new "assistants" for the second-half turnaround. "It was Ronnie and Johnny. They said, 'We gotta get you out of the way, Coach Bennett. We gotta help you out here. You were struggling in the first half. We gotta give you the adjustments.' "
The Deacons' hopes for their first win in the series since January 2018 faded after intermission. The Hoos took their first lead on a stepback jumper from 5-9 junior Kihei Clark with 16:10 remaining. Wake tied the game on its next possession, but UVA responded with a 19-6 run that included field goals by Clark, Jay Huff, Trey Murphy III, Sam Hauser and Justin McKoy.
For the game, UVA shot only 30 percent from 3-point range. Inside the arc, though, the Cavaliers were ruthlessly efficient, hitting 22 of 32 attempts (68.8 percent).
Five players finished with at least 10 points each for Virginia, led by Hauser with 16. The 6-8 fifth-year senior also pulled down a game-high 11 rebounds and added three assists and one steal.
"I thought he was real, real good," Bennett said.
A transfer from Marquette, Hauser was only 1 for 6 from 3-point range, "but they were all good shots," Bennett said. "You want him shooting the 3; he can really shoot it."
For the season, Hauser is shooting 34.1 percent from beyond the arc. That's more than respectable, but not up to his usual standards. So he's focusing on "using the rest of my game," Hauser said. "I'm not just a shooter. I can do a lot of things."
The double-double was Hauser's second straight, and he leads the team in rebounding (7.0 per game).
"He knows how to pursue the ball," Bennett said, "and he's sturdy … Rebounding is about heart. It's about finding it, pursuing it, going and grabbing it and making it yours and Sam does that."
Clark played all 40 minutes. In addition to his three assists, he had two steals and, like Beekman, played suffocating on-ball defense in the second half. This is Bennett's 12th season at UVA, and Clark is one of the few players left from the team that won the NCAA title in 2018-19. Much is asked of No. 0, who's often both the shortest and most competitive player on the court.
"He's going to battle, he's been through it, and I think he knows what this team needs," Bennett said, "And I think he's got to keep pushing himself to be a vocal leader, a demander, and not be afraid to offend guys and then encourage them and just push, push, push and get out of that comfort zone. I think he's becoming more like that."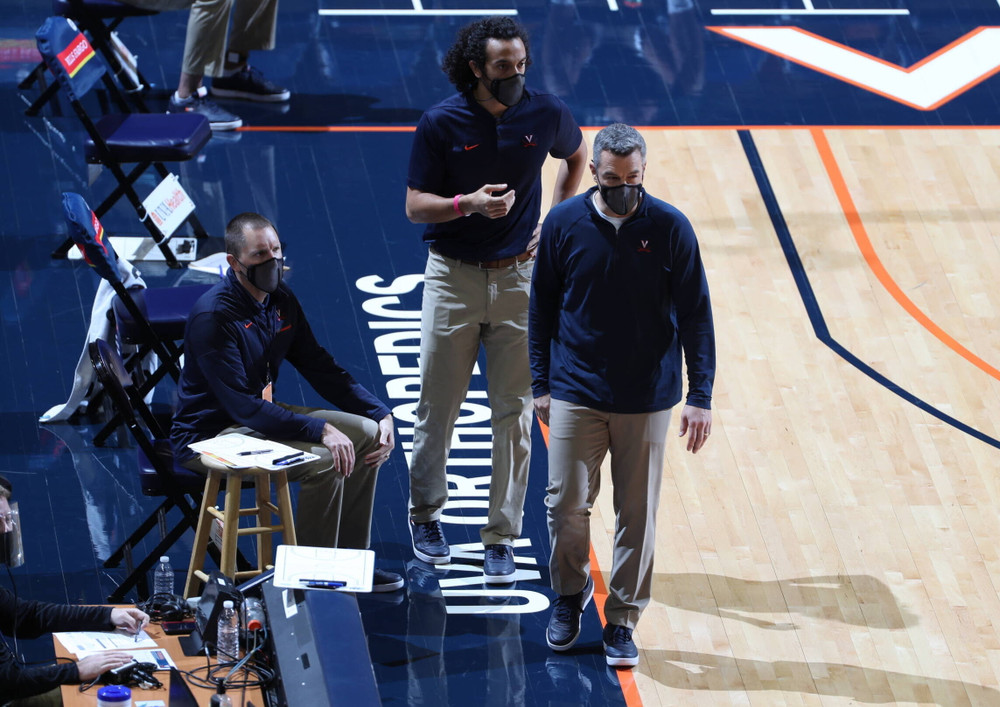 COLLECTIVE EFFORT: Not having Williford, Brad Soderberg, Orlando Vandross, Kyle Getter and Larry Mangino at practice this week has made for an interesting experience, Hauser said. "It's just different not hearing their voices. Coach Bennett kind of has to try to fill that void, but I think us players had to step up a little bit and talk more in practice."
He was focused more on his responsibilities than on Bennett during the game, Hauser said, "but I'm sure it was a little different for him. He probably had to think of a lot more things on the fly. Some coaches are designated to kind of keep an eye on certain things in the game, and I think he had to kind of see it all tonight."
Hauser laughed. "I know he's going to be happy to have the coaches back."
Wideman has been Bennett's right-had man since their days together at Washington State, where Bennett coached before coming to UVA in the spring of 2009. Carpenter has two degrees from Virginia, and he and his brother Mikey are former student-managers in Bennett's program.
In 2012-13, his fourth year at UVA, Carpenter received the Bob Goodman Award for service to the athletics department. "He's one of the hardest workers I've had," Bennett said.
Bennett also singled out sophomore guard Chase Coleman, who didn't play against Wake but provided encouragement and leadership from the bench.
"I could hear his voice," Bennett said. "He wants to be a coach. He was excellent, talking to the guys. He really has good insight on the game. I always rely on the players, and I was asking them stuff during the timeouts. But I could hear Chase and some of the other guys saying some things, and I thought all of that was important."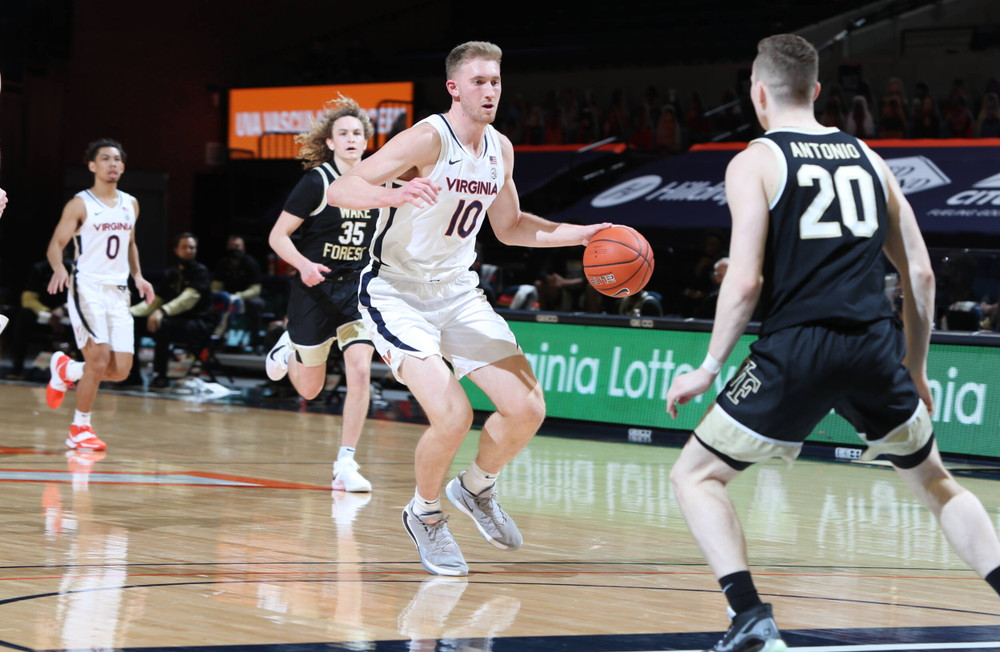 SOUND BITES: The victory was the Cavaliers' ninth straight over Wake, which is in its first season under head coach Steve Forbes. Among the postgame comments:
* Hauser on UVA's second-half dominance: "Our defense stepped up. That was pretty simple. The defense in the first half, we seemed like we were a step behind, and, obviously, there was an emphasis for the second half."
* Bennett on Beekman's defensive prowess: "[It's] uncanny how many times he'll tip balls and do things."
* Bennett on the postgame scene at JPJ: "It's funny, when we walked off the court, the players were walking to our towards our practice gym, and Ronnie and Johnny saw each other, and they ran into each other and they jumped in the air and did a chest bump and they were like, 'Let's go!' They were so excited. I think they were like, 'We can't lose if we're the two assistants.' "
* Hauser on the challenge of playing during the pandemic: "I think overall [it's] just the uncertainty of everything. You never really know when you're gonna play a game until you actually get on the floor for warmups. It's a challenging time, but you just gotta stay disciplined, stay with it. It's fun to play basketball, and we all we all enjoy playing basketball, and that's what we're here to do, so we're trying to do everything the rest of the year so we can make that happen and be able to get all these games in."
ROAD TRIP: At 2 p.m. Saturday, Virginia meets Boston College (2-8, 0-4) at Conte Forum in Chestnut Hill, Mass. The game will air on ACC Network.
The Eagles played late Wednesday night at Duke. BC led for much of the game before losing 83-82 to the No. 21 Blue Devils at Cameron Indoor Stadium. Boston College's starters all scored in double figures, led by CJ Felder with 24 points.
Virginia has won seven of its past eight meetings with BC and leads the series 16-8.
To receive Jeff White's articles by email, click here and subscribe.