By Jeff White (jwhite@virginia.edu)
VirginiaSports.com
Two weeks after Virginia gave up 98 points to top-ranked Gonzaga, head coach Tony Bennett is encouraged by his team's progress on defense. He's also realistic.
No. 22 UVA is unbeaten since its one-sided loss in Fort Worth, Texas. In none of those games, however, have the Cavaliers "played an offensive team like Gonzaga," Bennett noted Saturday on a Zoom call from Conte Forum in Chestnut Hill, Mass. "They're as special as it gets this year."
Since losing to the Zags, Virginia has defeated ACC foes Notre Dame, Wake Forest and Boston College. "Slowly but surely," Bennett said, his 12th team at UVA is starting to demonstrate the commitment to defense that has been his program's trademark.
"I think our energy and our ball pressure has been better," Bennett said, "and [UVA players are] just covering for each other more."
This is not unprecedented, fifth-year senior Jay Huff said Saturday after Virginia's 61-49 win over BC. "I think this has been true of most of the teams that I've been a part of. It's been a growing process."
Early in the season, Huff said, the Cavaliers often experience "a few bumps. There's some times where we haven't quite figured out how to play the defense that we play together yet, just because it's a rotating cast of characters. It happens every year, but once we figure it out––and I think today was a really good step in that direction––we can really just get to what we know we can do and what has been done traditionally in this program."
Boston College was coming off a near-upset of No. 21 Duke. The Eagles led most of the way Wednesday night before falling 83-82 at Cameron Indoor Stadium.
Against UVA (7-2, 3-0), points were much harder to come by for BC (2-9, 0-5). The Eagles shot only 30.9 percent from the floor against Virginia's Pack Line defense.
"I think they didn't get many easy looks," Bennett said.
The 7-1 Huff was a formidable last line of defense for Virginia. He blocked a season-high five shots, giving him 123 for his career, and matched his career high with 18 points. He also grabbed eight rebounds.
"His length bothered them," Bennett said, "and then when he played one-on-one [defense], he was good."
So were the Cavaliers' starting guards, 5-9 junior Kihei Clark and 6-3 freshman Reece Beekman, who helped harass BC guard Wynston Tabbs into 0-for-9 shooting from the floor. Tabbs, who came in averaging a team-best 14.6 points per game, finished scoreless.
"I thought the on-ball defense today was the best we've had," said Bennett, who singled out Clark, Beekman and junior forward Trey Murphy III for their efforts in that area.
With 12 minutes to play in the first half, the Hoos led 18-11 and appeared to be in command. Then came a mystifying stretch during which UVA went nearly nine minutes without scoring. The Eagles capitalized with 14 unanswered points, but the Cavaliers closed the half on an 11-1 run to regain control.
As frustrating as their scoring drought might have been for the Hoos, Huff said, they've survived similar stretches. "And so we try not to pressure ourselves in that way," he said.
"We really just don't want to get down on ourselves when that happens, because we've been in that situation before. I've been in more 10-seconds-left-in-the-game, down-two or up-two situations that I can count, so it doesn't really make me too nervous anymore. And the same goes for when a team goes on a run. It just kind of is what it is."
That poise was apparent in the second half. After BC cut its deficit to five with 10:34 left, Virginia scored 13 of the next 14 points to blow the game open.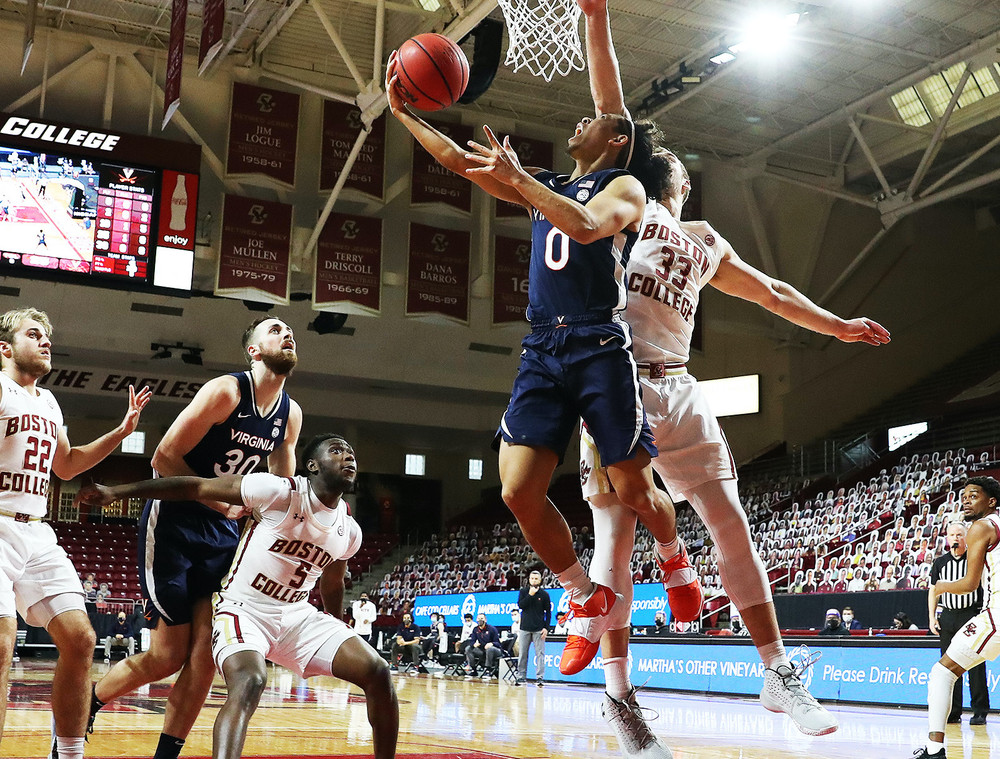 The Eagles stayed in a matchup zone throughout the game. The Cavaliers shot only 26.7 percent from 3-point range, but inside the arc they were 20 of 38 (52.5 percent). Huff was 7 for 11 and Clark, who looked entirely comfortable operating in the middle of UVA's zone offense, was 6 for 8.
"It's just something that we've implemented in our offense this season," Clark said.
Fifth-year senior Sam Hauser contributed 17 points and 10 rebounds––his third straight double-double––and also had a game-high two steals. Clark added 12 points, and he and Beekman each had three assists.
"They do a great job playing together," Huff said of the Hoos' dual point guards. "Reece has come along really well as a first-year. He's impressed me a lot just both learning the defense and just with the way he scores. Obviously, Kihei does what he does every game and he's now getting to the rim [on mismatches], because that's what happened a lot today especially. They would switch, and so Kihei would get a mismatch or I would get a mismatch or Reece would get a mismatch."
With sophomore guard Casey Morsell unavailable for the second straight game, Beekman played 37 minutes, matching the career high he established Wednesday night against Wake Forest.
Bennett said he liked how Clark and Beekman complemented each other against Wake, and "I thought they were really good today."
Beekman missed all four of his shots from the floor against BC, but he was 4 for 4 from the line, grabbed three rebounds and "still created," Bennett said. "He had that beautiful pass to Jay in the second half, drove baseline and dropped it, and he has those instincts."
NEXT MEN UP: For the second straight game, the Cavaliers were short-handed. Associate head coach Jason Williford and two other staffers, Brad Soderberg and Larry Mangino, returned after missing the Wake Forest game because of issues related to COVID-19 testing, but assistants Orlando Vandross and Kyle Getter remained out.
"Again, [staffers] Ronnie Wideman and Johnny Carpenter have done a great job getting us prepared," Bennett said.
Four UVA players were unavailable Saturday: Morsell, Austin Katstra, Kody Stattmann and Kadin Shedrick. A 6-11 redshirt freshman who played against Wake, Shedrick has an illness that's unrelated to COVID-19, Bennett said.
"We thought maybe he'd be able to rally and be good but was not able to," Bennett said. "So that left us pretty short-handed. Hopefully he'll recover and be OK soon."
Bennett said he challenged his players before the game, reminding them of UVA's lackluster performance in its loss at Conte Forum last season. BC was missing two of its top three scorers in that game.
"When I came in the locker room, I said, 'I'm gonna give you guys a history lesson, because you guys are young and you forget,' " Bennett said.
"I said, 'Be ready. Every game is significant, and we're short-handed,' and I reminded them that [BC] got after us, and so we talked about that."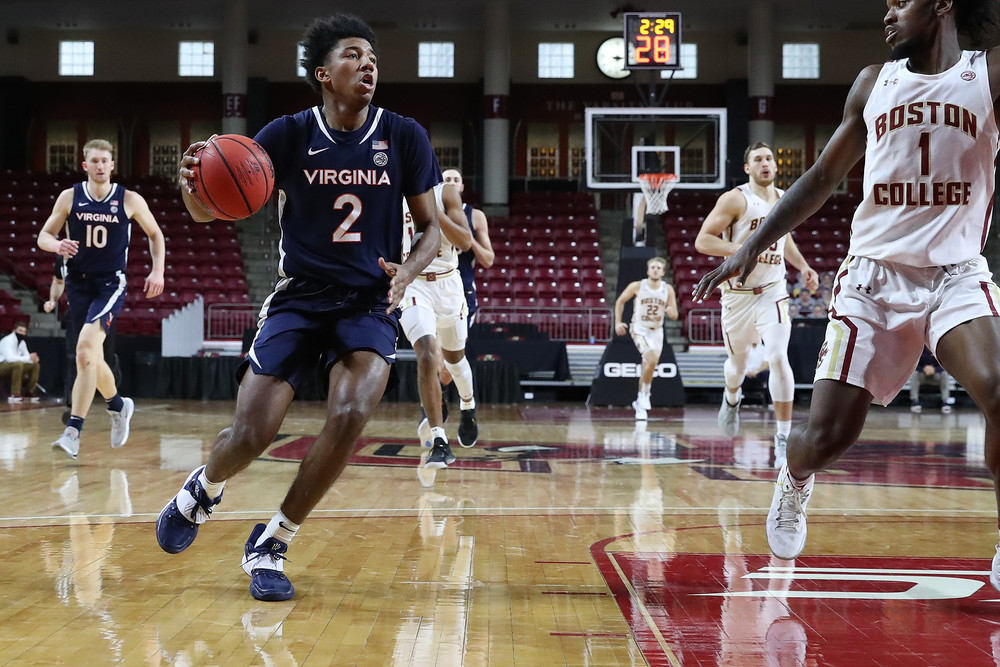 SOUND BITES: The victory was the Cavaliers' eighth over the Eagles in the teams' past nine meetings. Among the postgame comments Saturday afternoon:
* Bennett's message to his team during its long scoring drought in the first half: "I said, 'Make some shots.' "
* Clark on his chemistry with Beekman: "I think we just try to play off of each other, just try to learn each other's strengths and what we'd like to do. It's fun being on the court with him at the same time."
* Clark on Hauser's strong play in ACC games: "He's kind of just someone we can go to when we need buckets down the stretch. I think he made a bunch of great moves and a bunch of tough shots down the stretch [against BC], so we just need him to continue what he's doing."
* Clark: "I think we're doing a good job defensively, and I think we can just ramp it up a little bit more and just get a little better."
* Huff: "After the Gonzaga loss, I think we all realized that, one, we had a lot of work to do, but, two, that was a game where we just didn't play the way we know we can. We can remember it and then brush it off and move forward. It's almost a game that you just erase, in some ways. But it definitely does help to start 3-0 in the ACC, because that's not easy to do in this conference."
* Huff on Clark's low-post prowess: "He's been he's been working on that a little bit. I've been giving him a few pointers, that type of thing."
HOME SWEET HOME: In 12 seasons under Bennett, the Cavaliers are 160-29 at John Paul Jones Arena, where they'll face Notre Dame (3-6, 0-3) on Wednesday. The 2:30 p.m. game will air on ACC Network.
The Fighting Irish (3-6, 0-3) play Sunday night at No. 19 Virginia Tech (8-2, 2-1).
This will be the second meeting between UVA and Notre Dame in about two weeks. The Hoos opened ACC play with a 66-57 win over the Irish on Dec. 30 in South Bend, Ind. UVA leads the series 15-2.
To receive Jeff White's articles by email, click here and subscribe.