By Jeff White (jwhite@virginia.edu)
VirginiaSports.com
CHARLOTTESVILLE –– After an uneven first season at the University of Virginia, Casey Morsell returned home to the D.C. area last spring and went to work. While staying safe amid the COVID-19 pandemic, he was determined to regain the form and the confidence he'd showed as an All-Metro player at St. John's College High School.
"I'm using 2021 as a new start, a new beginning," Morsell said.
There are clear signs of progress. After missing two games due to contact tracing, the 6-3 guard returned Wednesday against ACC rival Notre Dame and played brilliantly in No. 18 UVA's 80-68 victory at John Paul Jones Arena.
In 24 minutes off the bench, Morsell hit 6 of 7 shots from the floor, including all three of his 3-point attempts, and finished with a season-high 15 points. The three treys were a career high for Morsell, who shot 17.6 percent from beyond the arc as a freshman in 2019-20.
"Good for him," UVA head coach Tony Bennett said, "because he has put the work in. There's no question. He learned a lot. He had some good moments last year. He struggled at times. I think he really put that information and that wisdom to use."
Along with senior guard Austin Katstra, who was also sidelined because of contact tracing, Morsell was separated from the team for more than a week and didn't return to practice until Monday. But Morsell was able to stay fit with workouts at JPJ when his teammates weren't there.
"I would get a lift in about three or four times [a week], but for the most part access to the gym was limited," said Morsell, who watched Virginia's games against Wake Forest and Boston College on TV. "So for the [limited] amount of time that I had in the gym, I had to take full advantage of it. I spent most of my time just running, staying in shape, and just using the quarantine to my advantage."
In his second game against Notre Dame (3-8, 0-5) in two weeks––Virginia won 66-57 on Dec. 30 in South Bend, Ind.––Morsell felt fresh and played that way.
"He obviously showed zero discomfort," teammate Jay Huff said. "He was ready to go from the start."
Morsell, who started 13 games in 2019-20, has started three of the eight in which he's played this season. He's shooting 46.8 percent from the floor and 83.3 percent from the line, and he's raised his 3-point percentage to a solid 35.3 percent.
"He's shooting shots with confidence," Bennett said.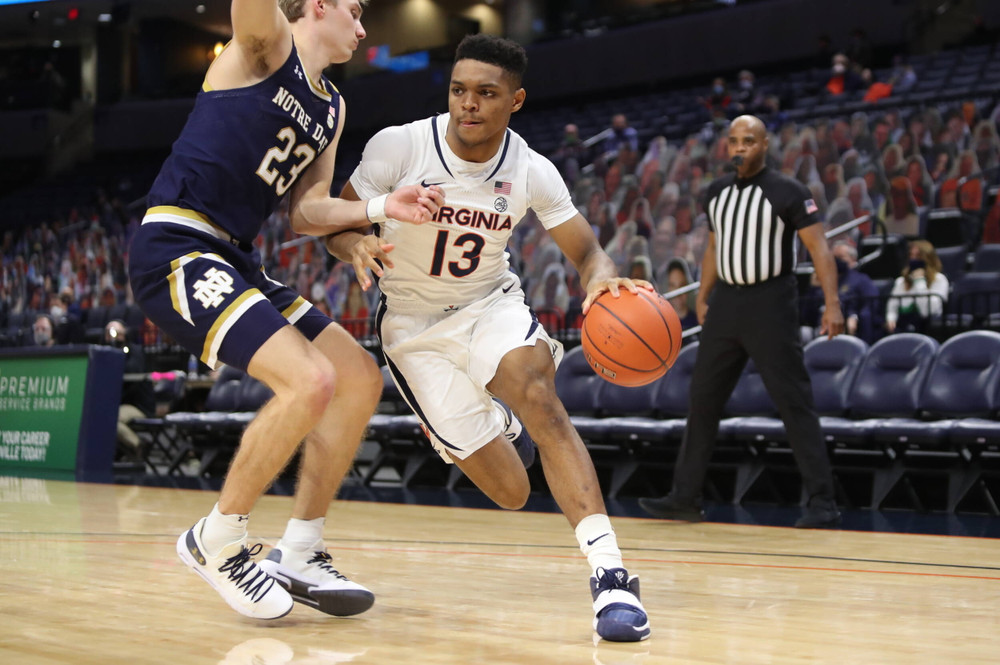 No. 13 is one of the team's best on-ball defenders, and he's adept at freeing himself for midrange shots, several of which he made against Notre Dame.
"Those are things in high school I think that he did," Bennett said, "and I hope this is a sign of things to come, because that was certainly needed and will continue to be needed."
Morsell's biggest shot Wednesday came after the Fighting Irish, who trailed by 24 points with 12:10 to play, slashed their deficit to 10 at the 5:08 mark. The Cavaliers were sputtering at both ends of the court, but Morsell steadied them at a critical juncture, taking a pass from freshman guard Reece Beekman and burying a 3-pointer to make it 71-58 with 3:39 to play.
That trey started a 7-0 run that effectively sealed the triumph for the Wahoos (8-2, 4-0), who have won four straight games since a one-sided loss to No. 1 Gonzaga and are tied for first in the ACC.
Five players scored in double figures for Virginia, led by Huff, a 7-1 redshirt senior, with 18 points. Redshirt senior forward Sam Hauser, like Morsell, finished with 15 points, and junior guard Kihei Clark and junior forward Trey Murphy III added 12 and 10, respectively.
For the game, the Hoos shot 54.4 percent from the floor, including 50 percent from 3-point range. Notre Dame, by contrast, shot 22.7 percent from beyond the arc and 43.1 percent overall.
"They made big jump shots in the first 10 minutes, and we made none of our open ones, and the game was kind of over after that," said Irish head coach Mike Brey, whose teams have lost 27 consecutive games to ranked opponents.
Standouts abounded for the Cavaliers. Clark had a season-high six assists and only one turnover. Huff hit a career-high four 3-pointers and blocked two shots. What excited his teammates and coaches most, however, was the charge Huff took in front of the UVA bench late in the first half.
"What was going through my mind when I took the charge was, 'This is more charges than I've ever taken in my life in the past few games,' " Huff said, smiling.
The 6-8 Hauser barely missed his fourth consecutive double-double, pulling down a game-high nine rebounds. The 6-8 Murphy, a transfer from Rice, finished with four assists, his high as a Cavalier, and Beekman contributed a game-high three steals.
Bennett used only seven players Wednesday, including Francisco Caffaro. A 7-0 redshirt sophomore from Argentina, Caffaro filled in admirably for Kadin Shedrick, who was out with an illness. Caffaro, known around the program as Papi, had three points and an assist and played rugged defense in 11 minutes off the bench.
"Papi gave us a nice lift to with his physicality and some passing out of the post," Bennett said. "So that was good."
So was Huff's long-range accuracy. For the season, he's shooting 44 percent from beyond the arc. All four of the treys he made Wednesday were from the top of the key.
"I would probably say around that area is my favorite spot," Huff said. "I took a bunch of those back in my high school days, and it's a spot I'm pretty comfortable with."
Asked about Huff's 3-point shooting, Bennett said, "I think it sets up the rest of his game. You [want] to have balance in your game, and I think that's what he's learning to do."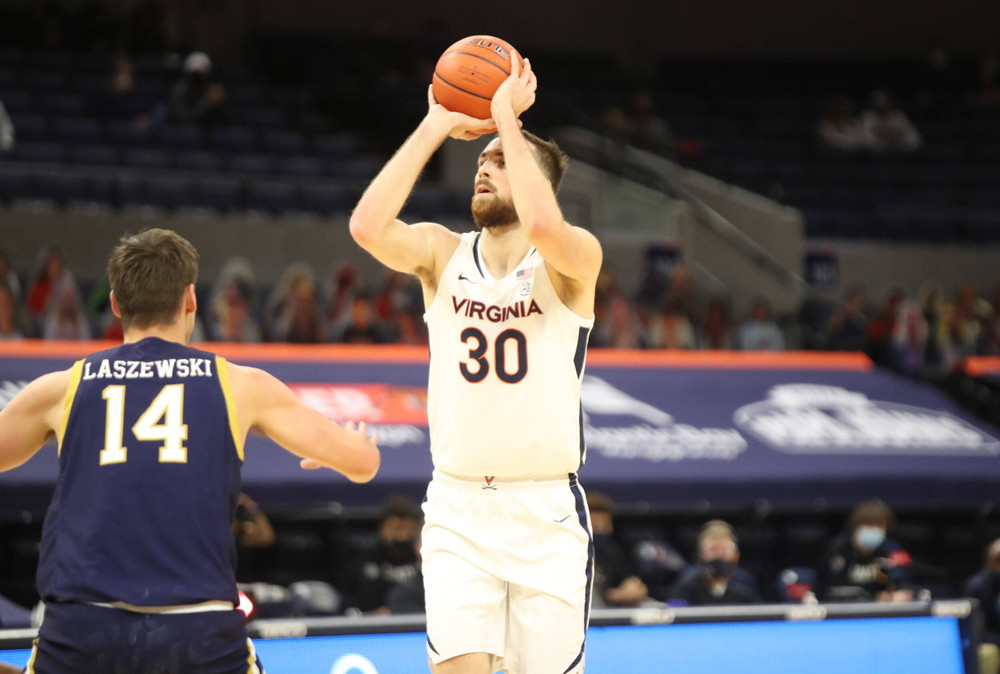 SOUND BITES: For the Cavaliers, who lead the series 16-2, the victory was their sixth straight over Notre Dame. Among the postgame comments:
* Bennett on Morsell: "I always want him to be a bulldog on the ball defensively and to keep using his strength and ability to slide, because that's so important for our defense. If we can keep the ball in front, it makes our defense that much better. And then offensively, I think he's simplified [his game], and you saw that today."
* Bennett on his team's performance: "I thought we drifted into some old habits defensively that aren't going to cut it, and that was disappointing. But, yes, there was some good, solid defense in the first half, good ball movement."
* Huff on his 3-point prowess: "I don't want to say it's not been developed [at UVA], but it's something I've had for a long time. Actually, freshman year of high school I was almost solely a 3-point shooter. It just depends on the game. There are games I don't get any open 3s and I don't take any 3s."
* Brey, whose team lost Sunday night to No. 20 Virginia Tech in Blacksburg: "It's been a long couple days on the road."
SOUTHBOUND: Virginia's only regular-season game against Clemson comes Saturday at Littlejohn Coliseum. ESPN will carry the 6 p.m. game between the Cavaliers and the No. 12 Tigers (9-1, 3-1).
UVA has won 10 straight over Clemson and leads the series 78-52.
Bennett always speaks highly of the Tigers' head coach, Brad Brownell, and did so again Wednesday night.
"They make you earn what you get," Bennett said, "and you better lace 'em up tight, because that's just the way he's developed them, and they're playing good basketball."
To receive Jeff White's articles by email, click here and subscribe.