By Jeff White (jwhite@virginia.edu)
VirginiaSports.com
CHARLOTTESVILLE –– With a lineup that features high-level shooters Sam Hauser, Trey Murphy III and Jay Huff alongside playmakers Kihei Clark and Reece Beekman, this University of Virginia men's basketball team figured to be potent offensively, and it has been.
There were more questions about the Cavaliers at the other end of the court, and those concerns appeared well-founded early in the season. As Tony Bennett-coached teams almost always do, however, the Wahoos have grown increasingly stingy and now lead the ACC in scoring defense.
Syracuse can attest to how far Virginia has come on defense. Two days after defeating then-No. 16 Virginia Tech by 18 points, the Orange arrived at John Paul Jones Arena for a nationally televised game. Syracuse was leading the ACC in scoring offense (79.4 points per game) and had five players averaging at least 10.8 points apiece.
None of which fazed No. 8 Virginia, which thumped the Orange 81-58 on Monday night. Against the Cavaliers' Pack Line defense, Syracuse (9-5, 3-4) shot 37.3 percent from the floor and had only two players in double figures.
UVA (11-2, 7-0), meanwhile, impressed as much on offense as on defense. Against Syracuse's famed 2-3 zone defense, four players scored in double figures, including fifth-year seniors Hauser and Huff, who had 21 points each. Led by Hauser (7 for 13), the Hoos shot 45.2 percent from 3-point range.
Twenty-three of the Cavaliers' 29 field goals were assisted. Clark, a 5-9 junior, finished with a season-high nine assists, and Beekman, a 6-3 freshman, had five.
"They're a very good team," Boeheim said. "We're not a top-10 team. They are."
Since giving up 98 points in a one-sided loss to top-ranked Gonzaga, Virginia has won seven in a row, allowing an average of 57.9 points per game during that span.
"I think we're guarding the ball better," said Bennett, who's in his 12th season at UVA.
Syracuse looks to run whenever possible but scored only six fast-break points Monday night. "I think for the most part we were able to stifle their transition," Huff said, "and we made them have to play in the halfcourt. I think that was really big for us. And I still think that we can improve."
The on-ball pressure applied by guards Beekman, Clark and Casey Morsell has been outstanding, Bennett said, and frontcourt players Huff, Hauser and Murphy, a transfer from Rice, continue to improve defensively. The 7-1 Huff has always been a talented shot-blocker, and that's helped Virginia compensate for some of its defensive flaws.
Moreover, Bennett noted, the Hoos have been "taking care of the basketball. When you don't turn it over, you don't [give up] as many run-outs or transition baskets."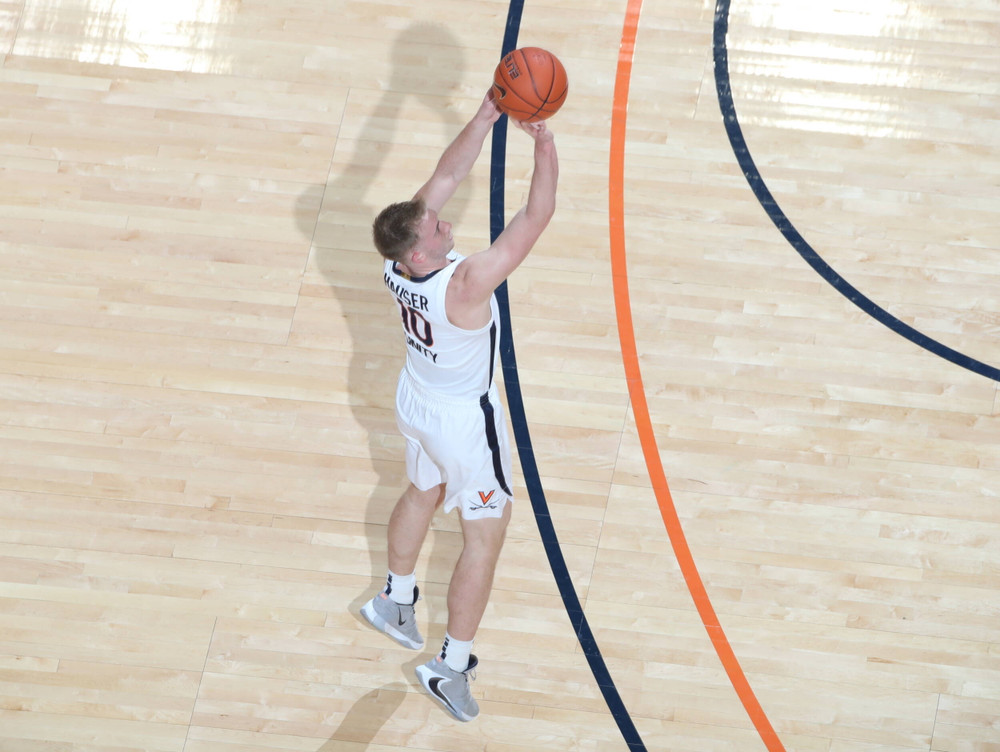 The 6-8 Hauser transferred from Marquette to UVA in the summer of 2019 and sat out last season. He was anything but a defensive stopper when he arrived in Charlottesville, and several opponents exploited him early this season. But Hauser's commitment to Bennett's defensive principles is starting to pay dividends.
"If you work hard at it, you're going to get better, because that's what this program is built on," Hauser said. "If you want to play a lot of minutes, you're going to have to be able to guard. So I've tried to take some pride on that end and I hope it's showing, because I think I've gotten better."
Shooting has long been Hauser's forte. At Marquette, he twice hit seven 3-pointers in a game, and he'd matched his career high by the 10:00 mark of the second half Monday night.
"They left him open a few times at the top [of the key], which you can't do," Huff said.
What made Hauser's performance even more impressive was the fact that, after developing back spasms Monday, he was questionable for the game.
"We weren't sure in warm-ups how he was going to be," Bennett said, "but he settled in."
Hauser said he decided "to go out there and see how it felt. And it felt good enough to play, so I figured I'd just play. Obviously, I shot the ball pretty well, so maybe it wasn't the worst thing I got a back spasm."
Murphy, a 6-9 junior, hit four 3-pointers and grabbed seven rebounds, his most as a Cavalier, and also had two assists, two blocked shots and a steal.
For Hauser, Beekman and Murphy, this was their first experience with the Orange's trademark zone, and Virginia's scout team, known affectionately as the Green Machine, prepared them well.
"Throughout the game we were able to find pockets or windows and were able to get a good shot off or just make a winning play," Hauser said. "We made enough of those tonight to win."
Bennett said he jokes to his players that these games pit "good versus evil": UVA's man-to-man defense versus Syracuse's zone.
"But I have the utmost respect for Coach Boeheim and what he's done with that zone," Bennett said. "There's some days just where the shots are going in and you try to exploit it, and that's what we did [Monday night]."
SELFLESS: The pillars on which Bennett's program are built include servanthood, and the Cavaliers repeatedly set each other up for good shots Monday night. The 23 assists were a season high for UVA.
His players, Bennett said, "really have a next-pass mentality that you could see … I like how they're sharing the ball, moving it and creating for each other, and then taking the shots that are there. That's really important, that assist to turnover ratio. Being efficient in that is huge for the offense."
Hauser said everyone on the team "had the mindset like, 'We might have a good shot, but if we make one more pass it's a great shot.' Playing with unselfish guys is awesome, and it showed tonight … It was a great job from everyone."
THROWING IT DOWN: Huff, who had four dunks Saturday night in UVA's 64-62 win over Georgia Tech at JPJ, had six against Syracuse. Most came off lob passes from teammates. Clark has become especially adept at setting up No. 30.
"It's hard to stop Kihei when he gets going down the lane," Huff said, "and if you stop him then he's really good at making that pass. So it's a lot of fun when we can get a game going like that."
Huff said he usually pays little attention during a game to how many points or dunks he has. Monday night was an exception. He was aware his slams were adding up and that he'd finally surpassed his career high in points.
Three times as a Cavalier he'd scored 18 points, and Huff knew he had 19 when he went to the line with 1:43 left Monday night. He saw Francisco Caffaro waiting to substitute for him, Huff said, and "he knew I was wanting to get over the hurdle. And so I told him, 'If I miss the first one, then I'm missing the second one, because you're not coming in until I get 20.' "
Not to worry. Huff sank both free throws and then joined his fellow starters on the bench.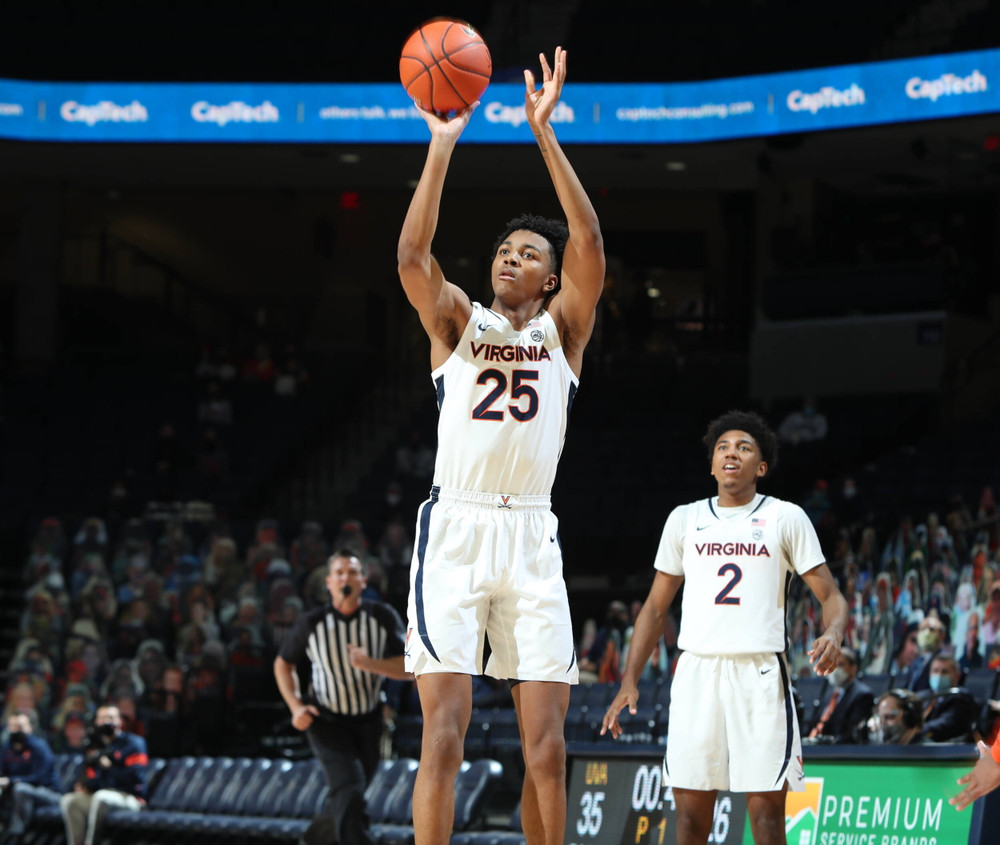 SOUND BITES: Virginia has won 15 straight ACC games dating back to last season. Among the postgame comments Monday night:
* Bennett on Hauser: "He's good in a lot of areas. He moves the ball, he thinks team-first, and we're telling him, 'Hunt the shot, be assertive, be aggressive, play off that.' He's been obviously a great addition."
* Huff on UVA's unselfishness. "We don't we over-dribble all that much. Especially against a team like Syracuse, you can't, because they collapse and they have guys with long arms that will poke it away from you. So we would move it into the middle of the zone and then kick it back out. I think we were really able to do that well in a way that just led to no-dribble shots, which was really big."
* Huff on Hauser's back problems: "When we got back out on the court after going in for the last time to the locker room [before the game] I noticed he had a hot pack on. He didn't let it faze him too much, obviously. It was actually really impressive, because I know playing with a bad back is no easy feat."
* Boeheim on Huff: "The big kid is tough."
* Bennett to Roanoke Times sportswriter Doug Doughty, who's retiring after covering UVA athletics for nearly a half-century: "I just want to tell you first off what a service you've done for the journalism industry … You have a well-deserved break coming up. Your last game at JPJ you saw a pretty good one, so I'm glad we didn't disappoint."
COMMONWEALTH CLASH: They were scheduled to meet Jan. 2 at JPJ, but that game was postponed because of COVID-19 issues in the Cavaliers' program. Longtime rivals UVA and Virginia Tech will try again Saturday in Blacksburg.
At 6 p.m., in a game to air on ACC Network, the No. 8 Wahoos (11-2, 7-0) will face the No. 20 Hokies (11-3, 5-2) at Cassell Coliseum.
Virginia Tech plays at Notre Dame on Wednesday night.
UVA has won seven of its past nine games with Tech and leads the series 95-56.
The Hokies, in their second season under head coach Mike Young, are "a hard-nosed tough team playing good basketball," Bennett said. "I really respect the job that Coach has done and how they're defending and how they share the ball, and they play really hard."
For Huff, bragging rights are at stake Saturday. He's married to fellow UVA student Lindsay Knights, whose brother is a Hokie.
"It's gonna be a lot of fun," Huff said. "I know there won't be as many fans [at Cassell Coliseum], but I know that my brother-in-law is probably going to be there, just screaming his head off. So we'll have a good time and it's still gonna be a fun rivalry."
To receive Jeff White's articles by email, click here and subscribe.