By Jeff White (jwhite@virginia.edu)
VirginiaSports.com
CHARLOTTESVILLE –– Keith Gavin left the University of Virginia in April 2017 to become head wrestling coach at the University of Pittsburgh, but he remains close with his former boss.
"We talk all the time," Steve Garland said, and he visited with Gavin on Friday before UVA's dual meet with ACC rival Pitt at Memorial Gymnasium.
"We were talking about guys who, as Keith puts it, are 'really into it,' " Garland recalled, "and he goes, 'You can tell the guys that truly love competing and truly love the process, and the guys that don't.' And it's like that in any sport. Coaches see the guys who truly, truly love it, and Courtney's one of those guys."
That would be Brian Courtney, a redshirt junior who starts at 141 pounds for UVA.
"Most kids, they're trying to get through practice," said Garland, who's in his 15th season as head coach at his alma mater. "They don't want it to be too hard. They just want to get through another day. Courtney's actually looking forward to the hardest possible scenario that a coach can present."
Courtney improved to 6-1 on the season Friday with a 3-1 win over 14th-ranked Cole Matthews, and his victory helped the Cavaliers upend the No. 12 Panthers 17-16. Heavyweight Quinn Miller secured the win for Virginia with a major decision in the dual meet's final match.
"It was awesome," said Courtney, who's ranked No. 16 nationally this week. "Before I wrestle, I try not to get too invested in other matches, but after my match, I don't think I stopped yelling the whole time, because I knew it was gonna maybe come down to the end. And so I lost my voice by the end of the night."
Garland marvels at the enthusiasm of Courtney, who's one of the Wahoos' captains, along with Jay Aiello, Louie Hayes and Denton Spencer.
"Courtney is one of those guys who when he walks in the room he's jumping around like a deer, he's screaming and yelling, 'Woo!' " Garland said. "I'm not kidding you. When we're warming up, he's chanting, 'Woo!' Not to rile anybody else up, just to himself, and he's bouncing around."
Courtney said: "I love wrestling. I love the guys on the team. I love my life. So it's pretty easy to be excited about all these things."
He tries to bring that same passion to all of his endeavors. In wrestling, Courtney said, he loves the payoff that comes from hard work.
"Basically, I get really, really excited about getting better," he said. "I get excited about the fact that in wrestling, the person who's the best in your weight class, or the best in the world, they're not perfect. They've got so much to improve on, and if they do, then I've got so, so much to improve on.
"So it's exciting that it's so tangible, that I can go in the room, work on something, and see instantly that I got better at it. And if with my excited attitude I can even bring up one person in the room, that's great. Then maybe that one person brings up another person, and we've got a really cool environment going on in there."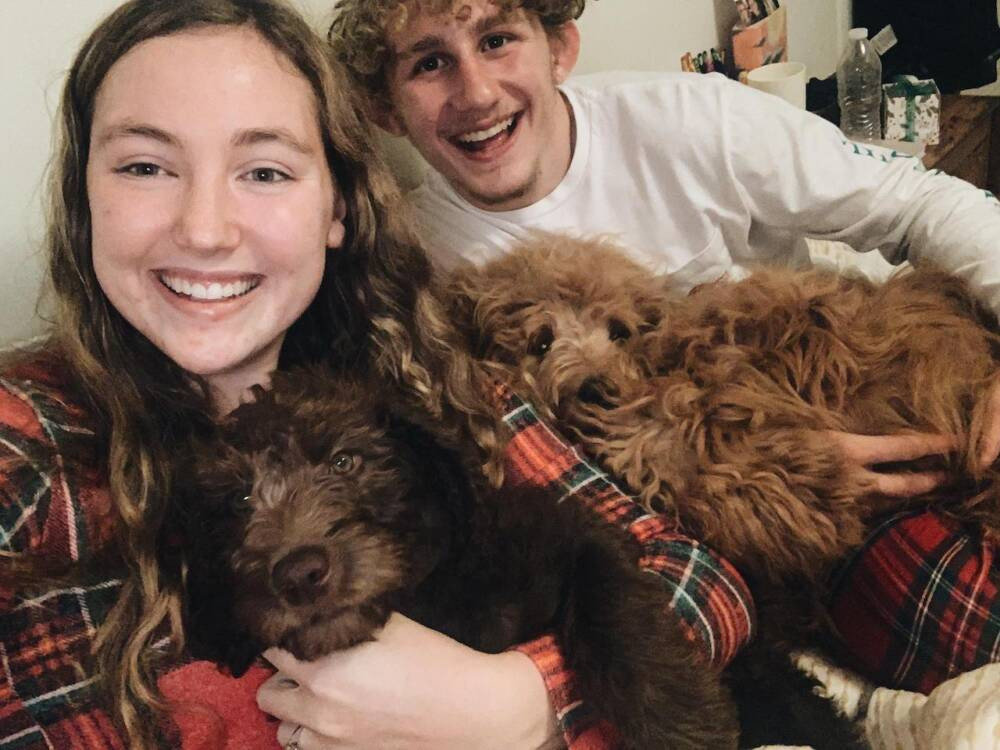 Courtney grew up in the small town of Athens, Pa., near the New York state line. His classmates in elementary school, middle school and high school included Grace Kinsman, who's now his fiancée.
Kinsman is a nursing student at Piedmont Virginia Community College in Charlottesville. Courtney and Kinsman initially were set to be wed last summer at Wrightsville Beach in North Carolina, but the COVID-19 pandemic intervened. So they rescheduled it for June 5 in Staunton.
Their hometown was another option, but "we have a lot of people down here that mean a lot to us too," Courtney said, "and, truthfully, with us still both being in school, we thought it would be a little easier to get things done if we can just shoot on over to [Staunton] and figure things out, rather than drive six-and-a-half hours up to Athens. Especially with COVID."
They were planning to celebrate their marriage by getting a dog, and they went ahead with that part of the plan after the postponement. Courtney and Kinsman are now the proud owners of two dogs: a 10-month-old goldendoodle, Cleo, and a three-and-a-half-month-old labradoodle, Maisie.
"He's an old soul," Garland said of Courtney. "That's why we love him so much. He lives right. He eats right. He trains right. You never have to worry about any trouble from Brian Courtney. The craziest thing he does every day is walk his dog with his fiancée."
Courtney won two state titles at Athens Area High School and had excellent options when it came time for him to choose a college program. He narrowed his choices to UVA and nearby Cornell.
"[Athens is] probably 45, 50 minutes away from Cornell's campus," Courtney said. "I grew up around Cornell, and I think the team's awesome and the coaching staff is awesome. I'm saying all this just to show you how much Virginia means to me, because I thought Cornell was an awesome option, and Virginia is just better, for me at least. Maybe not for everyone, but I think for me this was the best decision that I could have made."
He'll graduate this spring with a bachelor's degree in kinesiology. Courtney, whose long-term goal is to become a principal or school superintendent, plans to compete as a graduate student next season while pursuing a master's in UVA's School of Education and Human Development.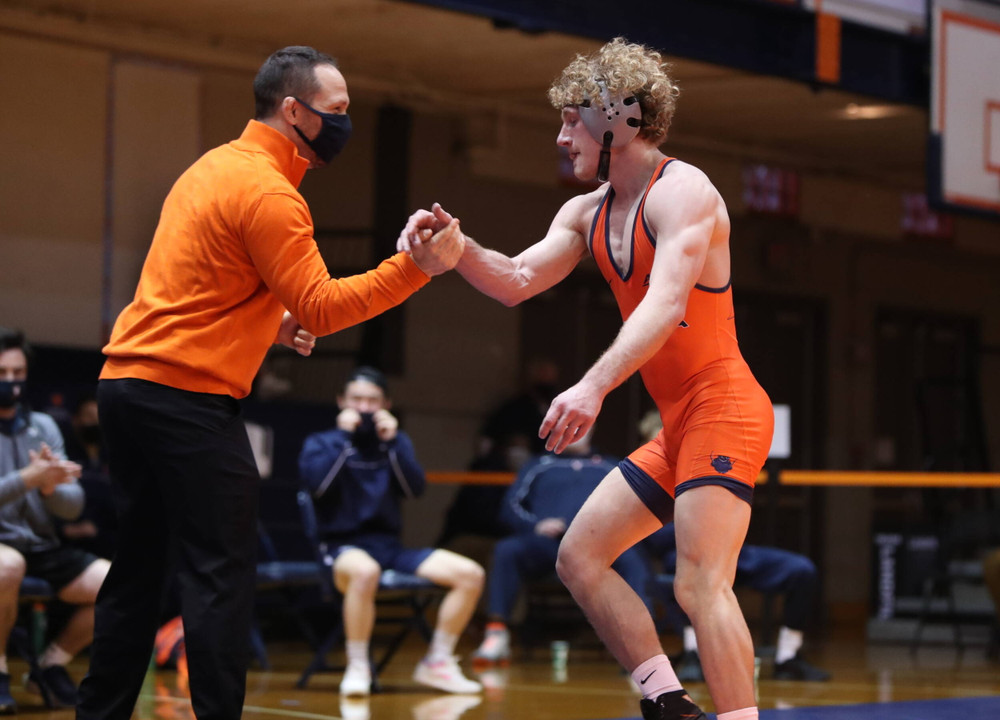 On the mat, he's having his best season as a Cavalier. After posting a 21-9 record at 141 pounds while competing unattached in 2017-18, Courtney to dropped to 133 pounds as a redshirt freshman in 2018-19. He was 8-3 when a knee injury ended his season prematurely.
In 2019-20, Courtney placed fourth in the ACC at 141 pounds, losing twice to Pitt's Matthews at the conference tournament. "But you could see at the end of the year, things were finally starting to click for him," Garland said.
Courtney has made strides in two key areas. For starters, he's stronger this season.
"You can see his body," Garland said. "There's muscles popping out everywhere. His first two years here especially, he was just a little kid. He didn't have any muscle definition. He looks like a man now, and I think that's critical."
Early in his career, Courtney said, he "definitely got overpowered by some people. Maybe my body was a little immature. Maybe I wasn't eating right, maybe I wasn't fueling up after lifts right, wasn't sleeping right. But I kind of got a lot of that stuff locked down this year, and I think it's made a huge, huge difference. Because I'm not getting overpowered by these guys this year so far. When I did lose, it was because of a pretty silly mistake in the last 12 seconds in the match."
Against NC State's Tariq Wilson, who's ranked No. 10 nationally at 141 pounds, Courtney gave up a late reversal and lost 8-6 on Jan. 15.
Not only is Courtney stronger this season, he's wrestling smarter.
"The thing about Brian is, leading up to this year he would give up big moves," Garland said. "Last year he got down 6-0 to the kid from Tech with a cradle, then came all the way back and almost had him pinned a couple times.
"In high school he could get away with big blunders. In college, you get down 6-0 to somebody who's good, you're going to be in a lot of trouble. I think the physical thing has been the biggest part, but I also think he's starting to eliminate big mistakes, costly errors. He's starting to be more solid so he doesn't get down big and have to come back. Now he's in the fight the whole match. His biggest strength has always been his motor, and he's been able to wear guys out, because he goes so hard."
Courtney said: "I think a lot of it is I'm listening better. I'm trying to be a lot more coachable this year." Too often, he said, he'd try a bold move, even if the coaches had recommended a different approach.
"In a match, in the heat of the moment," Courtney said, "I feel something's right and I'm like, 'I'm gonna go for it. I know this is what we learned this week, but I'm going for it. This is cool.' And sometimes it comes back to bite me. Also, in the first period I'd always been a little slower and get down big early and not be able to come back. So if I don't give those silly points up at the beginning, a lot of my points are coming in third period this year. I'm kind of staying the course."
The win over Pitt was a significant one for the Cavaliers. In 2019-20, they lost 20-16 to Virginia Tech and 19-18 to North Carolina, ACC opponents ranked in the top 10. The Hoos fell 19-15 to the eighth-ranked Hokies last month.
"We've been so close," Courtney said, "and you know they say close only counts in horseshoes and hand grenades. We'd been losing all these close ones, and we were like, 'We're right there. We can do this.' But at the same time, it's a little bit demoralizing, just kind of being so close so frequently but not getting there."
UVA, which is ranked No. 20 in the latest coaches' poll, hosts Duke at Mem Gym on Friday night. The dual meet will air on ACC Network. Virginia closes the regular season Feb. 13 at UNC.
The key for the Cavaliers, Courtney said, is to not "get too ahead of ourselves. We need to keep going the way we've been going, because that's what's been working. If we just keep our head down and work hard this week in the room. I think we're going to tough to beat these next two duals."
To receive Jeff White's articles by email, click here and subscribe.