By Jeff White (jwhite@virginia.edu)
VirginiaSports.com
CHARLOTTESVILLE –– For the University of Virginia women's tennis team, the goal was to be playing in Stillwater, Okla., this weekend.
Oklahoma State is hosting the ITA National Team Indoor Championships, for which the Cavaliers would have qualified with a Jan. 24 win over Ohio State. But the Buckeyes, playing at home in Columbus, Ohio, rallied for a 4-2 victory, leaving UVA with some valuable lessons to ponder.
"I feel like we put ourselves in a position to win that match," Virginia head coach Sara O'Leary said, "and I think we got a little ahead of ourselves thinking about the final result rather than just staying in the present and focusing on what we had been doing to get us to that point. I think that's where we struggled a bit, and Ohio State did a better job of that. I think that's the biggest lesson we learned and can use moving forward."
Back in Charlottesville, UVA blanked VCU 7-0 at the Boar's Head Sports Club on Jan. 28. Two days later, on the same courts, the 14th-ranked Wahoos cleared a bigger hurdle, defeating No. 18 South Carolina 4-1.
UVA ended the abbreviated 2020 season ranked No. 11 nationally. Thanks in part to the addition of talented freshmen Emma Navarro and Hibah Shaikh, the Hoos' ceiling looks higher this season.
"We've had a few injuries and some illnesses, and we really need to get healthy," said O'Leary, who's in her fourth season at Virginia. "But I think we have a very strong team, a very close-knit group that is really excited about the future of this season. But our No. 1 priority is getting healthy right now and using these next few weeks to do this."
For the Cavaliers (3-1), a new date on their schedule is a Feb. 12 match against Marshall at the Boar's Head Sports Club. The following weekend, UVA hosts ACC rivals Duke (Feb. 19) and North Carolina (Feb. 21), which are ranked No. 10 and No. 1, respectively.
"It's going to be a great weekend of tennis," O'Leary said.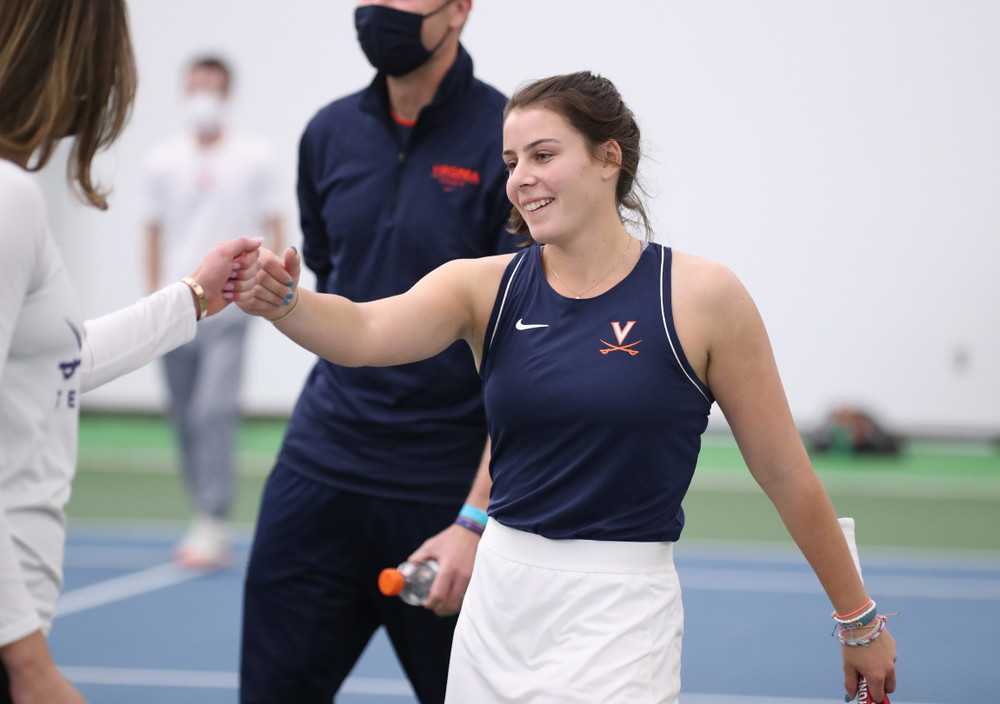 The biggest storyline for the program this year has been the play of Navarro, a heralded recruit from Charleston, S.C. The ACC announced Tuesday that Navarro had swept the conference's Player of the Week and Freshman of the Week honors.
For the season, Navarro is 4-0 in singles and 3-1 in doubles, in which her partner is fifth-year senior Rosie Johanson.
Navarro, who arrived on Grounds last month, has made a seamless transition to the college game.
"Due to so many COVID restrictions, she didn't come in the fall, but she really wanted to be here," O'Leary said, "and since she's been here, it's been unbelievable having her. She's such a great team player and hard worker. She's so supportive of her teammates and handles herself so professionally on the court. You never know if she's winning or losing. She just goes about her business.
"The team loves her. It's been such a good fit, and we really enjoy working with her, and I'm just excited to have her here."
Navarro, widely considered the nation's No. 1 recruit, has had an extraordinary career as a junior player. In 2019, she advanced to the singles semifinals of the Junior Wimbledon Championships and to the singles final of the French Open Junior Championships.
At UVA, Navarro joined a team with lofty goals, which O'Leary believes "adds a layer of purpose. Emma is definitely embracing that newness of playing for a team and playing for something bigger than herself. It just seems like she's thriving off of it. And so is the team, with the energy that she's bringing.
"Tennis is such an individual sport, but you have players like Emma who love being part of a team and love playing for something bigger than themselves, and I've definitely seen that in her since she's been out on the court with the team."
The Cavaliers don't have a large roster, and not all of their nine players are available. Carson Branstine, a transfer from the University of Southern California, is recovering from an injury and has yet to make her UVA debut.
O'Leary said she's hopeful Branstine will play this season but isn't sure about a timetable for the redshirt freshman's return to competition.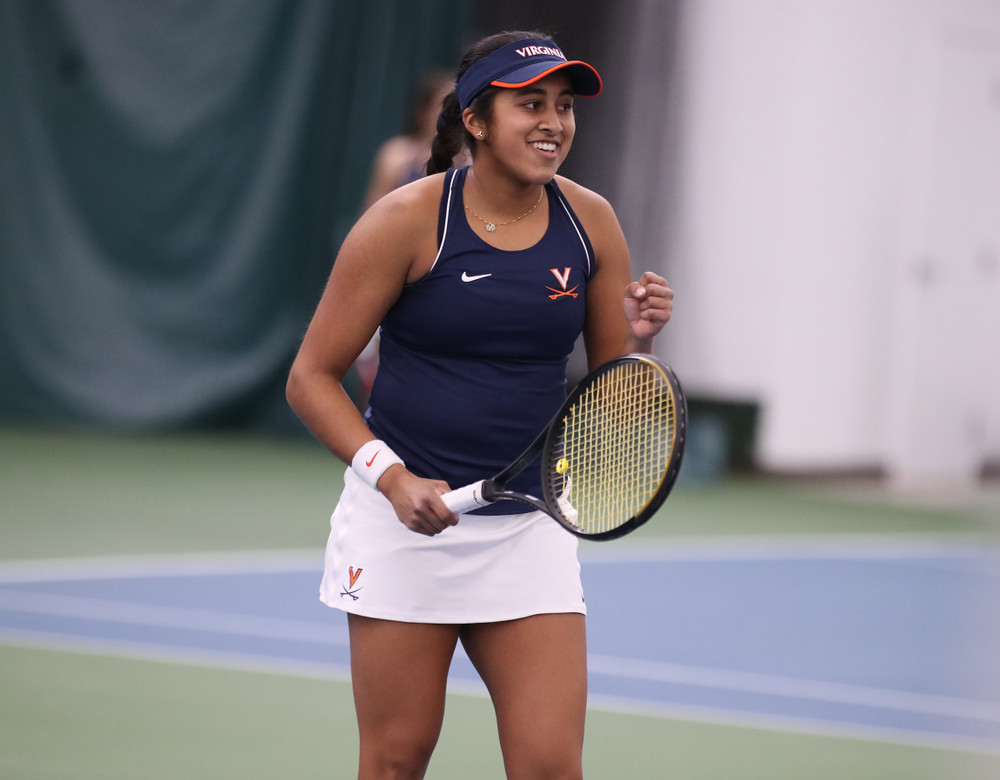 Navarro is playing No. 1 singles, and Natasha Subhash has moved to No. 2. As a freshman in 2019-20, Subhash posted a 26-6 record in singles. Johanson is at No. 3. The Hoos' other scholarship players are Branstine, Shaikh, juniors Sofia Munera and Amber O'Dell, and senior Vivian Glozman. Jourdan Krueger is joining the team as a walk-on this month.
"I think we have such a strong, deep squad that people can play anywhere in our lineup," O'Leary said. "What's amazing about it is the level of training in practice that we see every single day from adding such high-level players. They're making everybody better, and that's where I see the biggest impact: our practices are so high-level, and people have really high goals for this team, and so they're pushing each other and they're motivated."
To see a healthy Johanson on the court has been a joy, O'Leary said. After making the All-ACC second team as a freshman in 2016-17 and the All-ACC first team as a sophomore, Johanson missed the 2018-19 season with a back injury that required major surgery.
"I sat in the doctor's office with her before she had surgery, and the doctor told her she might never be able to play tennis again," O'Leary said. "So for her to be out there and playing the level of tennis she's playing, I'm amazed. I'm inspired by her. The entire team is inspired by her. I'm so proud of her, and I think she's matured a lot over these last few years.
"With what she's gone through and how difficult it's been, and knowing that tennis could have been taken away from her in a second, I think she's really appreciating this opportunity to be out there competing, and she's been an amazing leader for our team this year."
Johanson posted a 10-7 singles record in 2019-20. She's 3-1 this season.
"I think it was extremely challenging for her to go so long without playing a match and go through a surgery as major as the one she had," O'Leary said. "She did everything right in her rehab, but it was a lot, getting out there and playing those matches. I think at this point she has more matches under her belt, she has more experience, and it's much easier for her to step out on the court and compete the way she knows how to compete."
Even with the addition of the Marshall match, the Cavaliers will have extensive practice time before starting ACC play on Feb. 19. For that, O'Leary is thankful.
"We have some players who need to get healthy," she said, "and this gives us the time to do that, and to really have a training block to build off the things we've learned and saw in those first few matches."
It also will allow the Hoos to focus more on doubles.
"We've had to switch it up in the last few matches, kind of at the last minute, because of some health things," O'Leary said. "This gives us some time to really try some different combinations and work on the combinations that we like."
To receive Jeff White's articles by email, click here and subscribe.