CHARLOTTESVILLE, Va. – The Virginia wrestling team (2-2, 1-2 ACC) continues ACC competition on Friday (Feb. 5) when the Cavaliers host Duke (0-3, 0-3 ACC) in a 6 p.m. dual match at Memorial Gym. The match will be broadcast on ACC Network and streamed on through the ESPN app.
Due to health and safety considerations in addition to the current guidelines established for sports venues by the Commonwealth of Virginia, attendance at UVA wrestling matches is not open to the public.
---
STORYLINES
• The matchup with Duke is the final home dual of the 2021 season for the Cavaliers and second consecutive dual at home after knocking off No. 12 Pitt last weekend.
• Virginia has six wrestlers in the latest InterMat rankings released on Tuesday with Hayes (No. 12) at 133, Brian Courtney (No. 16) at 141, Justin McCoy (No. 16) at 157, Keating (No. 13) at 165 , Aiello (No. 8) at 197 and Quinn Miller (No. 20) at 285.
• The Cavaliers have won back-to-back duals against the Blue Devils and have won 14 of the last 15 matchups between the two teams in a series UVA leads 61-7-2.
• Some matchups to watch include 149 pounds where Denton Spencer will face off against Josh Finesilver, who had been nationally-ranked prior to this week. Also the matchup at heavyweight between Quinn Miller and Jonah Niesenbaum pits the wrestlers against each other after squaring off twice in the ACC Championships last season.
• The Cavaliers will recognize four seniors prior to the dual with the Blue Devils as Sam Book, Cam Coy, Louie Hayes and Drew Peck will be recognized for their contributions to the program throughout their wrestling careers.
---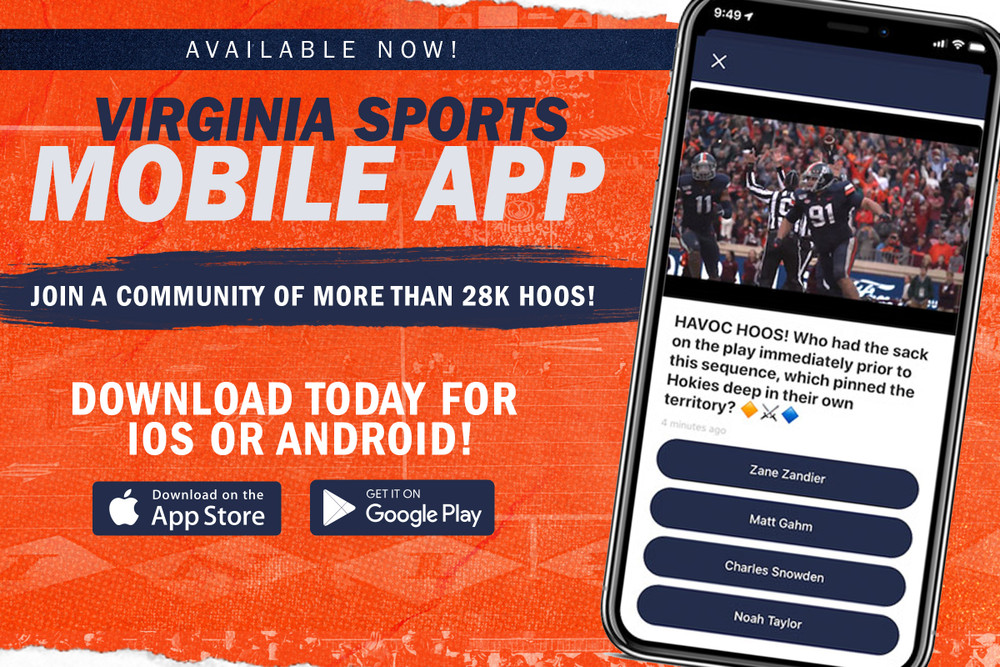 PROBABLE LINEUPS
VIRGINIA'S PROBABLE LINEUP
125: Patrick McCormick (4-4) OR Sam Book (4-3)
133: No. 12 Louie Hayes (6-2)
141: No. 16 Brian Courtney (6-1)
149: Denton Spencer (1-3)
157: No. 16 Justin McCoy (6-1)
165: No. 13 Jake Keating (6-2)
174: Vic Marcelli (5-2) OR Robby Patrick (5-1)
184: Michael Battista (5-2)
197: No. 8 Jay Aiello (6-1)
HWT: No. 20 Quinn Miller (5-1)
DUKE'S PROBABLE LINEUP
125: Logan Agin (1-2)
133: Drake Doolittle (0-1)
141: Patrick Rowland (1-2)
149: Josh Finesilver (2-1)
157: Brandon LaRue (1-2)
165: Eric Carter (0-2)
174: Conor Becker (1-2)
184: Open
197: Kaden Russell (0-3)
285: Jonah Niesenbaum (1-1)