By Jeff White (jwhite@virginia.edu)
VirginiaSports.com
CHARLOTTESVILLE –– The Pittsburgh Panthers came to town averaging 73.1 points per game. Against a Virginia team that prides itself on rugged defense, Pitt nearly reached its average Saturday, a turn of events that, not surprisingly, did not delight Tony Bennett.
"We didn't play very well defensively, if I want to be real," said Bennett, who's in his 12th season as UVA's head coach.
Even so, the ACC's first-place team found a way to win. Four players scored in double figures for the Cavaliers, who defeated the Panthers 73-66 at John Paul Jones Arena. Virginia shot 50 percent from 3-point range and 53.2 percent overall.
"Our offense carried us, but that's disappointing," Bennett said. "There's that saying: Don't accept in victory what you wouldn't in defeat. You're grateful for the victory, but you go to work on those areas."
The Wahoos (13-2, 9-1) blew open a tie game with a 16-0 run early in the second half, but Pitt battled back and cut its deficit to seven late in the game.
"Sometimes I think you get comfortable," UVA forward Sam Hauser said, "and we got comfortable with that lead."
Bennett wasn't pleased with the Wahoos' effort on the backboards––Pitt turned its 14 offensive rebounds into 12 second-chance points—or its interior defense. But he applauded the perimeter shooting of fifth-year seniors Hauser and Jay Huff, who between them were 6 for 8 from 3-point range; the passing of junior point guard Kihei Clark, who had a game-high eight assists; and the spark provided by senior swingman Tomas Woldetensae, who was 4 for 5 from long range.
"We needed his offense," Bennett said.
This has been a challenging season for Woldetensae, who transferred to UVA from an Iowa junior college in the summer of 2019. A season ago, he made 22 starts and averaged 27.1 minutes per game. This season he's started only four games and is averaging 13.2 minutes per game.
"It's hard to stay confident and be ready to go once your name is called," Woldetensae said Saturday. "But I'm always happy for the guys that produce and win games, because at the end of the day, it's about the team and winning."
He did his part against Pitt (9-6, 5-5), which was coming off an emphatic win over No. 16 Virginia Tech. Woldetensae, who'd been scoreless in his previous four games, checked in with 3:57 left in the first half. He proceeded to knock down back-to-back 3-pointers, and the Hoos rallied to take a 30-27 lead into the break.
Woldetensae hit two more treys in the second half and finished with 14 points, matching his season high.
"We needed another shooter, and Tomas was hitting them today," Bennett said.
Woldetensae wasn't the only UVA player who heated up Saturday. The 6-8 Hauser, a transfer from Marquette who sat out last season, made 8 of 9 shots from the floor and all four of his free throws. His 23 points were his high as a Cavalier.
"Sam is so steady," Bennett said. "He's poised … He knows how to play the game."
The 7-1 Huff was 5 for 6 from the floor and led the Hoos in rebounds (eight) and blocked shots (two). For the season, he's shooting 47.9 percent from beyond the arc.
"Jay's been playing well," Bennett said. "This was not one of his better interior defensive games, but he gave us a lift offensively and did some things."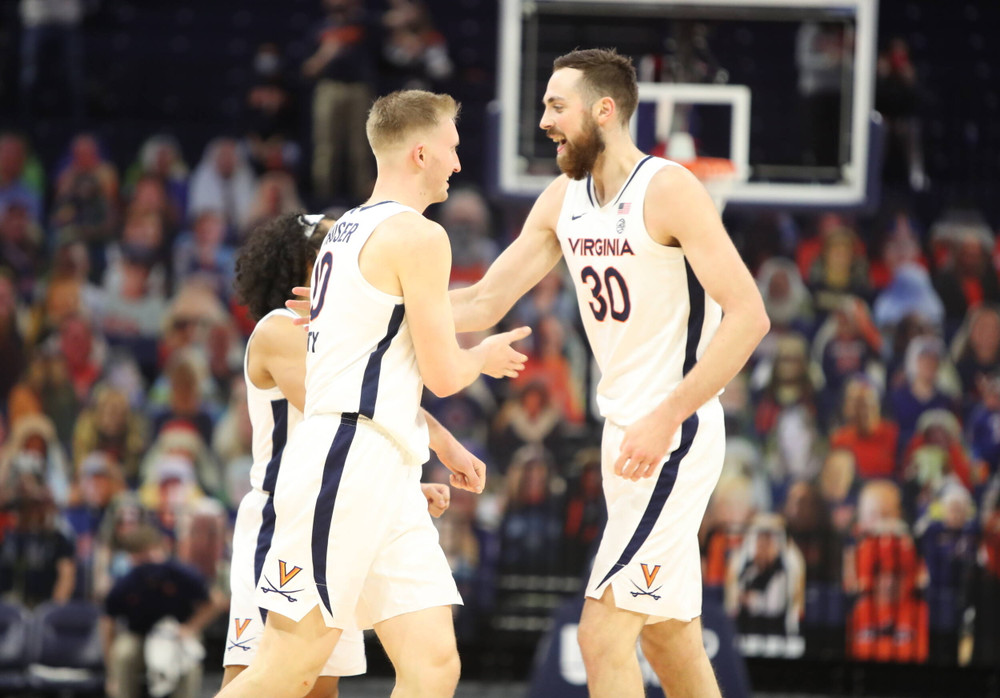 Virginia came into the game concerned, and understandably so, about Pitt's No. 11: Justin Champagnie, a 6-6 sophomore who leads the ACC in scoring and rebounding. Champagnie finished with a double-double at JPJ––18 points and 10 rebounds––but Hauser made him earn those points.
"Sam was the difference in this game with his offense and his defense," Bennett said.
Not known for his defense when he arrived in Charlottesville in 2019, Hauser struggled at that end of the floor early this season. But on Saturday he showed how far he's come as a defender.
"I thought he was really good at being, as we call it, a 'wall on wheels,' " Bennett said. "That part I was really pleased with."
Hauser said: "I've worked hard at it. Obviously, there's still some improvement to be had, but I think I played pretty solid at that end and made [Champagnie] work for his shots. He's a great player. Hats off to him. He still had a really good game. I just tried to make it as difficult as I could."
In Pitt's win over Virginia Tech on Wednesday night, junior guard Xavier Johnson scored a career-high 32 points. Against UVA, Johnson missed 9 of 12 shots from the floor and finished with 10 points.
"I thought Kihei challenged him in the second half, and that also was a highlight," Bennett said. "[Johnson] is one of the quickest guys in this league, and explosive."
STEPPING UP: The Panthers' strategy of sagging off UVA's starting guards, Clark and freshman Reece Beekman, paid dividends for most of the first half.
"They jammed and congested everything," Bennett said.
The insertion of Woldetensae shifted momentum in the Cavaliers' favor.
"Tom moving and hitting those shots, that opened it up, and then we were able to attack more in the lane," Bennett said, "and I thought Kihei a better job of getting into the lane, our offense was better. So having Tom loosen the defense the way they were playing was huge in this game. A great lift from Thomas. [He has] such a good attitude, and he just stays ready and he works."
It's been difficult adjusting to a reduced role this season, Woldetensae acknowledged, and he's struggled at times. "It was unsettling," he said. "But now I'm seeing myself in that type of role for this team and I'm getting myself ready for those type of actions. Mostly it's about mindset and just understanding your role."
ROUND TWO: After falling behind by 11 points early in the second half, UVA rallied for a 64-62 victory over Georgia Tech on Jan. 23 at JPJ. Hauser scored 22 points, and Huff added 18 points and five blocked shots as the Cavaliers ended the Yellow Jackets' five-game winning streak.
The teams meet again Wednesday in Atlanta. Regional Sports Networks will televise the 7 p.m. game. UVA has won seven in a row over Georgia Tech and leads the series 44-40.
This will be the second consecutive home game for the Jackets, who edged Notre Dame 82-80 in Atlanta on Saturday night. Georgia Tech is 9-6 overall and 5-4 in ACC play.
SOUND BITES: The Cavaliers have won six straight over Pitt and lead the series 16-4. Among the postgame comments at JPJ:
* Pitt head coach Jeff Capel: "Congrats to Virginia. They are a really, really good basketball team. Tough to defend, because they're very unique. Their shooting comes from their bigs––their 5-man, their 4-man––so it's a difficult match-up. It's something that's not common."
* Capel on Clark, a key contributor as a freshman on the UVA team that won the NCAA title in 2019: "He's really good. He's a national championship point guard, and he's been in big moments … He does a lot of stuff that equates to winning and might not show up as scoring."
* Bennett on his team's uneven performance: "My hope is we'll keep growing and keep learning from it, and it feels a lot better to learn lessons in victory than in defeat."
* Hauser on the Cavaliers' 16-0 run: "I think we kind of upped the ante in the energy category and played more together. Obviously, the ball movement went really well in that stretch of offense, and our defense really, really stepped up. But we weren't able to maintain that. I think we let our foot off the gas a little bit."
* Hauser on Woldetensae's contribution: "It was awesome. Each and every day he comes to practice, and he's … working at his game, because he knows if he gets his chance, like tonight, he wants to capitalize, and he did that tonight. He gave us a spark, and I think that really helped us."
* Hauser on the Cavaliers' defensive lapses: "Our team understands that we're not gonna be able to play games like that majority of the time. Today we did, but when it gets later in the season and games mean even more, you're gonna have to win with your defense, and [Bennett] emphasized that, and that's why we've got to practice every day and keep working at it."
To receive Jeff White's articles by email, click here and subscribe.