By Jeff White (jwhite@virginia.edu)
VirginiaSports.com
CHARLOTTESVILLE –– That Alex Walsh grew up to become an elite swimmer does not constitute a startling development. Both of her parents, after all, are athletically inclined.
"My dad ran track and field in high school," Walsh said, "and now he plays basketball to stay in shape."
She laughed. "But he's not a very strong swimmer. So those genes definitely came from my mom."
Glynis Anderson Walsh swam on the team at Boston College, where she had a superb college career. Still, that did not foretell the heights her children have reached in the sport.
Alex is in her first year at the University of Virginia, where she already ranks third all-time in the 100-yard backstroke, third in the 200 individual medley, third in the 100 breaststroke, and fourth in the 200 breaststroke.
Her best stroke?
"It's hard to say," UVA head coach Todd DeSorbo said. "She's just so good at everything. I would say her weakest stroke is probably butterfly, but she's still good at it. I think her back or her breaststroke are probably equivalent. She's really strong on those two, and then her freestyle is not far behind."
Alex is 18 months older than her sister, Gretchen, who'll join her at UVA in 2021-22. Both are members of the U.S. national team: Alex in the 200-meter backstroke and 200m IM, Gretchen in the 50m freestyle and 100m freestyle. (UVA sophomore Kate Douglass is on the national team in the 100m butterfly.)
Her mother remembers the first time she realized Alex might be more aquatically inclined than her peers.
"We used to have her swim for fun, but she never really got any type of swim lessons until she was almost 6 years old," Glynis Walsh said. "Then I dropped her off at this swim camp, and the instructor said, 'Jump in and swim freestyle,' and she started swimming and breathing every third stroke. I called my husband and said, 'Alex can swim!' "
Races followed, and Alex usually won. "But she didn't practice that much, on purpose," Glynis Walsh said. "I swam kind of my whole life through college, so I know it's a grind, and I wasn't interested in having a young child practice every day."
Even so, Alex established herself as a prodigy. When she was 12, she began breaking national age-group records. That's also when she surpassed her mother's fastest times, a feat Gretchen would also accomplish around the same age.
"My mom claims it's because we're in the tech suit era and she wasn't," Alex said, laughing. "That's her excuse."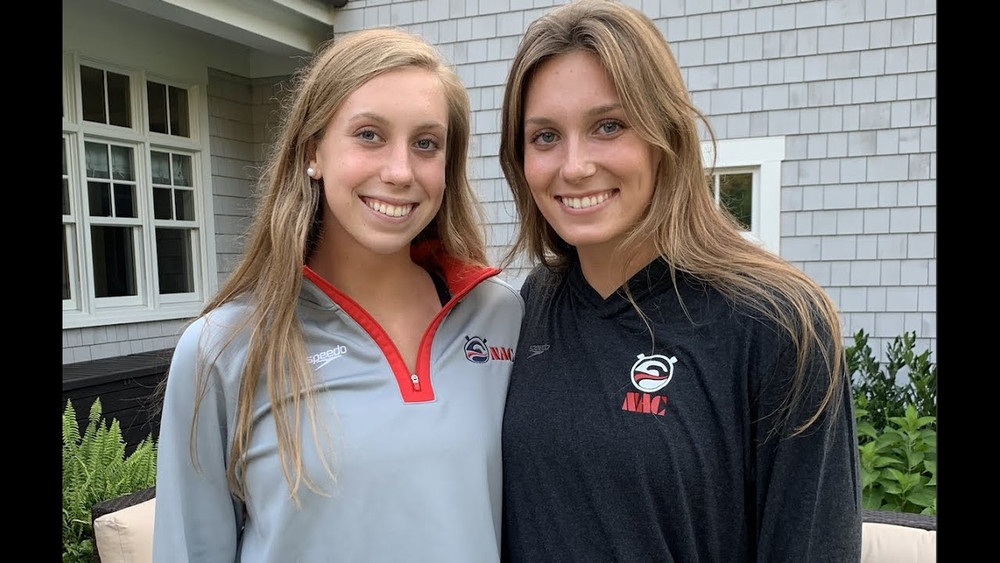 Born in Nashville, Tenn., Alex moved with her family to Greenwich, Conn., when she was around 7 years old. About six years later, the Walshes moved back to Nashville, where Alex and Gretchen attended Harpeth Hall School.
Harpeth Hall has a swim team that the sisters led to state championships, but they trained primarily with the Nashville Aquatic Club.
Alex, considered one of the top two recruits in the nation's Class of 2020, committed to UVA in March 2019. The opportunity to help the Cavaliers pursue the program's first NCAA title appealed to her. But what differentiated "UVA from the rest of the schools that I looked at was how close the team was," Alex said. "The team culture is at the core of everything we do here on the swim team. I just wanted to be a part of that."
With the COVID-19 pandemic ongoing, this has not been the college experience Alex envisioned when she chose Virginia, but she and her classmates have made the most of it.
The first-years on the men's and women's swimming and diving teams live in the same dormitory. "They've really bonded," Glynis Walsh said, "and that's been really helpful. There's a lot of lot of ups and downs [with the pandemic], and it helps all of them get through these difficulties together."
Gretchen, who's considered the No. 1 recruit in the Class of 2021, committed to Virginia in January 2020. She signed her letter of intent in November.
In the end, Glynis Walsh said, her daughters "both picked UVA for the same reason, but it was an independent choice. Really, it was the team that they liked, and the energy and the cohesiveness and the spirit that really stuck out to them."
DeSorbo said: "You will often see siblings go to the same university, but we've seen that not happen as well. So I don't think we thought this was a lock. Gretchen, I know, wanted to have her own experience and wanted to make her own decision and be her own person. And I don't think she wanted people saying, 'Well, Alex is at UVA, so Gretchen is going to UVA as well.' But we didn't think by any means it was going to hurt us to have Alex here. They're really, really close."
Alex said: "She's my best friend. I couldn't be more excited for her to come and finally be with the team."
That Gretchen is a sprinter means the sisters will be in different training groups at UVA. That wasn't the case with the Nashville Aquatic Club when Alex was a high school senior.
"A bunch of the older girls had already graduated," Alex said, "so Gretchen and I were just expected to show up at practice and go in lanes next to each other and race the entire practice. That put tension on our relationship, just because we were supposed to be training rivals. You become competitors, and that can put a strain on your relationship. So we knew that we didn't want that to happen [in college]."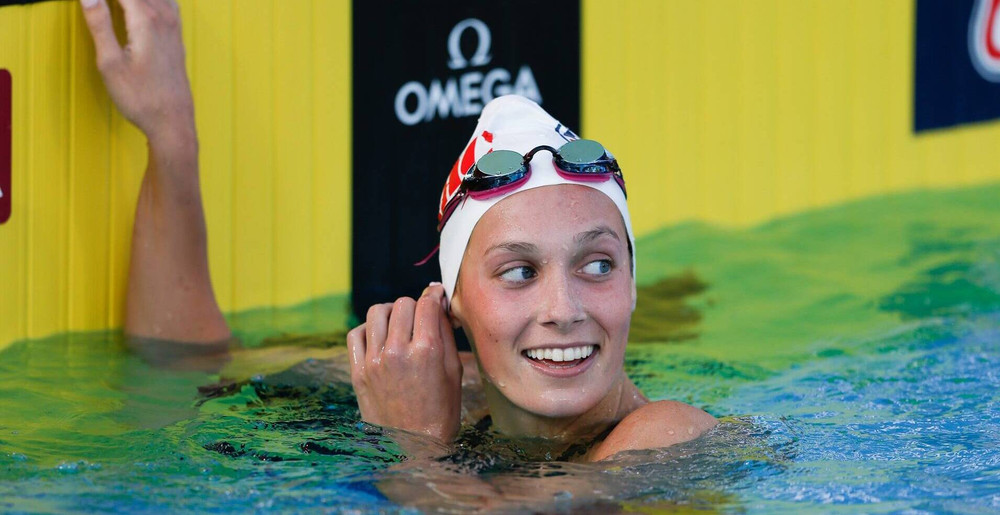 The ACC women's swimming and diving championships started Wednesday morning and run through Saturday in Greensboro, N.C. Virginia, the defending ACC champion, is ranked No. 2 nationally.
"I am really excited to see what not only myself but also everyone on the team is gonna be able to do at ACCs," said Alex, who stands 6-foot.
The pandemic has affected the team's training schedule, but "that didn't really change how hard the practices were and the effort that we were putting in," Alex said. "I've never worked this hard in my entire life. I feel so strong in the water, and that's a combination of this additional yardage I've been doing and endurance work, but also the weight room, which is something that I never really focused on and excelled at in high school."
This year has been challenging for everyone on the team, DeSorbo said, "but Alex has done really well. She's acclimated well. She's the type of swimmer that just needs some rest to swim really, really fast. So I would expect that come ACCs and NCAAs she's going to have some significant drops compared to what she's done so far this year."
Those aren't the only competitions of note scheduled for this year, of course. Alex, who won three gold medals at the 2019 Pan American Games in Peru, hopes to represent the United States this summer at the Olympics in Tokyo.
"I've been training to make the Olympic team for the past five years," she said. "I've shared that goal with a lot of people, so it's not a secret."
In 2016, as a rising ninth-grader, Alex competed at the U.S. Olympic Trials, an experience that "molded my goals" in the sport, she said. The pandemic forced the cancellation of last year's Olympic Trials, which have been rescheduled for this June.
"It was not traumatic, but it was definitely hard to cope with," Alex said, "just because in the year leading up to it you sacrifice so much and you have to deal with this anticipation, which can be mentally exhausting. So I was kind of nervous about having to go through that again [this year], but being at Virginia, I think the transition to college has almost distracted me from the Trials, which I think honestly has been good, just because I've been coming to practice every single day. I don't necessarily think of the Trials, but I still work very hard."
When the calendar flipped to 2021 last month, Alex said, it occurred to her that "this is now an Olympic year. I've definitely been thinking about it more, but I'm not really as nervous as I was last year, and I think that's because my confidence in the water has increased tenfold since I've been here, just because the amount of work I've put in has been so much greater than I've done before."
All the while, she's remained upbeat.
"We don't put expectations on her, and we don't put pressure on her," DeSorbo said. "I think she's just enjoying herself, just working hard, just listening to what we're telling her to do and having a good time."
To receive Jeff White's articles by email, click here and subscribe.