By Jeff White (jwhite@virginia.edu)
VirginiaSports.com
CHARLOTTESVILLE –– Two weeks after winning the ACC women's title in the long jump, Jada Seaman flew with four of her University of Virginia track & field teammates to Albuquerque, N.M., last March for the NCAA indoor championships.
The Cavalier contingent returned to Grounds without getting an opportunity to compete. On the eve of the NCAA meet, concerns about the COVID-19 pandemic shut down college sports.
On the flight home, the group was somber, Seaman recalled this week. "It was really quiet. It was just kind of depressing, because I feel like half my season got taken away after putting in all that work. I was there. I was that close. I could taste it. But I had to go home."
Her second postseason as a Cavalier begins Thursday night in Clemson, S.C., where this year's ACC indoor championships run through Saturday. Seaman will compete in the 200-meter dash, long jump, and 4x400m relay.
A sophomore from the Baltimore suburb of Pikesville, Md., Seaman trains with two coaches at UVA. Four days a week at Lannigan Field, she's with Michelle Freeman, who works with the Wahoos' sprinters. On Wednesdays, Seaman is with Mario Wilson, coaches the jumpers.
Seaman, who has yet to compete in outdoor track & field at UVA, holds program records in the indoor long jump (6.46 meters) and the indoor 200 meters (23.76 seconds). She's second all-time, behind her roommate Halle Hazzard, in the 60, an indoor event. Hazzard, a senior, has run it in 7.24 seconds, Seaman in 7.37.
"I don't even think that Jada has really tapped into Jada as a sprinter yet," said Freeman, a three-time Olympian for her native Jamaica. "She's young, and there's so many more things that Jada has to learn to ultimately be that great athlete."
It's a process Freeman enjoys. "Jada is a jewel to work with. Nothing bothers Jada. When you get athletes like those, you just consider yourself blessed."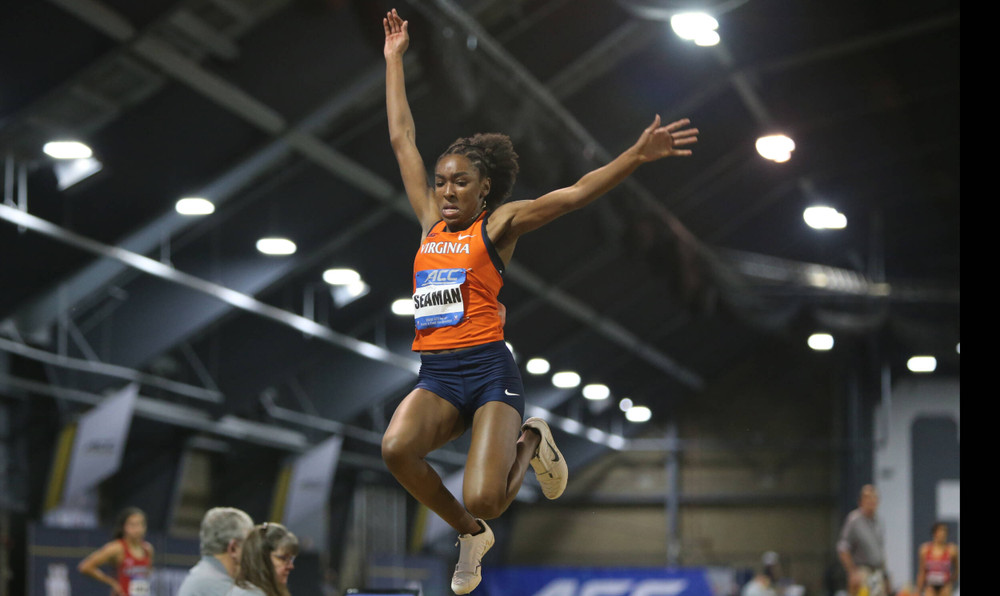 Starting in kindergarten, Seaman attended McDonogh School in the Baltimore area. She played basketball growing up and was part of AAU travel teams in that sport, "but I kind of got bored of it," said Seaman, who stands 5-foot-7. "So I stopped, and then I had to do something else."
She's always been fast, and when Field Day rolled around at school, Seaman invariably won the races. "I would take off," she said, laughing.
Not surprisingly, then, she thrived after picking up track & field. An All-Metro selection in the sport, Seaman committed to UVA late in her junior year at McDonogh. She capped her senior year by winning the long jump at the New Balance Outdoor Nationals at North Carolina A&T in Greensboro, N.C.
"That's a big one," said Wilson, who attended the meet. "That was her high school crowning moment."
Seaman said: "It was my final chance [to compete] before I went to college, so it was kind of like I went out with a bang."
She finished sixth in the 100 meters at same meet to earn All-America honors in that event, too.
Her favorite event is probably the long jump, "but I can't long jump [well] unless I sprint," Seaman said, "so it's kind of like a whole circular relationship with it all. I guess I'm better at long jump, but I need to be fast on the runway and sprint in order to be good in the first place."
In the sprints, Seaman said, she prefers the 200. "I feel like I'm not as explosive as I could be out of the blocks, and the 60 is such a short race. You don't even have time to think. You have to run. But I feel like the 200 is a nice length where you can push out and you have time to build up speed and get out and run."
Not every talented sprinter is also an elite long jumper, Wilson noted. "Some sprinters run heavy, and they just don't conceptualize lift when they're running. They're fast and they're powerful, but they're not bouncy. Jada definitely knows how to create lift, and her running mechanics complement it."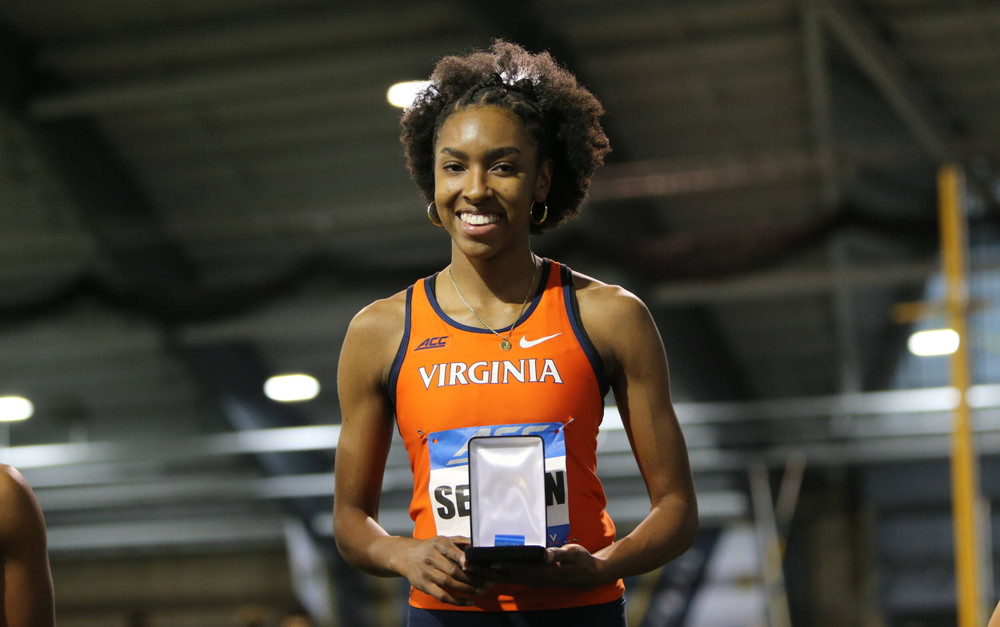 Seaman's primary coach, Freeman, takes a tough-love approach with her sprinters and hurdlers.
"She challenges you, and she really tells you like it is," Seaman said. "I feel like for me as an athlete, I need that kind of pushing to really get me to where I need to go. I need someone to tell me what I'm doing wrong, what I need to fix. Don't sugarcoat anything. I really like Coach Michelle."
Seaman likes Wilson, too. "He cares about you and he'll let you know to take it easy if you need to. Don't push yourself, don't hurt yourself if you're not feeling it that day. So two different dynamics, and I appreciate both of them."
Freeman laughed when she was told of Seaman's assessment of her. But she didn't dispute its accuracy.
"I'm not going to sugar-coat when I know that they can do better," Freeman said. "I'm not going to give them a tap on the back because they're doing something I know they're capable of doing.
"Am I going to give credit where credit is due, when credit is due? Of course, because they're hard-working kids, and they deserve that. That's what helps them and propels them to get to that place where they need to be. But at the end of the day, I have to be hard on Jada when I know that Jada is not doing stuff up to her potential.
"Jada is just getting an understanding of who Jada is. So it's going to take her a little time, but she's the kind of athlete that can do anything from the 100 to the 400 to the long jump. She's that good, and we have to help Jada become the star that Jada can become."
Seaman, who's part of the track & field program's leadership group, grew up in a household where education was stressed. "My parents wanted me to go to a good college, which made my decision to go to UVA that much easier," Seaman said.
She's applied to UVA's prestigious McIntire School of Commerce and expects to learn soon if she's been admitted. After the University switched to online classes last March, she finished the semester from her home in Maryland, where she had access to the track at McDonogh.
It was not what she'd envisioned when she enrolled at UVA in the summer of 2019, but Seaman has kept a positive attitude throughout the pandemic.
"I'm glad that I got that first-year experience that I did before COVID came along," she said. "It showed what UVA is. I had lots of fun, I made lots of friends, and I was able to actually sit in classes and have classes to go to. So I feel like I'm glad I got that little taste, because now miss it a lot. I can't wait to go back to it."
To receive Jeff White's articles by email, click here and subscribe.