By Jeff White (jwhite@virginia.edu)
VirginiaSports.com
CHARLOTTESVILLE –– Like so many others who pull for University of Virginia lacrosse, Steele Stanwick marveled at attackman Matt Moore's performance against Loyola last weekend in Baltimore.
Stanwick, though, is not just any UVA fan. With 269 career points, he ranks first all-time at Virginia. A wondrously talented attackman, Stanwick twice was named a first-team All-American and in 2011 received the Tewaaraton Trophy as the college game's best player.
After watching the 6-2, 195-pound Moore score five goals in Virginia's 15-12 victory over Loyola, Stanwick reached out to him.
"I shot him a text, just saying, 'Great game. Keep it going,' " Stanwick said. "I just feel like he keeps better and better. Every time you turn on the game, he's added something to his game."
Stanwick, who helped Virginia capture the NCAA title in 2011, has had several conversations with Moore over the years. "He's been a great role model for me to talk to and pick his brain," Moore said.
Another UVA lax legend, Conor Gill, has never spoken to Moore. But like Stanwick, Gill follows his former program closely, and he's a fan of No. 5, too.
"Certainly from what I've seen, Matt Moore seems to be the guy that makes them go," said Gill, a two-time first-team All-American at Virginia, where he ranks second in career assists. As a freshman in 1999, Gill helped the Cavaliers win their first NCAA championship in 27 years.
Moore, who's in his fourth year at UVA, was named the ACC's offensive player of the week for his performance against Loyola. His fifth and final goal, with 5:21 left, put the Wahoos ahead 14-12. With a defender on his hip, Moore dodged from behind the cage and scored on a jump shot while fading away from the goalkeeper.
"I was laughing with Matt about that," Virginia offensive coordinator Sean Kirwan said. "That goal [created] so much buzz, and I said, 'Matt, I watch you do that every day at practice.' Maybe I'm numb to it now. That was to me a very classic Matt Moore goal. Sometimes you've got to take a step back and kind of realize that we're around someone that's pretty special."
Next up for UVA is a showdown at the Carrier Dome in Syracuse, N.Y. In the conference opener for each team, the third-ranked Cavaliers (3-0) and the No. 10 Orange (0-1) meet at 6 p.m. Saturday. The game will air on ACC Network.
For Moore, this will be his second game in the Carrier Dome. The first was on March 2, 2019, when the Hoos rallied from four goals down in the fourth quarter and defeated Syracuse 15-14 in overtime.
"That game was a turning point," Moore said of a UVA season marked by improbable comeback wins.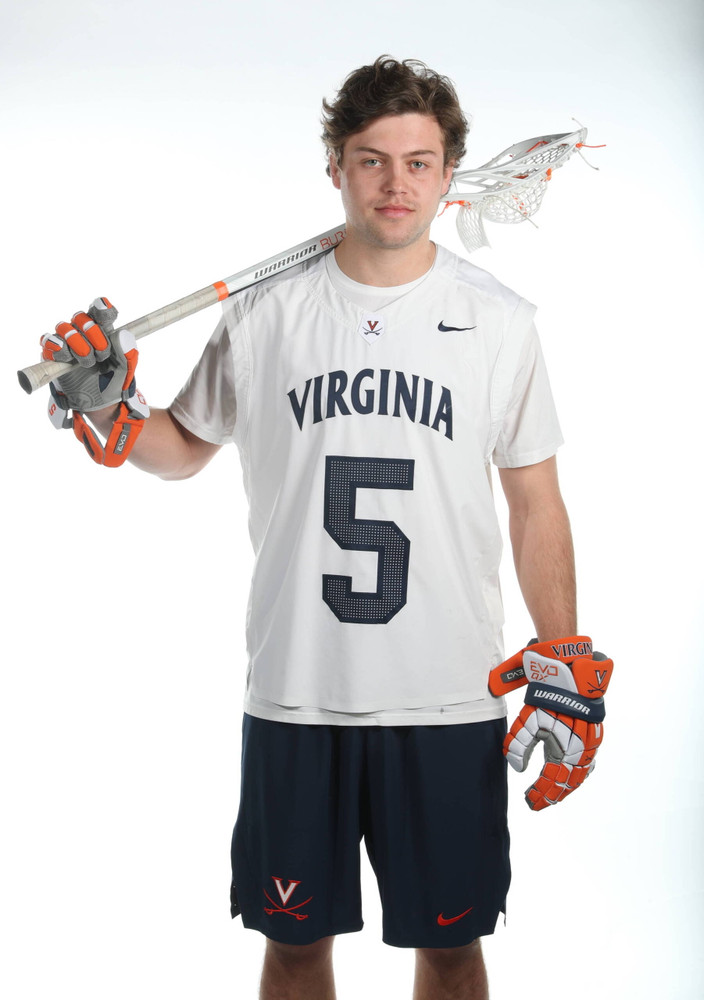 Moore has had a high profile in the sport for years. He committed to UVA in December 2013, midway through his freshman year at Garnet Valley High School, about 25 miles southwest of Philadelphia.
At Garnet Valley, Moore played for head coach Frank Urso, who was a four-time first-team All-American at the University of Maryland.
In 2018, Moore totaled 19 goals and 15 assists and was named ACC Freshman of the Year. He played in the midfield that season but switched to attackman as a sophomore. He experienced some growing pains at his new position, but once Moore got comfortable on the attack, he became a force.
"He does some things that you can't teach," Urso told VirginiaSports.com in a 2019 interview.
Moore finished his sophomore season with a school-record 89 points. With 46 goals and 43 assists, he became the first player in program history to total more than 40 in each category in the same season.
As satisfying as those records might be, Moore takes more pride in what the team accomplished in 2019. In their third year under head coach Lars Tiffany, the Hoos won the program's sixth NCAA title, and Moore played a starring role in a postseason run that also included an ACC crown.
Against Maryland in the NCAA quarterfinals, Moore capped a sensational UVA comeback by scoring the winning game in overtime. "From my vantage point, that was kind of his coming-out party," Gill said, "where he kind of propelled himself onto the big national stage."
More heroics followed from Moore. A week later, against Duke in the NCAA semifinals, he assisted Ian Laviano on the goal that forced overtime. In the second extra period, Moore fed Laviano for the goal that ended the Cavaliers' 11-game losing streak in the series.
Two days later, Moore had four goals and an assist as Virginia defeated Yale 13-9 in the NCAA title game. That the Cavaliers collected the trophy at Lincoln Financial Field in Philadelphia, not far from his hometown, made it that much more special for Moore.
"It was awesome," he said.
In 2016, as a high school junior, he'd watched his cousin, Alex Moore, help North Carolina win the NCAA women's lacrosse title in Chester, Pa.
"I was just mind blown," Moore said. "I remember thinking, 'This is my dream to be here, to play in this position,' and I never thought it would come true."
That dream became reality in 2019, and along the way Moore realized how difficult it is for a team to win it all. "I won't take it for granted," he said.
Nearly two years later, the Cavaliers are still the reigning NCAA champions. The 2020 lacrosse season ended abruptly last March when concerns over the COVID-19 pandemic shut down college sports.
With a team-high 35 points (19 goals and 16 assists), Moore was having another big season when play was halted. UVA switched to online classes soon thereafter, and Moore, a foreign affairs major, finished the semester at home.
He went on long runs to stay fit and honed his lacrosse skills in shooting sessions with other college players from the Philly area.
"It was a tough time," Moore said, "because we didn't know when we were going to be able to play again. But everyone was in the same position, everyone's season got canceled, so we were all like, 'Let's start working for the next season.' "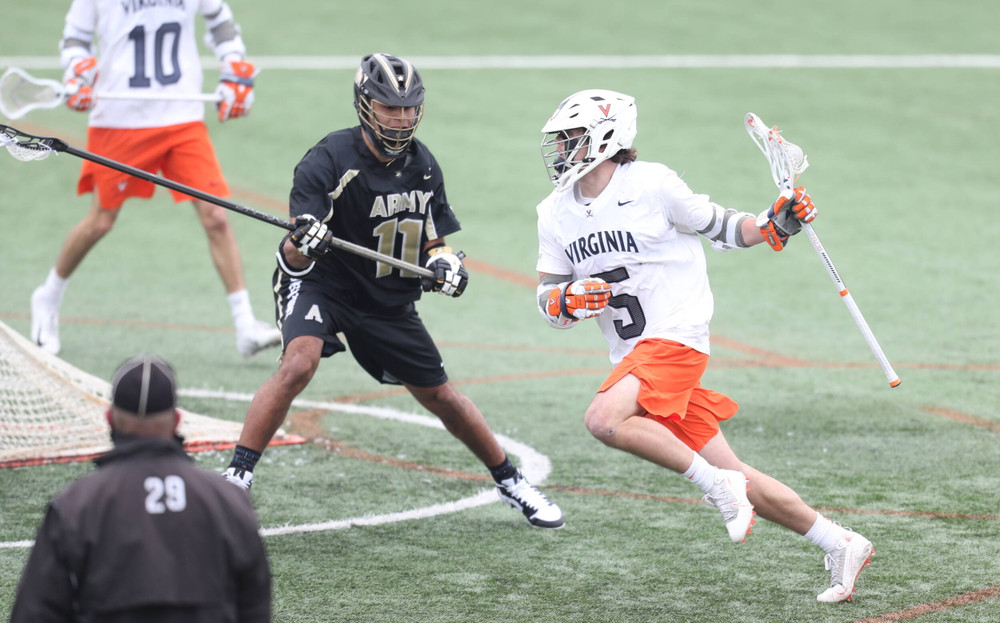 After a fall in which the Cavaliers, for various reasons, rarely had a full complement of players at practice, Moore returned to Charlottesville in January intent on making this another season to remember.
"You could tell there was a fire with him," Kirwan said.. "He's a very driven guy, and sometimes a little too hard on himself, but that's a good thing. He continues to hold himself to a high standard, which is what you want as a coach. You want a guy that wants to put in the work and feels kind of antsy when he's not, and that's Matt."
The NCAA granted an extra year of eligibility to student-athletes who competed in spring sports last season, and Moore will be back at UVA in 2021-22. He's been accepted into a master's program in the Frank Batten School of Leadership and Public Policy.
That's great news for the Cavaliers. Moore already is on the short list of the nation's top players, and he continues to improve.
"What I've probably noticed the most this year," Stanwick said, "is just how strong he is when he decides to lean in for his right hand. It feels like he's gotten bigger, stronger, faster, too."
Both Stanwick and Gill say Moore reminds them in some ways of Matt Ward, who won the Tewaaraton Trophy after helping Virginia win the NCAA title in 2006. Ward ranks third all-time at UVA in career goals.
Moore is "really fast and he's really strong, and he shoots the ball really hard on the run," Stanwick said.
In 24 seasons under Hall of Fame coach Dom Starsia, UVA became known for its elite attackmen. That tradition has continued under Starsia's successor, Tiffany, with such players as Moore, Laviano and Michael Kraus, who's tied for fourth all-time in career points.
Moore's combination of size, strength, vision and athleticism, however, might be unique.
"He's midfielder athletically that we've now moved to the attack," Kirwan said. "His burst, his change of direction, his physicality, he's a big guy that likes using his strength and kind of bullying his way in there. There's some pieces to his game that still remind you of him as a midfielder, but he's able to translate it to the attack position and do it all over the field."
For his career, Moore has 74 assists. This season, though, he's still looking for his first.
"I was talking to Coach Kirwan about it," said Moore, shaking his head. "I was like, 'Coach, what's going on?' He said, 'Matt, they're not sliding. You got to do what you got to do.' "
Moore, who sat out the season opener, returned for Virginia's 14-9 win over Army in Charlottesville. He scored three goals against the Black Knights.
"I think of myself as a feed-first kind of guy," Moore said, "and I like kind of incorporating everyone else in the offense, but Army and Loyola, they didn't slide. I guess I've never really seen that before. It's a weird start to the season."
Kirwan said UVA's coaches are "OK with teams not sliding. We obviously have some guys that can win some matchups, and that was kind of the takeaway from the Loyola game. They didn't really slide that much to us, so we needed some individual efforts, with Matt being at the forefront of those. We only had three assisted goals. We feel confident as an offense that we'll kind of roll with the punches with the defense gives us."
On a team averaging 16.3 goals per game, the long list of big-time scoring threats includes Moore, Laviano, Payton Cormier, Connor Shellenberger, Charlie Bertrand and Dox Aitken.
"It's a ton of fun," Kirwan said. "I love the idea of keeping the defensive coordinator on edge with how we can move people around. Sometimes they're coming out of the box, sometimes they're at attack."
It's only a matter of time, he added, until Moore starts racking up assists again.
"That is far from a worry here," Kirwan said. "The day absolutely will come, and he's had opportunities already, with an unlucky bounce here, a pipe there. So they're definitely coming."
To receive Jeff White's articles by email, click here and subscribe.