By Jeff White (jwhite@virginia.edu)
VirginiaSports.com
CHARLOTTESVILLE –– Wrestlers who were state champions in high school abound on the University of Virginia roster, and many of them won multiple titles.
Jake Keating is in another group.
"I didn't have a great high school career," recalled Keating, who's from the Chicago suburb of Naperville, Ill. "I got fifth my senior year, and that was the only time I placed at state."
At UVA, however, he's blossomed in head coach Steve Garland's program. The ACC runner-up at 165 pounds, Keating is one of eight Cavaliers headed to the NCAA Championships, which will be held March 18-20 in St. Louis, Mo. The others are Patrick McCormick (125 pounds), Louie Hayes (133) Brian Courtney (141), Justin McCoy (157), Victor Marcelli (171), Jay Aiello (197), and Quinn Miller (285).
For Keating, a redshirt junior, this will be his first appearance in the NCAAs. "It's been a long time coming," he said. "It was hard to wait this whole time, but I'm glad I'm finally going."
Keating nearly qualified as a sophomore in 2019, when he competed at 157 pounds. Had Keating defeated Duke's Ben Anderson in their consolation semifinal at the ACC tournament, he would have advanced to the NCAAs. Keating had won by technical fall over Anderson during the regular season and quickly built a 10-5 lead in the rematch. But Keating attempted an unnecessarily risky move that backfired on him, and Anderson pinned him with 1:01 left in the first period.
"I was just trying to score more points and win by as much as possible," Keating said. "I probably could have shut it down and just gotten a safe win. But that's easy to say looking back."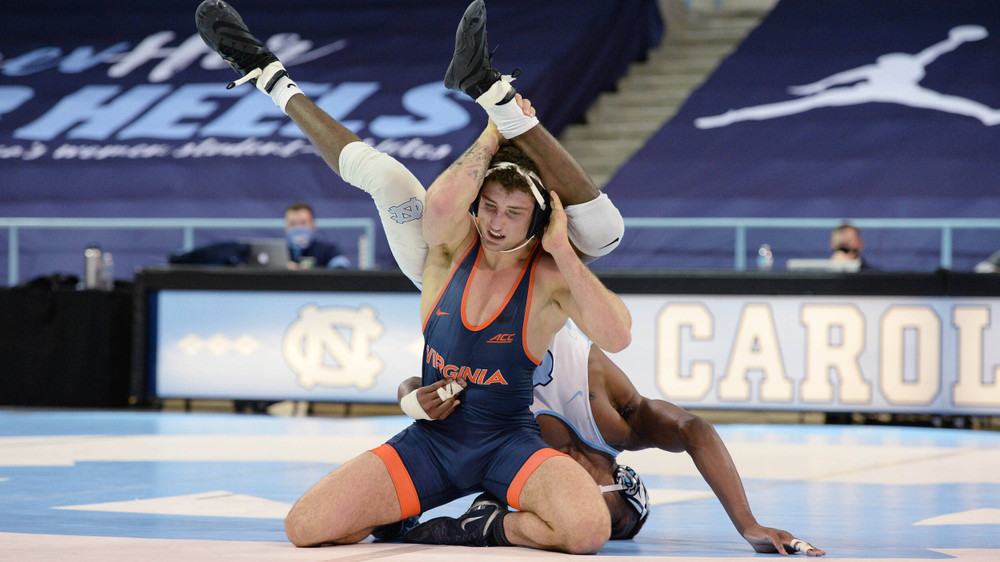 Redshirting is a common practice in college wrestling. It's often used in a wrestler's first year, but Keating redshirted after his second season at Virginia. He'd been successful as a Cavalier, finishing 25-15 in 2017-18 and 17-13 in 2018-19, but he was anything but polished on the mat.
"He needed to get better at wrestling," Garland said. "I know it sounds ridiculous. He's been wrestling his whole life. But wrestling is a martial art, and he needed to get better technically.
"Jake's a prideful, stubborn guy, but he finally realized, 'I need to take a step back, and it's not about heart and work ethic. It's that I really need to figure out the sport.' And he just engrossed himself in learning really high-level techniques, all the things that you can actually work on. The stuff you can't teach is the heart. You can't teach his mental toughness, you can't teach his motor, you can't teach the fact that he can throw you and do pretty much anything on his feet."
Keating said the coaches accurately assessed his strengths and weaknesses.
"My second year, I was there mentally and physically with the top guys, but I felt like I was getting beat on technical stuff," Keating said.
Even at Naperville Central High School, whose former wrestlers include his father, "I was always kind of just like all about toughness, all about outworking everyone," Keating said, "but I didn't really take the time to slow down and learn the sport and do what I really needed to do to win."
He remembers working on drills with UVA assistant coach Trent Paulson in the Memorial Gymnasium wrestling room one day. "I was kind of just going through the motions, going fast, and wasn't really paying attention to the technical side," Keating said, "and he stopped me and said, 'Listen, everyone knows you can win a match on toughness. At some point you're gonna have to win a match on technique, though.'
"That conversation really stuck with me. From that point on, I kind of just slowed down and completely relearned the sport. I was very intentional about how I was drilling during practice and just watched a lot of film outside of practice and really kind of immersed myself in the technical side."
Competing unattached in 2019-20, Keating wrestled in only eight matches.
"It was tough to take that year off," he said. "Most guys will redshirt their first year, and they don't necessarily know what it's like to be in the lineup. But I had been in the lineup. I'd been starting, and on top of that I had [nearly qualified for NCAAs in 2018-19]. So when I was making the decision to redshirt, it was definitely tough because I didn't want to wait that long until I got another shot. But I sat down with the coaches and we had a good talk, and they kind of convinced me that was going to be the best thing for my development."
Were they correct?
"Absolutely," Keating said. "Throughout the whole year off I could feel myself getting better and I could feel myself progressing, but it was definitely cool to actually see it in competition [this season], because it had been a while since I'd competed. I came back and I was beating these ranked guys, and a lot of people were surprised, but I was like, 'That's how it should be. I took all that time off to get better. If I didn't get any better than it was kind of a waste.' "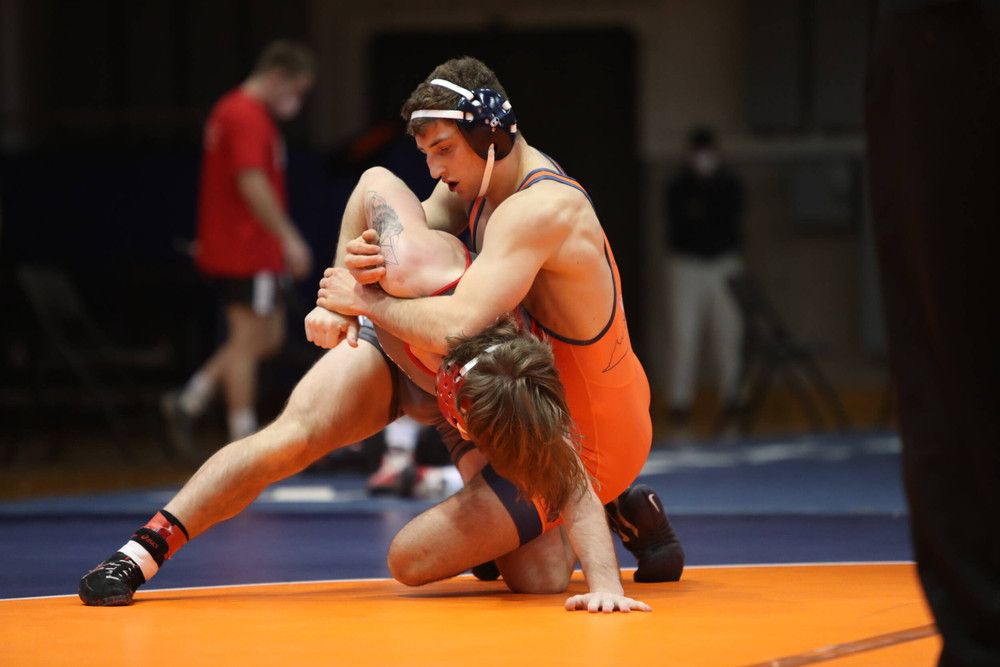 He's 10-3 this season and ranked 10th nationally at 165 pounds. In January, Keating knocked off then-No. 10 Thomas Bullard of NC State, after which he was named ACC Wrestler of the Week. Keating was named ACC Co-Wrestler of the Week last month after posting an 18-15 victory over then-No. 11 Kennedy Monday of North Carolina.
Keating trailed 11-3 in the second period before rallying to defeat Monday.
"There's the culmination of all his work," Garland said. "It takes a lot of mental toughness and a lot of motor to be able to do that to anybody when you're down that much. I don't care who it is. It was one of the craziest things I've ever seen. But he also did it with really good technique. So that's where it all comes together."
Even when he trailed 11-3, Keating recalled, "I was never panicked. Obviously, I don't want to go down that much, but I've been in matches like that before, so I know I'm never out of it. And the nice thing about wrestling is at any point you can pin him and it doesn't matter what the score is. And the crazy thing is, that's not even the craziest comeback I've had in college."
That occurred in January 2019 at the Virginia Duals in Hampton. Against Lock Haven's Alex Kluckner, Keating fell behind 14-0 and was in danger of losing by technical fall. But Keating scored two points on a reversal and then pinned Kluckner with 45 seconds left in the first period.
"I think ever since that moment, I've had that confidence that I'm never out of a match," Keating said.
At last month's ACC tournament, Keating was the No. 3 seed at 165 pounds. He won by technical fall over sixth-seeded Eric Carter (Duke) in his first match, then advanced past No. 2 seed Mekhi Lewis (Virginia Tech) by injury default in the semifinals. In the final, top-seeded Jake Wentzel (Pitt) defeated Keating 4-0.
A cognitive science major, Keating will compete for the Wahoos as a fifth-year senior in 2021-22. He's thrilled to be in Charlottesville. As a high school senior, he had some contact with the Cavaliers' coaching staff but wasn't sure UVA would be a viable option for him.
"At one point I actually stopped talking to Coach Garland," Keating said.
He was on the verge of committing to Ohio University, but his mother suggested he delay his decision for a couple of weeks. Not long after that, Keating attended a Fellowship of Christian Athletes breakfast at which Garland was the keynote speaker.
"Hearing him talk I was like, 'Man, I'd love to wrestle for him. Maybe I've got to rethink this,' " Keating said. "And so I sent him a text, and we ended up working everything out and I'm glad it worked out."
So are the Cavaliers. Keating's journey to the NCAA Championships is "very rare in Division I wrestling, and that's what makes the story so great," Garland said.
"I saw something in him in his films. You could tell he was tough and you could tell he didn't have any fear. He'd do anything out there, and I thought that would be rewarded."
To receive Jeff White's articles by email, click here and subscribe.