By Jeff White (jwhite@virginia.edu)
VirginiaSports.com
CHARLOTTESVILLE –– In a college basketball season unlike any other, perhaps it's only fitting that the Virginia Cavaliers experienced a Selection Sunday unlike any other in Tony Bennett's 12 seasons as their head coach.
For the eighth time under Bennett, the Cavaliers are headed to the NCAA tournament, which they won in 2018-19. (Had the COVID-19 pandemic not resulted in the tournament's cancellation last year, this would be their ninth appearance during his tenure.)
For the first time, however, the team did not watch the selection show together, and so the reaction was different when the Wahoos learned they'd been awarded the No. 4 seed in the West Region.
In a first-round game Saturday, UVA (18-6) will face No. 13 seed Ohio (16-7), the Mid-American Conference champion, at Assembly Hall in Bloomington, Ind. TruTV will televise the 7:15 p.m. game.
"We celebrated it on Zoom," Bennett told reporters on yet another Zoom call Sunday night.
Team members have been separated since returning home Friday from Greensboro, N.C., where a UVA player tested positive for COVID-19 after the quarterfinals of the ACC tournament. Top-seeded Virginia, the ACC's regular-season champion, was to have played No. 4 seed Georgia Tech in the semifinals Friday night, but that game was called off after contact tracing sidelined most of Bennett's players.
At that point, it was unclear if the Wahoos would be able to play in the NCAA tournament, but they've had no positive tests since then. They'll continue to be tested daily, but if all goes well, the quarantine will end Thursday, Bennett said, and the team plans to fly to Indiana on Friday.
"There's never a good time to have it," Bennett said, "and this is not ideal, but if you're going to have it, we took it about to the last day that you could have a positive case [and still play in the NCAAs]."
In the team's Zoom call Sunday evening, Bennett reminded his players that on Friday there was no guarantee UVA would hear its name called Sunday night. Going forward, he said, the "message will be: Be thankful, be hungry, respect the situation, and let's go."
The players who are quarantining will be allowed to exercise and have some individual shooting sessions at John Paul Jones Arena, Bennett said, but the team won't be able to practice until late in the week.
"We'll be using Zoom a lot, with video," Bennett said. "It's certainly a unique way to prepare for the NCAA tournament, but I'm thankful that the NCAA gave our young men the chance, because they earned the chance to get into this tournament, considering our circumstances."
Bennett said UVA's medical staff is working closely with the NCAA to ensure the proper protocols are followed.
The Virginia-Ohio winner will face No. 5 seed Creighton or No. 12 seed UC Santa Barbara in the second round Monday. The player who tested positive would not be available for either game, Bennett said, but otherwise the Cavaliers should have a full roster if they have no more positive tests.
For a team to go without practicing for an extended stretch ahead of the NCAA tournament is not ideal, Bennett acknowledged. "We understand that going into it, but the opportunity is now presented to us, assuming obviously you pass the tests and get the negatives. You just make the most of it and get as ready as you can in the ways that you can."
Bennett remembers the disappointment on the faces of seniors Sam Hauser, Jay Huff and Tomas Woldetensae when he told the team Friday that UVA's game with Georgia Tech was off.
"That was rough," Bennett said, "and I didn't know at that time [if the Hoos would play again this season]."
Saturday, hope began growing that Virginia might be cleared to play in the NCAAs, and "here we are now," Bennett said. "So, good Lord willing, we'll show up and we'll be ready to go to the best of our abilities. That's what's in our control."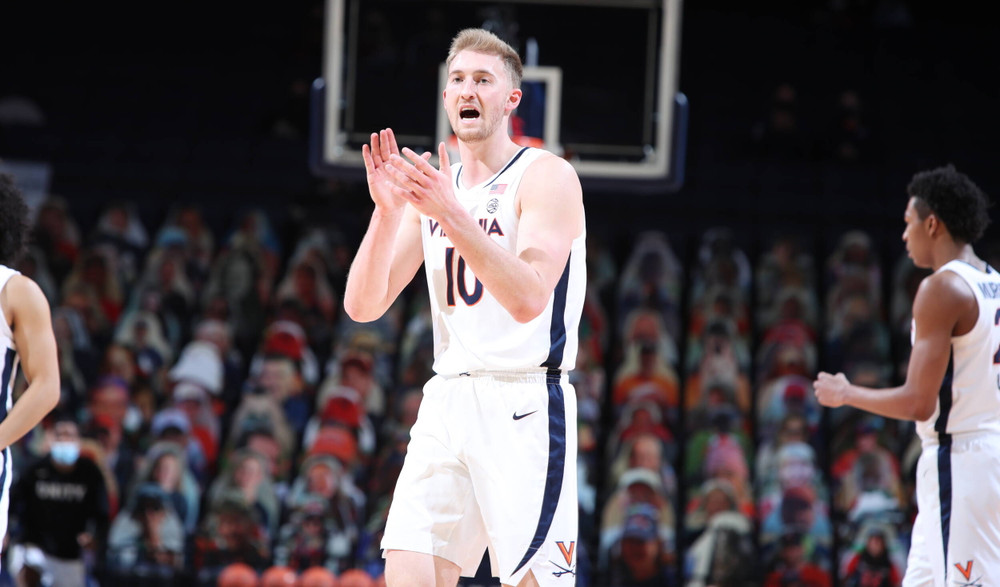 Ohio entered the MAC tournament as the No. 5 seed and proceeded to knock off No. 4 seed Kent State, No. 1 seed Toledo and, in the championship game, No. 2 seed Buffalo. The Bobcats, who lost to Big Ten champion Illinois by two points during the regular season, have five players averaging at least 10.3 points each.
"I'll learn a lot more about Ohio," Bennett said, "but I know that they're a talented team that can score."
UVA is 1-2 all-time against Ohio. The teams haven't met since Feb. 26, 2003, when the Bobcats won 78-72 in Athens, Ohio.
Virginia is one of seven ACC teams in the NCAA tournament field.
"Our guys earned this opportunity," Bennett said. "We go in grateful, humbly, and we'll be as ready as we can, given the circumstances."
Before taking questions on his Zoom call with media members, Bennett mentioned a text he'd just received from his right-hand man, Ronnie Wideman, UVA's associate athletics director for basketball administration/operations.
"He said, 'What a journey! Back in October, I thought there was no chance we'd get here. Seventy-two hours ago, our chances of having our name called out [looked] very bleak, but here we are, and we've got a chance,' " Bennett said.
"This is such a unique and strange year … It is what it is, but we're getting a chance to go down there and get ready and we'll make the most of it, for sure, [while] respecting who we're playing."
In 2019-20, Virginia closed the regular season with eight straight victories, only to see its season end prematurely when the pandemic hit. In Greensboro last week, the Cavaliers encountered more adversity.
"Friday, you could see the look in their eyes, so I think this breathes life into them," Bennett said. "I think they're certainly hungry and certainly looking forward to that chance in Indianapolis."
TICKET INFORMATION: The NCAA has provided an extremely limited number of tickets to schools participating in the tournament's first and second rounds. As a result, requests for tickets in UVA's block are limited to Virginia Athletics Foundation donors and Virginia men's basketball season ticket holders.
For more information on ticket availability in Virginia's block throughout the 2021 NCAA tournament, click here.
Tickets outside of Virginia's seating block may be available to purchase through the NCAA. Visit NCAA Ticketing to review ticket availability and to purchase tickets.
To receive Jeff White's articles by email, click here and subscribe.