By Jeff White (jwhite@virginia.edu)
VirginiaSports.com
CHARLOTTESVILLE –– After arriving in Indianapolis on Friday, members of the University of Virginia's traveling party took their first round of COVID-19 tests in the early afternoon. The second round was administered around 1 a.m. Saturday.
Some seven-and-a-half hours later, the Cavaliers could exhale. A much-anticipated text message arrived from Ronnie Wideman, UVA's associate athletics director for men's basketball administration/operations, and the news was good.
"We got through our two tests, so the game is a go!" associate head coach Jason Williford said in a phone interview later Saturday morning.
The Wahoos may be a little sleepy today, but they're not complaining. "It feels good," Williford said. "We're playing. We've got a shot."
At 7:15 p.m. Saturday, in the NCAA tournament's first round, UVA (18-6) will meet Ohio (16-7) at Assembly Hall in Bloomington, Ind., about a 60-minute bus ride from Indianapolis. TruTV is carrying the game. The Cavaliers are seeded No. 4 in the West Region, and the Mid-American Conference champion Bobcats are No. 13.
After winning the ACC's regular-season title on March 6, Virginia headed to Greensboro, N.C., to try to capture another championship, this one at the conference tournament. The Hoos edged Syracuse 72-69 in the ACC quarterfinals on March 11, but then had to withdraw from the tournament after one of their players tested positive for COVID-19.
Back in Charlottesville, much of the team was quarantined because of contact tracing, and there was no guarantee the Cavaliers would be cleared to play in the NCAAs. Every day brought another round of testing.
"Every morning you were waking up and waiting on the all-tests-are-negative text [from Wideman]," Williford said. "You're more anxious about that than anything right now."
The Cavaliers met on Zoom throughout the week but practiced only once after returning from Greensboro, and that was Friday morning at John Paul Jones Arena.
How that will affect the Hoos "remains to be seen," Williford said. "Several teams this year that have come out of pauses and looked great. Then there are several teams that have come out of pauses, and it's been bad for them.
"Quite honestly, it's about your mental approach, and some guys needed some rest. This was good for them, because of all the minutes they've been logging. It's not ideal going into this, but there are no excuses. We've got a shot. We had a practice. We'll have a walk-through today, and we'll be ready."
This will be the Cavaliers' first NCAA tournament game since April 8, 2019, when they defeated Texas Tech for the national championship in Minneapolis. Virginia closed the 2019-20 season regular season with eight straight victories and was a lock to return to the NCAAs, but the COVID-19 pandemic shut down college sports before the tournament could begin last March.
Williford said he's especially happy that Virginia's seniors will be able to experience another NCAA tournament. That group consists of Sam Hauser, Jay Huff, Tomas Woldetensae and Austin Katstra.
"I felt for them more than anybody when all of this went down and we had to pull out of the ACC tournament," Williford said. "That was tough."
Hauser said: "When we first heard the news that there was a positive, you didn't really know how to feel. We didn't know if our season was over or if we were gonna still have a chance to be able to play."
Huff and Katstra were on the Cavaliers' NCAA championship team in 2018-19, but Hauser and Woldetensae were at other schools that season.
Hauser, a fifth-year senior who was named to the All-ACC first team this month, played in two NCAA tournaments during his career at Marquette. Unlike Woldetensae, who was immediately eligible after transferring from a junior college at UVA in the summer of 2019, Hauser had to sit out last season.
"I think transferring and having to sit out is pretty humbling, knowing that you've got to sit on the bench every game," said Hauser, who's from Stevens Point, Wis. "Practices are like your game day, and you can't really do much about it on game day, so it's definitely humbling. But throughout the whole process I was able to work on my game and myself, on and off the court, and I think I've grown up as a man."
Tony Bennett, who's in his 12th season as UVA's head coach, said Hauser made the most of his time away from competition.
"He improved," Bennett said, "and that's the thing you look for from all these guys in their off year, because he was really good coming in. So it's like: What can you improve, and he attacked all areas. He's so purposeful and focused, and he'll do anything [the team needs]."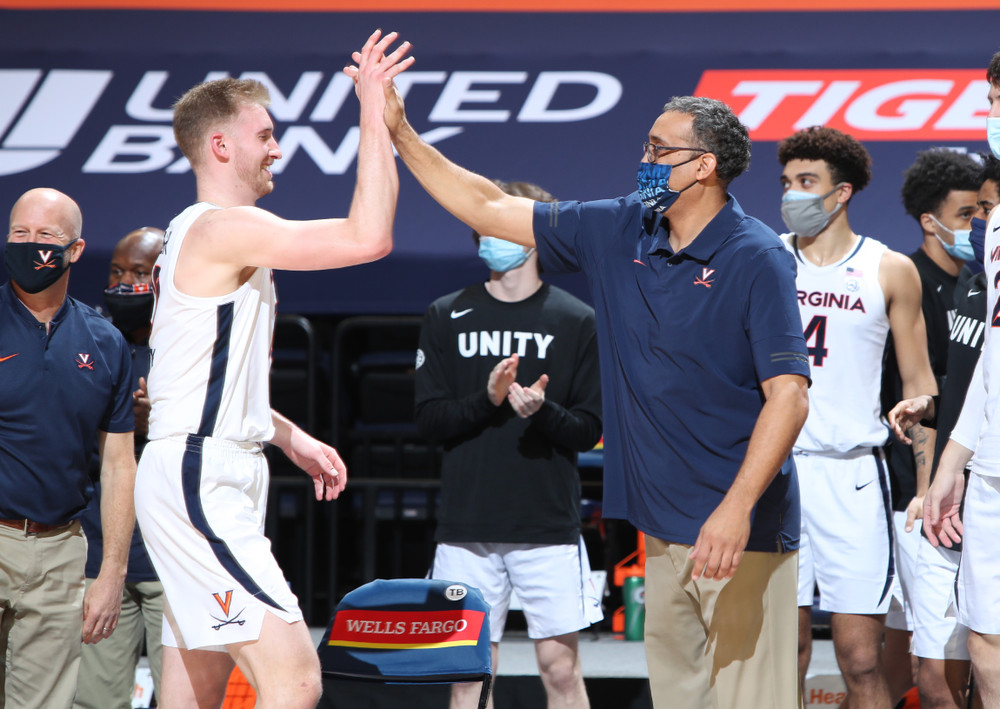 Bennett and Hauser answered questions Monday on a Zoom call, and both addressed the challenge the Bobcats will present Saturday night.
"Overall, they've looked good so far," Hauser said, "and we're gonna have our hands full, for sure."
That Ohio plays in a mid-major conference means nothing, Bennett said. "Good basketball knows no divisions or limits."
The Bobcats, seeded No. 5 in the MAC tournament, defeated No. 4 seed Kent State, No. 1 seed Toledo and No. 2 seed Buffalo en route to the championship.
Every Ohio starter averages at least 10.3 points per game. Leading the way is Jason Preston (16.6 ppg, 6.8 rpg, 7.2 apg), a 6-4 junior who reminds Bennett of former UVA star Ty Jerome, now a second-year guard with the NBA's Oklahoma City Thunder.
"Which is one of the best compliments I can give," Bennett said.
Preston, who's from Orlando, Fla., was lightly recruited coming out of high school, but "if someone's good, they're good," Bennett said. "If they develop, they develop, and sometimes it's just aligning in the right situation at the right time, and then having something inside of you. And that's what Ty had. He could control the game, whether it was creating, hitting shots, using change of pace, and he just had, I guess, the 'it factor.' And what I've seen from Jason is he looks like he has those abilities [too]."
Another Ohio standout is 6-foot-8 forward Ben Vander Plas, the younger son of one of Bennett's teammates at Wisconsin-Green Bay. Hauser knows the Vander Plas family, too, and played on a travel team with Ben when they were in elementary school.
Assembly Hall is the home of the Indiana Hoosiers, and Bennett, a former Wisconsin assistant coach, is familiar with the arena. His sister Kathi is a former head coach of the Indiana women's team, and one of the banners in Assembly Hall celebrates a championship the Hoosiers won during her tenure in Bloomington.
For UVA's home games this season, attendance at JPJ was capped at 250. The Cavaliers played in front of larger crowds at several road games, though, and about 4,300 fans will be allowed inside 17,222-seat Assembly Hall on Saturday night.
"It won't be the same [as a packed house], it won't be normal, but it makes a difference," Williford said. "You feed off of that energy, and we're going to need some of that, quite honestly, until the players can get their legs back under them."
With the pandemic ongoing, the Cavaliers have become accustomed to dealing with adversity for the past 12 months. They won't have a full complement of players Saturday night or, if they defeat Ohio, in their second-round game Monday. That hasn't deterred them.
His players will "do anything to get this opportunity," Bennett said. "This year has been different in all ways and in some ways we're the poster child of that, I guess."
Virginia was the last team to arrive in Indy for the NCAA tournament. That's less than ideal, but the Hoos know it beats having to stay in Charlottesville and miss the NCAAs.
"I think at the end of the day we're just going to be grateful to be able to play," Hauser said, "and once you step on the floor, I think the guys will be ready to go."
To receive Jeff White's articles by email, click here and subscribe.