By Jeff White (jwhite@virginia.edu)
VirginiaSports.com
CHARLOTTESVILLE –– Head coach Todd DeSorbo came to the University of Virginia in August 2017 with something of a five-year plan. If all went well, DeSorbo believed, the UVA women's swimming & diving team would be in position to contend for an NCAA championship by 2022, though he noted Monday that "being a national title contender and actually winning the national title are definitely two separate things."
The project is well ahead of schedule. In 2017-18, the Cavaliers' first season under DeSorbo, they placed ninth at the NCAA meet. In 2018-19, they improved to sixth. In 2019-20, Virginia would have entered the meet as one of the favorites, but the COVID-19 pandemic forced the cancellation of NCAAs.
Nothing deterred the Wahoos this year. In Greensboro, N.C., in the same pool in which they'd captured the ACC title last month, the Hoos won the NCAA championship going away Saturday night.
Virginia, which sent 14 swimmers and three divers to Greensboro, finished with 491 points, to 354 for runner-up NC State. UVA became the first ACC program to win an NCAA team title in swimming & diving.
"I'm pleasantly surprised that we're here this quickly," said DeSorbo, whose staff consists of associate head coach Tyler Fenwick, assistant coaches Blaire Bachman, Wes Foltz and Andrew Sheaff, and diving coach Drew Livingston.
By the time the final session started Saturday night at the Greensboro Aquatic Center, UVA had all but clinched the team title, "so there really wasn't much nervousness," senior Paige Madden said Sunday. "We've talked all year about jumping in the pool [to celebrate a national championship], so I think it was really just a build-up of all that excitement to do that as a team together, and just a lot of happiness all around."
Madden, who's from Mobile, Ala., enrolled at UVA about the time DeSorbo arrived in 2017. That first season, she said, "the goal was just to win ACCs, because the year prior we'd gotten second. We did that, and that was great. Then my second year, we got sixth at NCAAs, and I think that's when we realized how quickly we were improving and how much of an impact we could have on a national level."
The explanation for the Cavaliers' rise to the NCAA summit, DeSorbo said, is two-fold.
"Recruiting obviously has gone really well," he said. "Our first-, second- and third-years are classes that we recruited, and I think each year the classes have just grown and gotten better and gotten deeper. Since our second-year class committed, with Kate Douglass, Ella Nelson, Lexi Cuomo and Maddie Donohoe, and then our current first-year class, it's kind of just snowballed. So that's obviously been a big part of it, but I think beyond that, they're all really developing as well.
"It's one thing to get really talented athletes. I think as a coach, the faster your athletes are coming in out of high school, it's even more difficult to get them to improve, because they're already really fast."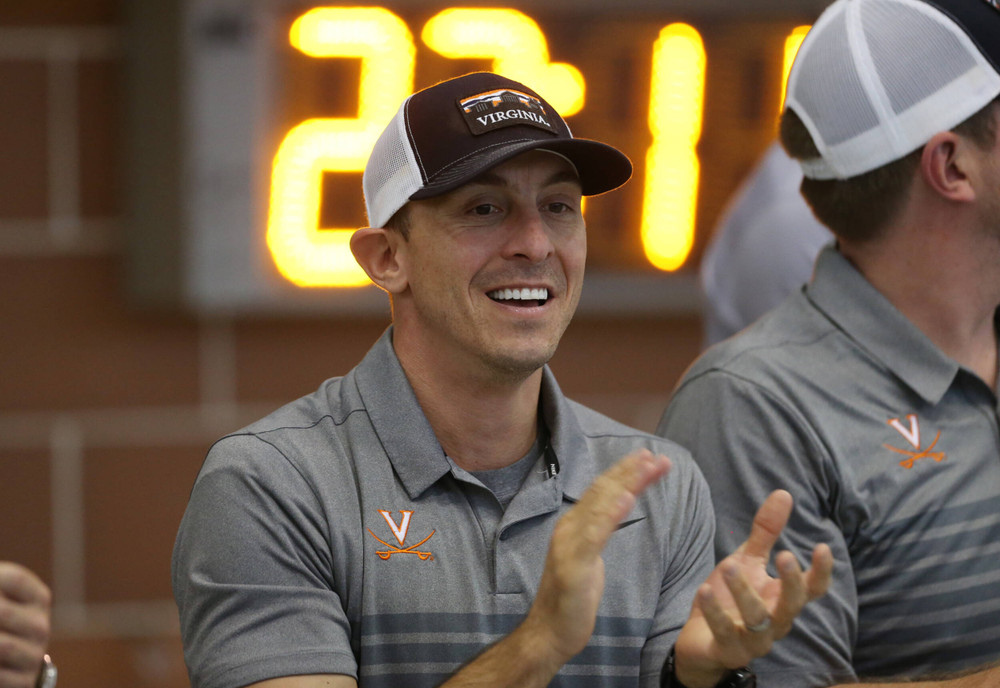 That hasn't been an issue with such swimmers as sophomores Kate Douglass, Ella Nelson and Lexi Cuomo and freshmen Alex Walsh, Abby Harter, Anna Keating and Reilly Tiltmann, all of whom were highly regarded recruits. Douglass won the NCAA title in the 50-yard freestyle in Greensboro, and Walsh finished first in 200 individual medley.
"I think that their improvement has been tremendous," DeSorbo said of the team's underclassmen, "and that's just a tribute to their buy-in, their trusting the process, their trusting our coaches, and their willingness to sacrifice and work hard and be disciplined. I'm kind of in awe of what they've done and how much they've improved here over the last couple of years."
And then there's Madden, who capped her illustrious college career with a spectacular performance in Greensboro. She won three individual titles, in the 200 freestyle, 500 freestyle and 1,650 freestyle, and helped the Cavaliers win the 800 free relay.
"Her work ethic is unmatched," DeSorbo said. "Every day, every single practice, she comes and she works. She's just very, very driven towards her goals. She's really put the team on her shoulders so many times, and she did it again [in Greensboro].
"Obviously, it takes a lot more than one person to win any meet, whether it's a dual meet or a national championship meet, but that's somebody you'll never replace. I'm not necessarily worried about that for the future, though, because the hope is that every year you have those kind of people who can't be replaced. That just means you're good and your athletes are developing and they're having fun and they're doing great. But obviously we wouldn't be where we are today without her."
Madden, who'll graduate this spring with a degree in kinesiology, said she'll savor the team championship most of all.
"I'm glad that I was able to contribute towards that with my individual titles," Madden said, "but if given the option, I would choose the team title any day."
The pandemic has resulted in additional eligibility for student-athletes who want to use it, but Madden has swum as a Cavalier for the last time.
"There's no way I can top what happened this weekend, and so I think it's good just to go out on top," said Madden, an Olympic hopeful who plans to eventually become a physician assistant. "It's a bittersweet ending, but I'm glad that it happened the way that it did."
On the bus ride back to Charlottesville late Saturday night, Madden said, the team sang the Good Old Song. "No one could sleep, because we were so excited."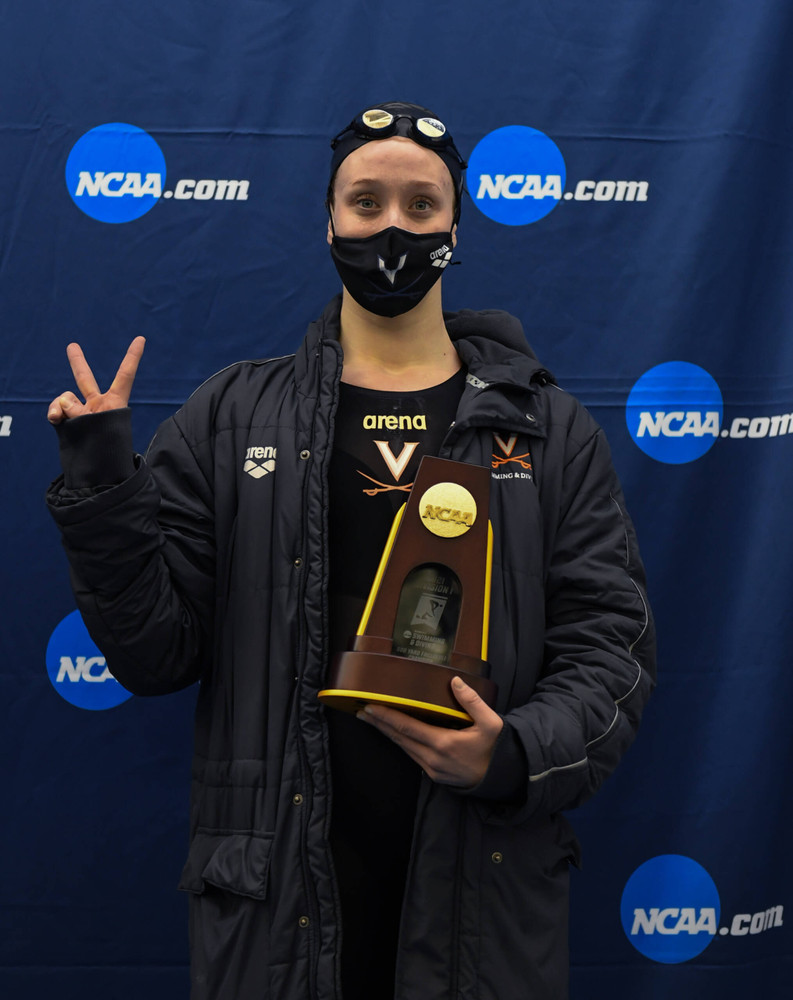 The NCAA meet started Wednesday night with the 800 free relay, and UVA dominated the race. The team of senior Kyla Valls, Madden, Nelson and Walsh won by five seconds, a victory worth even more than the 40 points Virginia earned.
"It was huge," said DeSorbo, who's heading back to Greensboro on Tuesday for the NCAA men's meet. "I feel like if we'd gotten second in that relay, we still could have won and we still would have won, but even though it was only four members of the team, and we had 17 there, those four ladies winning that relay inspired and fired up the entire team.
"I think there's always a little bit of doubt in the back of everybody's minds. Maybe not doubt, but a question: 'OK, we can win this, but are we going to win this? Can we perform?' And I think that relay just gave everybody a lot of confidence. The next morning they came out and really just hit the gas and never let up.
"It was just a huge momentum builder, and I think they were slightly in shock by the fact that they won by so much as well. I think they thought they would have been pushed a little bit more than they were, and it put them at ease a little bit and let them relax, which in our sport is huge. If you can be relaxed before your races, you're going to perform a lot better."
The Cavaliers' success under DeSorbo has delighted the program's alumni, said Beth O'Connor Baker, who was an All-American under head coach Mark Bernardino. Bernardino, a former UVA swimmer, guided his alma mater to 27 ACC team titles: 16 on the men's side and 11 on the women's.
Bernardino, who's now associate head coach at NC State, abruptly retired at UVA in 2013, and Augie Busch was hired as his successor. The manner in which the University handled Bernardino's departure displeased many of his former swimmers and divers, and they distanced themselves from the program during Busch's tenure.
When DeSorbo was hired, Baker said, alumni "decided we needed to reach out more to our brothers and sisters and bring them back into the fold."
Baker, whose son, Ryan, is a former UVA swimming standout, oversees a private Facebook group whose members include many of the program's alumni.
"They're just out of their minds," Baker said. "A lot of these women, especially, had swum for unbelievably awesome teams that never got to the point where they won the national championship. They won individual national championships, but the team didn't win. It's overwhelming, I think, the love and appreciation that everybody feels. They're off the charts. [The NCAA championship has] brought this whole group back together like nothing ever has before."
The Cavaliers' coaches, Baker said, "have all done a phenomenal job of trying to reach out to the alumni and making them feel welcome."
Throughout the postseason, DeSorbo said, alumni sent "words of encouragement, letters and notes to the [current team] via email. I think we probably got over 50 emails from different alumni, and for every session at NCAAs, Coach Blaire Bachman printed one of those off and gave it to each one of the ladies so they could read it and be inspired a little bit.
"It's been fun to have their support and get them excited. [The current team is] is proud to be representing all the women that have come before them in the last 40 or 50 years that the program has been here."
To say I'm proud is an understatement! Simply incredible how far the @UVASwimDive program has come and now with a National Championship! Proud to be an alum of such an awesome program. Congrats to the women's 2021 Natty Champs! It was worth the wait✌🏼⚔️🏆https://t.co/jUyR1x1Jfl

— Lauren Perdue Britt (@LoPerdue) March 21, 2021
Of Virginia's current head coaches, DeSorbo became the eighth to have won at least one NCAA team title, joining Vin Lananna (11 in cross country, indoor track & field, and outdoor track & field, at Stanford and Oregon), Kevin Sauer (two in rowing, at UVA), George Gelnovatch (two in men's soccer, at UVA), Tony Bennett (one in men's basketball), at UVA, Brian O'Connor (one in baseball, at UVA), Lars Tiffany (one in men's lacrosse, at UVA), and Julie Myers (one in women's lacrosse, at UVA).
With another heralded recruiting class set to join the program this summer, the Cavaliers figure to remain an NCAA championship contender in 2022 and beyond.
"Obviously, we're really happy with the national title," Madden said, "but I think there's definitely room for improvement. We only won one of our relays, so I would imagine going into the future the goal would be to win all five relays and score more points than we did in the past, so I'm really excited for what the team has to offer in the future."
To receive Jeff White's articles by email, click here and subscribe.