By Jeff White (jwhite@virginia.edu)
VirginiaSports.com
CHARLOTTESVILLE –– He grew up about 45 miles from Lake Michigan in Schoolcraft, Mich., a town with around 1,300 residents, and attended a high school whose enrollment was less than 400.
"I graduated with 94 kids in my class," Blake Bales recalled.
And so, not surprisingly, he experienced some culture shock when, after a year at Kellogg Community College in Battle Creek, Mich., Bales enrolled at the University of Virginia in the summer of 2018.
"It was definitely eye-opening when I got here," said Bales, who's in his third year on the UVA baseball team. "For me, Charlottesville is a big city compared to what I grew up in and where I went to junior college. But I had a year and a half before the pandemic to really explore Charlottesville and live the college life here, and I love it. I've loved every second about living here. I could easily see myself living in Virginia the rest of my life."
If there were doubts about Bales' ability to pitch at the highest level of college baseball, they've long since been erased. Solid as a sophomore in 2019, when he started one game and made 11 appearances out of the Cavaliers' bullpen, Bale posted a 3-0 record, with a 2.08 earned-run average, during the abbreviated 2020 season.
In 10 appearances this season, all in relief, the 6-4, 235-pound right-hander is 1-0 and has yet to allow a run, earned or otherwise. He has 22 strikeouts in 14.2 innings.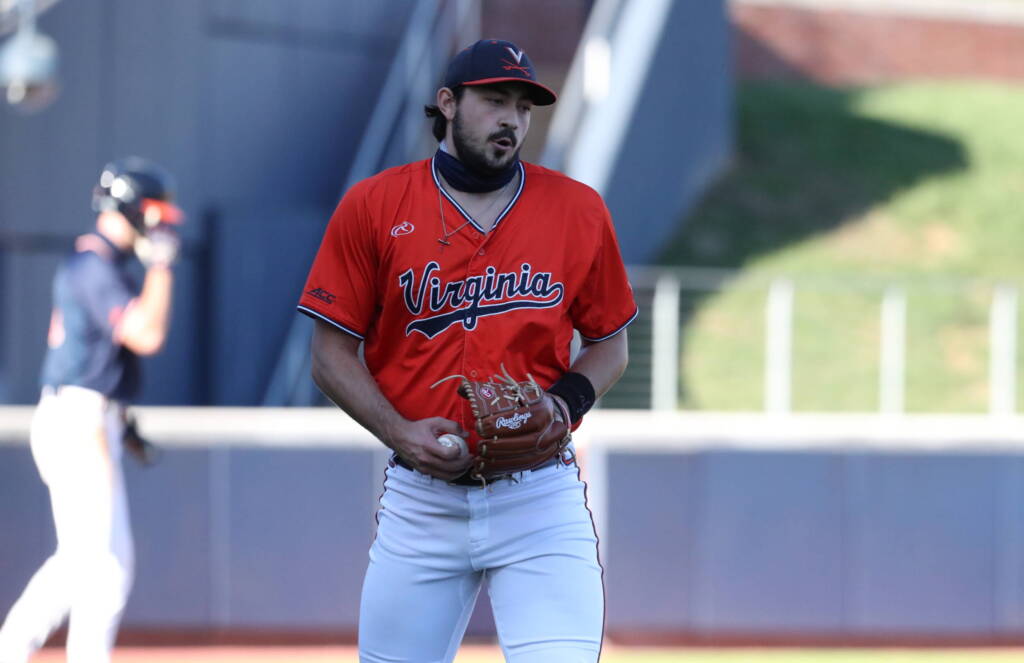 "He's been huge for us, no doubt," pitching coach Drew Dickinson said. "He's been consistent, and that's what you look for."
Last season was Dickinson's first at UVA, and he often turned to Bales in thankless situations. "It would be like, 'Hey, first and second, nobody out. Here you go, Blake!' " Dickinson recalled, laughing. "And he was doing an unbelievable job of not only minimizing [the damage] to maybe one run, but getting out of those situations with nothing."
In an era in which many promising young athletes specialize in one sport, Bales went the other direction. At Schoolcraft High School, where multi-sport athletes were common, he totaled 16 varsity letters in five sports: football, basketball, bowling, baseball and golf.
As a freshman and sophomore, he participated in "only" four sports. He added football for his final two years.
"The fall was kind of the easiest," Bales said, "because it's just football season, just one sport, and then winter was bowling and basketball, and for that I would go to basketball practice every day. Then, on weekends, on Saturday mornings, we'd have our bowling matches, and so I [usually] wouldn't be able to go to practice for bowling.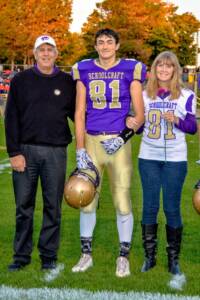 "Obviously, it took a lot from my coaches to be willing to work with me on that. And so that was really helpful, and then the spring was definitely the hardest, with baseball and golf both being pretty time-consuming sports. It was kind of the same thing [as in the winter]. I didn't go to golf practice. I just practiced on my own."
His family then owned a golf course in Three Rivers, Mich., "so it was very, very easy to take my own time to go work on my game," Bales said. "But like I said about the winter sports, my coaches worked with me. There would be days where we'd have an 18-hole golf tournament and then I'd have a doubleheader the same day. I'd drive myself to golf, play, and then as soon as we were done, leave from there to get back to baseball on time."
In bowling, Bales' best game is a 289. He's a scratch golfer who once shot a 64. His father, Bob, is a teaching professional who now manages the Olde Mill Golf Club in Schoolcraft, and Blake has been hitting the links for as long as he's been playing baseball.
Bob Bales also is a former college pitcher, and his youngest son starred on the mound for Schoolcraft High. Even so, Blake attracted no interest from major-college programs.
"Out of high school I had two [Division III] offers and my junior college offer," he said. "No D-IIs, No D-Is. So I kind of just took a chance. One of the kids in my class, his older brother had gone to Kellogg and graduated from there, so he said a lot of great things about it. I went on visits to all three of those schools, and I really loved the coach at Kellogg, and I kind of liked the idea that it was a two-year school, with a chance to go somewhere after."
In 2018, Bales struck out 93 batters in 53.1 innings and was named the Western Conference Freshman of the Year. His head coach at Kellogg, Eric Laskovy, had a connection with Karl Kuhn, then UVA's pitching coach, and was able to get the Cavaliers interested in Bales.
Bales had planned on staying at Kellogg for two years, but the opportunity was too good for him to pass up. He'd stockpiled a lot of college credits––he had 34 by the time he graduated from high school––and that eased his academic transition at UVA, where he's majoring in psychology.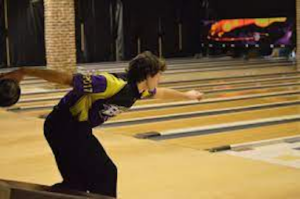 He's no longer the skinny project who graduated from Schoolcraft High in 2017. Bales has gained about 15 pounds since then, and he's steadily increased his velocity.
"When I was in high school, I was throwing 85 to 86 [miles per hour], topping out at 87," he said, "and then when I went to my JUCO I really focused a lot more in the weight room, building muscle and getting stronger."
By the time he took the mound for Kellogg in 2018, Kellogg was touching 90 mph, and "it's increased since I've gotten here," Dickinson said. "Now he's anything from 88 up to 93, maybe actually a little higher than that, 94 at times."
That's the result, Dickinson said, of "throwing on a daily basis, taking care of his arm, lifting weights. All of the stuff we do daily to develop our pitchers, he's doing it, and he's seeing the fruits of his labor, basically. And with pitchers, that takes time. There's nothing that says, 'You do this and in a month you're this.' No, man. It takes six months, and every six months or so you make yourself a tick better, and that's exactly what Blake has done."
Such improvement is not unusual, Dickinson said. "That's why JUCO is such a big deal, because you might not be ready when you're 18 years old. You need an extra year of developing and actually pitching. Say that 18-year-old kid goes to a Division I school and he just sits there for a year and a half. How has he gotten better? He's gotten better maybe from some coaching, but he hasn't gotten the physical benefit of actually playing.
"You get better by playing the game, and you can see it with Blake. The more games he got into last year, the better he became, and it's no different this year."
Virginia (9-11 overall, 3-9 ACC) opens a three-game series with No. 19 Miami (10-7, 5-6) at 4 p.m. Friday at Disharoon Park. The Wahoos, who are in their 18th season under head coach Brian O'Connor, were projected to be one of the nation's top teams but have yet to win an ACC series this season.
"It's definitely not been the start we expected," Bales said, "but it's baseball. It's a long season. Every team is going to go through stretches where they're not playing the kind of baseball that they want to play, and ours just happened to be right now. Nobody's really panicking. We all know what we need to do, and so we're gonna keep going to the field every day to do it."
When the COVID-19 pandemic shut down college sports last March, the Hoos were 14-4 overall and 2-1 in the ACC. After it became clear the season would not resume, Bales returned home to Michigan. He and Dickinson conferred and decided Bales would not play summer ball.
"I was just gonna spend time in the weight room, working on flexibility and mobility and stuff like that," Bales said. "And so most of the time I was in the weight room for four or five times a week, just trying to get stronger, get better, and be ready to come back and be healthy when we did come back."
That plan is paying dividends. Bales might have been unheralded coming out of high school, but he's become one of the Cavaliers' mainstays.
"As a baseball player, not everybody is labeled as that top prospect," Dickinson said, "but then three years later that top prospect a lot of times isn't labeled a top prospect anymore, and these guys you've never heard of are. That's the beauty of the game."
To receive Jeff White's articles by email, click here and subscribe.