CHARLOTTESVILLE –– What's up with Dox?
As the season entered its second month, University of Virginia head men's lacrosse coach Lars Tiffany found himself fielding variations of that question on a regular basis.
"I just kept hearing from many sources––from lacrosse people, from non-lacrosse people, from friends of mine from home who don't know who Dox Aitken is," Tiffany recalled.
He laughed. "And then I started hearing from a variety of people with potential solutions."
In his first three-plus seasons with Virginia, the third of which ended with the program's sixth NCAA title, Aitken had totaled 121 goals and 32 assists and established himself as an All-America midfielder. Seven games into the 2021 season, however, he had three goals and one assist, a stunning drop-off.
Nobody had a perfect explanation, but there was talk in lacrosse circles that Aitken's extended break from the sport had seriously dulled his skills.
After graduating from UVA with a bachelor's degree in foreign affairs last spring, Aitken had returned home to the Philadelphia area, enrolled in an MBA program at Villanova University, and joined its football team.
At Haverford School, Aitken had starred at wide receiver and safety, and he was eager to finally realize his dream of playing college football. With the COVID -19 pandemic ongoing, however, Villanova opted not to play football in the fall, and Aitken was concerned that the Wildcats' spring season would be interrupted or canceled.
The NCAA had granted another season of eligibility to student-athletes whose spring seasons were cut short by the pandemic in 2020, which gave Aitken an attractive option. He was more confident that lacrosse season would proceed as scheduled, and so he returned to UVA and rejoined the program in which he'd become a household name in the sport.
"That's what it finally comes down to," Tiffany said. "Whether it's lacrosse or football, Dox is a competitor, and he wants to play, and any coach wants Dox on his team."
Aitken's transition back to lacrosse was anything but seamless. Training regimens vary from sport to sport, and from a conditioning standpoint "it was a huge adjustment coming back," Aitken said. He wasn't used to running so much, he said, and "I was pretty winded and gassed [at first]."
Moreover, he'd bulked up to 215 pounds at Villanova, and that slowed him initially. He's back down to 207 and moving well, but Aitken admits he wasn't himself early in the season.
"It was tough to even crack the lineup, because the team is so talented, and I wasn't playing my best lacrosse," he said. "I kind of stunk for a while."
Tiffany said: "We were all wondering when we were going to see the old Dox."
Virginia played its final game of the 2020 season on March 8. In the months that followed, Aitken rarely picked up his lacrosse stick, and then only to toss the ball around, not to train seriously.
Still, he said, his struggles early this season were less a result of rusty stick skills than of the mental challenge of "getting back into the speed of the game and making the right reads and lacrosse-specific movements, if that makes sense."
If UVA opponents were hoping No. 6 might fade away in his final college season, those hopes have been extinguished.
In the Cavaliers' eighth game, Aitken scored three goals in a 14-12 victory over Robert Morris at Klöckner Stadium. His final goal against the Colonials broke a 10-10 tie and ignited a 4-0 run for the Wahoos. A week later, in a road game against then-No. 6 Notre Dame, Aitken took another step forward.
When the Cavaliers need a big play late in a close game, ESPN announcers Paul Carcaterra and Anish Shroff often refer to that situation as "Dox time," and Aitken came through in the clutch against the Fighting Irish.
With 8:32 to play, Aitken passed to Payton Cormier for a goal that pushed the Hoos' lead to 11-9. After the Irish responded with two straight goals, Aitken fired a shot past goalkeeper Liam Entenmann to make it 13-12 with 2:28 left. That closed out the scoring in a pivotal win for the Hoos.
"There was just a different energy to that game," Aitken said, "and on a positive note I think our team kind of brought that energy too. We were sort of all business and we had a really good week practice, and I think really translated."
Aitken finished with two goals and two assists against Notre Dame.
"Dox is back!" Tiffany said on a postgame Zoom call.
Next up for UVA is a Saturday date with Richmond at Klöckner Stadium. The fifth-ranked Cavaliers (7-2) meet the 13th-ranked Spiders (4-3) at 5 p.m.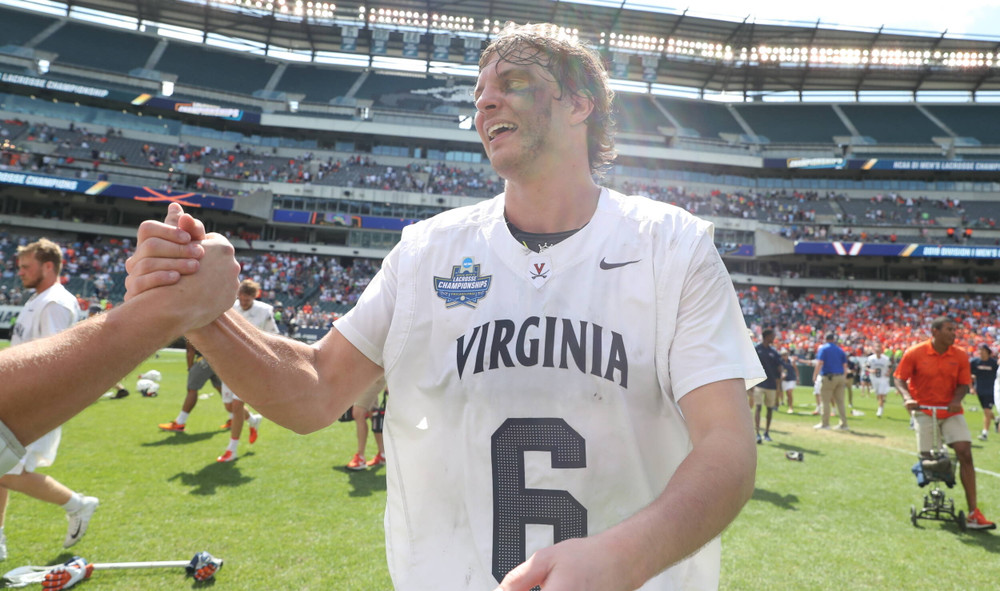 At the 2019 Final Four, held at Lincoln Financial Field in Philly, Aitken had three goals and an assist in UVA's overtime win over ACC nemesis Duke in the NCAA semifinals. In the championship game, he had two goals in Virginia's 13-9 victory over Yale. He's scored countless crucial goals during his UVA career, but he acknowledges that he'll savor his game-winner against Notre Dame.
"I feel like it's just kind a testament to the coaches and the trust they've placed in me," Aitken said. "They told me when I first got back that it was going to be a work in progress and to just stick to the plan and believe in it and you'll see the results.
"So that's the first thing. But that goal definitely was a little bit more special to me because of not playing great in the first eight games, or whatever it was, and just seeing your teammates trust you and even having the ball in your stick with that little time left in a game like that meant a lot. I really am thankful that my teammates had trust, my coaches had trust, and also that the ball went into the goal."
That Aitken has regained his rhythm doesn't surprise the Cavaliers' coaches, who saw the breakthrough coming.
"Typically, you have to go through the practice film and notice some small, minor improvements, but this one was crystal clear," Tiffany said. "When that Carolina game ended and we got back to work getting ready for Robert Morris, all of the sudden Dox went from scoring two or three goals in practice to seven or eight per practice. It just clicked. It was just so clearly evident, and then his feeding started [to improve] too."
Aitken said: "It took me a bit, but after the North Carolina game, for whatever reason, it just kind of clicked a little bit. I think I started making more simple reads. I think I was trying to do too much and trying to be how I used to be and make that immediate impact, and I had to slowly progress to it. It wasn't as fast as I would have liked or wanted, but obviously our team is so talented that they can win without me."
His college football career was short-lived, but Aitken enjoyed the months he spent on the team at Villanova. (Of the six games on the Wildcats' spring schedule, two have been played. Two others have been canceled.)
"I definitely scratched that itch a little bit," Aitken said. "It was so fun going back and sitting in the film room. Watching film for football, for some reason I find it more enjoyable than watching lacrosse, because it's so detail-oriented, whereas I feel like lacrosse is more free-flowing. You can really pinpoint where a [football] play went wrong or something that could have been done better or how somebody leveraged a position. I really enjoyed the film aspect of it, and then also just being a receiver and running routes again and learning the techniques for that."
With help from Adam Brooks, the academic coordinator for men's lacrosse, Aitken was able to enroll in classes at UVA that will count toward his MBA at Villanova.
"I was pretty much lost without Adam's guidance," said Aitken, who's taking classes in the Darden School of Business, the McIntire School of Commerce, the Frank Batten School of Leadership and Public Policy, and the School of Education and Human Development.
"It's definitely a lot of work," said Aitken, but he's not complaining. He's thrilled to be back with so many of the teammates with whom he shared an unforgettable postseason run in 2019.
"That was another huge reason why I wanted to come back, knowing that you have the old connections there," Aitken said. "And it's just been awesome. Sometimes I've got to kick myself and look around and believe that I actually came back, because I didn't think for a while that it was gonna happen.
"I think I value it a lot more now, having lost it and lost that opportunity. Obviously, it's all business on the field when we're trying to win games, but that is fun, and doing it with guys that you have developed and grown with over the years, that's pretty cool, and I really cherish that."
To receive Jeff White's articles by email, click here and subscribe.