By Jeff White (jwhite@virginia.edu)
VirginiaSports.com
CHARLOTTESVILLE –– In May 2019, at Lincoln Financial Field in Philadelphia, an epic comeback lifted the University of Virginia men's lacrosse team past Duke and into the NCAA championship game.
Nearly two years passed before UVA and Duke met again, this time at Klöckner Stadium. As when the longtime ACC rivals clashed in Philly, more than 60 minutes were required to determine a winner Thursday night. The third-ranked Blue Devils finally prevailed 13-12 on a goal three minutes and 28 seconds into overtime.
Duke attackman Joe Robertson's shot ended the fourth-ranked Wahoos' four-game winning streak. Afterward, the Hoos were disappointed but not despondent. They're still reigning NCAA champions––the COVID-19 pandemic shut down college sports long before the lacrosse postseason was scheduled to begin last year––and they like the direction they're heading.
"I'm very grateful to witness our team continue to improve," head coach Lars Tiffany said Thursday night, "as we're rising, rising further on up to peaking here in April as we lead into May."
The Cavaliers (9-3 overall, 2-3 ACC) came agonizingly close to securing their first regular-season victory over the Blue Devils (11-1, 3-1) since 2004. With seven seconds left in regulation, a violation negated a goal that would have put Virginia ahead 13-12. Then, early in the extra period, Duke goalkeeper Mike Adler stopped two shots by senior midfielder Dox Aitken, who later was stripped of the ball while dodging to the cage for what might have been the game-winner.
"Obviously, it stinks to drop a game like that in overtime," said Aitken, who finished with three goals, "but they're one of the best teams in the country, if not the best, right now and we're sticking right with them. We had opportunities to win. We just didn't cash in."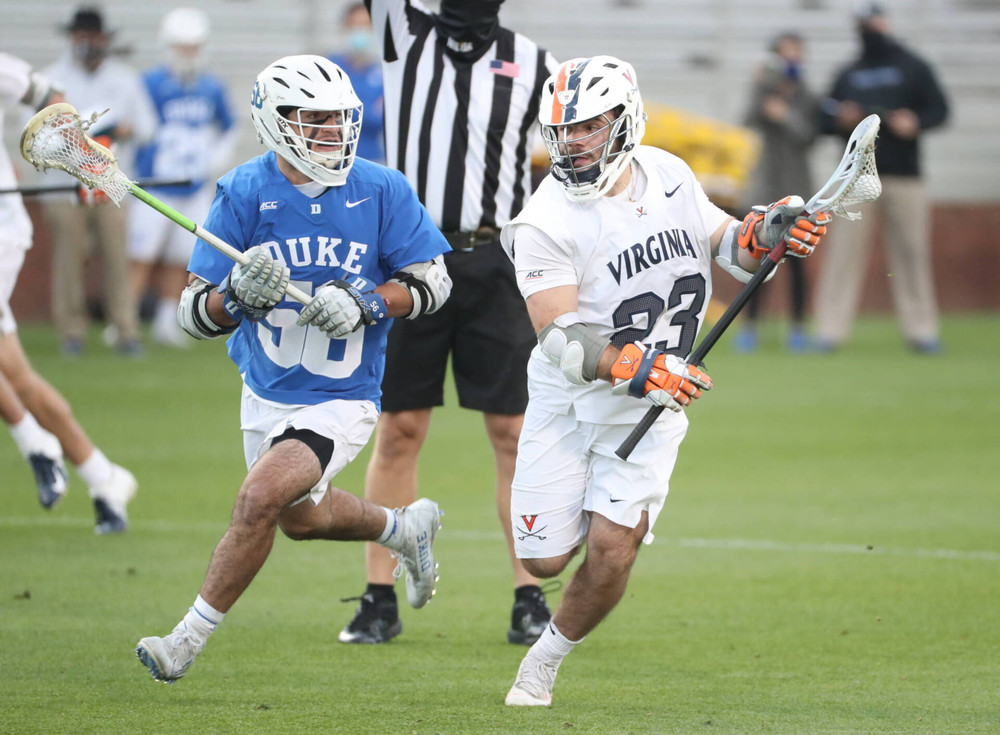 The Hoos can't afford to dwell on the loss. They'll be back at Klöckner on Saturday, hosting Utah (3-5) in a noon game ESPNU will televise.
"I think it's gonna end up being a good thing for us," Aitken said of the quick turnaround. "If we want to keep playing all the way through May, we're going to have to go through something like this [at the Final Four], so this is a good experience for us."
Tiffany said: "Our men are in really good shape right now. We're fit. They've committed to following COVID protocol this year, and they're doing the right things off the field. We're working hard on the field. It's not going to be easy to bounce back, but it's a challenge that this group is excited for. And we're eager to get to play again. Oftentimes you have to wait a week to get that game in, especially after a loss that really stings, and this one really stings. And so we're excited about getting the opportunity to play a good Utah team here Saturday, and continue to improve. It'll be a challenge, but we're fit and we can do this."
After facing Utah, Virginia will close the regular season April 24 against Syracuse at Klöckner Stadium. When the teams met Feb. 27 at the Carrier Dome, the Orange romped 20-10, but the Hoos have made huge strides since that game.
Aitken has regained the form that made him of the nation's most formidable middies, Virginia's defense has tightened up, and Petey LaSalla has been dominant at the face-off X.
A 5-7, 185-pound junior from Long Island, N.Y., LaSalla won 18 of 27 draws against Duke, including nine of the final 10. He leads the nation in face-off wins (200) and ground balls (99). He's also recorded seven goals and five assists this season, with those points coming in transition after face-off wins.
LaSalla, the first Cavalier to win at least 200 draws in multiple seasons, is "proving he's the best all-around face-off man in the nation," Tiffany said, "because not only can he gain possession at a high rate two-thirds of the time, but he's also an offensive threat [with] he can do with passing and feeding, along with his shooting."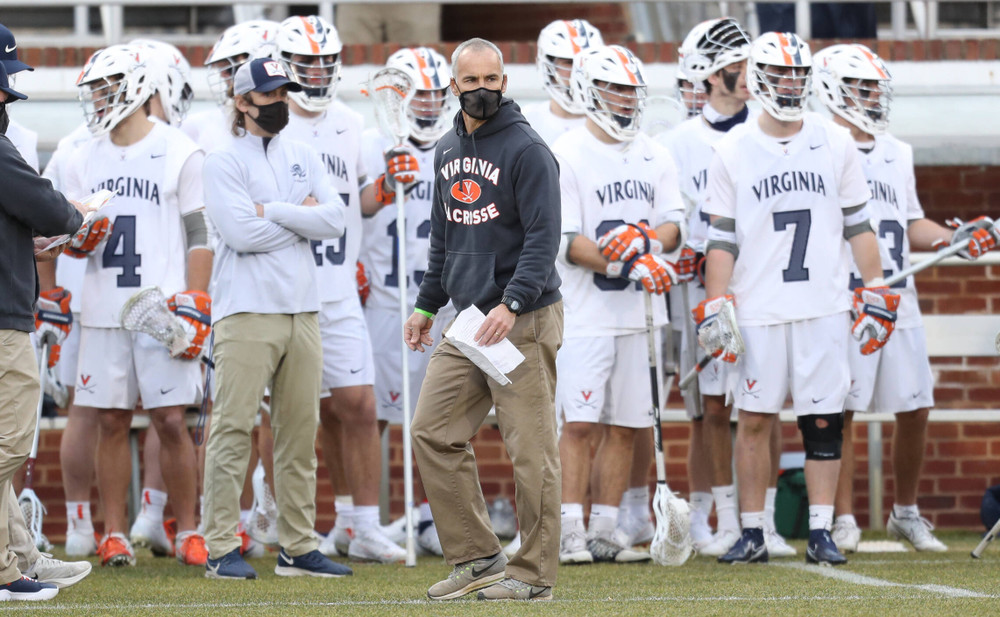 As they do after every game, the Hoos gathered on the field Thursday night for a brief discussion of where they struggled and where they played well. Tiffany was disappointed that his team's ride didn't bother Duke more in the clearing game, and he noted that Virginia's offense grew stagnant late in the game. (The Cavaliers' final goal, which made it 12-10, came 36 seconds into the fourth quarter.)
Overall, though, there were "so many positives," Tiffany said. The Hoos picked up 42 ground balls, to 25 for Duke, and generally defended well. Close defenseman Cade Saustad stood out in particular, but Tiffany also praised Virginia's short-stick defensive midfielders, a group that includes John Fox, Chris Merle and Grayson Sallade.
Tiffany's message to this players?
"I said, 'Fellas, I am so grateful for this team. The loss stings. That really, really hurts. But, man, we are proving we can get better each week, and we're proving we're on a mission.' And so I'm really excited about what I've seen over the past month and, even though we lost, a lot of what I saw tonight."
To receive Jeff White's articles by email, click here and subscribe.