By Jeff White (jwhite@virginia.edu)
VirginiaSports.com
CHARLOTTESVILLE –– When he assembled his staff after taking charge of the University of Virginia's swimming and diving programs in the summer of 2017, head coach Todd DeSorbo hired only one assistant with whom he'd previously worked: Wes Foltz.
He and Foltz had been colleagues at NC State, where DeSorbo was associate head coach before moving to Virginia. Tyler Fenwick came to UVA from Tennessee, Blaire Bachman from Indiana, and Andrew Sheaff from Northwestern.
Four years later, they're all still together at the Aquatic and Fitness Center, and they've helped elevate the Cavaliers' programs to lofty heights. On March 20, in Greensboro, N.C., the UVA women won their first NCAA title. A week later, the UVA men, with a lineup dominated by underclassmen, placed ninth at the NCAA championships, which tied for the second-best finish in program history.
Along with diving coach Drew Livingston, who joined the staff in 2018, DeSorbo and his assistants form an exceptionally tight group known for its energy level.
"I've been really blessed to work with some pretty talented people in my past positions at different universities, but what keeps me here and makes me so excited each and every day is the staff that I work with," Bachman said. "Everybody is pretty high energy, but it's a good balance. I wouldn't say that we're all extroverts all the time. That would be complete madness. But we definitely complement each other well. I think everybody has a certain level of hype that they bring, but also a calmness that they have when we have athlete interactions. So you might see us dancing one minute and then having a real heart-to-heart with an athlete another. I just think it's a good balance."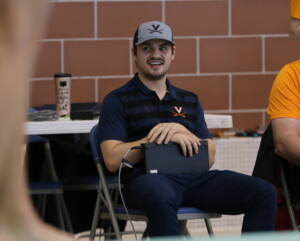 Fenwick, the Wahoos' associate head coach, said he's "been on staffs where we kind of just went our own separate ways after practice." Not so the Cavaliers' coaches.
"COVID has put a damper on things," Fenwick said, "but we used to hang out all the time. Because of COVID we haven't been able to hang out as much, but we're texting all the time with each other. We talk all the time on the pool deck. Coaching is a lifestyle, and I think Todd made a point when he came to UVA of hiring people that he enjoyed hanging out with, and he did a really good job picking our staff. I think some of it was luck, he'd even tell you that, but he did a really, really good job bringing people together that got along really well."
UVA's two programs are combined "in every sense of the word," DeSorbo said. "Our men and women do everything together: train together, lift weights together, do dry land together."
And that, Paige Madden said, benefits both programs.
"I think one of our biggest strengths is that our men and women are so close," said Madden, who won three individual titles and helped the Wahoos win the 800-yard freestyle relay at last month's NCAA meet.
"From a female perspective, I think it really helps to have the guys there to push us during practice. Sometimes it's fun to race the guys and see if we can keep up with them. That being said, the guys might sometimes feel a little intimidated by that, so that will help them work hard at practice and try and stay ahead of us. It's all in good fun."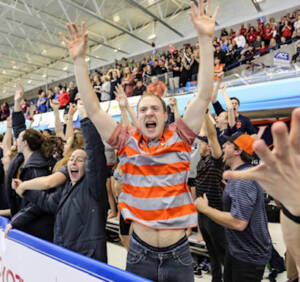 DeSorbo works with all of the Cavaliers' sprinters. Foltz coaches the "upper sprint and lower middle distance groups, both men and women," DeSorbo said. This year, Bachman worked with the women in the middle distance to upper distance group, and Fenwick coached the same group on the men's side.
Sheaff "kind of floats," DeSorbo said. "For the most part he assists me with the sprinters."
Madden enrolled at the University around the time the new staff arrived on Grounds in 2017. During her four years, "I was fortunate enough to kind of bounce around from coach to coach, which was pretty fun," she said.
"My primary coach is Blaire, but I probably only spend about half my time with Blaire. She writes my plans, and then in other practices I'll spend time with Todd and Tyler and Wes, and that's kind of fun, to get different perspectives on different coaching styles. They all have their different strengths and their different philosophies, but I think they do a really good job of working together, stringing things together, and being cohesive. I think the results kind of speak for themselves."
Bachman said: "When Todd came on and hired us, he really wanted to allow us to have that autonomy and independence in our coaching, but I think we do a lot of crossover with one another, and our training programs kind of swivel around each other, so that every individual gets what they need. But Todd was pretty trusting coming in and saying, 'Hey, you're going to take over this.' And I really appreciate that."
So do the other assistants.
"Todd is really hands off," Fenwick said. "There's things he might want to do together as a team, there's things he might want to focus on, but we have so much autonomy with the people in our groups. I think another thing that's really special that plays into that is we have kids who are moving from group to group on a daily basis, sometimes twice a day. And so they experience pretty much every coach on the staff throughout a week, and I think that that's a huge advantage for us."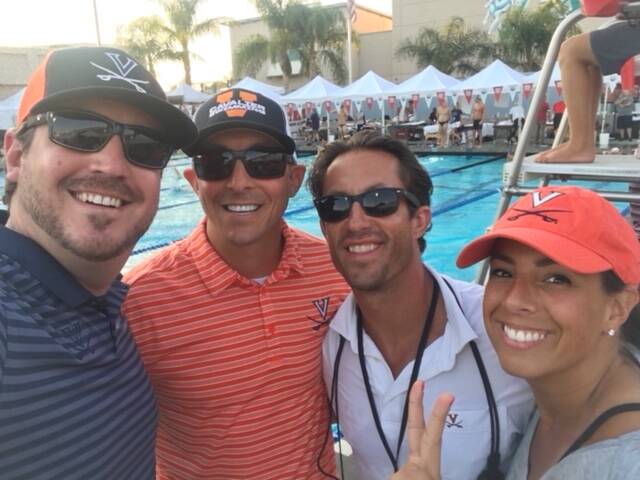 Fenwick grew up in Philadelphia and attended Germantown Academy, where he swam for legendary coach Dick Shoulberg. Fenwick's friends included Fran Crippen, who had a record-breaking career as a UVA swimmer before tragically dying in 2010.
A William & Mary graduate, Fenwick later coached Fran's sister Claire, who also had a stellar career at UVA.
First as a high school student and then later when he was at W&M, Fenwick would travel to Charlottesville to visit friends at UVA, so he was familiar with the University when DeSorbo offered him a job in 2017.
"I knew the power of UVA," Fenwick said. "UVA checks a lot of boxes. One, it's a beautiful school. Two, it's a great academic school. Three, it's got a 50-meter pool, and there's lots of windows [at the AFC]. So it's not outdoors, but it's a really nice facility. Four, it's in a region of the country where you're going to get a lot of kids from the Northeast.
"It checks a lot of boxes for swimmers to want to come here. Plus you have the energy of Todd DeSorbo. It's infectious, it's contagious, and I wanted to be a part of that. I didn't just want to be a part, I wanted to be a catalyst for what he was about to build."
Livingston came to UVA from Princeton, where he was head diving coach. As an undergraduate at Texas, Livingston was a two-time NCAA champion and 10-time All-American in diving.
"He's definitely got that side of the program building," DeSorbo said. "We've got some great recruits coming in this fall, and I think he's excited that they'll be able to contribute more and more, especially at the national level."
In recruiting for swimming, DeSorbo said he and Bachman "really tag-team up on the women's side, and the other coaches help. On the men's side, the majority is probably me and Wes and Tyler, and then Blaire and Andrew help assist on that side as well."
Recruiting, not surprisingly, is going well for both programs.
"We've got some great ones coming in," Fenwick said, "and on the men's side, it seems like our recruits just keep getting faster and faster and faster. We have a host of guys coming in that are gonna make a big impact next year, kind of like our [first-year] class this year."
DeSorbo said it's "easy to get on the phone with a recruit and be excited about what we just did, as well as what our future is going to look like. The proof is there, too. Four years ago when we were recruiting, we were saying, 'We are going to do these things. We're going to win a national championship. We're going to have our guys moving up to national prominence.' But four years ago we had zero proof. We were just saying we were going to do it. We were confident we could, and we had a plan and a direction to go, but now, four years later, now we can say, 'We're not going to do it. We just did it, and now we're going to keep doing it.' It definitely helps recruiting."
UVA announced last week that DeSorbo's contract has been extended through the 2026-27 season. He hopes to keep his staff intact for as long as possible.
"Obviously, we've moved into winning a national title pretty quickly here," DeSorbo said. "They all have been courted by other programs as we were kind of rising up, and I hope they're courted by other programs every single year, because that means we're doing really well and that means they're doing really well at what they do. But I also hope that they continue to love being here and enjoy working together as a team and a staff and have a lot of fun and stay together."
To receive Jeff White's articles by email, click here and subscribe.