By Jeff White (jwhite@virginia.edu)
VirginiaSports.com
CHARLOTTESVILLE –– Laurel Ivory and her University of Virginia teammates spent part of Monday morning wrapping up their packing for what they hope will be a three-week stay in North Carolina.
"Trying to fit as much as we can into very, very small bags," Ivory said.
The NCAA women's soccer tournament starts Tuesday and runs through May 17. All games will be played at sites around the Tar Heel State. To help prevent the spread of COVID-19, all of the teams in the tournament will remain in North Carolina for as long as they're still playing.
"You stay in the bubble," UVA head coach Steve Swanson said. "It's a more compressed tournament, with stricter policies and procedures. If you're any team in the tournament, basically, you're going for the long haul."
Virginia's players could end up taking all of their final exams while they're away from Grounds.
"It's wild," said Ivory, a four-year starter in goal for the Cavaliers. "I've never experienced anything like this, and honestly I hope I don't experience something like this again, but it's a still a cool thing to say that I did."
The NCAA championship game will be played in Cary, N.C., which is also the site of Virginia's first-round game.  At 7 p.m. Wednesday, UVA (10-4-2) meets Southern Illinois University Edwardsville (8-2-2) at WakeMed Soccer Park. The winner will take on 12th-seed BYU (11-3-1) at 7 p.m. Saturday in the second round.
For the Wahoos, this marks their 27th consecutive appearance in the NCAA tournament. College soccer is usually a fall sport, but the NCAA altered its schedule this academic year because of the pandemic. The format of the tournament changed, too. It was cut from 64 teams to 48 teams.
Sixteen teams received first-round byes. UVA, despite being ranked No. 12 nationally, was not one of them.
"For me, there's two ways you can look at that," Swanson said. "Should we have been seeded? I think you could make arguments for that, but we weren't, so how does that sit with us and how does that sit with our players? I would hope that would be a motivating thing for our players."
Ivory said she and her teammates at first "were kind of taken aback that we didn't get a seed, especially [with being ranked] 12 in the country at the end of the season. We didn't really know what was going to happen, but to not get a seed, I think initially the response was, 'Wait, what?' "
After giving it some more thought, however, Ivory concluded that, if the Cavaliers can win Wednesday night, the extra game could end up benefiting them.
"I think it's going to be really difficult for some [of the seeded] teams to be flying across the country, and the first game they're playing is a really, really competitive game," Ivory said. "There are no easy second-round games. I think a lot of us are seeing it in that way, and the team has a really good attitude about it, and we're grateful that we get the chance to hopefully get in the swing of things and get a win Wednesday and use the momentum of that game to just keep powering through the tournament."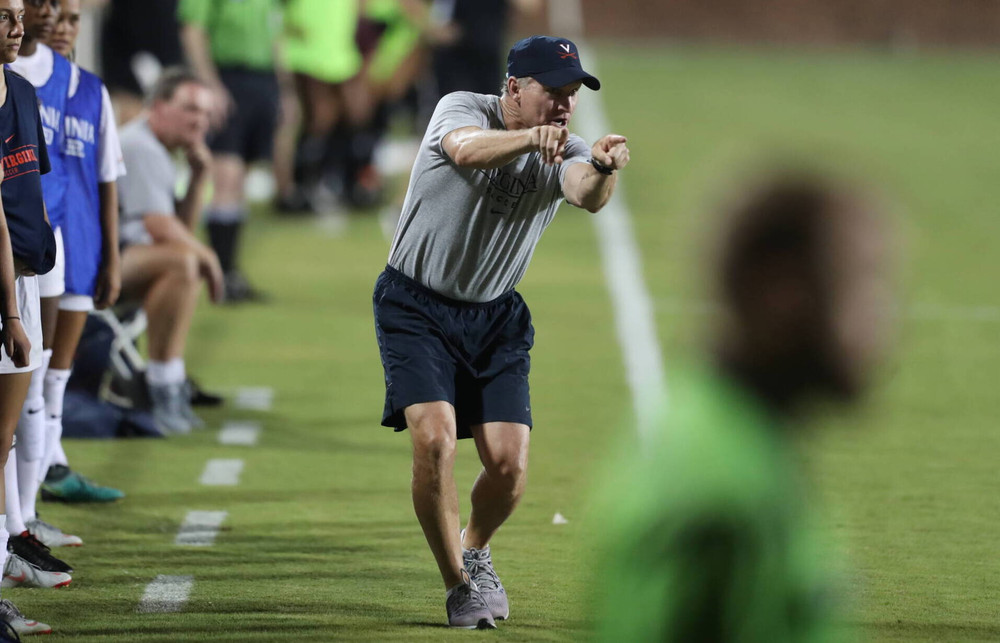 The Cavaliers finished the fall with an 8-3-1 record after losing to North Carolina in the ACC tournament semifinals. They were scheduled to play more than four regular-season matches this spring, but games against ODU and JMU ended up being canceled because of COVID-19 issues.
After defeating VCU 2-1 on March 6, four weeks passed before Virginia faced another college opponent. (The Cavaliers scrimmaged a pro team, the National Women's Soccer League's Gotham FC, on March 20.)
"It was really difficult, because we were expecting to play, preparing to play, and then the day before, twice, the games got canceled on us," Ivory said. "We've had more training sessions than games, which is always hard, when we're just playing ourselves continuously."
After a lengthy break, the Hoos resumed their season April 3. They lost 1-0 to West Virginia in Morgantown that day. The Mountaineers are seeded No. 5 overall in the NCAA tournament, and UVA could end up meeting them in the round of 16.
"I think that was a great wakeup call," Ivory said of the loss, which showed "us we were nowhere near where we needed to be for stepping into this tournament."
A week later, the teams met again, this time at Klöckner Stadium. The rematch ended after 110 minutes in a 1-1 tie.
"Not a lot of people get to say they get a chance to face a team they just lost to, within a week," Ivory said, "and that was really great, because we got to see where we improved, and we got to see where we fixed things and where we adusted things, and I think we came out a completely different team. I think we're all pretty happy with the response that we had a week after. We wish we could have walked out with a win, but we'll take it."
Swanson agreed.
The games against West Virginia "sort of put everything that we needed to work on into much more focus," he said. "I think that's been beneficial to us, and I think it's helped to overcome the lack of games and the disruption of the timing of things.
"When you put your schedule together after the fall season for the spring, you're saying, 'This looks good on paper,' but with COVID nothing is going to go like you want it to go, and for us there were some things that didn't happen the way we would want them to happen. But I think for where we are, for where we've come from, we feel good about entering this NCAA tournament. I think we gained a little momentum down the stretch these last couple of weeks. We certainly saw some areas where we need to improve. We've worked very hard these last two weeks since the West Virginia game."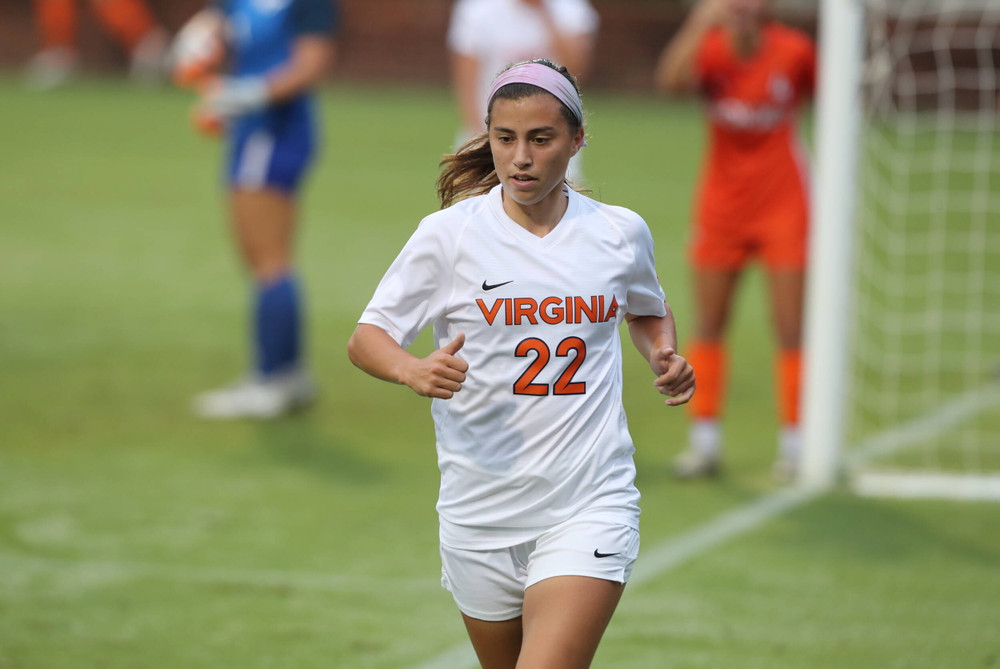 The Cavaliers' standouts include forwards Alexa Spaanstra, Diana Ordoñez and Rebecca Jarrett, midfielder Lia Godfrey and defender Samar Guidry. Spaanstra was named to the All-ACC first team, and Godrey, Ordoñez and Jarrett were second-team selections. Godfrey was honored as ACC Freshman of the Year, and Guidry joined her on the conference's All-Freshman team.
Because of injuries and COVID-related issues, UVA has rarely had a full complement of players since the season started in September. "But everybody's 0-0 now," Swanson said. "I'm just looking at the first game and taking it like I would any other tournament. I think we have an opportunity in front of us and we're going to make the most of it. Whether you get a [first-round] bye or not, you're still going to have to win games against good competition, and we'll have that right away. And that's a good thing. We know that."
It's been a challenging season for the Cavaliers on multiple fronts, but a new season awaits them, and Swanson knows he has a talented, experienced group.
"I think these last two games against West Virginia were good games for us," he said. "I think we learned a lot in those games. It pushed us in a lot of ways, and I think we could look at that as maybe a turning point for us in the NCAA tournament.
"Our boat's in the water. Can we find some wind here and get going? Can we get some momentum? If we can, I think we're capable of making a really good run, and that's what we're focused on. We're not taking any team for granted, that's for sure, but I think that we're capable."
As the start of the 2020-21 academic year approached, Swanson noted, nobody was sure if soccer could be safely played during the pandemic.
"I think back to July, when there was a possibility that we were going to lose the year," he said. But ACC teams competed in the fall, and "here we are now. We've played in the spring, and we're going to have a national tournament. So I think there's a lot to be thankful for, and we're very appreciative of the opportunity we've been given by the NCAA and the ACC, and certainly our administration has done a great job of allowing us to do what we love to do."
Their traveling party is much smaller than it would be under normal circumstances, but the Cavaliers are not complaining. "This is different," Swanson said, "and you've just got to deal with the parameters that you're under, not just the tournament, but where we are with COVID and making sure everything is safe and can move along smoothly as best as it can."
Ivory said: "It's going to be a long [trip], hopefully, but I'm grateful for the opportunity."
To receive Jeff White's articles by email, click here and subscribe.