By Jeff White (jwhite@virginia.edu)
VirginiaSports.com
CHARLOTTESVILLE –– This weekend, Ryan Tucker will stand across the field from the head coach for whom he played at the University of Virginia. He can't wait.
Tucker is in his second year as head coach of the varsity boys lacrosse team at Norfolk Academy, which hosts Blue Ridge School at 2 p.m. Saturday. The Barons are in their first year under Hall of Fame coach Dom Starsia, whose teams won four NCAA titles in his 24 seasons at UVA.
"Dom is coming here," Tucker said on a Zoom call. "How great is that? Let's go!"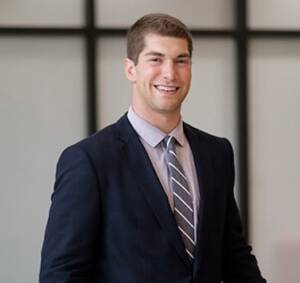 A graduate of Gilman School in Baltimore, Tucker enrolled at Virginia in the summer of 2011. For the next four seasons, he was a standout midfielder for the Cavaliers. As a senior in 2015, Tucker was a team captain and earned third-team All-America honors.
Looking back, he's thankful for the lessons he learned from the Wahoos' coaches, including Starsia, Marc Van Arsdale and John Walker, as well as his teammates. In Charlottesville he was able "to meet so many amazing people," Tucker said, "and just the all-encompassing experience at UVA has helped shape me and allow me to do what I do today. It was so fulfilling in every way.
"Obviously, you would have liked to win more, you would have liked to have a ring, and that's always what you're working for, but I think it taught me a lot of humility, it taught me a lot of hard work and perseverance, and it taught me that not everything's always gonna go your way. I'm just super, super grateful for that experience."
In the spring of 2015, not long before he graduated from UVA with a bachelor's degree in history, Tucker interviewed for a position at Norfolk Academy. He was hired as a lower school teaching associate, which is usually a two-year program, Tucker said, "where in the first year you're really helping out and hands-on with a classroom."
He started out working with third-graders, but by the end of the 2015-16 academic year, after a substitute teacher reneged on a commitment, Tucker found himself covering a seventh-grade class for a colleague who was on maternity leave. Before the 2016-17 academic year, he was hired as a full-time teacher in the middle school, and he's worked there ever since.
Tucker, who's teaching one section of seventh-grade history and three sections of eighth-grade history this year, is pursuing a master's degree online from UVA's School of Education and Human Development. He's also taught English at Norfolk Academy.
As a UVA undergraduate, Tucker said, he took a couple of classes that involved teaching and "just really enjoyed it. It was always something that just came naturally to me."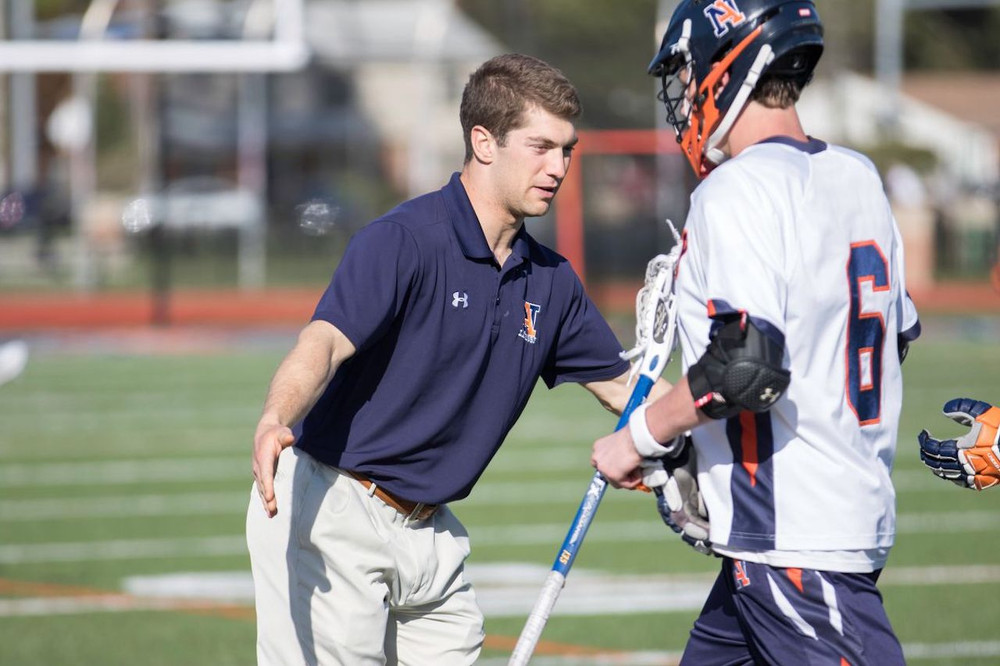 Tucker also was a standout soccer player at Gilman, where his classmates included Darius Jennings, who went on to play football at UVA and in the NFL. At Norfolk Academy, Tucker has coached throughout his tenure. He started out as an assistant JV boys soccer coach in the fall of 2015, and then served as head coach of the seventh-grade B squad in boys basketball that winter.
"It was awesome," Tucker recalled. "I still have the picture framed on my fridge at home of those guys. Those seventh-graders I coached my first year here, they're seniors now."
In the spring of 2016, Tucker began assisting head coach Tom Duquette on the varsity boys lacrosse team. In the fall of 2016, Tucker took over as head coach of the JV boys soccer team, a position he still holds.
That he gravitated toward coaching is no surprise. His mother, Janine Tucker, is the longtime head coach of the women's lacrosse team at Johns Hopkins University in Baltimore. His father, John Tucker, a former All-America lacrosse player at Hopkins, has coached at almost every level of the sport, and now runs the boys program at Saint James School in Hagerstown, Md.
When Ryan Tucker was growing up, his father coached and taught at private schools in the Baltimore area. "So that was kind of the model," Tucker said. "That's what I knew, and my mom was just doing her thing at Hopkins, initially coaching field hockey and lacrosse, and then just lacrosse. So, as I grew up, I was always going to their practices and on road trips with the guys and the girls."
Later, he started helping girls at his mother's lacrosse camps, "running  them through shooting drills or just shooting on a goal and just being around her," Tucker said. "That's where I kind of got my start."
His other mentors include Duquette, another former UVA lacrosse captain who grew up in Baltimore and starred at Gilman. Duquette, who was inducted into the U.S. Lacrosse Hall of Fame in 2001, played on two national championship teams at Virginia in the 1970s and was an All-America attackman.
"He is the reason why I am here," said Tucker, who played for Duquette on the United States team that won the under-19 world championship in 2012.
"He is just like a father figure for me. I like to joke that he's my Virginia Beach dad, because I'll go over to his house Sunday nights. It was more than just learning from him on the field. I was learning from him at dinner, I was learning from him in the halls, when he would teach my eighth-graders about cuneiform and Sumerian numbers. So it was just an all-encompassing look at how it's done."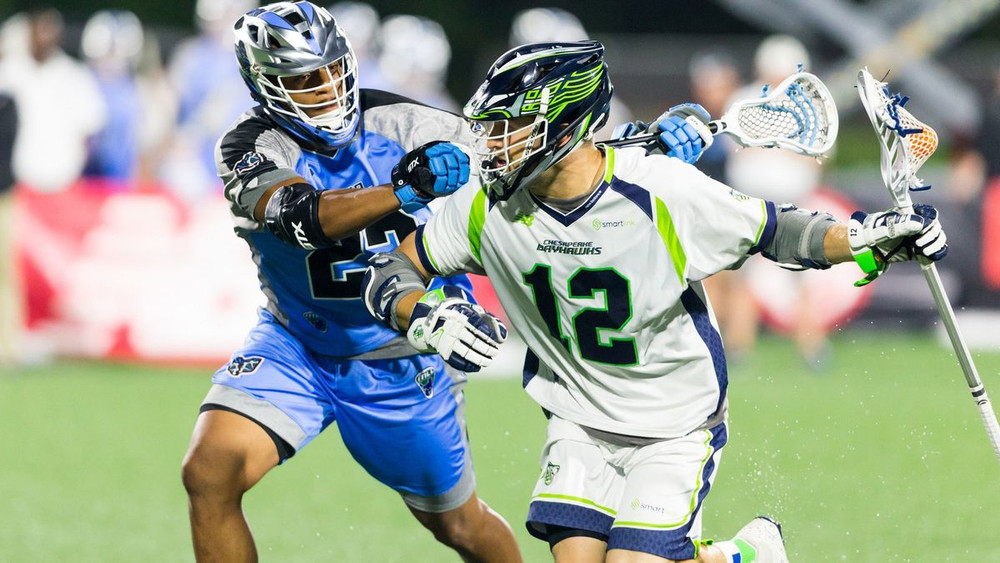 Tucker, who played professionally in Major League Lacrosse for five seasons after graduating from UVA, remembers a day at Norfolk Academy when he went to the field to work on his shot.
Duquette was there to feed him the ball, Tucker recalled, "and I said, 'Man, I'm just so tired. I'm just so tired.' And he goes, 'It's what we do.' That's all he said. And right there I thought, 'I don't get to be tired. This is what we do.' And so I'm all-in all the time, and you've got to always be on. In his laconic way he taught me more than so many people, and I owe him everything."
When Duquette retired as head varsity coach after the 2019 season, Tucker was promoted. He helped the Chesapeake Bayhawks capture the MLL title in October 2019 and then retired as a player.
During his five seasons in MLL, whose games were played on the weekends, Tucker said, he rarely missed an entire school day. He occasionally had to miss a Norfolk Academy game, he said, "but Coach Duquette was so understanding and so gracious to allow me to do that. But I knew that when I received this position, that was gone, and I was ready. I was ready to turn the page."
His experience as head coach for JV boys soccer at Norfolk Academy eased his transition to the helm of the varsity lacrosse team.
"Having to deal with playing-time issues, parents, communication, this and that, that really helped me, but certainly it's a lot more with the varsity program," Tucker said, "I've learned to delegate better. Initially, I just wanted to do it all myself and not bother anyone with it, but I've realized that people are happy to help, and I haven't been so stubborn about asking for help."
Tucker, who is engaged to be married this summer, lives a few blocks from the Atlantic Ocean. "So it is a good life," he said, smiling. "I'm in Virginia Beach, and I'm absolutely loving it."
Lars Tiffany, who had played for Starsia at Brown, succeeded his mentor as UVA's head coach after the 2015 season. In 2019, the Wahoos' extraordinary postseason run ended with the program's sixth NCAA title.
Tucker watched the championship game with some of Starsia's other former players, he said, "and we're just happy for Lars, happy for the program, happy for everyone, and happy for those [players], especially, because you know there's a lot that goes into that. Just proud to be a Wahoo."
His buddies include former UVA players Joe Thompson and Mikey Thompson, who are also lacrosse coaches. Joe Thompson is head boys coach at Cape Henry Collegiate, one of Norfolk Academy's chief rivals. "The rivalry has been much more cordial as of late," Tucker said, smiling. Mikey Thompson is head men's coach at Christopher Newport University.
"Mikey lives right across the street from me," Tucker said, "and Joe T. lives two or three blocks away. So it's pretty awesome.
Norfolk Academy's best player, Will Inderlied, signed with UVA in November and will join Tiffany's program this summer.
"He's a great kid, from a great family, and I'm really excited to see him at the next level," Tucker said. "He is a strong, super athletic kid who I think is just learning and really soaking things up. I'm not sure how Lars will use him, but to have that caliber athlete on the field and on the team will ultimately help the guys, and he's just a stud in the classroom as well. I'm looking forward to what he does in Hooville."
To receive Jeff White's articles by email, click here and subscribe.