By Jeff White (jwhite@virginia.edu)
VirginiaSports.com
CHARLOTTESVILLE –– As the start of the exam period approaches at the University of Virginia, a group of about two dozen students is some 200 miles away, preparing for finals while staying at a hotel in Cary, N.C.
For the UVA women's soccer team, this is life in the NCAA tournament "bubble." The Cavaliers arrived in Cary on April 26––they changed hotels on Sunday––and hope to be there through the May 17 championship game.
The tournament started last week with 48 teams, and 16 are left. Teams will remain in North Carolina, where they're tested almost daily for COVID-19, for as long as they're playing.
"Having class and a bunch of [academic] stuff going on is kind of a blessing and a curse," junior forward Rebecca Jarrett said. "Finals are not fun, but it's keeping everyone occupied. If we were just sitting here twiddling our thumbs, I think it would be a lot worse. But everyone's studying, in class, in meetings, doing presentations at all times, so I don't know if we have time to get bored of our surroundings."
With virtually all classes online at UVA this semester, the players aren't missing what they would in a normal year. "We're not physically in our dorms or apartments, but we can still go to classes," Jarrett said. "So I guess that's worked in our favor."
She laughed. "But it's definitely weird to be in the meeting room with seven girls on our team who are all sitting in class."
Sixteen teams received first-round byes in the NCAA tournament. The Cavaliers were among the 32 that played first-round games, and they opened the tournament with a 3-1 win over Southern Illinois University Edwardsville. Three days later, UVA upended No. 12 seed BYU to advance to the Sweet Sixteen for the 15th time in its past 16 appearances.
Next up for Virginia (12-4-1) is unseeded Rice (14-2-1). They'll meet at 9 p.m. Wednesday at WakeMed Soccer Park in Cary. The Conference USA champion Owls upset No. 5 seed West Virginia 1-0 in the second round.
"I think that if anybody looked at the brackets [at the start of the tournament], they wouldn't have us against Rice," UVA head coach Steve Swanson said. "They would have BYU against West Virginia in this game."
Virginia played the Mountaineers twice late in the regular season, losing to them 1-0 on April 3 in Morgantown, W.V., and tying them 1-1 a week later in Charlottesville. A third game against West Virginia was a possibility, but the Wahoos weren't counting on it.
"You can't assume anything," said Jarrett, a second-team All-ACC selection. "Anything can happen. Especially in a year like this, you can't make any predictions. You just kind of have to go with it as it comes, because you just never know."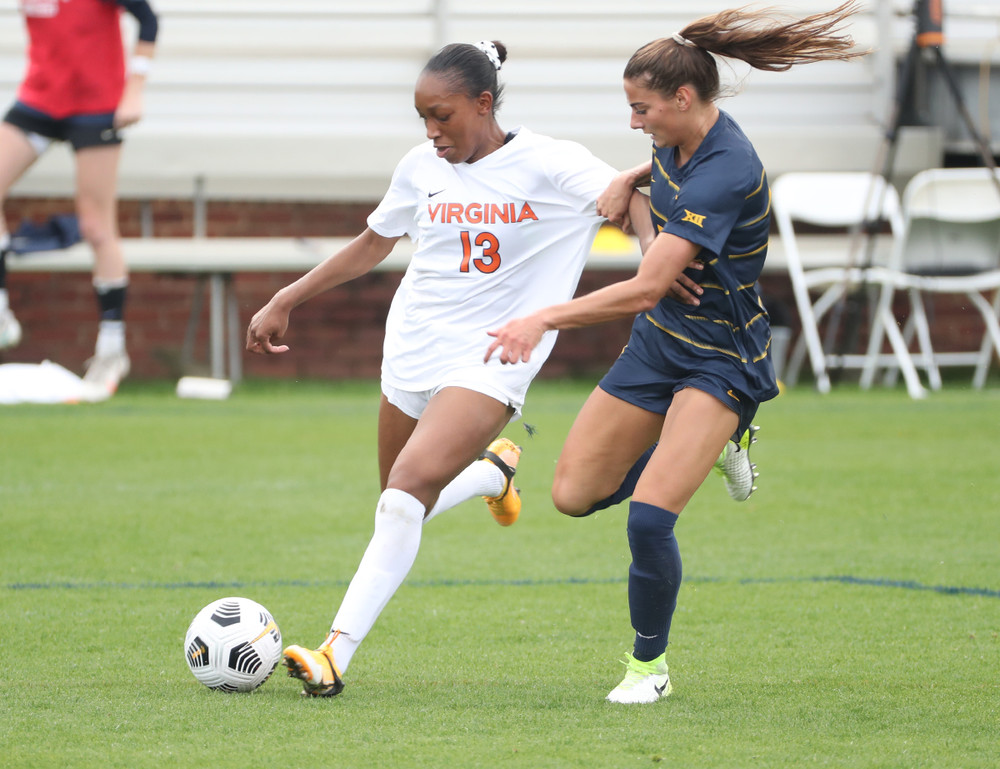 This is the Hoos' 27th consecutive appearance in the NCAA tournament, which is typically held in the fall with 64 teams. The tourney's format and schedule were changed this school year because of the pandemic.
UVA is accustomed to heading into NCAAs with an excellent seed, so that's another difference this year. But that hasn't fazed the Cavaliers.
"We had a chance play a game early and get the tournament under us a little bit," Swanson said. "We took it as a positive. We said, 'We've got an extra game, let's make the most of it, let's get off to a good start here, let's see if we can gain some momentum.' "
Against SIUE, junior forward Alexa Spaanstra scored two goals to lead the Cavaliers, and sophomore defender Talia Staude had the other one. Spaanstra, a first-team All-ACC selection, scored both goals against BYU.
Jarrett said the Hoos' confidence level continues to rise. "At the end of the regular season, we started to pick up a good rhythm and people started to feel personally a lot more confident. As a team we started clicking a lot better near the end, and it's just been sort of going upwards since then. So it's been really fun."
The Virginia-Rice winner will meet No. 4 seed TCU or Georgetown in the NCAA quarterfinals Sunday in Cary.
"All these teams have shown they deserve to be here," Swanson said, "and our team has done a good job of just taking it one game at a time. I think the biggest thing now is to make sure we're really just focusing on performance now. We've done a lot of training, more so than any other year. We've put in the work, and now it's just a matter of preparing properly, understanding our opponents, and really making sure we're recovered and rested and ready to get after it again."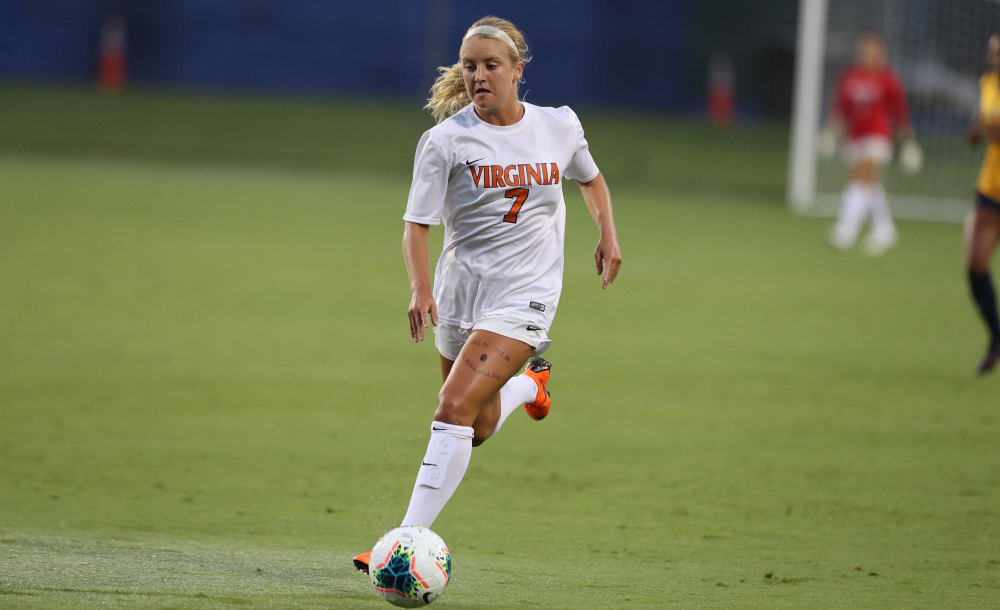 Between soccer and schoolwork, UVA's players have had little time for much else in Cary.
"They're all up to their ears in academic work and finals and things like that," Swanson said. "We're really sensitive to that, so we're trying to plan as best we can and give them as much time to get their work done, given the fact that we have [COVID-19] testing to go to, and we have practice, and then you have meetings to prepare for the games.
"It's managing all that. But they've been very good. We've tried to do things and get them out of the hotel as best we could. But I think the priorities are obviously making sure they have the time they need to get done with their exams, their papers, their presentations, their projects, and obviously making sure we're preparing properly for the games."
The Cavaliers weren't pleased with their performance in their April 3 loss at West Virginia, Swanson said, "but I thought our response to that game was quite good. We worked very hard that next week, and we got prepared for West Virginia again, and I thought we came back with a real good effort. We drew, but we played much better and there were a lot of positive signs. We felt like we were moving in the right direction."
The ACC tournament was held in the fall, so the Hoos went straight from their April 10 regular-season finale to NCAAs. They started slowly against SIUE, "but since then we've really responded," Swanson said. "We've played some good soccer, we've scored some good goals, and we're getting good performances all throughout our team. Everyone's contributing, and that's where you can get some momentum."
Senior goalkeeper Laurel Ivory sparkled throughout the BYU game, and her teammates, after some shaky moments early, followed her lead.
"Laurel kept us in the match there for about 20 minutes," Swanson said, "and then I thought we rose up, we showed a little bit of grit, and we started to come on and really assert ourselves, especially in the second half. All really good positive signs, and we've got some good momentum behind us now. It doesn't guarantee anything, but I like where we are, and I think the team is gaining confidence every day.
"We've had our share of adversity in the fall and we've had our share of challenges in the spring, and here we are, and I think we can draw on the experiences we've had this year and be confident in the work we've put in."
The UVA-Rice match will be available on live stream at GoHeels.com/watch, and the NCAA will provide live statistics. Links to the broadcast and the live stats are available at VirginiaSports.com. Fans can also get updates by following @UVAWomenSoccer on Twitter.
To receive Jeff White's articles by email, click here and subscribe.