By Jeff White (jwhite@virginia.edu)
VirginiaSports.com
CHARLOTTESVILLE –– After nine months of intense training, former University of Virginia wrestler Jack Mueller came close to qualifying for last month's U.S. Olympic Trials. But his dream ended in late March at the Last Chance Olympic Trials Qualifier in Fort Worth, Texas, where two other wrestlers advanced in the 57-kilogram class.
"It was heartbreaking," Virginia head coach Steve Garland said.
For now, at least, Mueller has paused his competitive career, but he's still involved in the sport to which he's devoted much of his life. He's back at his alma mater as a volunteer assistant coach. His home away from home is once again  Memorial Gymnasium, where Mueller works alongside Garland, associate head coach Travis Paulson and assistant coach Trent Paulson.
"As great a competitor as he was, I think he's going to be a better coach," Garland said. "I think he can be that good at it."
Mueller, who graduated from UVA last year with a bachelor's degree in economics, was the NCAA runner-up at 125 pounds as a junior in 2019. A year later, the COVID-19 pandemic ended his college career prematurely. On the eve of the 2020 NCAA championships, college sports were shut down.
For Mueller, the abrupt ending was especially painful, because he was coming off an upset loss in the ACC tournament's 125-pound final.
"The worst match of my career was my final match," Mueller said. "So it's just such a weird cliff-hanger. I don't know how I would have done at NCAAs [last year], but I'll tell you this: The best training I had in my entire college career was over that week and a half after ACCs. I was just so locked in. A week out from nationals, I was only three pounds over, when I would usually be 13 pounds over. I was in the wrestling room 24/7, and I felt really good about it. I was on a high."
He shrugged. "It didn't happen. You move on."
Mueller left Charlottesville and began training in New York with Kendall Cross, who had coached him at Trinity Christian Academy in the Dallas area. Cross, an NCAA champion for Oklahoma State in 1989, captured a gold medal at the Olympics seven years later in Atlanta.
"I kind of went through almost like a vision quest," Mueller said, "trying to find my purpose in this sport. I didn't want it to be over, but I didn't know what it looked like, and I've always known I'm good enough to compete with the very best."
He collected some significant wins, but after the tournament in Fort Worth this spring, Mueller was ready to return to Charlottesville, where his girlfriend, former UVA field hockey player Colleen Norair, teaches and coaches at The Covenant School. And so when Garland offered him a spot on the staff, Mueller accepted.
"The way it left off for me, I think I need this," Mueller said, "especially losing at ACCs and having NCAAs canceled because of COVID. I owe something to UVA wrestling, I think, and I want to be back in Virginia. I want to help these guys. I want to help get guys over the hump."
In the long history of UVA wrestling, the program has produced four NCAA runners-up: Henry Jordan (heavyweight) in 1957; Garland (125 pounds) in 2000; George DiCamillo (141) in 2017; and Mueller in 2019. The Cavaliers are still seeking their first NCAA champion.
"We need someone to step up and get it done," Mueller said, "and from the things that I've learned, the people I've been around, I think that I can really help, and I know that Trent and Travis have coached national champs [as assistants at Iowa State], and Garland has coached national champs [as an assistant at Cornell]. So I want to be on that level … I'm ready to pour into these guys' lives and get them to where they need to be, and ultimately that will get UVA to where we need to be, to where it's like when you see a UVA singlet, you know you're in for a war."
Garland: "You put together the relationships he had with me, Travis and Trent, the relationships he had with [197-pounder] Jay Aiello and the team, his love for Charlottesville, his love for UVA. His dream is to have UVA be a powerhouse and be a part of that. I think it's just the perfect recipe here.
"He did the year of full-fledged training, nothing but trying to make the Olympic team, and it was a great experience, but it was also an experience that opened his eyes to other things that he's passionate about, other things he wanted to pursue."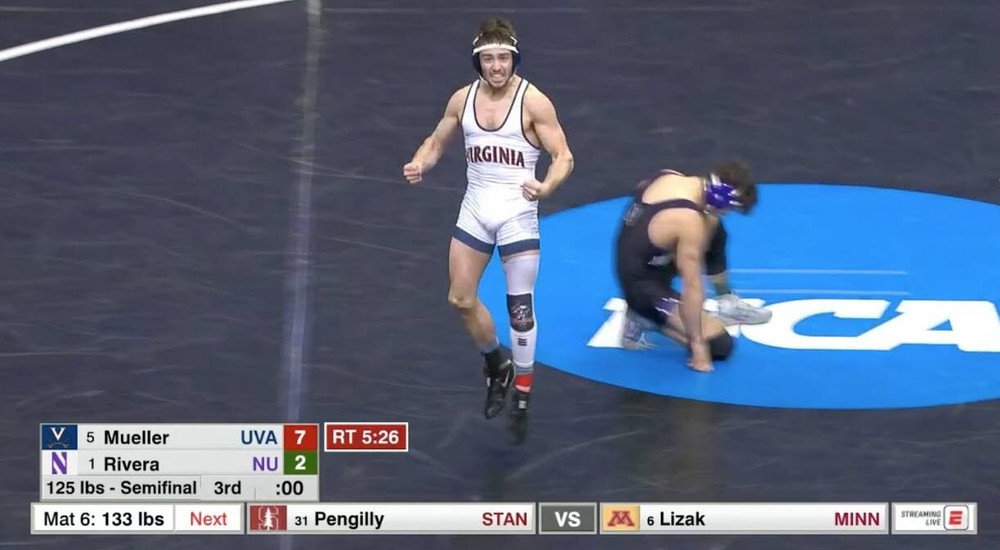 Mueller, who placed sixth at 125 pounds at the NCAA tournament as a freshman, isn't sure what's next for him as a competitive wrestler.
"We'll see," he said. "I think I've got some things to figure out. Ultimately, I'd say I'm still competing, but I might not be on the mat for a little bit. But if I wanted to compete more, the only people that can rekindle that fire are the three guys I'm working with now: Steve Garland, Trent Paulson, Travis Paulson. They're more than coaches. They're mentors, they're friends."
For now, he's concentrating on helping the Wahoos' program, on and off the mat.
"First day he was on the job, he and I sat down and we went through our recruiting software, and he's so much more technologically advanced than me," Garland said, laughing. "What took me a year to figure out, it took him about 30 seconds. And he's got all kinds of different groups and boards, and he's giving us advice, and he's color coordinating guys, and that type of thing. So he's allowed to do a lot of the research behind the [prospects]. Now, he can't go to their homes, he can't go to a tournament and evaluate them, but he can actually do stuff like that I need help with."
Mueller said he watched the Cavaliers' matches online this season. "And then as soon as I knew I was coming back, I re-watched all of them. I'm just trying to get in the heads of our guys, learn their tendencies, learn what they want to do."
Garland is thrilled that Mueller is allowed to wrestle with the team. "The first week we were here [training], he stayed after, and guys put out the mat and said, 'Can you help me with this? Can you help me with that?' He's in there not just doing practice and wrestling with our athletes, he's out there afterward and doing extra and helping them with things."
Mueller said: "I'm excited to see what helps and what doesn't help. Each guy is different, too. I'm a very visual learner, where I have to see the move and then I'll be able to do it. Some people are physical learners, and so they have to have the move shown on them to learn. It's crazy how just everyone is so different in how they learn and how they develop."
The Hoos finished fourth at the ACC tournament this year, well ahead of fifth-place Pittsburgh. Of Virginia's starters, only 133-pounder Louie Hayes, who placed eighth at the NCAA meet, is not returning in 2021-22. The program's promising young wrestlers include Dylan Cedeno and Hudson Stewart, who competed unattached at 141 and 184 pounds this season, respectively.
"It's pretty exciting," Garland said.
The pandemic disrupted life on Grounds last spring and forced the postponement of graduation, but UVA's Class of 2020 will finally have an opportunity to walk the Lawn this month. Mueller will share the occasion with Norair, who also graduated last year and who's about to start a master's program in the School of Education and Human Development.
"It'll be fun to do that with her," Mueller said.
To receive Jeff White's articles by email, click here and subscribe.