By Jeff White (jwhite@virginia.edu)
VirginiaSports.com
CHARLOTTESVILLE –– After making back-to-back appearances in the College Cup in 2013 and 2014, the University of Virginia women's soccer program remained among the nation's elite, turning out NCAA tournament teams year after year. Not until this spring, however, did the Cavaliers make it back to their sport's Final Four.
That underscores the difficulty of pulling off that feat, said Steve Swanson, whose record in 21 seasons as UVA's head coach is 329-98-50, with 21 trips to the NCAA tournament.
"Without a doubt," Swanson said Sunday night after Virginia edged No. 4 seed TCU 1-0 in an NCAA quarterfinal at WakeMed Soccer Park in Cary, N.C. "With the tournament that we have … all these teams are good teams, and so there's just no easy games, there really aren't. So for us to get to where we've gotten is great, we're proud of that, but we've got a bigger goal there, and we're trying to do something that we haven't done before."
In 2014, on the brink of the program's first NCAA title, UVA lost to Florida State 1-0 in the championship game. Since that match in Fort Lauderdale, Fla., these ACC rivals have met eight times. Each team has won three games, and the other two were draws.
They'll meet again Thursday in the NCAA semifinals at WakeMed Soccer Park. In a game ESPN2 will televise, UVA (14-4-2) takes on top-seeded Florida State (13-0-1) at 6 p.m. The Seminoles edged ninth-seeded Duke in a penalty-kick shootout on Sunday afternoon to reach the College Cup.
In the other NCAA semifinal, No. 2 seed North Carolina meets No. 11 seed Santa Clara at 8:30 p.m. Thursday. This marks the third time that three ACC teams have reached the College Cup. The first two were in 2011 and 2013, when Virginia lost to UCLA in the NCAA semifinals on a penalty-kick shoutout.
"It's pretty amazing," Swanson said last week when asked about the conference's strength. "I think the coaches in the ACC would all say that they understand how hard the league is and they know how competitive it is, and certainly we do. I think it's less of a surprise to us."
For UVA and FSU, this will be a rematch of their Oct. 20 game at Klöckner Stadium. The Noles won 4-3 that afternoon on a goal in the 81st minute. After falling behind 3-1, Virginia had rallied to tie the game in the second half.
"FSU is a great team," Swanson said Sunday night. "We obviously played them in the fall. We know their quality, we know their caliber, so again we're gonna have to play well to win, but [the opponent] wouldn't matter here at this point now. I think anybody that gets this far, you're gonna have to play well [to win], you're going to have to get good performances by all your players. It's going to have to be another team effort like it's been these first four games."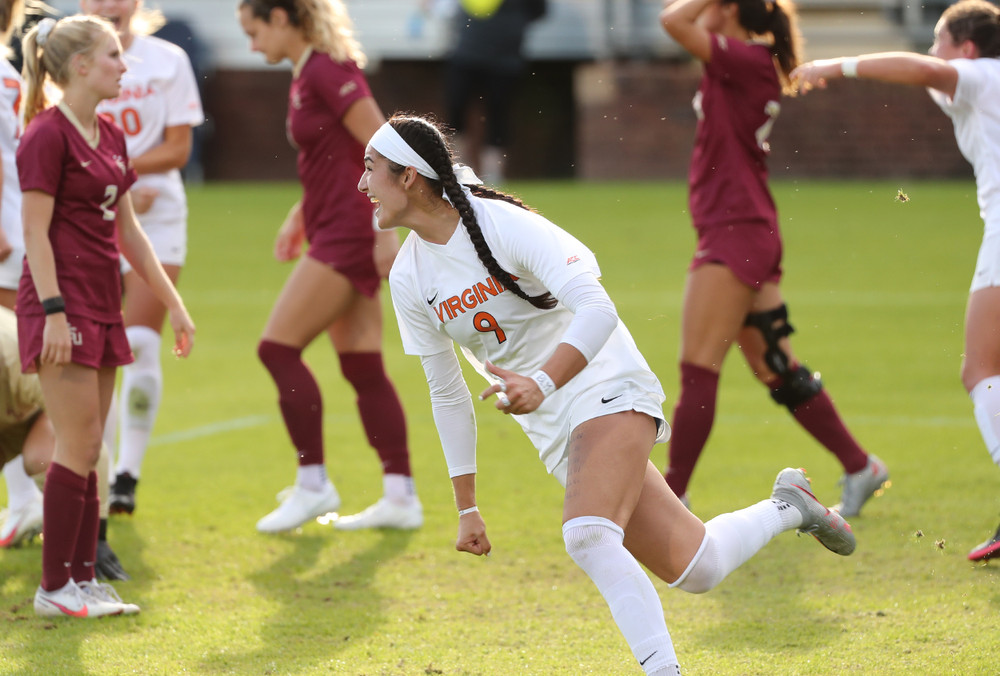 College soccer is usually a fall sport, but the NCAA altered its schedule this academic year because of the COVID-19 pandemic. The format of the tournament changed, too, with the field shrinking from 64 to 48 teams.
Sixteen teams were seeded and received first-round byes. UVA, despite being ranked No. 12 nationally, was not one of them.
"I think it was kind of a blessing in disguise," sophomore forward Diana Ordonez said last week. "Some people could look at it as like, 'Oh, if you're seeded, you get a bye, you're right into the second round,' but I think we kind of took on the attitude that we got to get a game under our belt before we had to go in and play the seeded teams, which obviously are seeded for a reason. So I think we embraced the fact that we had a first-round game, and I think it was good for us to just get that game out of the way and compete and then just be ready to go into the second round."
Virginia opened the tournament with a 3-1 win over Southern Illinois University Edwardsville, then knocked off 12th-seeded BYU 2-0 in the round of 32. In the Sweet Sixteen, the Wahoos blanked Rice 3-0, and defender Lizzy Sieracki's header off sophomore midfielder Lia Godrey's corner kick in the 60th minute proved to be the difference Sunday night against TCU.
For Sieracki, a fifth-year senior, the goal was her first of the season.
"I thought Lia played a great ball in, and it was perfect," Sieracki said. "It went straight to my head. I didn't have to do much to get it in the back of the net."
Swanson said the Hoos have "been working on our set pieces, and it's moments like that that really make a difference, and it was good to get us the goal. We changed our formation a little bit after that goal … I think the team did a great job of finishing out the game there once we got the lead."
The Cavaliers' other goals in the NCAA tournament have come from junior forward Alexa Spaanstra (four), Ordonez (three) and sophomore defender Talia Staude (one). Senior midfielder Taryn Torres (two), Godfrey (two) and Ordonez (one) have collected assists in the NCAAs.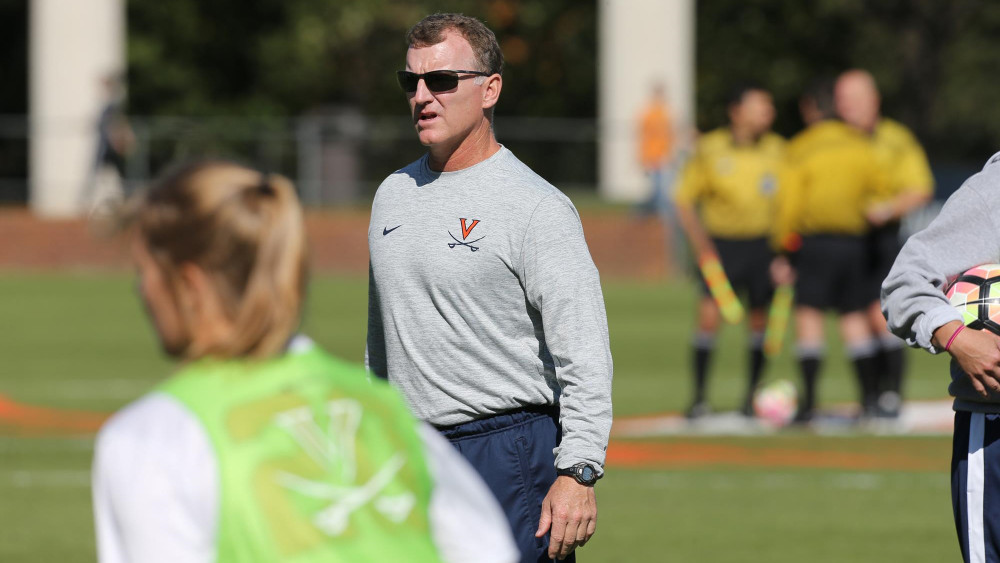 UVA finished the fall with an 8-3-1 record after losing to North Carolina in the ACC tournament semifinals. The Hoos played only four regular-season matches this spring. That wasn't the plan, but COVID-19 issues forced the cancellation of scheduled games against ODU and JMU.
All of which made it difficult for Virginia to settle into a rhythm. After the Cavaliers edged VCU 2-1 on March 6, four weeks passed before they played another college opponent. (UVA scrimmaged the National Women's Soccer League's Gotham FC on March 20.)
In the NCAA tournament, though, the Hoos have been playing every three or four days, with every game in Cary.
"I think since the first game, we have just gotten better," Ordonez said, "which is really exciting. I think our chemistry is getting better, and I think we're making better decisions in the final third. And so I think just getting to play more consistently has helped us a lot."
Swanson agreed. "I've actually liked this setup here. It's been nice to have a game, and then you have a couple of days to recover, and then you have a couple days to prepare. And I think the timing between each of these games has been enough where you can properly, as well as possible, prepare for the opponent you're playing, but also you get enough recovery time. It's not like a Friday-Sunday setup."
Of the eight teams that reached the NCAA quarterfinal, only UVA was unseeded.
"I think we had a lot to prove, and I think we're doing that," Ordonez said before the TCU game. "I think everyone knows we are the only unseeded team left in the tournament, so that's kind of exciting just being able to come out here and make a statement and just show that it didn't matter whether we had a number next to our name or not. We're here, we're ready to compete."
Swanson said: "I think we've always known we've had a good team. For whatever reason, it's taken a little longer for us to put it together, but I think we've had some really good performances in the tournament."
The Cavaliers arrived in Cary on April 26, and they're thankful to still be there two weeks later, even as life continues without them back on Grounds.
"To be honest, it's been such a long year," senior goalkeeper Laurel Ivory said, "and to see the payoff right now is an absolute gift. I'm not gonna sit here and act like we were the only team working from July to now, but we have put everything we have into this year, and for this to become a reality is a blessing. I'm just so proud of everyone, and this team is a family through and through."
To receive Jeff White's articles by email, click here and subscribe.