RALEIGH, N.C. – Freshman Jada Seaman and sophomore Ethan Dabbs each won individual titles to highlight the first day of competition for Virginia at the ACC Outdoor Track and Field Championships in Raleigh, N.C.
Competing in the meet's opening event, Dabbs claimed his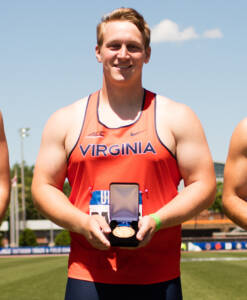 second consecutive javelin title with a winning throw of 71.45 meters (234' 5"). After fouling on his first attempt, Dabbs made the winning throw, a season-best effort, on his third try. He was able to pass on his fifth- and sixth-round opportunities. It was just the second time this season Dabbs has competed in the event.
Seaman's win in the long jump included considerably more drama.
After she grabbed the early lead with a personal best mark of 6.40 meters (21' 0") on her first attempt, she saw top-seed Bria Matthews of Georgia Tech pass her with a leap of 6.42 meters (21' 0.75") in the second round. Matthews held that lead until Seaman's sixth and final attempt.
Seaman wrestled the title away with an explosive jump of 6.56 meters (21' 6.25") on her final leap. It was a meet record, the second-best performance in UVA history and improved on Seaman's previous freshman record. Her distance ties as the nation's 11th best mark this season.
The title was the third conference crown in the long jump for Seaman. She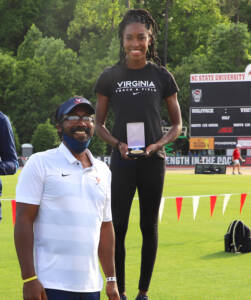 won back-to-back ACC Indoor titles in 2020 and 2021.
Later in the day, Seaman qualified for the 200-meter finals with a personal best time of 23.54 that ranks sixth all-time at Virginia and improves on her previous freshman record.
Two of UVA's other top competitors advanced out of the prelims into event finals. Graduate student Andrenette Knight, the ACC's reigning 400-meter hurdles champion, posted the best time (58.29) in that field. In the 1500 meters, graduate student Michaela Meyer ran 4:20.42 to win her heat and move on to the finals.
UVA freshman Wes Porter and senior Randy Neish advanced to the finals of the men's 1500 meters. Porter posted the second-best prelim time (3:42.92) while Neish had the fourth best qualifying time (3:43.61). Both were personal-best performances. Porter's effort ranks as the second-best for UVA freshman and eighth-best overall at UVA. Neish's time moved him up to ninth on the Virginia all-time performance list.
In other event finals, freshman Jacob Lemmon placed fifth in the hammer throw (62.63 meters / 205' 5") to earn second-team All-ACC honors. Graduate student Joey Kelly was seventh in the pole vault (4.71 meters / 15' 5") to also pick up points for the UVA men's team.
In the men's 10,000 meters, UVA picked up additional points thanks to junior Rohann Asfaw and senior Alex Corbett placing seventh and eighth while junior Harry Monroe was ninth. All three runners clocked personal best times during the race and all three of their finishes ranked among the top-10 on the UVA all-time performance list.
Asfaw finished in 29:13.95 to rank No. 7 on the UVA all-time list while Corbett finished in 29:16.11 to move up to ninth on that chart. Monroe's time was 29:16.26 and put him in 10th place on the UVA record list.
Senior Eva Mustafic (59.86 meters / 196' 5") had a seventh-place finish in the women's hammer throw to score for the women's squad. Khyasia Caldwell also scored for the Cavalier, placing seventh in the long jump with a best leap of 6.14 meters (20' 1/75").
Junior Hannah Moran placed 10th in the 10,000 meters with a personal best time of 33:38.31 that ranks fourth on the UVA all-time performance list.
Freshman Kayla Bonnick did not advance to the finals of the 200-meter finals, but her time of 24.01 was a personal best and elevated her to second place on the UVA all-time freshman record list.
In the women's heptathlon, sophomore Alix Still ended the first day in seventh place with 3,190 points.  Her top event performance was a fourth-place finish in the 100-meter hurdles with a personal best time of 13.85.
Both the men's and women's teams ended the opening day of competition tied for fifth place. The men totaled 18 points while the women scored 14.
"I am very excited about the process of building this program step-by-step to be a championship program," said Director of Track and Field Vin Lananna. "They made big progress today."
The championship runs through Saturday at NC State's Paul Derr Track Facility.