By Jeff White (jwhite@virginia.edu)
VirginiaSports.com
For the University of Virginia women's soccer team, the goal was to spend a full three weeks inside the NCAA tournament "bubble" in Cary, N.C.
The unseeded Cavaliers, who arrived in Cary on April 26, nearly made it. With wins over SIU Edwardsville, BYU, Rice and TCU, Virginia advanced to the College Cup for the first time since 2014. One victory away from the NCAA championship game, the Wahoos saw their season end in heartbreak Thursday night at WakeMed Soccer Park.
After UVA and top-seeded Florida State played 110 scoreless minutes, their NCAA semifinal was decided by a penalty-kick shootout. It was over quickly. The Cavaliers failed to convert any of their first three PKs, and the Seminoles made all three of theirs to advance to Monday night's final.
"I think it was an exciting game and I thought we did well for ourselves," UVA head coach Steve Swanson said, "but we just didn't do what we needed to do in order to get one across, and that's on us. That's on us. Full marks to Florida State. They're a good team, and like I've said they're just not going to beat themselves."
The Noles (14-0-1), who won NCAA titles in 2014, when they edged UVA 1-0 in the championship game, and in 2018, will meet No. 11 seed Santa Clara for the crown Monday night.
In a season unlike any other, Virginia finished with a 14-4-3 record. College soccer is usually a fall sport, but the NCAA altered its schedule this academic year because of the COVID-19 pandemic, moving its men's and women's tournaments to the spring. The tournaments' formats changed, too, with the women's field reduced from 64 to 48  teams.
"We felt very fortunate this year to play," said Swanson, who has guided the Cavaliers to the College Cup three times. "We're very grateful to our university and our administration, the ACC and the NCAA, for making this all happen for us."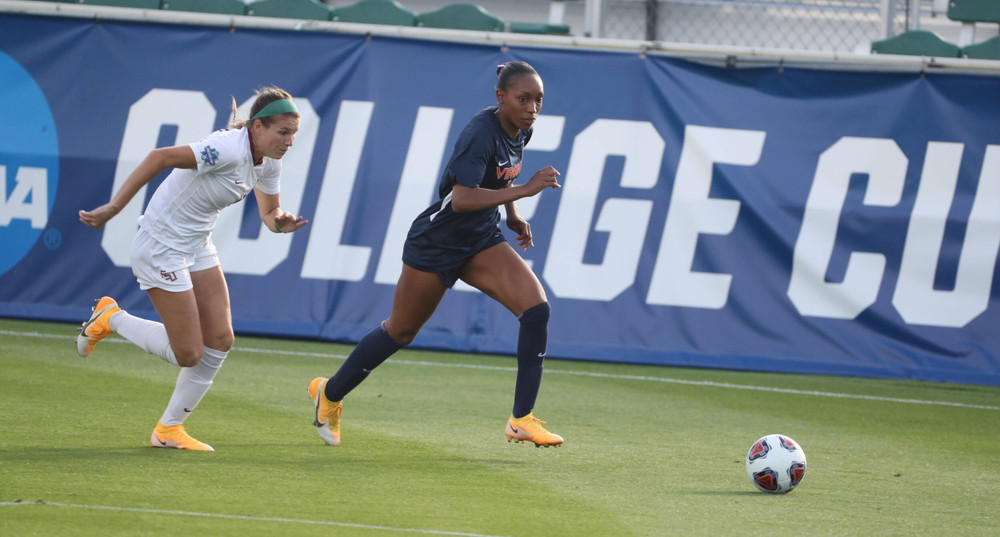 This was the second meeting of the season between Virginia and FSU. In the first, an Oct. 18 game at Klöckner Stadium in Charlottesville, the Seminoles prevailed 4-3. The rematch produced fewer highlights, but the tension mounted as the seconds ticked off the clock.
UVA controlled the first half, outshooting Florida State 6-1. In the 12th minute, a shot by junior forward Rebecca Jarrett hit the crossbar and ricocheted down, landing just outside the goal. But the Seminoles never succumbed to the pressure, leaving the Cavaliers to rue their missed opportunities.
"It was really unfortunate," senior midfielder Taryn Torres said. "We came in at halftime feeling that we should have a goal, or maybe a few. We were definitely dominating. We felt in control. As good as Florida State is, I felt like we were the better team the first half."
If there was a measure of frustration in UVA's locker room at intermission, there was relief on the Seminoles' side.
"I thought that Virginia gave us all that we could handle," FSU head coach Mark Krikorian said, "and that we were fortunate to come into halftime at 0-0 and to regroup."
At the half, Swanson said, the Hoos were pleased with how they'd played. "We certainly did what we wanted to do on both sides of the ball. But then on the other hand you look at it and say, 'We don't have anything to show for that.' These are the things that make the difference in games, the little moments."
The Seminoles had the edge in possession for much of the second half, but they couldn't score either. A goal in overtime would have ended the game, but the two 10-minute periods passed with no change in the score.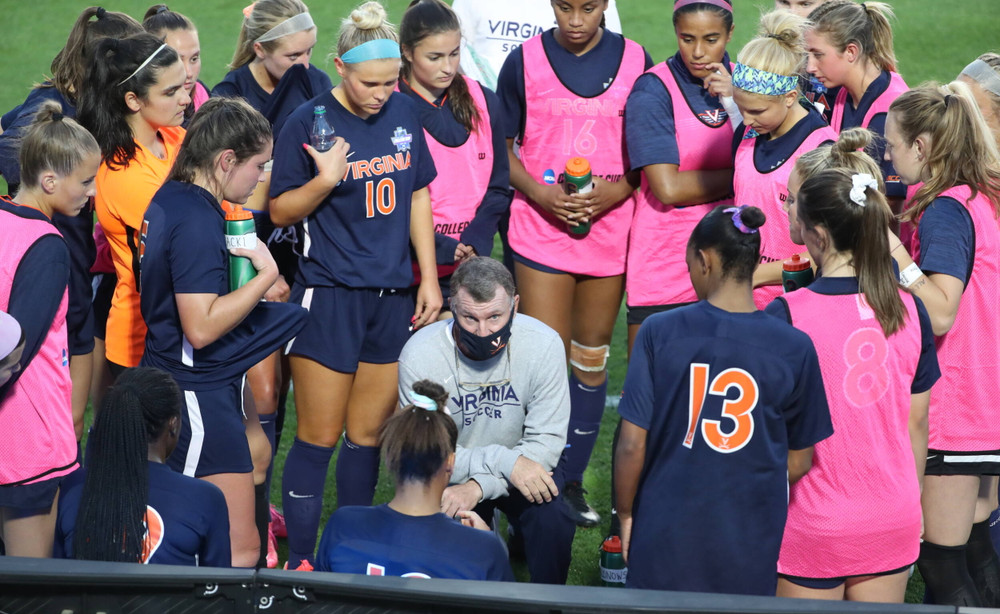 If the Noles looked confident in the shootout that followed, that was understandable. In the NCAA quarterfinals, FSU had defeated ACC rival Duke on penalty kicks after 110 scoreless minutes.
Virginia went first in the shootout Thursday night, and junior forward Alexa Spaanstra sent her kick over the crossbar. Goalkeeper Cristina Roque saved the Cavaliers' next two attempts, by sophomore forward Diana Ordonez and Torres, and when Gabby Carle converted for FSU, the match was over.
On the same field in 2013, in another NCAA semifinal, UVA had lost to UCLA in a shootout after 110 minutes produced a 1-1 tie.
"It's hard to when it gets down to that point," Swanson said. "If I had the answer to PKs, I think I'd make a lot of money at this point in time, but they certainly were obviously better than us tonight."
The Seminoles' experience in that situation was probably a factor, Swanson said, but "I thought we had our chances in the game to end the game [in the first 110 minutes] and not get it into PKs. I think we have to take responsibility for that, but full credit to them. They didn't give up a goal, and they took care of what they needed to do in PKs."
To lose in that fashion "just hurts so bad," Torres said, but she brightened when asked what she'll remember about this season.
"I love this team," Torres said. "I think that we've gone through so much. We bounced back from injuries, COVID, contact tracing, We've been able to come back and come together. We were resilient, and I'm just so proud of this team and I wouldn't have it any other way … It's unfortunate that we couldn't have [played for the NCAA title], but it was super exciting, rewarding feeling to play at such a high level, on such a big stage."
Swanson's 21st season at UVA was one he won't soon forget. "We played in the fall, we played in the spring," he said. "It's always hard to peak at this time, but I think our players peaked at this time and our team peaked at this time and that's certainly a credit to all the players … Just super proud of them. I think they're great ambassadors to our university and our program."
Because of injuries and COVID-19 issues, the Hoos rarely had a full complement of players at practice throughout the year. That didn't deter them.
"We were just trying to get better every day, and I think that all came together here at the end," Swanson said. "So there's a lot of positives to this season … This will sting for a little bit, but I do think they've made a good accounting of themselves here. I'm certainly proud of them and I know our alums are proud of them and I know our university is proud of them, and hopefully we'll be the better for this."
To receive Jeff White's articles by email, click here and subscribe.