By Jeff White (jwhite@virginia.edu)
VirginiaSports.com
Until another team unseats the Virginia Cavaliers, their reign as NCAA men's lacrosse champions will continue, and they have no intention of relinquishing the crown.
On the same field where in 2019 they needed a remarkable comeback to win in the NCAA quarterfinals, the Wahoos dominated almost from the opening faceoff Saturday afternoon in Hempstead, N.Y.
Against fifth-seeded Georgetown, fourth-seeded UVA led 4-1 after one quarter, 10-1 at halftime, and 14-2 heading into the fourth quarter of this NCAA quarterfinal at Hofstra University's James M. Shuart Stadium.
The final was 14-3.
"They were awesome today," Hoyas head coach Kevin Warne said of the Cavaliers. "Today wasn't our day. You can point to a bunch of things, and it was mostly the guys in the white jerseys."
One of those guys was midfielder Connor Shellenberger, a redshirt freshman who scored a career-high six goals and added an assist. "He's a first-team All-American in my book," Warne said.
Virginia had plenty of other standouts. Senior goalkeeper Alex Rode made eight saves, junior Petey LaSalla won 15 of 19 faceoffs, and UVA's defense held Georgetown's Jake Carraway, who had scored at least one goal in 44 straight games, to a single point, on an assist.
Sophomore Cade Saustad, senior Kyle Kology and freshman Cole Kastner led the close defense, and fifth-year senior Jared Conners showed why he's the college game's premier long-stick midfielder. Virginia's short-stick defensive middies also impressed against the Hoyas' high-powered offense. That unit includes John Fox, Chris Merle, Grayson Sallade and Jack Peele.
"A complete effort today," UVA head coach Lars Tiffany said.
Georgetown, which dropped to 0-5 all-time against Virginia, ended the season with a 13-2 record. The Hoos (12-4) move on to East Hartford, Conn., where they'll face top-seeded North Carolina (13-2) in the NCAA semifinals next Saturday. UNC edged Rutgers in overtime in the second quarterfinal Saturday.
The Cavaliers and the Tar Heels split their two regular-season meetings, with each winning on the other's field.
"Reaching the Final Four is definitely a goal of ours every year," Shellenberger said. "To be able to go there and have the opportunity to win the national championship is why we work so hard and why everyone's so bought into this thing. It's definitely exciting and an opportunity we won't take lightly."
This is not the first time, of course, that the Hoos have peaked in May under Tiffany, who came to Charlottesville from Brown University, along with assistant coaches Sean Kirwan and Kip Turner, after the 2016 season.
In 2019, after edging Maryland in the NCAA quarterfinals, UVA defeated Duke and Yale in Philadelphia to secure the program's sixth NCAA title. Because of the COVID-19 pandemic, there was no postseason last year, and so the Cavaliers have held the title for nearly 24 months.
Many of the standouts from UVA's 2019 team are still on the roster, among them Rode, LaSalla, Conners, Kology, Saustad, Matt Moore, Ian Laviano and Dox Aitken. But there are younger players in key roles this season, too, including Shellenberger, and Tiffany noticed them as he prepared to address his team before the game Saturday.
"I said, 'Let's let the older guys start us off, guide us, you've got the experience, and then the younger guys will quickly fall in line and step up and make plays,' " Tiffany told reporters afterward, "and certainly that's what happened."
Shellenberger, a graduate of St. Anne's-Belfield School in Charlottesville, was unstoppable Saturday. He entered the game with more assists (35) than goals (25), but the Cavaliers needed him to look for his shot against Georgetown, and he delivered.
"Connor was fantastic today," Tiffany said. "We know he can be this aggressive and go to the goal, but it's sort of in Connor's nature not to be this aggressive. But Georgetown's defense was challenging us. They were saying, 'Hey, we're not necessarily gonna slide to everything. You've got to run by us.' "
Shellenberger did so time and again. At the other end, the Cavaliers' defenders suffocated the Hoyas.
"They are the longest defense we've played all year," Warne said. "I feel like I'm watching Jurassic Park, with a bunch of velociraptors running around in front of a goal. They're long, athletic, they get to your hands. I thought they did a great job, and then if they had any mistakes––they were very few today––the young man in the goal, he's a good one, and he's got a lot of experience."
In 2019, Rode was named the NCAA tournament's Most Outstanding Player after making 43 saves in UVA's four games. He made 18 saves last weekend in Virginia's first-round win over Bryant at Klöckner Stadium.
"He's a beast," said Conners, one of UVA's captains, along with Fox. "He's an awesome guy that we can depend on, and you just watch him grow across the season. I think like everybody else in the team he realized there's a lot more on the line … this time of year, so there's that pressure to step up your game, and the man thrives under pressure. We saw that in every game of the postseason in 2019 and I have no doubt in my mind that he's gonna carry that into next weekend as well."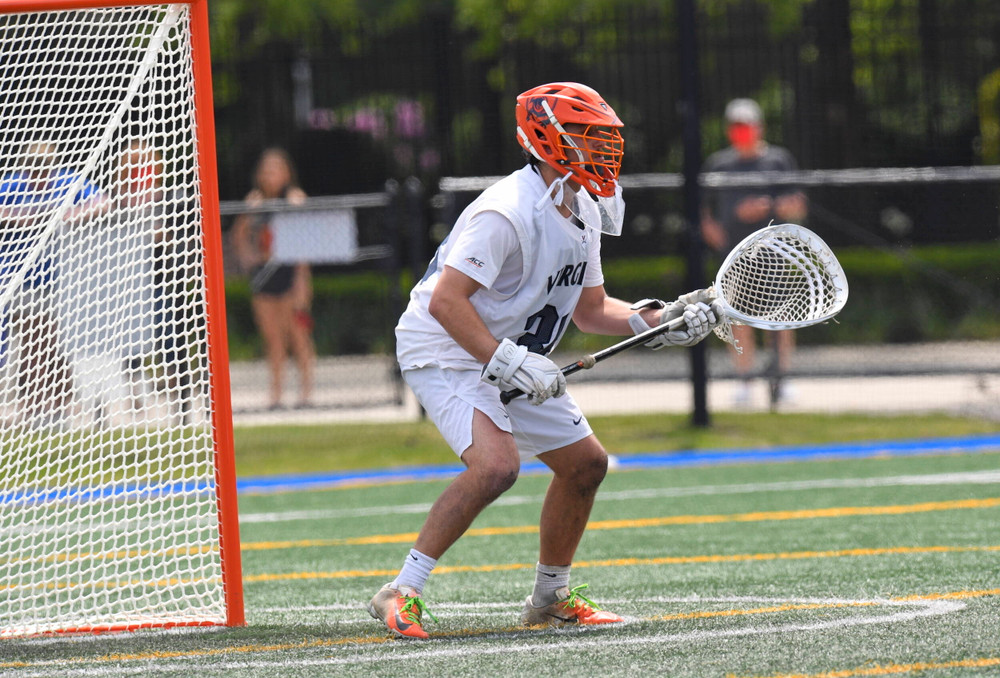 LaSalla, a junior who grew up on Long Island, struggled against Bryant, winning only 5 of 16 faceoffs. He made amends against the Hoyas, forcing them to spend most of the game on defense.
"It didn't help," Warne said. "Obviously the possession battle was in their favor for a lot, and it certainly showed on the scoreboard at the end of the day."
After closing the regular season with a 13-11 loss to Syracuse on April 24, Virginia had to wait three weeks for the NCAA tournament to start. The Cavaliers used that time wisely, getting fitter and healthier and polishing their skills.
The time was "definitely spent working hard," Conners said, "but it was also spent coming closer as a team. That's something you can really feel on the defensive end, and it pays off in the communication and the trust that we have in each other."
The long layoff wasn't necessarily ideal, but the Hoos "turned it into a positive," Tiffany said.
And now comes another Final Four for UVA.
"This is why you come back [for a fifth year]," Conners said. "This is where it all pays off, all that extra work … I'm really excited for next weekend, and it's unbelievable that we get this opportunity again and I couldn't be happier to be back."
After busing to Long Island on Thursday, the Hoos stayed in the same hotel that they did in 2019, and they wore the same uniforms Saturday that they had against Maryland that season.
"Don't fix it if it's not broke," Conners said, smiling "We're going down the same path and we've had the same success, so I'm really excited for next weekend and I'm thrilled to have the opportunity."
For the players who joined the program after the 2019 season, this will be a new experience. So far, Shellenberger said, the NCAA tournament has lived "up to everything that you dream of, and it's just cool to have the opportunity to be here and then the opportunity next week to go the Final Four. It's another thing that we all grew up watching. So I'm just kind of thankful for the opportunity."
Tiffany is thankful to get more time with his team.
"What a joy to have one more week," he said.
To receive Jeff White's articles by email, click here and subscribe.