By Jeff White (jwhite@virginia.edu)
VirginiaSports.com
With every passing game, the University of Virginia baseball team's early season struggles fade further from view.
At the start of April, the Cavaliers had a 4-12 record in the ACC and were projected to miss the NCAA tournament. Eight weeks later, not only are they locks to make the NCAAs, they're two wins from an ACC title.
Three days after edging Virginia Tech 3-2 in their ACC tournament opener, the eighth-seeded Wahoos faced the conference's top team at Truist Field in Charlotte, N.C. The game wasn't close Friday. The Hoos hit three home runs in the top of the second inning and thrashed No. 1 seed Notre Dame 14-1 to win the tournament's Pool A.
Virginia (29-22) will face Pool D winner Duke (30-20) in the first ACC semifinal Saturday at 1 p.m. The game will air on ACC Network. A victory would send the Cavaliers to the ACC championship game for the first time since 2011, when they won the tournament.
When they met at Disharoon Park late last month, UVA took two of three from Duke to win the series. But like the Cavaliers, who have won 10 of their past 13 games, the Blue Devils are ascending as June approaches. They've won 10 in a row.
"Duke's got a great club," Virginia head coach Brian O'Connor said. "We had a nice series with them, they're playing as hot as anybody in the country, and they have very much a veteran team like we do."
The Cavaliers' game Friday underscored the strides they've taken since early in the season. In March, the Fighting Irish came to Charlottesville for a three-game series and defeated Virginia 10-5, 12-4 and 8-3.
"As I said last week," O'Connor told reporters Friday, "they took us behind the woodshed and showed us what you need to do to be successful in this league."
Notre Dame hasn't cooled off much since then. The Irish are projected to be among the top eight seeds in the NCAA tournament, and they hammered Virginia Tech 8-0 on Wednesday.
"They're got a heck of a team," O'Connor said, "and I'm sure they're going to do a lot of damage [in the NCAA tournament], starting next weekend."
Against UVA, however, Notre Dame encountered a team that's been transformed. Senior left-hander Andrew Abbott was superb again, striking out nine and walking only one in 6.1 scoreless innings.
As has been the case of late, the Cavaliers gave Abbott ample run support. In Abbott's past five starts, Virginia has scored nine, 18, 17, seven and, now, 14 runs.
"As a team we kind of joke about it," junior third baseman Zack Gelof said, "because I think the beginning half of the year we gave him almost no run support at all."
Abbott, a first-team All-ACC pick, lowered his earned-run average to 2.63.
"He's as good as there is out there," O'Connor said. "Talking about making a statement, he's making a statement. What this guy has done down the stretch run is just remarkable."
Abbott has been excellent "all year long, but he is absolutely at his best at this time, which is really remarkable," O'Connor said, "because sometimes you see these starters start to falter, and he has actually gotten stronger. And so I'm excited to see him compete again next weekend."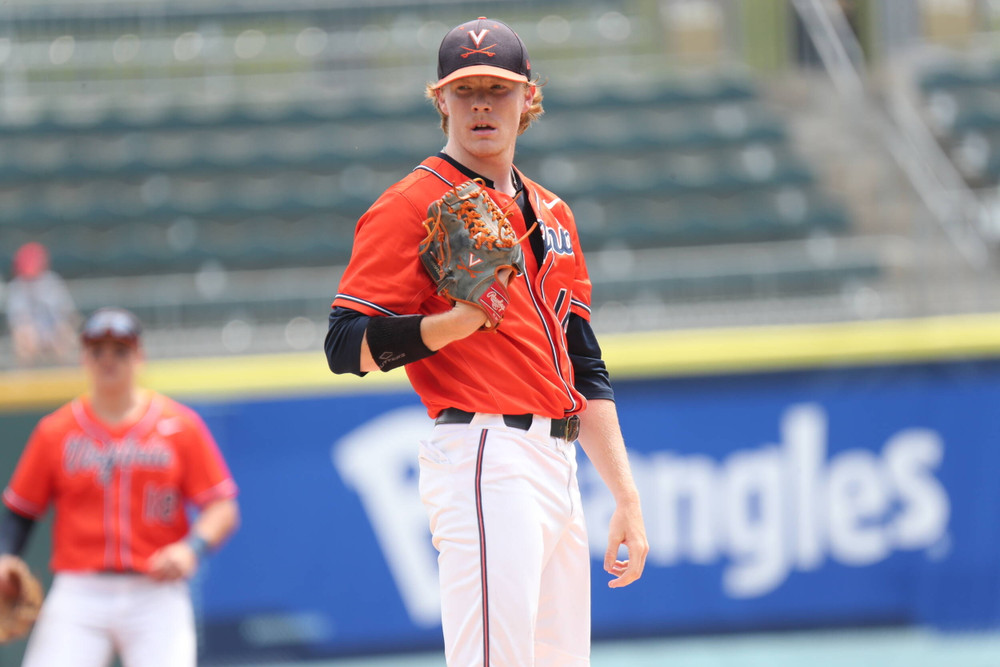 The list of UVA's standouts Friday was a long one. In the second inning, Nic Kent and Alex Tappen each had a two-run homer, and Jake Gelof followed with a solo blast. All came off John Michael Bertrand, a first-team All-ACC selection who'd earned the win March 13 in Notre Dame's 12-4 rout of UVA.
Gelof, who starts at first base, is a freshman whose home run was the first of his college career.
"It was awesome," Zack Gelof said. "He punished a mistake and went over the fence. He's been looking good in BP and doing what all the coaches are striving for. I think that's been a long time coming, and he has some pop in the bat, so I was really excited for him."
Not to be outdone by his kid brother, the elder Gelof belted a three-run homer in the fifth to make it 9-0. That was more than enough cushion for Abbott, who hasn't allowed an earned run in 30.1 innings.
When he takes the mound, Abbott said, "I'm just telling myself that I'm better than every team that I face. Just trying to be a bulldog on the mound. That's never changed since I've been in college. But it helps to turn around and look and you see a nine-spot or a five-spot on the board. That obviously takes a little pressure off you."
The Cavaliers' ability to strike early in games has been instrumental in their turnaround, O'Connor said. "You can pitch aggressively. Certainly, when you're out there on that mound and you've got a three- or a five-run lead, you feel pretty good, especially with the caliber of our pitching staff. We're running some pretty good guys out there with some good arms, and we're pitching some of our best baseball of the year down this stretch, too.
'So jumping on a team right away clearly makes a difference, and it's been a pretty good recipe for us the last three weeks or so. Now, that said, we didn't do a good very good job of it for most of the season. And so we've done a nice job of when we've gotten a lead, building on it and being aggressive from a pitching and defensive standpoint."
Virginia totaled 14 hits Friday. Zack Gelof went 3-for-5, and three Cavaliers had two hits apiece: Jake Gelof, Tappen and Chris Newell.
The Hoos were aggressive at the plate, and that's "what we weren't getting in the first part of the season," O'Connor said. In part, he added, that was because of their schedule, but "I feel like our approach has improved throughout the season at the plate, and it's a lot more aggressive. It's not as selective, looking for the perfect pitch, and our competitiveness with two strikes has really, really improved. It's the right time to be doing it."
This is O'Connor's 18th season at UVA, where his teams have won 743 games. The Cavaliers have reached the College World Series four times during his tenure and captured the NCAA title in 2015. There have been more highlights than O'Connor could count, but he's understandably proud of his latest team's resilience.
"The season's long, and you're going to have a lot of ups and downs," O'Connor said. "Our responsibility is not only to coach the players every day, but also help guide them through those waves that you have throughout the season."
The coaches need to make sure the players "continue to have hope, they continue to understand what we need to do and the adjustments that need to be made," O'Connor said. "So when you have a team that does it, and doesn't just fold, certainly it's satisfying. It's exciting. You're proud of what they've done. What this team has come from, from the middle of the year to now, just really shows what the young men are made of. They could have easily packed it in. They didn't. They chose to fight and compete and flip it, and that's essentially what we did from the first half of the season in the league to the second half, and this is the time to be doing it."
Abbott said the key has been not "losing faith and trust in each other. That just speaks volumes about what Coach O'Connor and all of them teach us here at UVA."
To receive Jeff White's articles by email, click here and subscribe.