By Jeff White (jwhite@virginia.edu)
VirginiaSports.com
With each North Carolina goal in the fourth quarter, Virginia's lead shrank Saturday afternoon. With each goal, the tension grew at Rentschler Field in East Hartford, Conn.
The third meeting of the season between these longtime ACC men's lacrosse rivals came in the NCAA semifinals. The fourth-seeded Cavaliers led 12-8 after three quarters, but All-America midfielder William Perry's fifth goal made it 12-11 with 3:05 to play, and the top-seeded Tar Heels had all the momentum.
That was still the score when, after his team's eighth turnover of the quarter, UVA head coach Lars Tiffany called a timeout with 20.9 seconds left and the ball in Carolina's possession. What followed, when play resumed, was a defensive masterpiece.
With the ball in the stick of UNC attackman Chris Gray, perhaps the nation's top player, UVA sophomore defenseman Cade Saustad ran into a screen designed to free Gray. The Cavaliers didn't panic. Chris Merle, a junior short-stick defensive midfielder, switched onto Gray and pressured him into a pass that freshman defenseman Cole Kastner knocked away.
Time expired, and the reigning NCAA champion Wahoos could exhale at last. They'll play for another NCAA title Monday.
The Cavaliers "did a great job as a defense," Gray, "and unfortunately we didn't get the best look at the end."
The final minutes, Virginia goalkeeper Alex Rode acknowledged, were "a little nerve-wracking. It's scary, no doubt, but I have a lot of faith in our team, and it's exciting at the same time."
A senior from Timonium, Md., Rode sparkled Saturday, as is his custom in the postseason. In 2019, he was named the NCAA tournament's Most Outstanding Player. In this year's tournament, Rode made 18 saves against Bryant in the first round, eight against Georgetown in the quarterfinals and 15 against UNC.
"I see Alex every day," Tiffany said, "and we think he's a fantastic goalie all the time. But when everyone's watching, he steps up even bigger, doesn't he? On the biggest stage, this is Alex Rode's platform."
Rode said: "I just feel very fortunate to be a part of this team and a part of UVA lacrosse, such a strong tradition."
The COVID-19 pandemic shut down college sports in March 2020, so there was no NCAA tournament last season. In the most recent title game, UVA defeated Yale 13-9 in May 2019 to secure the program's sixth NCAA championship.
To collect their seventh crown, the Cavaliers will have to beat a former ACC foe. Virginia (13-4) takes on third-seeded Maryland (15-0) for the NCAA title Monday at 1 p.m. in East Hartford. ESPN2 will televise the game, a rematch of the 2019 NCAA quarterfinal in which the Hoos rallied to defeat the Terrapins in overtime.
In 2011, Virginia defeated Maryland 9-7 in Baltimore to capture the program's fifth NCAA title (and fourth under Dom Starsia, Tiffany's predecessor as head coach.)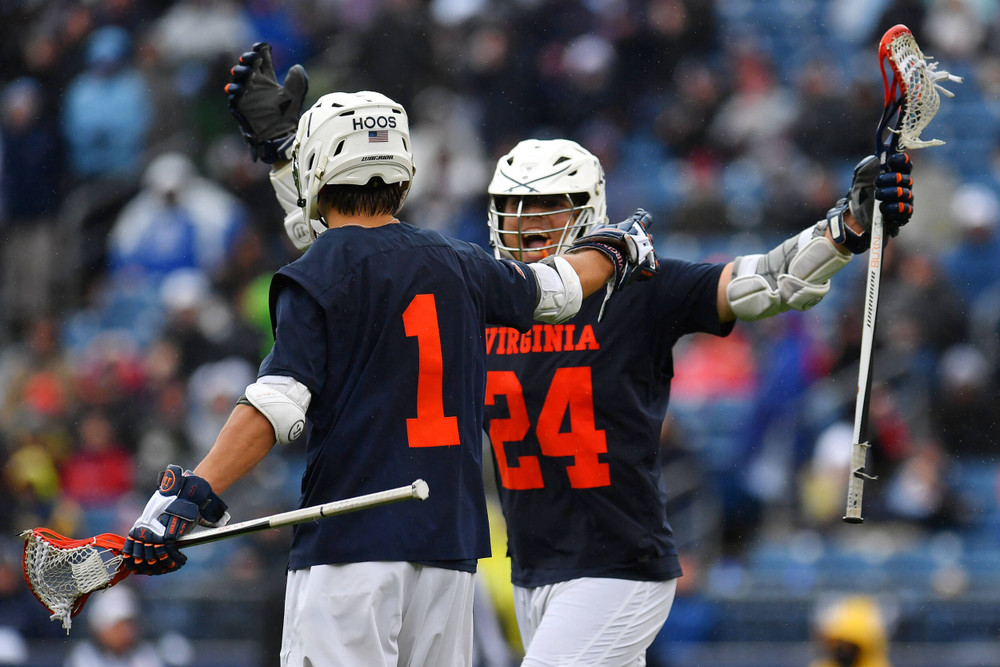 Big Ten champion Maryland demolished second-seeded Duke 14-5 in the second semifinal Saturday. "That's probably the best 60 minutes we've played all year," Terps head coach John Tillman said.
The second quarter Saturday was probably the best 15 minutes Virginia has played all season.
With junior Petey LaSalla dominating at the faceoff-X, the Hoos outscored the Heels 7-1 to take a 9-4 lead into halftime. Redshirt freshman Connor Shellenberger had two assists and a goal to lead Virginia in the second quarter.
"It was really possessions," UNC head coach Joe Breschi said. "We just didn't have possessions in the second quarter."
A five-goal lead is far from insurmountable in lacrosse, and Tiffany knew the Tar Heels would rally. The teams met twice in the regular season, with each winning on the other's home field, and UNC put up 16 goals each time.
The UVA coaching staff's halftime message to the players?
"We just said, 'Fellas, there a surge coming. There's a storm coming, and they're going to get a couple goals. Focus on the next one. Don't get involved with the ups and downs, the emotions, and just be steady and make the next play,' " Tiffany said.
After a solid third quarter, Virginia appeared to be on solid footing. But the faceoffs turned in Carolina's favor, and the Cavaliers found themselves stuck on defense for most of the final 15 minutes.
Fortunately for the Hoos, Tiffany said, "Alex Rode and our team defense and especially our man-down [unit] stepped up to ensure that Carolina didn't get goals in bunches like we got the goals in bunches in that second quarter."
The Cavaliers were called for five penalties Saturday, to one for the Heels. But UNC went 0 for 5 on extra-man opportunities.
"If you had told me that we were going to be man-down five times, I would have gulped," Tiffany said. "But our man-down [defense] stepped up."
At the other end of the field, Shellenberger led Virginia with six points (two goals, four assists), Payton Cormier scored three goals, and Charlie Bertrand added two goals.
Bertrand is a graduate transfer from Merrimack College. In May 2019, about 24 hours before UVA defeated Yale for the Division I title at Lincoln Financial Field in Philadelphia, Bertrand totaled four goals and three assists at the same venue to lead Merrimack to a second straight Division II championship.
When those tournaments were unfolding, Shellenberger was finishing up his senior year at St. Anne's-Belfield School in Charlottesville. He's now a first-team All-American who's savoring his first trip to Championship Weekend.
"It truly means everything," Shellenberger said. "It's why you put so many hours in, in the fall, as a team and you do all the extra things that you do. It's our dream. Everyone on the team, we compete for this reason. So to have the chance to compete for a championship on Monday, it's why we're all here.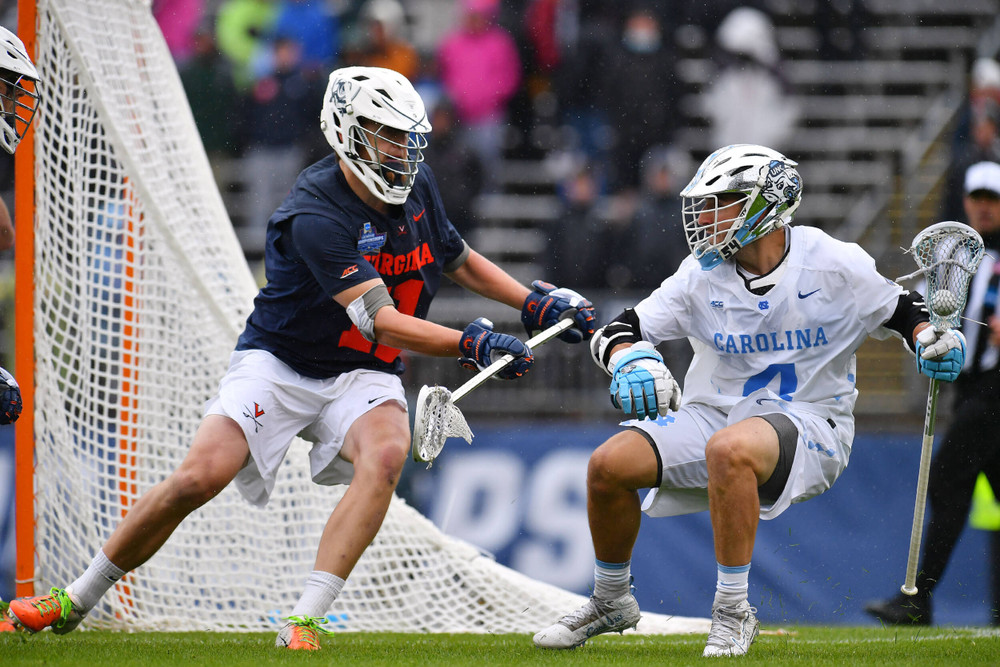 Early in the year, opponents regularly got the better of the Cavaliers' short-stick middies. But that group, which includes Merle, junior Grayson Sallade and seniors John Fox and Jack Peele, has improved steadily, and it shined Saturday against UNC (13-3). Sallade scooped up a team-high eight ground balls and caused two turnovers, and Merle applied the finishing touch on the game's final possession.
"What a big-time play Chris Merle made there," Tiffany said, "because typically with a pick with Chris Gray involved, you want to keep Cade Saustad, one of the best defensemen in the country, on the ball. But Chris Merle recognized that this was an opportunity to surprise Gray, jam him, and it stymied the rest of their offensive flow the last 10 seconds of the game."
Rode said that for a "team like North Carolina that's so strong offensively, and such a great team, not to get a shot off with 20 seconds, it's really a testament to how good those guys played in front of me."
In the fourth quarter, the Cavaliers' struggles in the clearing game fueled the Heels' comeback. Virginia had three failed clears in the final 15 minutes (and five for the game). Moreover, UNC won 8 of 12 faceoffs in the second half.
"When you're losing faceoffs and failing clears, that's a lot of extra possessions for the opponent," Tiffany said, "and that's why North Carolina was able to get seven goals in the second half. We're probably fortunate they only got seven, and that was because of good defense, very good man-down play and, again, Alex Rode."
On a cool, rainy day in East Hartford, the game drew 13,707 fans, and they enhanced the atmosphere significantly. For most of the season, restrictions related to COVID-19 protocols meant games were played in mostly empty stadiums.
"Forget that this is probably the coldest day on record yet for Memorial Day weekend," Tiffany said. "They came out and it got loud."
The volume rose as the gap between the teams closed in the fourth quarter. Tiffany urged his players to relish the moment.
"We come in the huddles as a defense," Tiffany said at this postgame press conference, "and we talk about this all the time: We live for this. We love this. Up a goal, coming out of a timeout, fans yelling and screaming, this is what we live for. We crave these moments, so we try to embrace that.
"Pressure is a gift. You want to thrive under pressure. You commit to coming to University of Virginia because you want to play in big-time moments like this. You want that pressure. You want that crowd. Thanks to our lacrosse fans and Hartford for creating that energy, despite the conditions."
To receive Jeff White's articles by email, click here and subscribe.