By Jeff White (jwhite@virginia.edu)
VirginiaSports.com
The abrupt ending to the 2020 men's lacrosse season, which was canceled last March when the COVID-19 pandemic hit the United States, sent an unprecedented number of players into the transfer portal.
Some of the nation's top programs loaded up on big-name transfers. Others, such as the University of Virginia, were more selective.
"When we hit the transfer portal last summer, we were looking to bring in one man," UVA head coach Lars Tiffany said Sunday.
In part that was because the Cavaliers, who'd won the NCAA title in 2019, still had a strong nucleus from that team. But that wasn't the only reason.
"We really like our culture, we really like our locker room chemistry, and so we don't want to be looking for free agents, and we don't want to be looking for too many free agents and changing the mix," Tiffany said.
The one transfer UVA added, Charlie Bertrand, who was twice named the Division II player of the year at Merrimack College, has blended seamlessly into the team culture.
"He's been an incredible addition," Tiffany said of Bertrand, who has 26 goals and seven assists this season.
At Merrimack, Bertrand won two Division II national titles. He's looking to add a Division I championship to his résumé this afternoon in East Hartford, Conn.
At 1 o'clock, in a game ESPN2 will televise, fourth-seeded Virginia (13-4) meets third-seeded Maryland (15-0) for the NCAA title at Rentschler Field.
The Wahoos are seeking the program's seventh NCAA title. They've been crowned in 1972, 1999, 2003, 2006, 2011 and 2019.
UVA advanced with a 12-11 win over top-seeded North Carolina. The Terrapins routed second-seeded Duke 14-5 in the other semifinal. The five goals were a season low for the Blue Devils.
The Hoos, who played in the first semifinal Saturday, watched the Maryland-Duke game from their team hotel.
"It was an impressive win," UVA attackman Matt Moore said Sunday. "I think [the Terps] were flying around … I know they're a really big, athletic team, with defenders. So I think we're looking forward to the challenge of kind of matching that and even kind of going farther than that."
Moore hurt his shoulder in the first half Saturday and had to leave the game. He returned for the second half and said Sunday that he's ready for the championship game.
"I feel good," said Moore, who's second on the team with 61 points (29 goals, 32 assists) this season.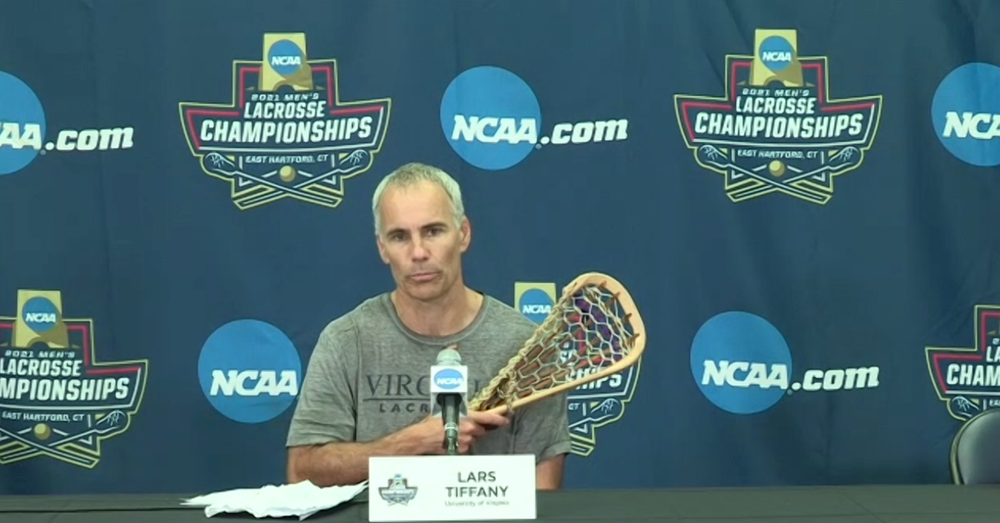 For Tiffany, this will be his second game against Maryland in his five seasons at Virginia. In 2019, the Cavaliers staged an unforgettable fourth-quarer rally and defeated the Terps in the NCAA quarterfinals. In 2020, the season was shut down two days before the teams were scheduled to play a regular-season game in College Park, Md.
John Tillman is in his 11th season as head coach at Maryland, which in 2017 won the NCAA championship for the first time since 1975. His latest team features senior attackman Jared Bernhardt, whose 94 points are a single-season record at Maryland. Bernhardt totaled five goals and two assists against Duke in the semifinals.
This will be the Terps' sixth appearance in the NCAA championship game under Tillman, whom Tiffany holds in the highest regard.
"It's coachspeak to say a team's really well-coached and well-prepared," Tiffany said, "and it often comes out of our mouths when we talk about our opponents, but it's not the normal coachspeak when you're talking about John Tillman and the way he prepares his teams."
Tiffany said he judges coaches "on three levels: the talent acquisition, the recruiting process; the development of that talent, the player development; and how you put those players on the field, the schemes. Do you utilize that talent? Do you put those guys, those men, your athletes, in the right position to be successful?"
Some coaches do a lot with little talent, Tiffany noted, and others underachieve with talented rosters. In Tillman, he said, "I don't see a flaw … He's relentless on the recruiting trail, his players get better, and he's got great schemes."
With strict COVID-19 protocols in place for most of the year, this season has been unlike 2019 in many ways. Still, Tiffany said, the experience his veterans gained during their postseason run in 2019 has helped the Cavaliers this spring.
They understand the need to balance intensity with intelligent decisions, Tiffany said. They know the importance of playing with all-out effort but recognize that there are times when it's wise "to chew off maybe 20 more seconds on that shot clock before we take our shot," Tiffany said. "So I'm seeing some of that. But, honestly, we have some young guys stepping up and making plays, so it's not all that."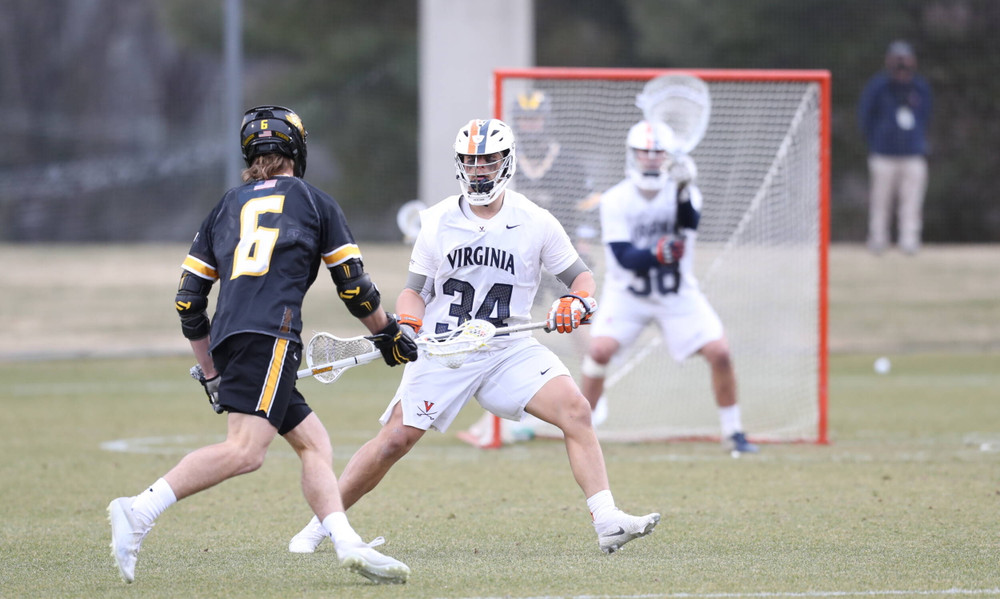 Connor Shellenberger, a first-team All-American who leads UVA with 73 points, was a senior at Charlottesville's St. Anne's-Belfield School in 2019. Payton Cormier, who has scored a team-high 43 goals this year, missed that season with an injury. Bertrand was at Merrimack College. Cole Kastner, now a starting defenseman, was a junior in high school, and Grayson Sallade, an emerging force as a short-stick defensive midfielder this year, had an injury that limited his availability in 2019.
"I'm seeing some poise and experience coming from the older dogs, the older guys," Tiffany said, "but these young pups, they're flying around making plays too. So there's definitely a benefit to having been here before, but I'm also really enjoying seeing new faces and new men step up and make big plays … It's not just Matt Moore and Dox Aitken and Ian Laviano continuing what they did two years ago."
After the 2016 season, Tiffany left Brown University for UVA, where he succeeded his mentor, Dom Starsia, as head coach. Former Virginia goalkeeper Kip Turner and Sean Kirwan, Tiffany's assistants at Brown, joined him in Charlottesville, too. From the start, the coaching staff prioritized building a strong team culture, and the results speak for themselves.
"We have such a close team," said John Fox, a short-stick defensive midfielder who's one of the Cavaliers' captains, along with long-stick middie Jared Conners.
"Obviously, there's some new faces that weren't here in 2019, but those guys just kind of fit right in," Fox said. "Like Charlie Bertrand came in from day one and he was a part of the team and everybody loved him. So we just love being together, we love winning games and getting more days together, hanging out in the hotel room, watching film, doing all that stuff, so I think there's just a great team bond."
To receive Jeff White's articles by email, click here and subscribe.