By Jeff White (jwhite@virginia.edu)
VirginiaSports.com
In an otherwise joyful postgame press conference, University of Virginia head coach Lars Tiffany felt a tinge of sadness Monday afternoon. About an hour earlier, the Cavaliers had won their second straight NCAA men's lacrosse championship––a first for one of Division I's storied programs––and Tiffany knew that his time with this team was nearing an end.
"I get emotional thinking about it," said Tiffany, who came to UVA from Brown University after the 2016 season.
Many of his players will be back next season, but for some, including graduate students Jared Conners and Dox Aitken, who came in with Tiffany in 2016, Memorial Day marked the end of their UVA careers. They went out in glorious fashion, with a 17-16 victory over previously unbeaten Maryland at Rentschler Field in East Hartford, Conn.
The NCAA championship was the seventh for the Cavaliers, who also won in 1972, 1999, 2003, 2006, 2011 and 2019.
"What an incredible experience to be a part of such an exciting game," Tiffany said.
In 2020, the COVID-19 pandemic cut short the lacrosse season long before the NCAA tournament was scheduled to begin, and with strict protocols in place, UVA's departing players did not receive a proper send-off. "And so now when I think about this with Dox and Jared, there's no better way to say good-bye, right?" Tiffany said.
He added: "I can't wait for this 10-hour bus ride home. I won't want it to end. It'll be 2 in the morning before we get in, but I'm going to squeeze my time, because I know once we get to Charlottesville and we get off that bus, it'll never be the same. It'll be over. I just don't want to let it go, win or lose. The time with Jared, Dox and this group of men, it defines who we are, the bonds, the tightness, the community, the culture that we've tried so hard to create. It's real, and saying good-bye is going to be hard."
Tiffany opened his postgame press remarks by thanking his mentor, Dom Starsia, who won four NCAA titles as UVA's head coach. Tiffany played for Starsia at Brown and succeeded him at Virginia.
As in its semifinal win over top-seeded North Carolina on Saturday, fourth-seeded UVA (14-4) needed a last-second defensive stand to secure the victory on Monday. With 10.8 seconds left, Maryland cut its deficit to 17-16 on a goal by Anthony DeMaio, setting the stage for a pivotal faceoff.
At that point, UVA junior Petey LaSalla had won 21 of 36 draws, but Maryland's Luke Wierman controlled this one cleanly. With LaSalla in pursuit, Wierman raced down the field toward the goal as the Virginia fans in the crowd of 14,816 held their collective breath.
Wierman got a clean look, unleashing a shot that could have sent the game to overtime, but goalkeeper Alex Rode made perhaps the most memorable save of his illustrious UVA career, knocking the ball away. Freshman defenseman Cole Kastner scooped it up and flung it toward the other end of the field as time expired.
Rode, who wasn't happy about allowing 16 goals, said he owed his teammates that save. "I had a rough day," he said.
His teammates felt differently.
"Alex Rode is about as clutch a lacrosse player as it gets," redshirt freshman Connor Shellenberger said. "He's a winner."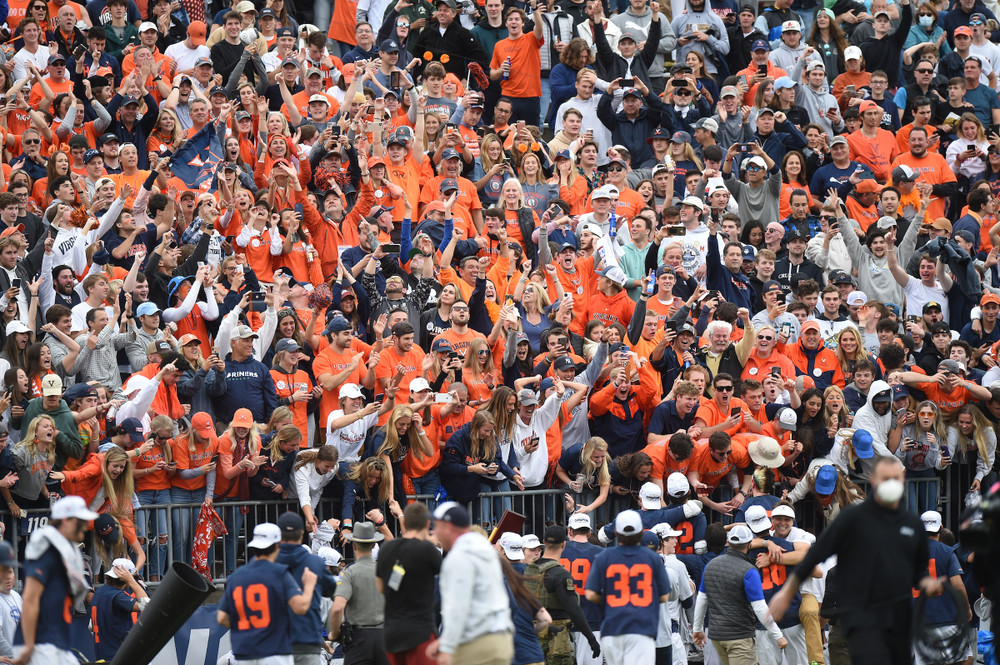 Rode was named the NCAA tournament's Most Outstanding Player in 2019 after Virginia defeated Yale in the championship game. That award went to Shellenberger this year, capping a magical season for a player who grew up in the Charlottesville area.
In 2011, Shellenberger watched from the stands at M&T Bank Stadium in Baltimore and cheered as his hometown team defeated Maryland 9-7 in the NCAA championship game.
In 2016, as a sophomore at St. Anne's-Belfield School, Shellenberger committed to the Cavaliers, and in 2019 he watched on TV as they captured the program's sixth NCAA title.
Fast forward two years. Shellenberger played in a pivotal role in the Hoos' latest postseason run, and this time he was in the middle of the championship celebration.
"It's what you dream of as a kid," Shellenberger said.
Shellenberger contributed two goals and four assists Saturday in UVA's 12-11 win over North Carolina. He totaled six points Monday too, this time on four goals and two assists.
"Connor is one of the best players I've ever seen," Rode said, "and he's also an amazing kid, which makes it even better. I'm so happy for him, and I can't wait to see what he does next as the face of this program coming up."
After a strong regular season, Shellenberger took his game to new heights in the NCAA tournament.
"He's emerged," Tiffany said. "He was a really good player down in Charlottesville, Virginia, and now the rest of the world is being able to see, here in the month of May, he's one of the best in the game, period."
Attackman Matt Moore, one of the stars of the Cavaliers' postseason run in 2019, matched Shellenberger's production Monday with four goals and two assists. Moore's final goal, off a pass from defenseman Cade Saustad with 3:35 to play, proved to be the game-winner.
In the semifinal win over UNC, Moore suffered a shoulder injury that forced him to leave the game. He returned after halftime Saturday but didn't register a goal or assist in the final two quarters. Against third-seeded Maryland (15-1), however, Moore pushed through the pain and turned in a magnificent performance.
"For him with an injury to step up on the biggest stage as he did against Yale two years ago, and today to score four goals, including [the game-winner] … it's absolutely heroic," Tiffany said. "There was no question he was playing, and it didn't change the way he played. He didn't favor one side versus the other. He was going to let it all hang out there.
"For him to be able to play itself was heroic, and for him to obviously put up four goals, get a couple of assists, fly around in the ride, that's who he is. Through thick and thin, we're going to lean heavily on and ride Matt Moore, and we're really lucky he wants to come back for a fifth year … so we'll have Matt and Connor together for one more season, the dynamic duo."
Midfielder Jeff Conner had three goals and an assist, and attackman Payton Cormier, who missed the 2019 season with an injury, added two goals for the Cavaliers. Aitken, Conners, LaSalla and Peter Garno had one goal apiece for UVA, whose array of firepower poses problems for even the stingiest defenses.
"You look at that lineup," Maryland head coach John Tillman said, "and it's a little bit of choose your poison … It's really tricky because they are big, they're athletic, they're dynamic. They shoot the ball very well. I would say they're the best shooting team that we've seen all year. I just felt like, watching them on film, like those kids can really bring it, and, again, it's not just one guy. It just seemed to be a lot of them."
Before Monday, the Big Ten champion Terrapins had not allowed more than 13 goals in a game this season. The Cavaliers reached the 14-goal mark with 5:26 left in the third quarter. An unassisted goal by Shellenberger in the first minute of the fourth quarter pushed Virginia's lead to 15-11, and with 11:04 to play Conner passed to Moore for a goal that made it 16-11.
With its championship hopes all but extinguished, Maryland battled back. Tiffany expected nothing less from the Terps.
"Of course they didn't give up … Of course they didn't, because it's the definition of a Maryland lacrosse player," Tiffany said. "They've got an incredible history, and it also defines their present, because of John Tillman."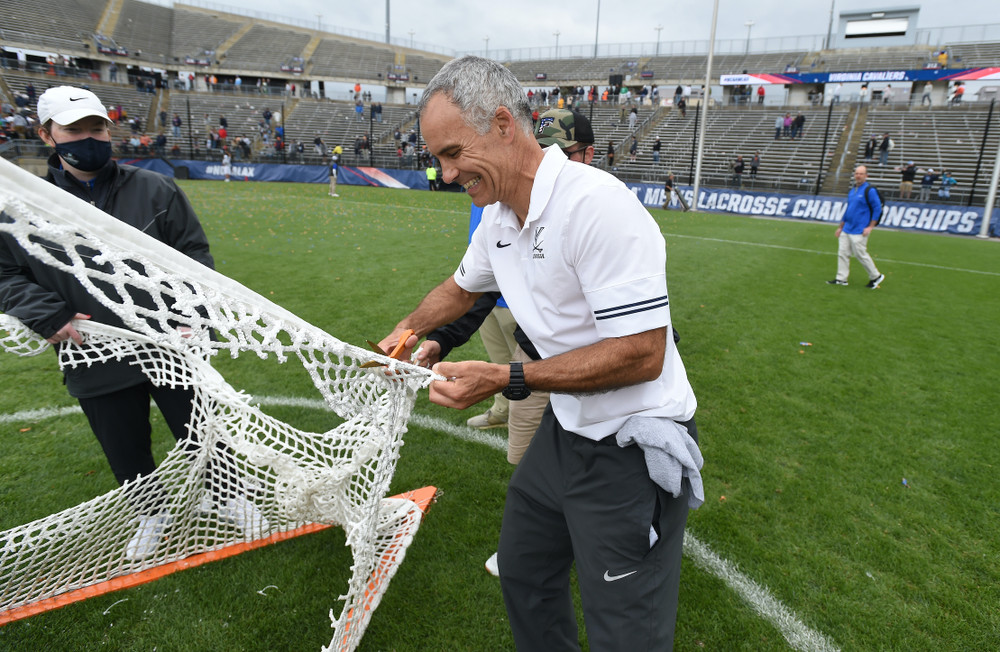 If the Terps needed extra motivation Monday, they needed only to look back to 2019, when Virginia erased a five-goal deficit in the second half and then prevailed in overtime in the NCAA quarterfinals. On Monday, the Terps cut their deficit to 16-12 with 6:13 left and then scored again 10 seconds later to make it a three-goal game.
A Bubba Fairman goal cut UVA's lead to 16-14 with 5:13 remaining, and then DeMaio scored to make it 16-15 with 3:57 left.
"We've been tested like this all season," said Conners, the nation's premier long-stick midfielder. "We've had our ups and downs. We've had losses. We've had teams go on runs like that. We knew it was going to be a dogfight. We knew Maryland wasn't just going to roll over, especially after that 2019 game when we had that comeback."
As it had against UNC two days earlier, the Cavaliers' defense delivered when it counted most, keeping the ball out of the net on the game's final possession.
"At the end of the day," Conners said, "it just came down to our chemistry and being able to look at each other and knowing that we could rely on each other and we were going to leave it all out there and give everything that we had."
Conners joined Shellenberger on the all-tournament team, along with four other Cavaliers: Saustad, Rode, LaSalla and Moore.
Saustad, who started as a freshman on the 2019 championship team, drew the unenviable assignment of covering Maryland attackman Jared Bernhardt, who's expected to win the Tewaaraton Trophy as the nation's top player.
Bernhardt, a senior, had two goals and three assists Saturday, giving him 99 points for the year, a Maryland single-season record. Against Saustad, though, he never took over the game, as he was fully capable of doing.
"Cade Saustad stepped up today," Tiffany said. "We had several different thoughts and ideas and strategies … and we ended up just sticking with the one of, 'All right, Cade, this is your matchup. Win it.'
"You don't neutralize Jared Bernhardt, but Cade stepped up and was able to deny and take away some of those opportunities, so the rest of the defense didn't have to be solely focused on [Bernhardt] and we could focus on so many other talents and Maryland lacrosse players."
The on-field celebration eventually ended at Rentschler Field, but the Cavaliers were in no hurry to head to their locker room after the game. This was an occasion to savor.
"This is one of the greatest feelings ever," Conners said. "It's definitely the reason you come back for [a fifth year], and talking to Dox after the game, there's nowhere else we'd rather be. It's been an incredible experience. It's been an awesome ride. I love my team, and there's no one else I'd rather do it with. We've got a brotherhood like nothing else, and if you came in our locker room and spent a couple hours there, you would understand what I'm talking about."
After earning his bachelor's degree in 2020, Conners was accepted into UVA's M.S. in Commerce program for this academic year. The opportunity was one he couldn't pass up, but Conners said Monday that lacrosse played a major role in his decision, too. He wanted to help the Hoos win back-to-back NCAA titles for the first time, and he reached that goal Monday.
"Being able to come back and be surrounded by the group of guys that we have is something that you dream about," Conners said. "It's been a crazy ride, and I'm so glad I made the decision to come back, for sure."
To receive Jeff White's articles by email, click here and subscribe.