By Jeff White (jwhite@virginia.edu)
VirginiaSports.com
On a hot, humid Saturday afternoon, the Virginia Cavaliers won the first of what they hope will be four straight elimination games at the NCAA baseball regional in Columbia, S.C.
The next one comes Sunday at noon, when third-seeded UVA (30-24) meets second-seeded South Carolina (34-22) at Founders Park. (Top-seeded Old Dominion edged USC 2-1 in the winners' bracket late Saturday night.)
About 21 hours after falling 4-3 to the host Gamecocks in the regional's opening game, the Cavaliers were back on the field Saturday to face fourth-seeded Jacksonville, a 4-3 loser to ODU in the second game Friday.
The game did not unfold as scripted for the Wahoos—starting pitcher Mike Vasil gave up five runs and didn't make it out of the third inning––but they pounded Jacksonville pitchers and rallied for a 13-8 victory.
"Our backs were against the wall," freshman Kyle Teel said, "and we all knew that we needed to win this game to move on. That's how it is from here on out, so we're just going to keep fighting like we always do and play the best baseball that we can."
Virginia totaled a season-high 21 hits, also a program record for an NCAA tournament game. "I just think it's kind of a snowball effect," freshman Jake Gelof said.
Six UVA had at least two hits apiece: Zack Gelof (4-for-5), Teel (4-for-6), Jake Gelof (3-for-4), Max Cotier (3-for-4), Logan Michaels (2-for-4) and Devin Ortiz (2-for-5).  Chris Newell and Jake Gelof each homered for UVA.
"Just proud of how we responded offensively and the number of guys that had big days," Virginia head coach Brian O'Connor said. "This is what you have to do when you fall into the losers' bracket. Sometimes you gotta outslug somebody, and we certainly did that today."
Zack Gelof, a junior who's a three-year starter at third base, is 7-for-10 in this regional. His kid brother is 4-for-7 in Columbia. Jake Gelof took over at first base after Ortiz suffered an injury that limited him to designated-hitter duty, and he's been a key part of the Cavaliers' late-season surge.
The younger Gelof blasted his first home run against Notre Dame in the ACC tournament. He hit No. 2 in the loss to South Carolina and No. 3 against Jacksonville, a two-run shot in the sixth inning.
"He's made huge, significant contributions for us," O'Connor said.
Losing Ortiz in the field was a blow, but the decision to put Jake Gelof in that spot is "paying off for us now, for his team," O'Connor said. "He's doing a terrific job defensively at first base. And he's starting to drive the ball out of the ball park. We see it in BP. He takes the most impressive BP we have on our team, and he's starting to get more quality, consistent passes the more and more he plays. He's really, really emerged for us with the bat, and we wouldn't be where we're at without him."
Had everything gone as planned Saturday, the Cavaliers would have been able to start sophomore left-hander Nate Savino on Sunday afternoon. But Vasil struggled after a strong first inning, and the first relief pitcher UVA used against the Dolphins (16-34), Kyle Whitten, had some issues, too. And so O'Connor handed the ball to Savino with one out in the top of the fifth and runners on second and third.
"I just felt like it was an important part in the ball game," O'Connor said. "We needed to stop momentum for them. And they did take a two-run lead, but I knew Savino would settle in and do a terrific job for us, and it worked out that we didn't have to use anybody else."
Savino pitched the final 4.2 innings and allowed only two hits and one run.
"You can't worry about Monday until you get to Monday," O'Connor said. "You can't worry about the second game tomorrow until you get to that point, and we needed to win today."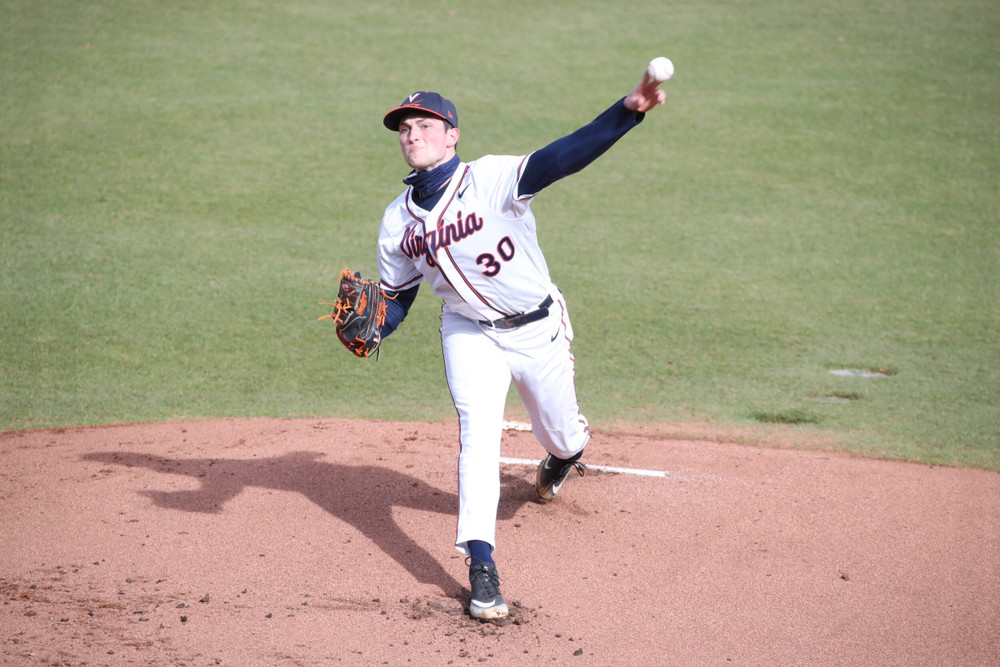 O'Connor said he had "no idea who we're pitching tomorrow. We will discuss that tonight, based on who we play. I know whoever we run out there tomorrow will do a good job for us so."
If the Cavaliers win Sunday afternoon, they will play another elimination game that night. Depending on how Sunday goes for the Hoos, they could also play a winner-take-all game Monday night.
The Hoos trailed 7-6 after five innings Saturday, and there was no guarantee they'd be able to extend their season. In the top of the sixth, though, Savino retired the Dolphins in order, and in the bottom half of the inning UVA scored five runs. Teel led off with a single, and Ortiz followed with a 12-pitch at-bat that included six foul balls. It ended at last with a walk that elicited a fist pump from Ortiz.
His teammates reacted in similar fashion.
"I was so excited that he won that at-bat," Teel said. "He battled that whole time. It fired me up, for sure. … I think that fired the whole team up."
O'Connor agreed.  "It helped a lot. Everybody recognized that Ortiz was battling. It started off 0-2, and Devin hasn't been swinging the bat up to his standard. And so that at-bat flipped the switch for him personally, but also I just think it really ignited our team, when you have a teammate in there that's fighting like that when your backs are against the wall in a must-win game. You either win the game or your season's over."
Ortiz, a senior, is hitting .277 with six home runs and 25 RBI this season. He's a veteran player that's done some really great things for us, and this program means everything to him," O'Connor said. "For him to battle like that and find a way to get on, you can really draw some momentum from it, and we certainly did."
These double-elimination regionals test the depth of teams' pitching staffs, and it's imperative "to put up runs," O'Connor said. "You have to. There will be guys that will step up on the mound and do the job as well, but the regionals typically become pretty offensive, especially at a place like this.
"It's hot. The ball is traveling … From a pitching standpoint, you got to be able to manage innings. [Opponents are] going to get some hits and things like that. You just can't let the big inning happen. And that's what happened to Vasil, and [Jacksonville] took advantage of it early in the game."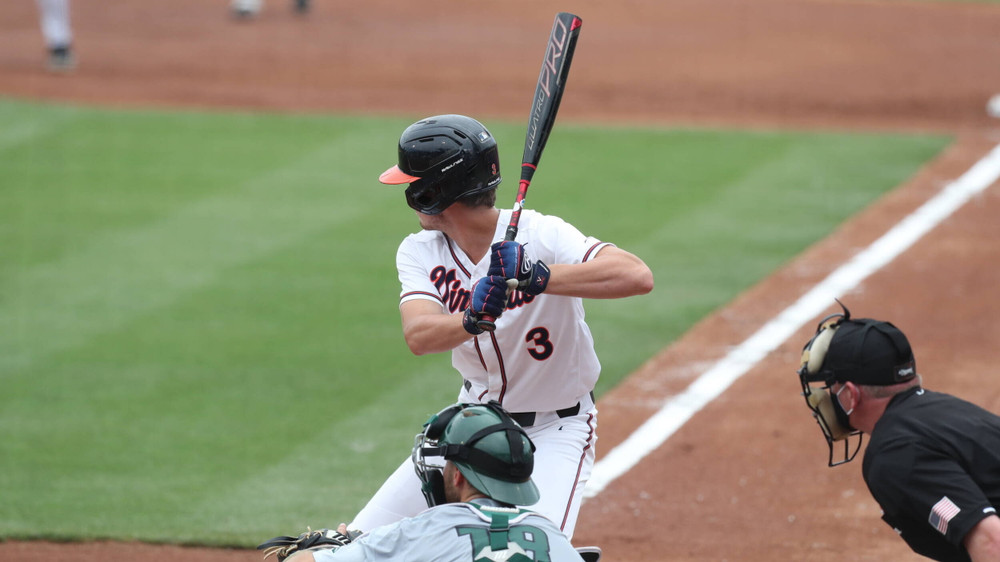 The game lasted 3 hours and 33 minutes and was played in the heat of the day. To prepare for what could be a long Sunday in Columbia, O'Connor said, UVA's players need "to drink a lot of water, get off their feet, eat some quality food and just rest. We've got a game tomorrow at noon. The heat here, it takes it out of them. You can tell that as the game moves along, and so they need to get off their feet and get some good food and get a great night's sleep. It's gonna take everything for us tomorrow at noon, but I know that they'll be ready."
Teel, who lives with Jake Gelof back in Charlottesville, is rooming with him in Columbia too.
"I can't get away from this kid," Teel said, smiling.
They push each other to get better, but their methods differ. Gelof is a fan of the MLB: The Show video game, "and he's improving in that too," Teel said. "Whatever he's doing he's got to keep doing. Personally, that's not what I do, but it's working for him."
Until this weekend, none of UVA's players had appeared in an NCAA tournament game. The Cavaliers didn't make the field of 64 in 2018 or 2019, and the COVID-19 pandemic ended the 2020 season long before NCAAs scheduled to begin.
"It's very exciting," Jake Gelof said of the experience. "Just having all the fans back, it definitely creates another dimension to the game of having the crowd there. Yesterday the crowd was amazing … It's definitely very fun and a big stage."
To receive Jeff White's articles by email, click here and subscribe.