By Jeff White (jwhite@virginia.edu)
VirginiaSports.com
Heroes emerge and legends are made in the postseason, and to a list that includes such luminaries as Chris Taylor, Brandon Waddell, Josh Sborz, Ernie Clement and Kenny Towns at the University of Virginia, Devin Ortiz added his name Tuesday in Columbia, S.C.
If he'd done nothing except pitch in the final game of this NCAA regional, Ortiz would have earned plaudits for his performance at Founders Park. In his first start as a Cavalier, the 6-2, 207-pound senior struck out six and allowed only one hit in four scoreless innings. But Ortiz, facing top-seeded Old Dominion, did much more on the biggest stage of his college career.
In the bottom of the 10th inning, he ended a marathon game by crushing a 1-1 pitch from ODU reliever Aaron Holiday over the left-field fence. Ortiz's solo home run lifted the third-seeded Cavaliers to a 4-3 victory and sent them to an NCAA super regional for the first time since 2015, when they went on to win the College World Series.
"What an amazing college baseball game," UVA head coach Brian O'Connor said. "I've said it the last few games, that it's tournaments like these, postseason time, where players emerge and step forward to help their team accomplish something great."
For Ortiz, his eighth home run of the season was unquestionably the biggest of his life. It was also UVA's first-ever walk-off homer in an NCAA tournament game.
"I think it's an honor, really," Ortiz said. "This program and its legacy is something like no other. This is what I came here to do. I wanted to come to Virginia, I wanted to play in these big situations, and I wanted to help my team win, most important. Something like today is something you dream about."
UVA (33-24) won't have to travel far for its super regional with Dallas Baptist (40-16), which on Monday won the NCAA regional in Fort Worth, Texas. The best-of-three series will be held at Founders Park, and the Wahoos plan to remain in Columbia until the super regional starts.
The Hoos are scheduled to meet the Patriots at noon Saturday, at noon Sunday and, if necessary, at 1 p.m. Monday.
This marks the seventh time in O'Connor's 18 season as their head coach that the Hoos have advanced to a super regional. Never before, however, had they followed such an arduous path to the round of 16.
"They're all different," O'Connor said. "They're all special. This one's just incredibly special."
After losing Friday to second-seeded South Carolina, UVA had no margin for error. The Hoos had to win four straight games to emerge victorious from this double-elimination regional, and they did so, with improbable heroes stepping forward along the way, from Matt Wyatt to Griff McGarry to Brandon Neeck.
The Hoos ousted fourth-seeded Jacksonville 13-8 on Saturday and eliminated South Carolina 3-2 on Sunday afternoon. Then they knocked off ODU 8-3 on Sunday night to force a winner-take-all rematch.
Rain washed out the scheduled finale Monday night, but the teams finally took the field the next morning for the first NCAA regional game played on a Tuesday since 2016. It started at 9:06 a.m. It ended 4 hours and 10 minutes later with Ortiz's blast.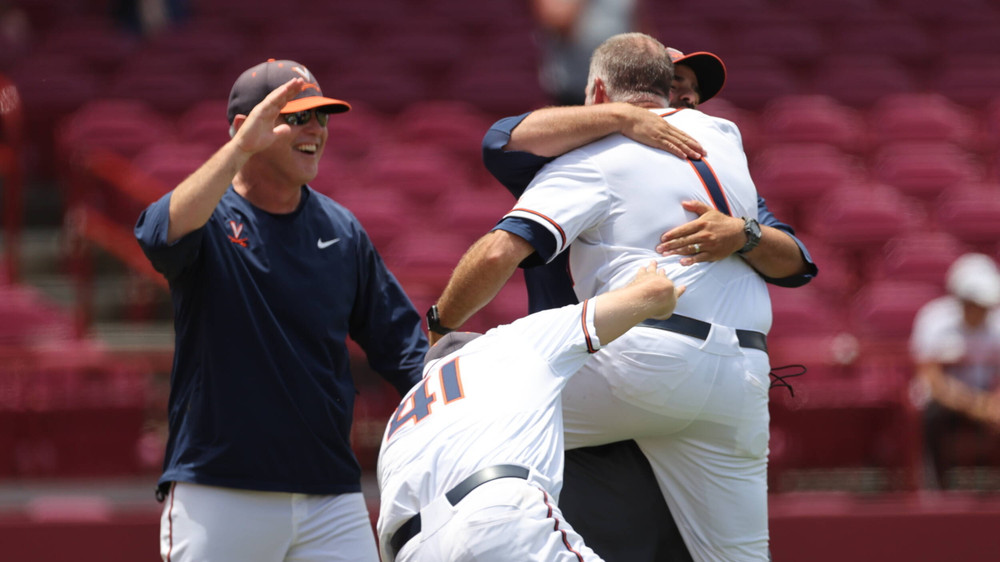 The victory was the Cavaliers' 11th in their past 14 games. And now a team that went to bed on April 1 with a 4-12 record in ACC play is two victories from another trip to Omaha, Neb.
"We've had some really special clubs that have done some special things," said O'Connor, who's guided the Cavaliers to the College World Series four times, "but I tell you this team is on top because of where they had been and where they are now."
Heading into the regional, O'Connor talked to his players, none of whom had appeared an NCAA tournament, about their predecessors' postseason feats.
"Part of the reason I shared those with the guys," O'Connor said, "is because I wanted them to learn and understand the history of this program and what it has taken for teams to advance to a super regional, and the special moments where individual players rose up and teams rose up to accomplish what they have. So this is incredibly special … The way this group of guys has done it [will produce] memories of a lifetime, for sure."
ODU, which was seeking its first appearance in an NCAA super regional, ended the season with a 44-16 record. The Monarchs lead Division I with 105 home runs and finished the season with seven players hitting .298 or better, but their high-powered offense sputtered against the six UVA pitchers they faced: McGarry and Neeck on Sunday; Ortiz, Zach Messinger, Andrew Abbott and Stephen Schoch on Tuesday.
The Monarchs were 11 for 68 (.162) at the plate and struck out 39 times in their two games against UVA.
"I think that was a function of us running into some really good pitching as much as anything," ODU head coach Chris Finwood said. "The guys that pitched against us threw great. We just didn't get a lot of big hits. The middle of the lineup didn't do a lot."
O'Connor said he has "the utmost respect for Chris Finwood. He's one heck of a coach. They have an incredible team, had a fantastic year, and it certainly took our best to beat them twice. And I know it feels [to lose a regional], we've been there before. But I hope as time passes, they realize what a special year they had and what they accomplished."
The Monarchs started Hunter Gregory on the mound Tuesday, and he retired the first 16 batters he faced. Logan Michaels finally broke through for the Cavaliers in the sixth with a one-out double, but the inning ended with ODU leading 1-0.
The Hoos rallied for two runs in the seventh, but ODU answered with two runs in the eighth to go up 3-2. Virginia's deficit would have been greater had freshman right-fielder Kyle Teel not thrown out Brock Gagliardi at the plate for the third out.
"Probably other than Ortiz hitting that ball out, the biggest play of the game," O'Connor said. "They had momentum, right? Kyle Teel showed his arm off and threw a strike to keep it within reach."
The Cavaliers struck back quickly. In the bottom half of the eighth, Zack Gelof scored from third on a wild pitch to make it 3-3, and UVA had new life. The score didn't change until No. 7's walk-off homer in the 10th.
"When I hit it, I couldn't control my emotions," Ortiz said. "I knew it was gone, and I was just so happy and excited to see my teammates cheering."
Schoch, a graduate student who transferred to UVA after the 2018-19 school year, pitched the final 3.1 innings for Virginia. Brilliant Sunday afternoon in 2.1 scoreless innings against South Carolina, Schoch gave up two runs Tuesday, but O'Connor and pitching coach Drew Dickinson had faith in the 6-5, 235-pound right-hander.
The 3.1 innings were the most Schoch has pitched as a Cavalier.
"He's our guy," O'Connor said. "The guy came here as a graduate student to be on that mound and have that opportunity. I wasn't going to take the ball away from him … He's continued to deliver, and he's got incredible moxie and an ability to wiggle out of difficult situations. And he proved that again today."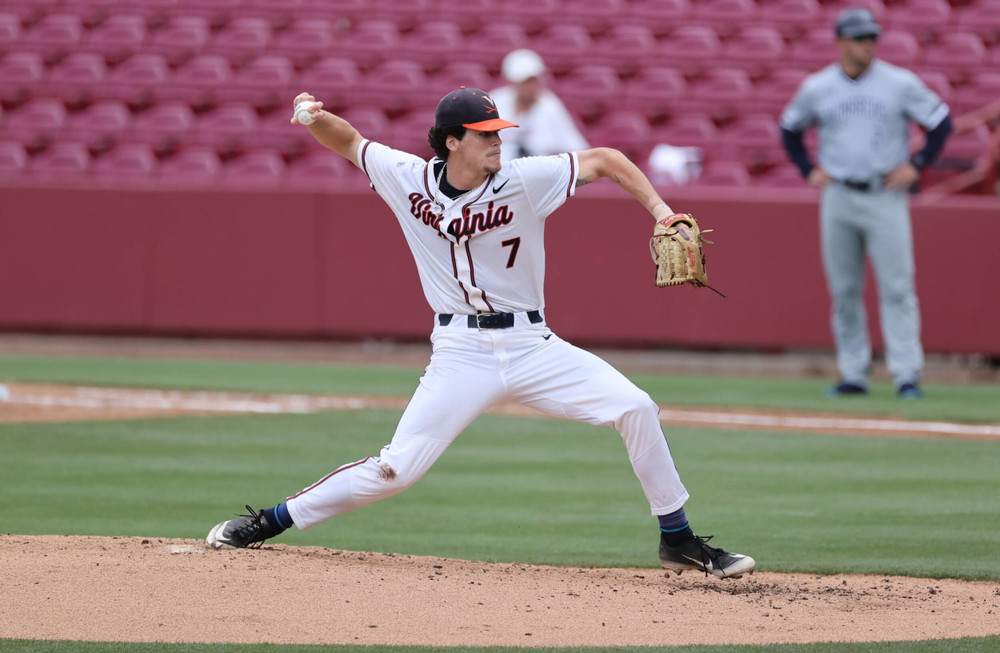 Ortiz, who's from Nutley, N.J., was the Cavaliers' starting first baseman until late April, when he injured his left shoulder in a game against Liberty. Freshman Jake Gelof took over at first, and Ortiz became UVA's designated hitter.
As a sophomore in 2019, Ortiz made 18 pitching appearances, all in relief, and posted a 1.78 earned-run average. He wasn't used as a pitcher during the Cavaliers' abbreviated 2020 season, however, and before Tuesday he'd made only two appearances in games this season. But he'd begun throwing more in practice, "all for potentially this kind of moment," O'Connor said, "where you fall into the losers' bracket."
Three days before the start of the regional, O'Connor and Dickinson had discussed how Ortiz might be used on the mound in Columbia. "And our conversation was, as God is my witness," O'Connor said, "that, 'Hey, if we fall in the losers' bracket of this tournament, Devin Ortiz is going to start, and we're going to need to him to go four or five innings, so let's extend him today and get him prepared for that.' "
The possibility that he might pitch in a big moment has "kind of been in the back of my head since we've gotten here," Ortiz said, "and once I kind of saw it all pan out that I might have an opportunity to start … I had immediate butterflies, immediate excitement for something that I hadn't done in a while. I love pitching. I just love playing the game. "
He hadn't started a game at pitcher since his senior year at Saint Joseph Regional High School, and Monday "felt like a nightmare, not knowing whether we're going to play or not," Ortiz said. "You're trying to stay focused and your emotions go up and down, the butterflies are in and out. But today the butterflies weren't there as much because I didn't have time to really think about it. I just kind of woke up, opened my eyes, eat breakfast and get ready to compete."
Ortiz, who went 7-for-21 in UVA's five games at Founders Park, with two home runs and a team-high six RBI, was named the regional's outstanding player. Five other Cavaliers were named to the all-regional team: Michaels (catcher), Teel (outfield) Jake Gelof (first base), Nic Kent (shortstop) and Zack Gelof (third base).
After advancing to the NCAA tournament in each of their first 14 seasons under O'Connor, the Cavaliers weren't selected in 2018 and '19, and the COVID-19 pandemic shut down college sports in March 2020.
Many of his upperclassmen committed to UVA after seeing the Hoos win the NCAA title in 2015. "And so they've been working, they've been waiting," O'Connor said.
The program's tournament drought was frustrating, "but they hung in there," O'Connor said, "and this is the team that was able to get to an NCAA regional and now win it, and we'll see what happens [against Dallas Baptist]. So I'm proud of them, because I know this is a big reason why they came to Virginia: to have a chance to win championships."
The Cavaliers didn't despair after losing to the host Gamecocks on Friday, Ortiz said. "We just knew that it was going to be a lot harder. And we've been in this situation all year, where we've been fighting from behind and having to play a lot better baseball. I'm just super excited and I'm super happy for my teammates. We've worked incredibly hard to get to where we're at, and we believe that there's a lot more for us in the future."
To receive Jeff White's articles by email, click here and subscribe.