By Jeff White (jwhite@virginia.edu)
VirginiaSports.com
CHARLOTTESVILLE –– It's not unusual for the final event at the NCAA Track & Field Championships, the 4×400-meter relay, to decide the team title. University of Virginia head coach Vin Lananna knows that from personal experience.
He's had teams that clinched NCAA titles with strong performances in that relay, and he's been on the other side, too. And so when Lananna took charge of UVA's track & field programs in September 2019, one of his main objectives was to build strong teams in the 4×100 and 4×400 relays.
"I really feel like it's a tangible way to demonstrate that you're making progress," Lananna said. "You have four people, and they have to work together. It's kind of microcosm of what you're trying to accomplish as a program and as a team. I think it's a team within the team, and that's why I am big on having both relays. I'm pleased that we were able to get there."
The COVID-19 pandemic shut down college sports in March 2020, and the NCAA didn't hold indoor or outdoor championships last year. But the Cavaliers have two relay teams in Eugene, Ore., this week to compete at the NCAA women's outdoor meet.
Each set a school record at the recent NCAA East Preliminary Round in Jacksonville, Fla. The 4×100 team of Anna Jefferson, Jada Seaman, Kayla Bonnick and Halle Hazzard finished in 43.75 seconds, and the 4×400 relay of Jefferson, Seaman, Michaela Meyer and Andrenette Knight posted a time of 3:30.44, nearly two seconds faster than the previous UVA record.
Lananna has coached five teams to NCAA track & field championships: three in women's indoor at Oregon; one in men's indoor at Oregon; and one in men's outdoor at Stanford. There's a ripple effect of sorts, he said, with strong relay teams, whose members are likely to also do well in individual events like the 100-meter dash, 200, 400, 400 hurdles, 100 hurdles and, in some cases, the 800.
"I always feel it's a sign of a good, well-rounded program," Lananna said, "so it has been a big priority for me."
The women's 4×100 semifinals are scheduled for Thursday at 6:32 p.m. ET at Oregon's historic Hayward Field. The women's 4×400 semifinals are scheduled to start later that day, at 9:48 p.m.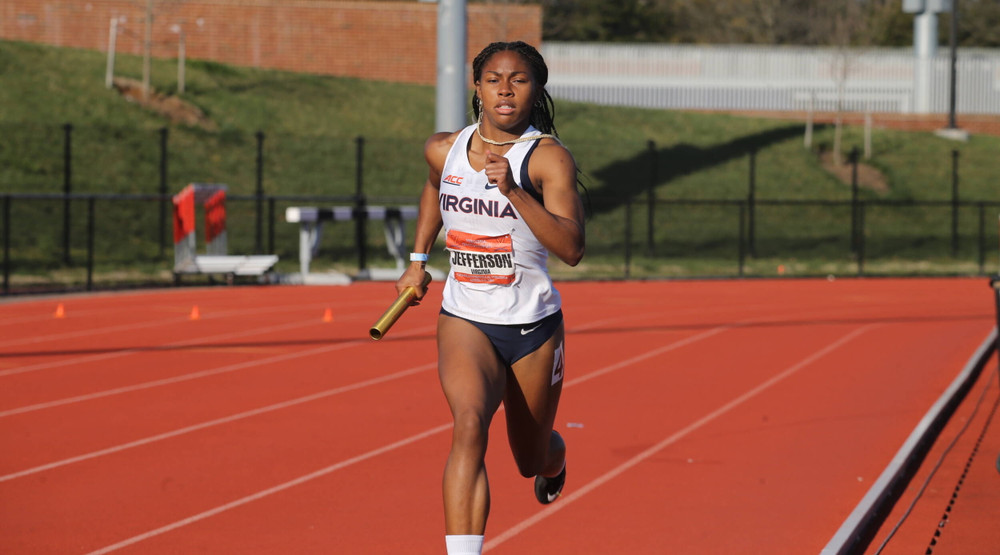 Seaman said the experience of being on a relay team differs from that of competing as an individual.
"Your team's depending on you, and you depend on your team," said Seaman, who's also competing in the long jump in Eugene. "When you go into it, you have your teammates on your mind, so you try to do well for them."
For Seaman, the relays are more fun. "I definitely prefer running the 4×4 more than the 400," she said.
The relays test the range of her skills. Her leg in the 4×100 is "just a straightaway, so it's not really that much to think about," Seaman said. "You just kind of run it and get it over with."
Her leg in the 4×400 is "definitely more mental, because it's longer and more painful," Seaman said, laughing. "I just kind of keep in mind that I'm doing it for the team and try to finish. Pass that baton quick and get it over with."
The 100 is not Seaman's specialty, but "she's such a ferociously competitive athlete" that she's successful in the relay, Lananna said.
Jefferson's best individual events are the 200 and the 400. For Bonnick, it's the 100 and the 200. "She's a legit sprinter," Lananna said.
So is Hazzard, who holds the program record in the 100. She's been slowed by a knee injury this spring and didn't compete at the ACC Championships, "but she's been coming back little by little," Lananna said "She's not exactly where she'd like to be, but she's good enough [to run]."
Knight will compete in the 400 hurdles, an event in which she holds the UVA record, for the fourth time in her career. (She represented San Diego State in 2017).
"She's a fantastic athlete," Lannana said. "She'll run the 400 hurdles and come back and run the relay."
Meyer, a graduate transfer from the University of Delaware, holds UVA's records in the 800 and 1,500 meters. She was an 11th-hour addition to the 4×400 relay at the NCAA regional in Jacksonville.
"It was a surprise," Seaman said, "because we didn't even know until maybe 30 minutes before, but she did a good job running her leg, so that was good."
Meyer, who'll also compete in the 800 in Eugene, was surprised too.
"I was not thinking I was even on the list to run the 4×4, but when Vin told me he wanted me to run it, I was excited for the opportunity," she said. "I just love a new challenge, and it was really fun to be a part of the relay team. You run with a different attitude, because you're running for a team, and we all had the same goal of wanting to qualify for nationals. I was a little nervous, but I was mostly just excited."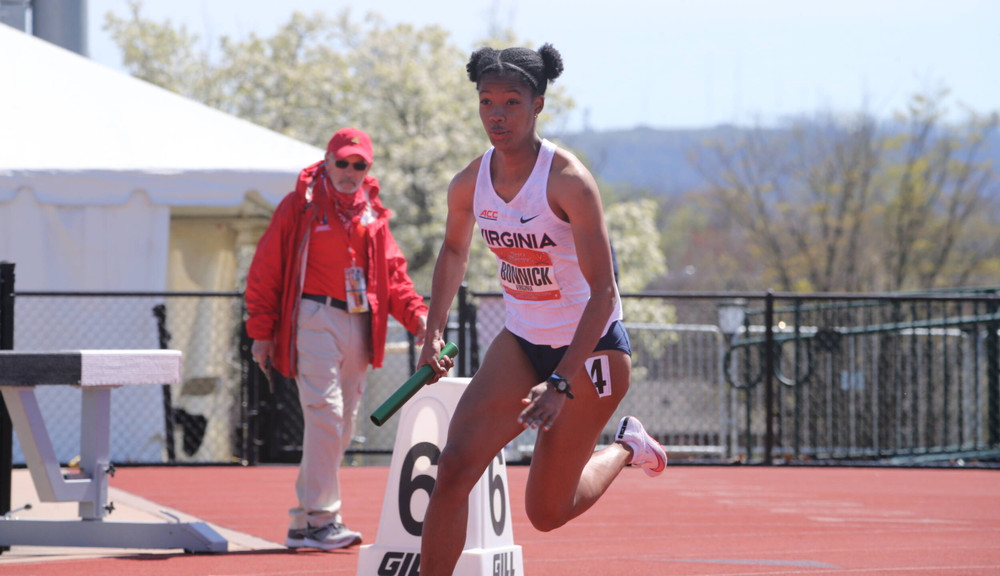 The baton handoff from Seaman to Meyer went smoothly in Jacksonville.
Meyer had run that relay at Delaware, and "I just told her, 'Don't get out quick, because I will be dying at the end. I'll be using all my might to even get it to you. So just don't get out quick, and then take it and go,' " Seaman said "That was basically all we talked about, because it's not too difficult. It's not a blind handoff."
For Meyer, who's best at longer distances, the relay is "a little bit of a stretch," Lananna said, "but she is a good 400-meter runner. She's got probably the best range, because she runs [400, 800 and 1,500 meters]."
On the men's side, the Cavaliers aren't as strong in the sprints, and that's hurt their relay teams. Neither qualified for the NCAA meet.
"We've got a ways to go," Lananna said. "We don't have as much depth, but I feel very comfortable, as long as we stay focused on what we're trying to accomplish, that we'll be fine."
At last month's ACC Championships, the UVA men and women each finished third. "The kids did an absolutely great job at ACCs," Lananna said, "and I think we sent a message that we will be a contender going forward."
The NCAA meet started Wednesday in Eugene and runs through Saturday night. Representing UVA are 10 individuals, plus the two women's relays teams.
Of the Cavaliers, only Knight has experience at the NCAA outdoor meet.
When Meyer learned that the NCAA was granting an extra year of eligibility to every student-athletes competing in a spring sport in 2020, she said, "I knew that my goal was to be able to go to the championship and get on the line and hear the gun off. I've just been super hungry for this race and this weekend for over a year now."
To receive Jeff White's articles by email, click here and subscribe.