By Jeff White (jwhite@virginia.edu)
VirginiaSports.com
CHARLOTTESVILLE –– If the COVID-19 pandemic had never struck and college sports had proceeded as scheduled last year, the University of Virginia baseball team might well have advanced to the NCAA tournament. The Cavaliers were 14-4 when the curtain abruptly dropped on the 2020 season.
The pandemic affected countless aspects of life in the United States. For the Cavaliers, the shutdown of their season extended the longest NCAA tournament drought in Brian O'Connor's tenure as their head coach.
After making the NCAA tournament in each of O'Connor's first 14 seasons, UVA missed the field of 64 in 2018 and '19, and then came 2020. All of which makes the Wahoos' success this season more significant.
Not only did the Hoos return to the NCAA tournament, they've advanced to the College World Series in Omaha, Neb., for the fifth time in program history.
"It's vital to the success of our program, the future success," O'Connor said Wednesday from Disharoon Park.
Until this year, none of the current Cavaliers had played in an NCAA tournament. But as high school players they'd watched the Hoos reach the College World Series championship series in back-to-back years, and they "came here with a belief and an expectation that going to Omaha was a reality that could happen," O'Connor said.
After reaching the CWS for the first time in 2009, UVA returned to Omaha in 2011. Three years later, the Cavaliers lost in the CWS championship series, but they came back in 2015 to capture the NCAA crown.
"We went on pretty good string of years there from '09 through '15, where every guy that came in the program had a chance to play in Omaha, and that's pretty cool," O'Connor said. "And so I'm happy for [the current players] that they finally get to realize that dream … [UVA's success this year] continues to send a message out there in recruiting that that can happen here, Omaha can happen here in a Virginia Cavalier uniform."
On a Zoom call with reporters Wednesday afternoon, sophomore center-fielder Chris Newell described his emotions.
"It's definitely a surreal feeling," said Newell, who as a high school senior was picked in the Major League Baseball draft. "It's something that I've dreamed up for a very long time, and it's honestly probably the biggest reason why I decided to come to school, because I wanted to get to this point."
Newell, who's from Newtown Square, Pa., said the Cavaliers' College World Series appearances "played a huge part in getting me here, because I still remember sitting in my living room watching them play in Omaha [in 2014] and then going on to win in Omaha next year. It's something that always had stayed the back of my head, and it's always been a dream of mine to put this uniform on and try and do the same thing that 2015 team did and bring home a national championship. "
The Hoos flew from Charlottesville to Omaha on Wednesday night. Virginia's first game is Sunday at 2 p.m. EST against No. 3 national seed Tennessee at TD Ameritrade Park. Joining UVA (35-25) and Tennessee (50-16) in their four-team, double-elimination bracket are No. 2 national seed Texas (47-15) and No. 7 national seed Mississippi State (45-16).
The Volunteers are 5-0 in this NCAA tournament.
"They're really hot," O'Connor said. "They're playing great baseball. They have all year … To sweep the NCAA regional [in three games and then] to go 2-0 in a super regional, that means you're playing really hot baseball and you're very, very talented. But that's the way every team is this time of the year. Everybody's great, and if you win the first game, then you get to [face] Texas or Mississippi State."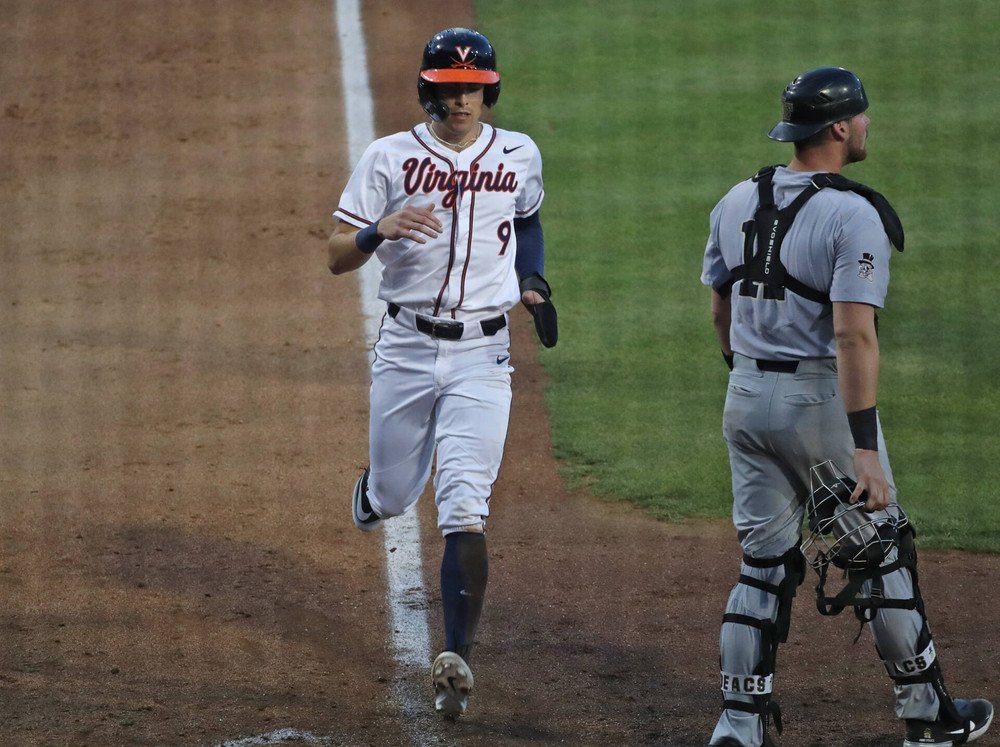 Little has come easily this season for Virginia, which was 11-14 overall and 4-12 in ACC play after losing to Georgia Tech in Atlanta on April 1. Even after turning the season around and earning an at-large bid to the NCAA tournament, the Hoos experienced more turbulence.
Seeded No. 3 in the four-team NCAA regional in Columbia, S.C., the Cavaliers dropped their opener, after which they had no margin for error. Virginia responded by winning four straight elimination games to capture the regional, then lost the opener of its best-of-three series with Dallas Baptist, also in Columbia.
Once again, however, the Hoos showed their resolve and grit, bouncing back to beat the Patriots on Sunday and Monday to win the super regional and clinch one of the eight spots in the College World Series.
The Cavaliers have "been playing from behind all year," Newell said. "I feel like that's what kind of has fueled us all year."
O'Connor was asked Wednesday about the resilience of his team, which has won six straight elimination games.
"Where do I start and where do I end with that word?" he said. "It's a word I've used a lot to describe this team, not only over the last two months but really specifically over the last two weeks … I think it's the best word to describe this team right now."
The adversity the Cavaliers have overcome this season will help them deal with the obstacles they are sure to encounter away from the diamond, O'Connor said, "because to be successful in this life, they need to be resilient and be able to bounce back."
That the Hoos made it to Omaha "speaks to the decision they made to stand up two months ago and run to [adversity] rather than run away from it," O'Connor said. "We've talked a lot about that concept within our organization over the last two months, that when things get tough you have a choice, and a lot of people choose to hide under the desk or hide in the locker or run away from it, and I challenged them [and said] I hoped they chose to be people that run to the problem. And they did."
Newell said: "We kind of just put the blinders on and left everything in the past and just took it day by day and game by game, and here we are now."
Junior shortstop Nic Kent believes the key was "not worrying about the expectations that everyone had for this team. Going to Omaha, making postseason, the preseason rankings, I think all that kind of just went down the drain [early in the season], and we said, 'Focus one game at a time, play loose, play [with] everything you have.' And I think that's what carried us through."
To Newell, the sudden ending to the 2020 season has been a source of motivation this year. The Cavaliers "were getting on the right track of where we want to be with within the program," he said, "and having it taken away from us added a little bit of fire. Last year we knew that we had the group of guys to do it, and even through the struggles this year we still believed in each other, and we kind of all kept that same goal: just to get to Omaha and then hopefully win a national championship."
O'Connor grew up across the Missouri River from Omaha in Council Bluffs, Iowa, and he's experienced the College World Series from multiple perspectives: as a fan, as a Creighton pitcher, as a Notre Dame assistant, and as UVA's head coach.
His players will learn that the CWS is "just a different event, something like they've never experienced before," O'Connor said. "Most importantly, I want them to enjoy that this. I've been talking to the team for a couple of weeks now that the experiences that they get in the NCAA regional, super regional and, now, Omaha are earned. They're earned experiences, and I want them to enjoy it with a smile on their face. You just don't have these opportunities very often as a player, and I want them to experience it all and enjoy it, and we will.
"That said, it's really, really important in Omaha, when you're between the white lines, that you focus on what your job is … We'll have a very, very detailed plan that will be shared with them of what needs to be done to win. The goal is not accomplished. Everybody talks about getting Omaha, and that's a focus and goal on every team, but our focus is to get to Omaha to win."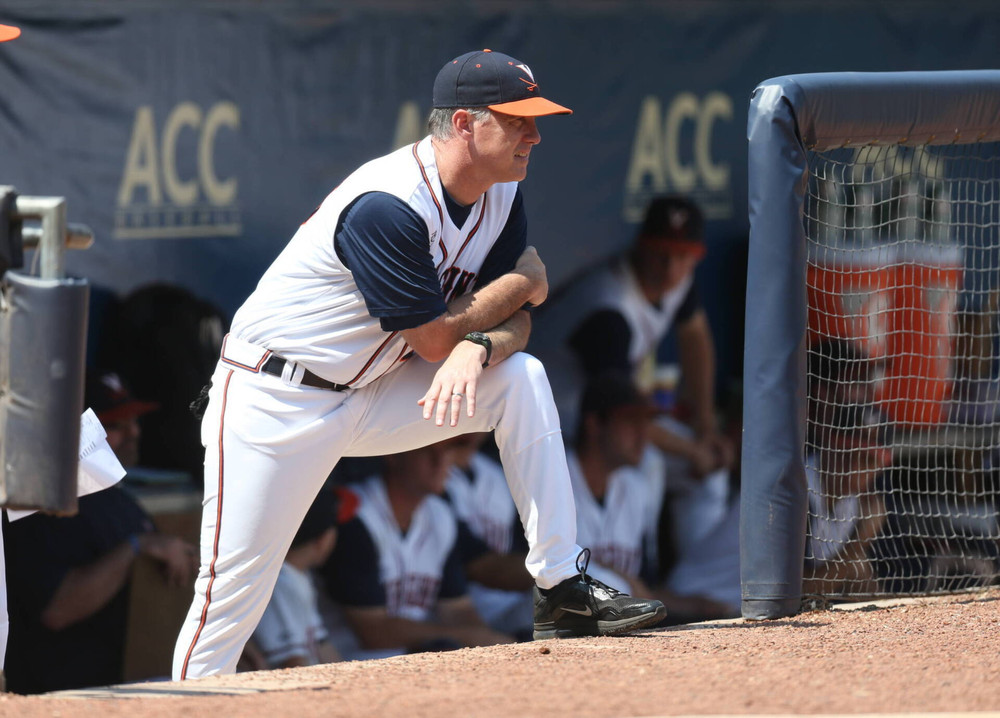 SHOUT-OUT: Drew Dickinson, who's in his second year as the Hoos' pitching coach, has received considerable praise this postseason, and understandably so. Virginia's pitching in Columbia was outstanding.
"Drew Dickinson is really good," O'Connor said. "He's very, very talented. He's talented on the field developing guys, but he's talented and very, very thoughtful off the field as well. So he's doing a fantastic job, and I feel terrific about where those guys are at and where our pitching is going to be at the future."
O'Connor made a point of noting, however, that the players "that are pitching for us, Karl Kuhn recruited. Don't take anything away from Drew Dickinson, he's developed them and did a terrific job, but I sent a text to my friend the other day, Karl, just to thank him for bringing these guys here and helping them develop."
After 16 seasons as the Cavaliers' pitching coach, Kuhn left Charlottesville in the summer of 2019 to take over the program at Radford University.
"He passed the baton to Drew, and Drew has taken the baton and run with it and run through that finish line with these guys and has just made a tremendous impact on them," O'Connor said. "Karl started that impact and did a terrific job by bringing them here and starting the development, and then Coach Drew has taken them to the next step, and I'm forever grateful to Karl Kuhn for the work he did in this program and help lay the foundation for these pitchers to have the success that they're having."
To receive Jeff White's articles by email, click here and subscribe.