By Jeff White (jwhite@virginia.edu)
VirginiaSports.com
CHARLOTTESVILLE –– Standing to the side of the main court Monday, Kihei Clark looked around John Paul Jones Arena. During the 2020-21 season, the stands were virtually empty when the University of Virginia men's basketball team played at JPJ, and there were no fans there on this summer evening. But change is coming.
"It'll be great to see everybody in here and get it back to normal," Clark said. "I know we feed off the crowd and the energy they bring, so it'll be real nice."
The Wahoos, who are heading into their 13th season under head coach Tony Bennett, convened Monday for what, before the COVID-19 pandemic, would have been considered a routine practice. But Monday marked the first time in more than 15 months that the Hoos practiced without strict protocols in place.
As vaccinations increase and the pandemic eases, things are returning to normal at JPJ. The players have been in town for a couple of weeks, working out and playing pickup games. Monday was the first day Bennett and his assistant coaches were allowed on the court with them.
"It was just great to see them," Bennett said afterward.
The NCAA allows a Division I team to carry 13 scholarship players. The Cavaliers will have 10 in 2021-22, plus walk-ons Jayden Nixon, Malachi Poindexter and Chase Coleman. The roster includes four newcomers: transfers Jayden Gardner (East Carolina) and Armaan Franklin (Indiana) and freshmen Taine Murray and Igor Milicic Jr.
Milicic, who has dual citizenship in Croatia and Poland, is still in Europe and won't arrive on Grounds until later this summer. Gardner, Franklin and Murray all practiced Monday, and each had his moments.
"This first week, you don't even judge too much," Bennett said. "You're just trying to let guys get a feel for things and all that, but they're hard-working guys and they're excited to be here. They're all going to have opportunities, which is what you want."
There's been considerable turnover in the program since the end of last season. Gone are six of the Cavaliers' top eight scorers from 2020-21—Sam Hauser, Jay Huff, Trey Murphy III, Tomas Woldetensae, Justin McKoy and Casey Morsell—as well as Jabri Abdur-Rahim.
Hauser, Huff and Woldentensae were seniors last season. Murphy has opted to stay in in the NBA draft pool, and McKoy (North Carolina), Morsell (NC State) and Abdur-Rahim (Georgia) transferred to other schools.
Of the Cavaliers' returning players, only guards Clark (34.1) and Reece Beekman (29.3) averaged more than 10 minutes per game last season.
"There's a lot of newness to this [team], but that's all right," Bennett said. "It's kind of exciting. Hopefully guys will have more opportunities, and they'll develop through the good and the challenges. I think the challenge for a lot of programs is: How do you keep your team together for two years, three years, so you can develop guys? I think you have to try to think of it in two- and three-year increments."
Even had Murphy decided to return for another season, UVA could have added as many as two more scholarship players. But Bennett believes having a smaller roster will be good for team chemistry and will create more opportunities for players.
"Guys will certainly grow," Bennett said. "Some of the young guys, new guys, will all have to be part of this and grow and play. That I think will breed continuity and [an environment] hopefully where they'll want to stay and develop and grow. The hardest thing is when you have a lot of guys and the piece of the pie gets sliced smaller, and all of the sudden now you can transfer if the opportunity isn't what you want."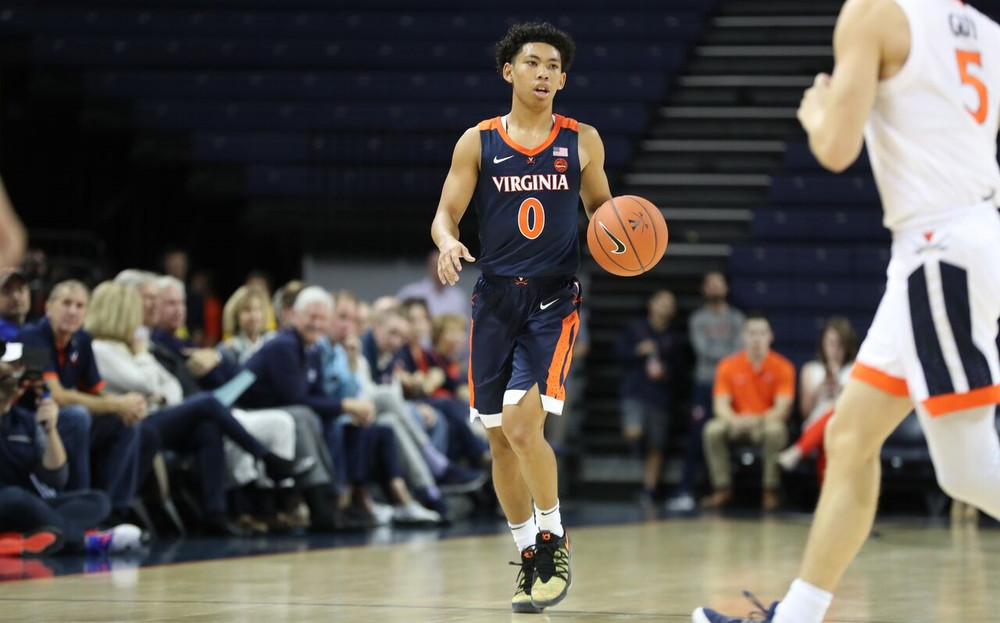 The Cavaliers are coming off a roller-coaster season. They won the ACC regular-season title for the fifth time in Bennett's tenure and then opened the conference tournament by defeating Syracuse on a last-second 3-pointer by Beekman.
The next day, however, Virginia had to withdraw from the ACC tournament after McKoy tested positive for COVID-19. Back in Charlottesville, much of the team had to quarantine because of contact tracing, and the Hoos weren't cleared to play in the NCAA tournament until the 11th hour.
Of the 68 teams in the NCAA field, UVA, seeded No. 4 in the West Region, was the last to arrive for the tournament. The Cavaliers flew to Indianapolis, without McKoy, on March 19. The next night, they fell 62-58 to No. 13 seed Ohio in Bloomington, Ind.
"It motivated all of us, I think," Clark said. "Being a first-round loss, it hurt, so we keep it in the back of our minds. We don't try to think about it too much, but we know what we want to work towards."
Of the rotation players on the UVA team that won the NCAA title in 2019, only the 5-foot-9 Clark is still in Bennett's program. Hard as it may be to believe, that erstwhile precocious freshman is about start his fourth year at the University.
"It's been a long time coming," Clark said, smiling.
He went home for several weeks in the spring, "but I was mostly here after the season ended, working on my game," Clark said.
He's focused on improving his shot and his shooting mechanics, and the payoff was evident in practice drills Monday. Also apparent: Clark's familiarity with and command of the Cavaliers' system.
"There is a process, and it's hard to short-cut the process," Bennett said. "You just get better. You get used to the system. There's a lot of advantages to being at a place for three years, four years, that you just can't always get with a transfer. But I think [adding transfers was] a necessity this year, with the guys that transferred, with Trey not coming back, and with the guys that graduated."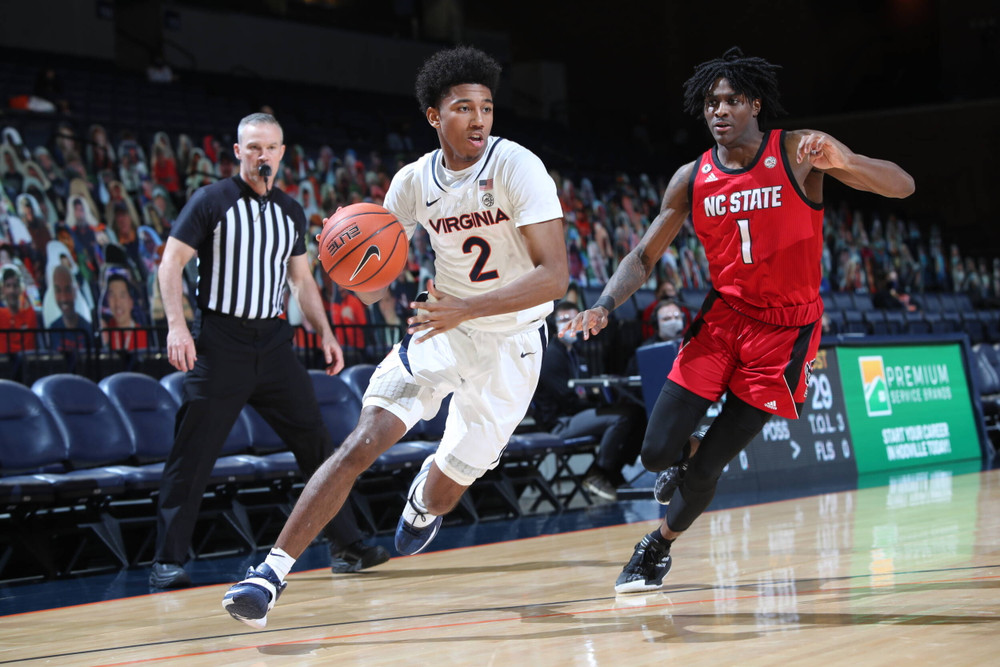 Gardner, who's listed at 6-foot-7, is a powerfully built 235-pounder who averaged 18.3 points and 8.3 rebounds as an ECU junior last season and made the All-American Athletic Conference first team.
"He's just real physical," Clark said. "It's like second nature to him, I think, so it'll be good for us to have that presence inside. Once he starts to learn the defensive structure, I think we'll be in a good spot."
The 6-foot-4 Franklin averaged 11.4 points and 4.1 rebounds as an Indiana sophomore last season. He led the Hoosiers in steals (26) and in 3-point percentage (42.4).
"His shot is really pretty," Clark said.
The 6-foot-5 Murray is from New Zealand. During a three-on-three drill Monday, Murray cut backdoor, took a pass from Clark and, using his off hand, finished with a reverse layup.
"He's really solid," Clark said, "and I think he's going to get a lot of playing time because of it. He doesn't make too many mistakes, he doesn't try to do too much, but he defends and he'll hit the open shot."
UVA is counting on contributions from newcomers in 2021-22. The challenge for them between now and the start of the season will be to start mastering the different elements of Bennett's system, most notably the Pack Line defense.
Murphy, a transfer from Rice, faced a similar learning curve last year after being granted immediate eligibility at UVA.
"There's a process, and it takes a little bit," Bennett said.
Clark said it's "kind of like how it was for me when I came in. It's just going to be a process of learning. It's going to be hard. We've told people that before they come. It's going to be hard, but once you get it done, then you see the results later in the year."
The 6-foot-3 Beekman started 20 games as a freshman last season and impressed with his basketball IQ, his defense, and his vision. He shot only 38.2 percent from the floor, however, and like Clark he went into offseason looking to improve in that area.
"His shot's looking a lot better," Clark said, "and he's still going to make all the right reads, he's still going to defend and get deflections. You could see it today. He's just real solid. He doesn't make too many mistakes. He's a really good player, and I'm looking forward to this year."
Slowly but surely, the college hoops world is returning to normal. Last weekend, for the first time since 2019, coaches were on the road evaluating prospects at major events.
"It's crazy how long it's been," Bennett said.
With transferring so prevalent among college players, Virginia might have to adjust its recruiting strategy, Bennett acknowledged.
"Quite honestly, I don't know if there's a perfect answer," he said. "Some people say, 'Hey, we'll just load up our team [with players], and then we'll go into the transfer portal at the end of the year.' Well, you may have to do that, but ideally you can keep your team together, where players have opportunities and they can keep growing and have continuity. It's been our blueprint. Maybe there will have to be some adjustments on it, but I don't think you totally abandon that. I just think you have to think creatively about how to keep it together with the core."
To receive Jeff White's articles by email, click here and subscribe.