By Jeff White (jwhite@virginia.edu)
VirginiaSports.com
CHARLOTTESVILLE –– If Derek Johnson had any lingering doubts about his ability to compete with the nation's elite in his primary event, the 3,000-meter steeplechase, they disappeared during his extended stay in Eugene, Ore., last month.
Johnson, who recently completed his third year at the University of Virginia, placed seventh at the NCAA Outdoor Track & Field Championships on June 11, earning first-team All-America honors with a school-record time of 8:32.95.
Three days later, at the TrackTown Qualifier in Eugene, Johnson set another school record, running 8:28.72. His time earned him a spot at the U.S. Olympic Trials, also held at historic Hayward Field, where he ran 8:32.97. That wasn't fast enough to send Johnson to the finals, but the experience he gained on that stage figures to pay dividends as his career continues.
"I think this year was just about getting there," said Johnson, who finished fourth at the ACC Championships in May. "Getting there was the success for me. But once you're there, you kind of realize that there's nothing special about just being there. The only reason to be there is to run fast and to race hard. I don't think I had the physical or the emotional energy to have my best race at the Trials this year, because there were so many championships before that.
"Facing ACCs and then regionals and then nationals, basically all in a row, I think took a toll on me. Going forward, I think it will be easier to relax through that part of the season, because I won't have the pressure of trying to prove myself each step of the way."
The 3,000-meter steeplechase is a grueling race that requires runners to clear seven water barriers and 28 other hurdles. It's an event with which Johnson, who graduated from Tuscarora High in Leesburg, was unfamiliar before arriving at UVA in the summer of 2018. The steeplechase is not part of Virginia High School League meets, and Johnson had no hurdling experience before he came to Charlottesville.
He chose UVA, Johnson said, because "this was the place that I felt like I could be both academically and athletically successful."
He was introduced to the steeplechase as a first-year. Jason Dunn was coaching the men's distance runners at Virginia then, and "after we did some hurdle work, he thought I had a little bit of natural aptitude for it," recalled Johnson, who's 5-foot-11. "But the primary motivation for doing it that first year was I just wasn't really fast enough to compete in the way that I wanted to compete in the other events.
"Steeplechase adds another dimension. I felt like I might not be able to do the flat events fast enough yet, but if I learned how to steeple, then I could go to the ACC championships and maybe do something. Freshman year, it was all about just like trying to carve out a niche for myself."
To accelerate the learning process, Johnson said, he studied videos of champion steeplechasers, trying to figure out how they "positioned themselves during the races."
He also trained. "That freshman year, we spent two or three months just doing drills before we even touched a hurdle," Johnson said.  "I think that was really helpful to me, getting the fundamentals down and getting my flexibility up. But at the end of the day you can do all the drills you want, but you've just kind of got to jump over the thing, you know?
"I think I was pretty naturally good at the water jumping. The hurdles took a little bit more time for me. But the thing that took the longest for me to develop, I think, was the racing sense, figuring out how the race develops, because it runs a little bit different than most other distance races on the track."
As a freshman in the spring of 2019, Johnson placed 17th in the 3,000-meter steeplechase at the ACC Championships. That fall, Vin Lananna took over as the Wahoos' director of track & field and cross country and started working with Johnson.
"You have to be a little bit on the fearless side to be a steeplechaser," Lananna said. "Derek has a little bit of an edge to him, and I think his edginess sets him up well for going over 35 barriers, seven of which are over water jumps. And then he has good aerobic capacity, and I think he found this year that he has much more speed, natural speed, than he thought he had. That's what I think has been the biggest X-factor for him."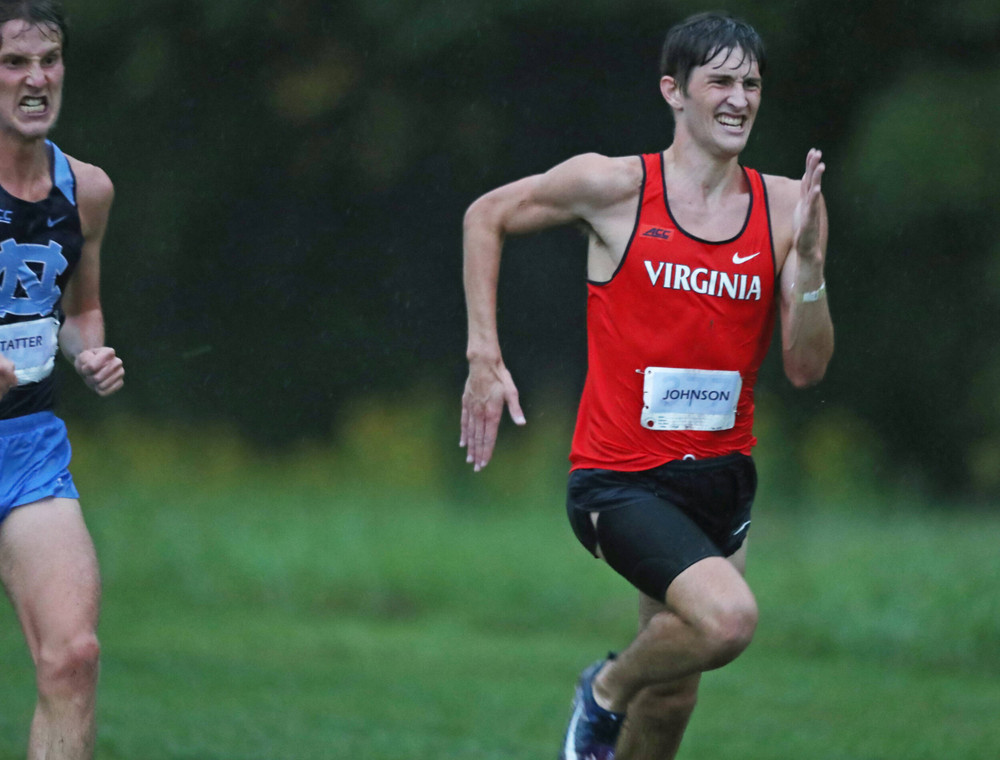 The COVID-19 pandemic shut down college sports before the outdoor track & field season last year, and so Johnson didn't have an opportunity to compete in the steeplechase as a UVA sophomore.
In 2020-21, however, he made significant strides in cross country and indoor track & field, in which he runs the 3,000 and 5,000 meters, and then broke through in the steeplechase this spring.
Johnson's time at the NCAA Championships was nearly four seconds faster than his previous personal best, and his seventh-place finish was the best by a Cavalier since 2007, when Jan Foerster was sixth.
Mastering the steeplechase is difficult in part because "you don't get the rhythm that you get in the other events," said Johnson, who has two years of eligibility left outdoors. "There's no easy event on the track. Running a 5k is hard, but it's a different type of hard because you don't have that start and stop.
"I don't know if I would say [the steeplechase] takes the most grit, because I think basically every event on the track and on the field takes a lot of grit to compete, but I think it does reward people who are able to run out of rhythm and with a lot of chaos happening around them."
A computer science major, Johnson has an analytical bent that helps him in training but "might hurt a little bit in racing, to be honest," he said. "In training I think it's good to have that mathematical discipline, just putting in the work, just that sort of unflappable mindset, I guess.
"But one thing I was trying to work on a lot this season was getting out of my own way in races and just allowing myself to be competitive and not think mathematically, like, 'If I'm running this pace, then I'm going to be going out too fast.' Just allowing myself to be in the race and just race the people and not think about all the analytics around it."
Johnson is "a very logical young man who really focuses on statistics and metrics, which are measurable," Lananna said. "I think that some of that is really great, but sometimes it's not so great, and that's been a thing that I've tried to emphasize to Derek: to be a bit more spontaneous and be able to react in the moment, and I think that he did that very well [this year]. That's a difficult thing to learn how to do, and I think Derek learned it well, and I think he learned it to his advantage."
His relationship with Lananna has been great, Johnson said. "I've run better under him than probably anybody else."
Like many other distance runners, Johnson said, "I'm prone to training a little bit over my head and maybe not coming into races, or the championship season, as fresh as I could be. And I think Vin has emphasized that the only goal of training is to make you run fast, or race fast, and if the training is hurting the racing, then I think he's good at pulling back, and that restraint is the thing that has helped me the most."
Not every runner is wired like Johnson, Lananna said. "Sometimes it's the opposite, but I do think that with Derek he was very laser-focused on number of miles [he trained]."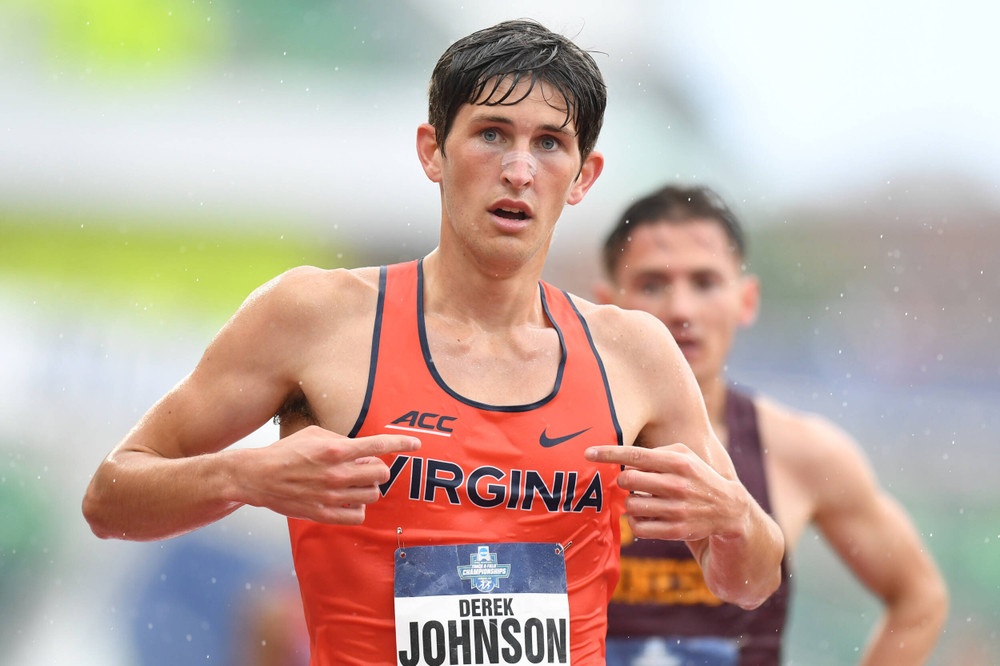 In Eugene, Johnson ran the steeplechase three times in a five-day span––twice at the NCAA meet––before getting a break ahead of the Olympic Trials.
"It was really hard," Johnson said of that three-race stretch. "The last two were definitely some of the hardest races I've ever run. But the stage was so big and the conditions were really good, so I honestly don't think I fully felt it until afterwards, When the three were all done and that emotional energy finally came down, that next week was really hard. I was pretty exhausted for about three days."
Johnson, who's working for a company in Charlottesville this summer, won't soon forget his first Olympic Trials. "It was awesome," he said. "It was pretty surreal, honestly, lining up with some of those guys. Some of them are guys that I've watched their races, I've tried to study their tactics. So to actually just look down the line and see some of them was pretty crazy.
"I was the only male track athlete [at the Olympic Trials] from UVA, so that was hard. And [the meet] was intimidating, but I honestly wouldn't say it was any more intimidating than the NCAA championship. At the end of the day, I think, the nerves that you feel before a race are tied to your expectations going into it. So if you expect a lot, then you're probably going to be very nervous. And so I don't think the nerves that I felt before the Trials were necessarily like, 'Oh, man, these guys are so fast, there's no way I can run with them.' It was like, 'OK, here we go again. It's time to lock in and hurt for seven laps.' "
The experience Johnson gained at the Olympic Trials "is priceless," Lananna said, "and I think it will serve him well going forward next year, now that he knows what the routine is. So much of competing at that level is about experience, and that experience will serve him quite well."
To receive Jeff White's articles by email, click here and subscribe.