By Jeff White (jwhite@virginia.edu)
VirginiaSports.com
CHARLOTTESVILLE –– They overlapped at the University of Virginia for two years, and Angela Hucles Mangano and Lori Lindsey are teammates again this summer: this time on NBC's roster of commentators for the Olympic Games in Tokyo.
The former UVA soccer greats are working remotely this month from the NBC Sports Group's International Broadcast Studio in Stamford, Conn. Lindsey, who graduated from UVA in 2002 and, like Hucles Mangano, earned multiple All-America honors, is scheduled to be the analyst on five games: three women's and two men's.
Hucles Mangano, a 2000 alumna of the University, will be providing analysis on games involving the four teams in Group F of the women's tournament: China, Brazil, Zambia and the Netherlands. Neither Lindsey nor Hucles Mangano is scheduled call any games involving the United States team, whose roster includes two former Wahoos: captain Becky Sauerbrunn and Emily Sonnett.
For Hucles Mangano, this is the fifth straight Olympic Games in which she's participated as a player or a commentator. She helped the U.S. win gold medals in 2004 and 2008.
For the 2012 Olympics, she moved into the broadcaster's booth, and she reprised that role at the 2016 Olympics. She's excited about doing it again this summer.
"I think just being a part of an Olympics in any capacity is always very meaningful and special," said Hucles Mangano, who lives in Los Angeles with her wife and their two young children. "The energy is incredible, and I feel like it's when athletes are at peak performance and just at their best. That's incredible to watch and witness, and then to be a part of telling those stories, I think, is really special.
"So to be able to go from being a player to now seeing this side of the sport and staying involved in it, I think that was a big appeal, especially after I retired [from playing]. I was connected to the sport still, but just in a different way, and I was able to see the game differently. I don't think I spent as much time back as a player breaking things down as much as I do now as an analyst, and that's also a testament to the sport and the evolution of it, where I think players are doing that a lot more now."
Lindsey, who lives in Philadelphia, is no Olympic novice, either, though these are the first Games at which she'll provide commentary. In 2012, she was an alternate on the U.S. team that won the gold medal in London.
As a midfielder on the U.S. Women's National Team, Lindsey earned 31 caps and played in the 2011 World Cup.
"Obviously in soccer, World Cup and Olympics are the pinnacle of our sport, but those two tournaments are hugely different in the way that they're structured, with the quick turnarounds in games for the Olympics," Lindsey said. "It's about managing emotions, but also it's about rest and recovery. So to be a part of that as a commentator and bring that to viewers is a dream come true."
Also, Lindsey said, the Olympics brings together "so many athletes representing different sports, and that's exciting too. This is the biggest sporting event in the world, and to be able to take part in that is just special."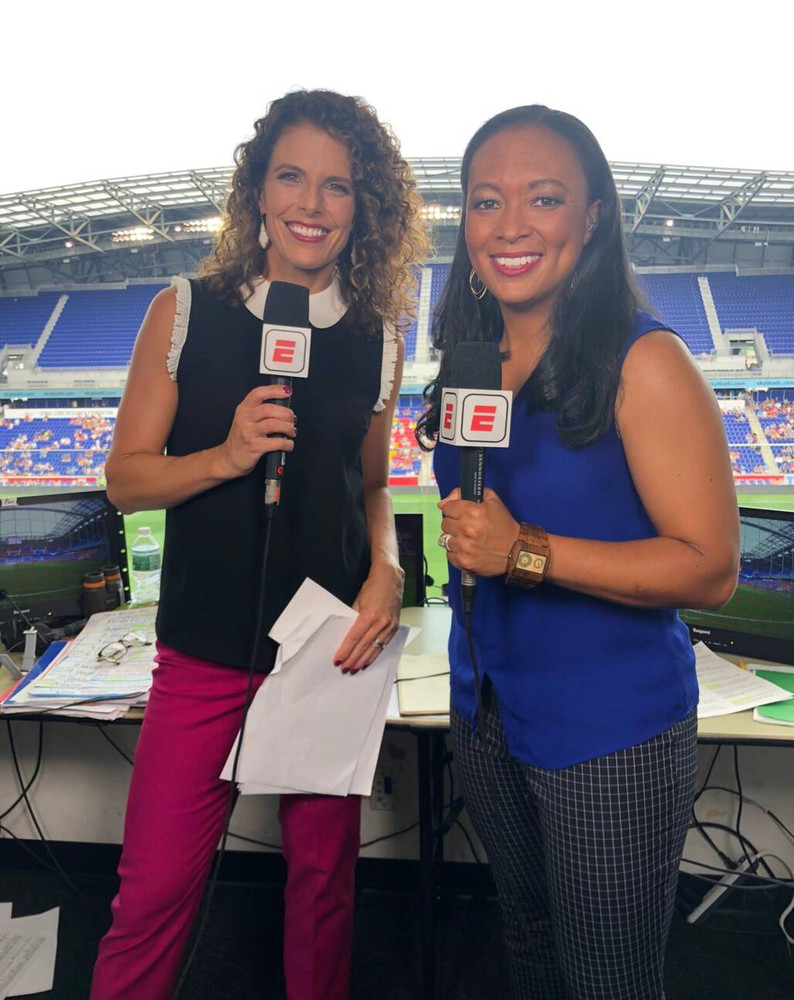 The COVID-19 pandemic, which continues to hit Japan hard, has affected NBC's coverage plans. For Olympic soccer, Lindsey said, play-by-play announcer Arlo White, analyst Julie Foudy and reporter Marissa Pilla will be in Tokyo. "Everybody else will be broadcasting from Stamford at the NBC studios," she said.
Hucles Mangano, who earned 109 caps as a USWNT midfielder, is involved with a myriad of projects. A member of UVA's Board of Visitors, she works in real estate in California, and she recently was named vice president of player development and operations for Angel City FC, a club in which she's a founding investor.
Angel City will begin competing in the National Women's Soccer League next year.
"It's incredible," Hucles Mangano said of the process of building a team. "It's nice that the group has had as much runway to really get organized and prepare for the launch of the inaugural season. It's technically a start-up, so there's the culture-building, getting everything organized before we have the first team and the players come into the market. It's been a very special opportunity, and I feel very much at home with my colleagues and my co-workers, and then obviously in the sport that I know and I love, but on the business side of the things. I compare it a little bit to being an analyst and just seeing another world of the sport itself."
For Lindsey, commenting is now her full-time job. "I have a contract with ESPN," she said.
After her playing career ended, she worked in sports performance as a trainer but eventually decided to follow another path. She missed soccer. Lindsey remembered conversations she'd had with teammate Kate Markgraf, who's now general manager of the USWNT.
"Kate had always been like, 'Hey, you should get into commentating. I think you'd be great,' " Lindsey recalled. "And I'd be like, 'No, I'm doing this sports performance stuff for youth athletes.' But then once I kind of realized that wasn't for me, I messaged her, she put me in contact [with TV networks], and the rest his history. I'm doing it full time, love it, and it's been awesome."
Lindsey has worked an analyst for NWSL games, for MLS matches, and for ACC Network, and "I'm hoping to do even more MLS stuff and European qualifiers and Euro stuff coming up for the women next year," she said.
Hucles Mangano remembers auditioning with NBC for an analyst's position for the 2012 Olympics. Working alongside Arlo White, "I called about a half of a U.S. game, and they called me back and said, 'We're putting you on our Olympic [broadcast] team," she said. "That was the first time I started commentating, and I've been doing it sporadically here and there through the years."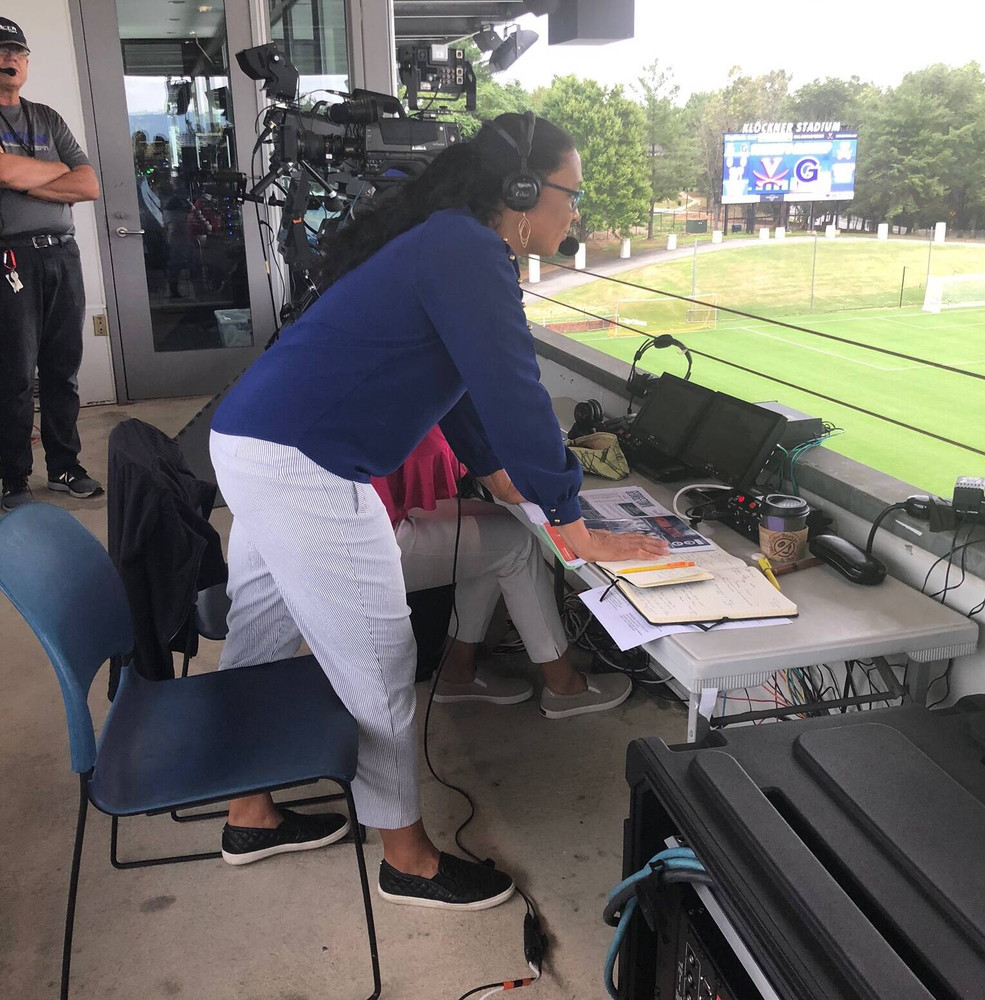 In addition to calling MLS games, she's provided analysis for World Cup games, and she's a regular on ACC Network broadcasts.
Hucles Mangano recently called a game in person for the first time in more than a year. It was an MLS match in which Los Angeles FC was playing, and the experience was interesting, she said. "The first game I called was at the stadium without fans. Then the next game was with fans, so there was quite a difference with the energy. That's actually going to be very interesting to see, how the athletes respond in the Olympics without the same type of fan energy."
Working remotely during the Olympics is nothing new for Hucles Mangano.
"I feel a little bit fortunate that the first time I started working as an analyst, everything was off-tube for me. I was in front of TVs for that 2012 Olympics," she said. "That's how I got my start. I think it would have been a lot more challenging to go in person than to go off-tube."
Still, Hucles Mangano said, there's nothing like "being at a live event, seeing the players, the fans, feeling the energy, smelling the grass. It's a completely different experience and feel when you're doing it off the television screen. Also, the angles are different too. The visual ability that you have to see the whole field at any given time when you're live at the stadium or at the field [is much better in person]. Our camera crews, they do a great job and give you the angles the best that they can, but it's still a difference."
During the 2012 Olympics, she worked from NBC's famed 30 Rock studio in New York City. In 2016, Hucles Mangano was based in Stamford, where she and Lindsey will be part of NBC Sports' huge operation this month.
"Anytime you can be live [at an event], it's awesome," Lindsey said. "When you're live at the stadium, it's like, 'Hell, yeah, this is amazing.' But being at Stamford is going to be just as great."
Lindsey is enjoying her new perspective on this event. "Having been there, having had the experience of participating in Olympics and then being able to kind of relay that to the viewers is awesome."
She's characteristically enthusiastic about her career choice. "No. 1, I love talking about soccer," Lindsey said. "I love continuing to learn and find different ways to talk about it and educate and entertain viewers. However, it feels a lot like playing, because of the preparation, getting ready for the games and then going live. To be able to do that, quote-unqoute, for the second time is thrilling in a lot of ways."
Neither Lindsey nor Hucles Mangano has been back to Charlottesville for a while, but with the pandemic easing in U.S., both are looking forward getting back on Grounds soon.
"It's the best thing ever," Lindsey said. "UVA in the fall is amazing."
To receive Jeff White's articles by email, click here and subscribe.