By Jeff White (jwhite@virginia.edu)
VirginiaSports.com
CHARLOTTESVILLE –– Academically, he shined in his second year at the University of Virginia, as he had in his first. From a basketball standpoint, though, 2020-21 was a year Kadin Shedrick is eager to put behind him.
An extended bout with mononucleosis limited the 6-foot-11 Shedrick to 11 appearances for the Cavaliers in 2020-21. Then, not long after the season ended, he contracted COVID-19.
"It was discouraging," Shedrick said before a recent summer practice at John Paul Jones Arena.
After redshirting in 2019-20, the 6-foot-11 Shedrick was pumped to get his college career officially started, and the Cavaliers' staff was equally enthused.
"He was trending in the right direction," said Mike Curtis, the team's strength and conditioning coach.
Shedrick's John Paul Jones Arena debut provided a tantalizing glimpse of his potential. In a Dec. 1 rout of Saint Francis (Pa)., he contributed 12 points and a game-high eight rebounds in 18 minutes off the bench.
"He's long and he's very active and he's continuous," UVA head coach Tony Bennett said after the game. "He plays hard on the glass and he's working."
In early January, however, Shedrick's mono re-emerged, and his season effectively was over. He played 13 more minutes the rest of the way.
"I understood it," Shedrick said of his reduced role. "I just didn't feel like I was where I needed to be from a physical standpoint. I was lighter than I'd been, and I was still experiencing a little bit of fatigue."
In practice, the coaches put Shedrick on the Green Team, the group responsible for preparing UVA's regulars for upcoming opponents. "So my goal was to just help the guys get to where we all wanted to be and just be as supportive as I could and keep working on my game for next season," Shedrick said.
Summing up his struggle to stay healthy, Shedrick said, "It was just really hard."
That made him more determined to succeed, and once Shedrick was cleared to resume working out in the spring, he attacked his training. He's impressed this summer on a UVA team with only two traditional post players: Shedrick and 7-foot Francisco Caffaro.
Caffaro, who's playing for Argentina at the Olympic Games in Tokyo, has been away from Charlottesville most of the summer, and that's meant extended work for Shedrick, who for the first time since last fall is 100 percent.
"Best I've ever felt," he said.
"So far, so good," associate head coach Jason Williford said. "He looks good, he's working hard. He's an important piece."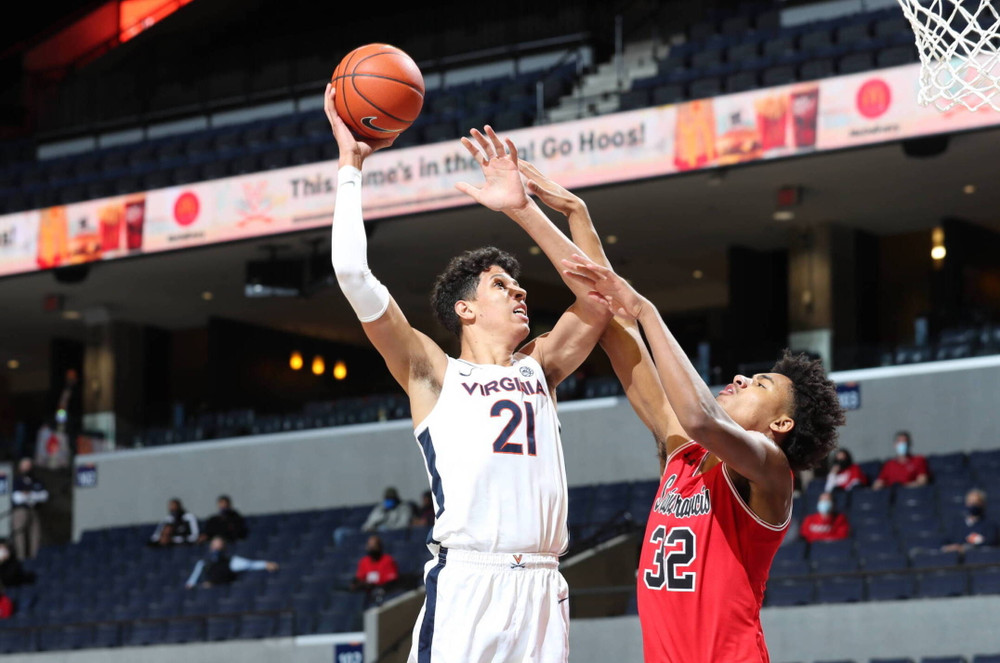 Shedrick, who's from Holly Springs, N.C., about 20 miles southwest of Raleigh, weighed 208 pounds when he enrolled at UVA in June 2019. By last fall, he was up to 222. His initial bout with mono knocked him back to 198, however, and he never regained all of the weight or strength he lost.
"It was unfortunate," Williford said. "I know it was frustrating for him. But as long as he continues to work and he's trusting the process, I think good things are ahead for him."
As he heads into his third year at UVA, Shedrick weighs close to 235 pounds, and he's not far physically from where Curtis hoped to have him at this stage of his career. Shedrick finished the spring semester at home in North Carolina and, after recovering from COVID-19, lifted weights diligently at a local gym.
He's gained about 25 pounds since the end of the season. "It was just eating a ton and lifting a ton," Shedrick said.
Not all weight is good weight, but Curtis was delighted with Shedrick's offseason gains.
"He still needs to get stronger," Curtis said. "He still needs to continue to develop a little bit more of a motor, but some of those things that we thought would be more KPI, key performance indicators, for him just from a mass standpoint, he's met those."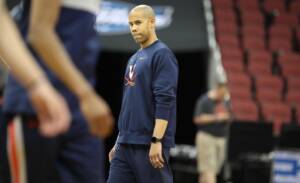 Shedrick would be further along had he not gotten sick last year, Curtis acknowledged, "but to his credit, when [UVA's players] went home, he was texting me what was going on with his weight gain, his nutrition, all those things. He was much more compliant and adherent to the strategy than he's ever been.
"I think sometimes you get to a place where you reflect and see that there is some opportunity in front of you, and some of these things that you discount and don't pay as much attention to in the conversations you have with coaches and people who are trying to prepare you, they [hit home]. It finally dawns on you: I need to do these things, and I need to adopt these behaviors that are going to allow me to be successful. And I think he finally got to that point, because he's been very, very diligent. You can see that he's changed his mentality, which is reflected in what you see from a physical presence standpoint now."
The next step for him, Shedrick said, is "to keep working on a high motor. That's been the overriding message for me from Coach Curtis: Keep pushing myself to keep going. On the court, just dominate every possession."
Curtis said: "Kadin has the physical tools to be a very impactful player, but unless he can sustain and do that repetitively over the course of 40 minutes, then he's going to be very limited. Because what I have noticed is that when he does hit that fatigue barrier, he at that point immediately ceases to be an effective player.
"Part of that is mentality. Part of that is on me to develop some of those physiological things that he needs, just a more robust aerobic system and things of that nature. But you can't also succumb to those things from a mental standpoint, and I think we have to be able to develop both of those things: the mental approach and physiologically building a bigger engine, and those things have to come together in such a way that allows him to go dominate games for however long he's out there. Because he has the tools to do it, and we've seen flashes of that. But those flashes last for five, six minutes, eight minutes, and then he gets tired and just capitulates to the fatigue and whatever else is going on."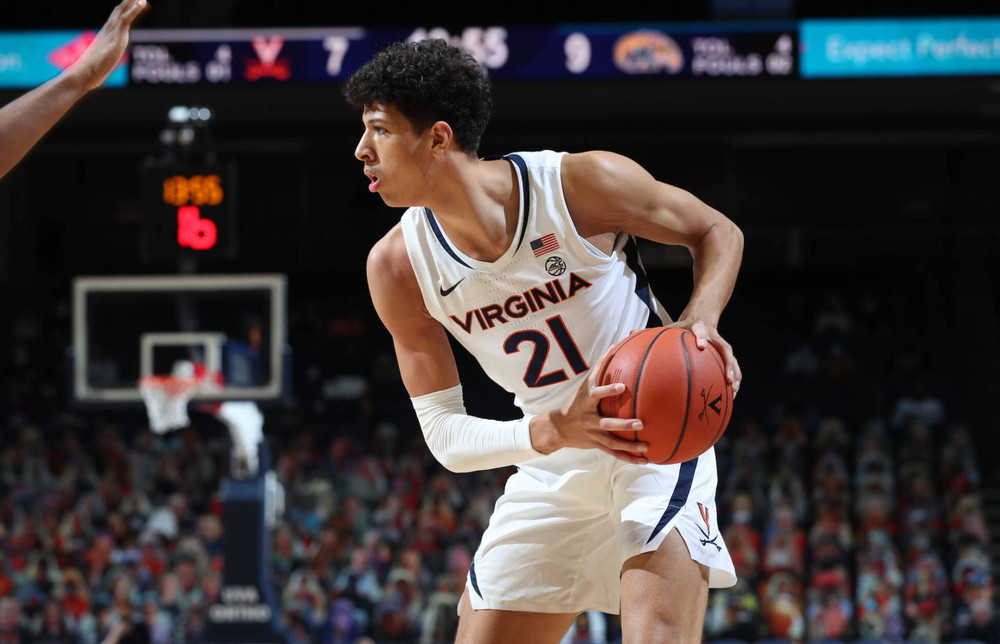 From a team that won the ACC's regular-season title, the Wahoos lost six of their top eight scorers, including 7-foot-1 Jay Huff, 6-foot-9 Trey Murphy III, 6-foot-8 Sam Hauser and 6-foot-8 Justin McKoy. Shedrick knows he has an opportunity to carve out a significant role in 2021-22.
"For me, it's just all about staying healthy so I can be available for the team," he said. "I just need to be reliable this year."
He played a total of 88 minutes last season. Nine of his teammates played more. Still, Shedrick said, "I think the games I got experience in helped a lot, because in the beginning I was a bit nervous––first college game, this and that––but I've been through it now a little bit. Although I didn't completely dive in, I got my feet in the water. I know what to expect. I played against some physical guys."
Williford works primarily with the Cavaliers' big men and has continued to tutor Shedrick this summer. But Shedrick is also learning from Isaiah Wilkins, who during his UVA career established himself as a force in Bennett's Pack Line defense. Wilkins recently returned to his alma mater to pursue a master's degree and rejoined the program as a graduate assistant.
"It's been great having him here," said Shedrick, who remembers watching Wilkins play for the Hoos. "I'm super grateful for him to be here. He helps me with stuff that I can do in the post, on defense and everything."
Shedrick has one sibling, Kari, an incoming freshman at Providence College, where she'll play on the softball team. They grew up in a household where their parents, Dominic and Cindy Shedrick, stressed the importance of education.
"That was something that they were really big on when my sister and I were younger," Shedrick recalled. "They continued to push us in the classroom as hard as they did with sports: me basketball, her softball. My parents are where I got my drive in the classroom from."
Shedrick, who also had scholarship offers from such schools as Louisville, Wake Forest, Florida, Wisconsin, Xavier and Indiana, chose Virginia partly because of what it could offer him academically.
"That was appealing to me," he said. "Great [basketball] program, great academics, it's the best of both worlds. If basketball doesn't end up being part of my future, I've always got a UVA degree."
With guidance from the team's former academic advisor, T.J. Grams, Shedrick followed an academic path in 2019-20 and 2020-21 that helped him earn admission to the UVA's prestigious McIntire School of Commerce. Shedrick is the first men's basketball player to be admitted to McIntire during Bennett's tenure as head coach.
Balancing his McIntire group work with his basketball obligations will be challenging, Shedrick knows, "but I'm looking forward to it. Having to be the first player under Coach Bennett to go through it, I'm a little worried about the balance, but I think it'll all work out. I'm excited for the challenge."
To receive Jeff White's articles by email, click here and subscribe.