By Jeff White (jwhite@virginia.edu)
VirginiaSports.com
CHARLOTTESVILLE –– For most of the summer, while his University of Virginia teammates sweated through workouts at John Paul Jones Arena, Francisco Caffaro was elsewhere.
The other Cavaliers didn't hold that against the big man they call Papi. It's not often, after all, that a basketball player gets to compete in the Olympic Games.
The 7-foot Caffaro, who's heading into his fourth year at UVA, was the second-youngest player on Argentina's roster at the Tokyo Olympics, and he was the only one who won't be playing professionally in 2021-22.
He rarely saw action for Argentina, which lost to Australia in the quarterfinal round, but Caffaro relished the experience and believes it will pay dividends for him at Virginia.
"For sure," said Caffaro, who's from the Santa Fe province of Argentina, about 300 miles northwest of Buenos Aires. "I went into these tryouts knowing that I'm probably not even going to make the team, or if I make it I'm not gonna play. I went into this knowing that I was going to learn a lot and gain a lot of experience being with these people, training with these people, watching these people play. It's not only how they play basketball, how they practice, it's everything. The sleep schedule, eating, diet, all the stuff. Seeing how they work, I think it helped me a lot."
Virginia's associate head coach, Jason Williford, said the experience will give Caffaro "much-need confidence going into the year, just knowing that he can play with the big boys. You make the national team, you compete in the Olympics, I think that should boost his confidence."
Caffaro, who has battled injuries throughout his college career, looked noticeably different when he returned to Grounds this month for the Wahoos' final summer practices at John Paul Jones Arena.
When he left to try out for the Argentina national team in June, Caffaro weighed nearly 255 pounds. He's now around 240.
"I lost some weight, but I still feel just as strong or maybe more strong than I did before," Caffaro said, "and I feel more mobile and agile. I haven't felt like this pretty much since my first surgery."
Caffaro arrived at UVA in the summer of 2018 with a broken bone in his left leg. The injury required an operation, and he redshirted in 2018-19.
During his six weeks with the national team this summer, Caffaro saw what his older teammates ate, and he began following their lead.
"One of the things he said he learned the most from the veterans was that," Williford said. "For them, staying lean and keeping their bodies right was super important. Papi said that was the most impressive, important thing he learned coming out of the Olympics: to eat right and just take care of yourself."
Argentinians are known for their love for beef. That's not a big part of Caffaro's new diet, "which is sad," he said, smiling. "More like fish and chicken, with greens and avocado and all that type of stuff. Gluten-free diet."
It was an adjustment, but Caffaro found he liked the diet. "It made me feel still as strong as always, but leaned up a little bit and being able to like get off the floor a little quicker and move a little quicker.
"That stuff slowly just makes you feel better, and when you see changes happening, it makes you understand that if you change little things outside of basketball, it helps you in basketball as well."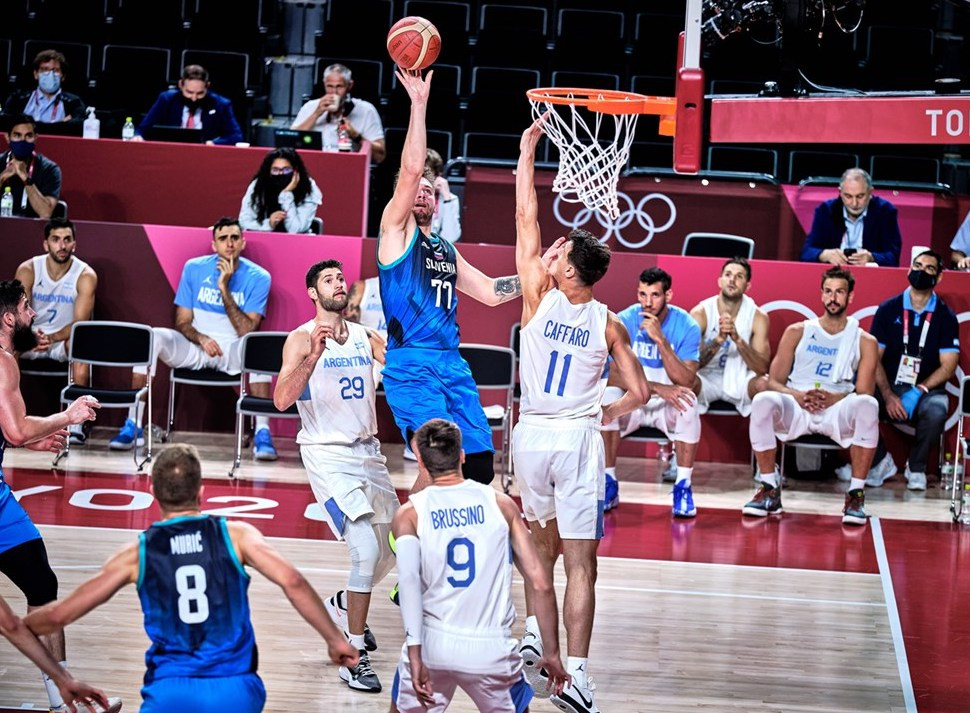 Williford noticed a change when Caffaro took the court at JPJ.
"I thought his last practice of the summer was really good, from an energy and effort standpoint," Williford said. "I thought he brought it, which was good. So he went out on a positive note."
Caffaro turned 21 in May, which makes him about four months older than Leandro Bolmaro, the youngest player on Argentina's roster. The oldest was the 41-year-old Luis Scola, a legend in international basketball.
For the 6-foot-9 Scola, who played in the NBA for 10 seasons, this was his fifth Olympics. He played his first game for Argentina before Caffaro was born.
"That's kind of crazy," said Caffaro, who tried to soak up all the knowledge Scola had to offer.
"This was the first time I was around him for a long period of time," Caffaro said. "He's such a smart veteran, knows everything, so it's good to hear from him, learn from him, be around him."
Scola is the last member of what's known as Argentina's Golden Generation, which also includes Manu Ginobili, still playing for the national team. Caffaro's goal is to be part of his country's next generation of elite players.
"We've got to try to do our best to get close to what they did," he said. "It's gonna be hard, but we're not trying to compare ourselves to them. We're just trying to do the best we can. Nothing is going to be like the Golden Generation, but we're always going to do our best and just give everything for Argentina, us young guys coming in, trying to do the best to keep up the great work they have done. So I'm excited for that."
The next Summer Olympics, to be held in Paris, are only three years away, Caffaro noted, and the "[FIBA] World Cup is coming in two years, and I feel like if I keep stepping up and taking the right steps and having the right mindset, I could be part of those teams. You've got to qualify for the Olympics, which is really hard nowadays. Every team is good. You have the USA, Canada, you have Slovenia, you have Italy, you have Serbia, Spain, France, all those elite teams, and it's hard to get there, but we're gonna work hard, and hopefully we make it once again."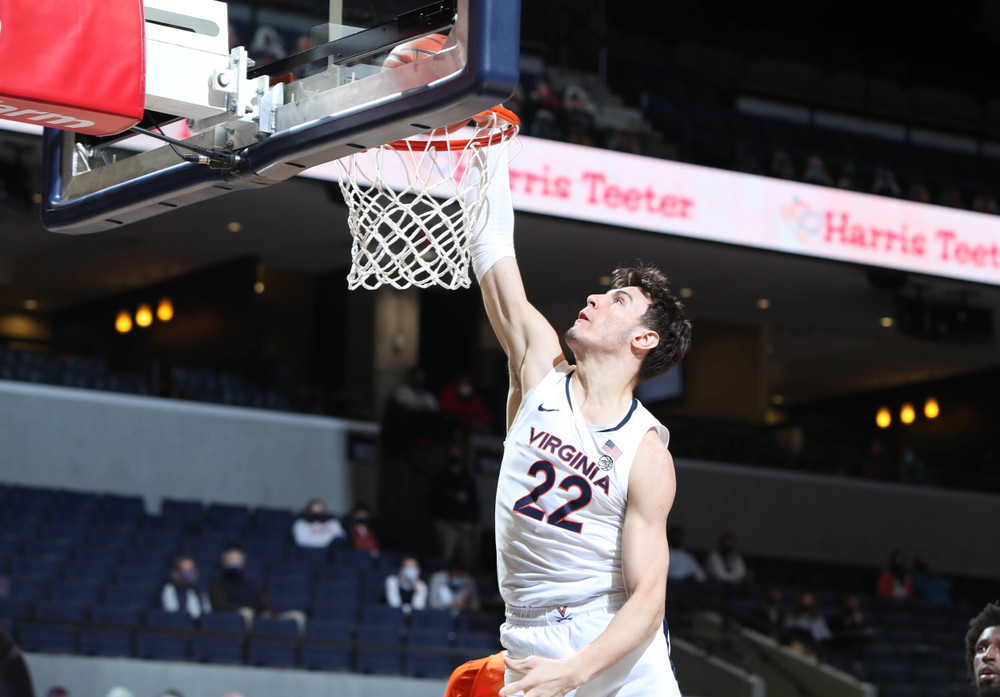 Argentina's first game in Tokyo was against Slovenia, which also had a UVA connection. Former Virginia big man Mike Tobey started at center for Slovenia and was on the receiving end of countless lobs from NBA superstar Luka Doncic in Tokyo.
"Funny to run into a UVA guy and also play against him the first game," Tobey said this week. "It's funny how small the basketball world is. It was cool to see him there."
Caffaro said he'd met Tobey one summer at JPJ, and they recognized each other in the Olympic Village.
"I think it was the second or third day we got there," Caffaro said, "and we just said hello and talked for like five minutes. And then after the game, I think I saw him again around the village and just said, 'What's up?' It was good to see him, just knowing that you just come from the same place and same people. It was cool. He did great as well."
For Caffaro, the visit was his first to Asia, and "it was a great experience. Japan is amazing. It's just so clean and developed. I liked Japan a lot and I liked being at the [Olympic Village]. The people in there were just so nice. It's pretty much like they built a city for the Olympics."
The athletes representing Argentina shared a 18-floor building with the Italy contingent. "We had eight and Italy had 10," Caffaro said.
Back in Charlottesville, he rejoined a UVA team that will have only two traditional post players in 2021-22: Caffaro and 6-foot-11 Kadin Shedrick. In 2020-21, as part of a frontcourt that included Jay Huff, Sam Hauser and Trey Murphy III, Caffaro averaged only 6.9 minutes per game.
"I'm excited," Caffaro said, "because I got this opportunity ahead of me and I'm always gonna do everything to take advantage of it and try to do my best for the team and for myself."
After the 2020-21 season ended, Caffaro spent about a month back in Argentina. With classes starting at UVA on Tuesday, he's staying in the United States this week, enjoying a hard-earned break.
"The month I was with the national team, we actually had one day off the whole time, except the days that we traveled," Caffaro said, and then he had workouts with the Cavaliers when he returned to Charlottesville early this month.
"So it's good to get a week off to recharge," he said.
To receive Jeff White's articles by email, click here and subscribe.