By Jeff White (jwhite@virginia.edu)
VirginiaSports.com
CHARLOTTESVILLE –– Three of the four teams that advanced to the College Cup in women's soccer last season were from the ACC, including Virginia.
The league is strong and deep year in and out, and it was a given that UVA would play a grueling ACC schedule this season. But the Cavaliers, who returned a lineup as experienced as it is talented, wanted more.
"We just felt we wanted to push ourselves in the non-conference as much as possible," head coach Steve Swanson said Friday night.
Their schedule reflects that. In its second game, UVA traveled to Morgantown, W.Va., to face then-No. 12 West Virginia. The Wahoos left with a 1-0 victory.
Thursday night brought another challenge for No. 3 Virginia, which faced reigning NCAA champion Santa Clara at the Fairfield by Marriott Invitational in Harrisonburg. The Hoos edged the No. 9 Broncos 1-0 on a goal by sophomore midfielder Lia Godfrey, who converted a free kick in the 70thminute.
"It kind of felt like we were back in that College Cup, just because this was the defending national champions," Godfrey told CBS19's Danielle Stein after the game. "They are a very aggressive team, and it was back and forth for a while."
The Hoos (5-0) open ACC play Sept. 17 against Wake Forest in Winston-Salem, N.C. First, though, they'll meet JMU (Sunday afternoon in Harrisonburg), No. 7 Penn State (Thursday night at Klöckner Stadium), and Oklahoma (Sept. 12 at Klöckner).
"They're good tests for us early, and if you can get wins, it's going to help you down the road, that's for sure," said Swanson, who credited assistant coach Jaime Frias for putting together the schedule. "But the biggest thing for us is, you feel like these kind of games give you a sense of where you are. You're challenging yourself against the best, so you get a sense of where you are and what you need to do and where you need to put some emphasis in training."
The Cavaliers already have played more games away from Charlottesville than they typically would before the start of ACC play. Virginia won 2-0 at George Mason on Aug. 26. 
"Even on our preseason trip to Michigan, we went to the University of Michigan [to play an exhibition], and they have a good team and program," Swanson said. "It's been good for us. I think we're learning about ourselves, and that's important when you play in a conference like ours, but it's also important if you're trying to maximize and get as much as you can out of your team. You gotta see where they are.
"This game last night was really good for that. Santa Clara is a good team. They tested us in a lot of ways. They're physical. They get to the ball quickly. They press, and they're one of the better transition teams I've seen in a long time. They've got two forwards that can really cause some problems if you're not careful. So it was a good experience for us, and I'm really happy with the way the team responded and the team they competed. They competed really hard last night, which we needed to do."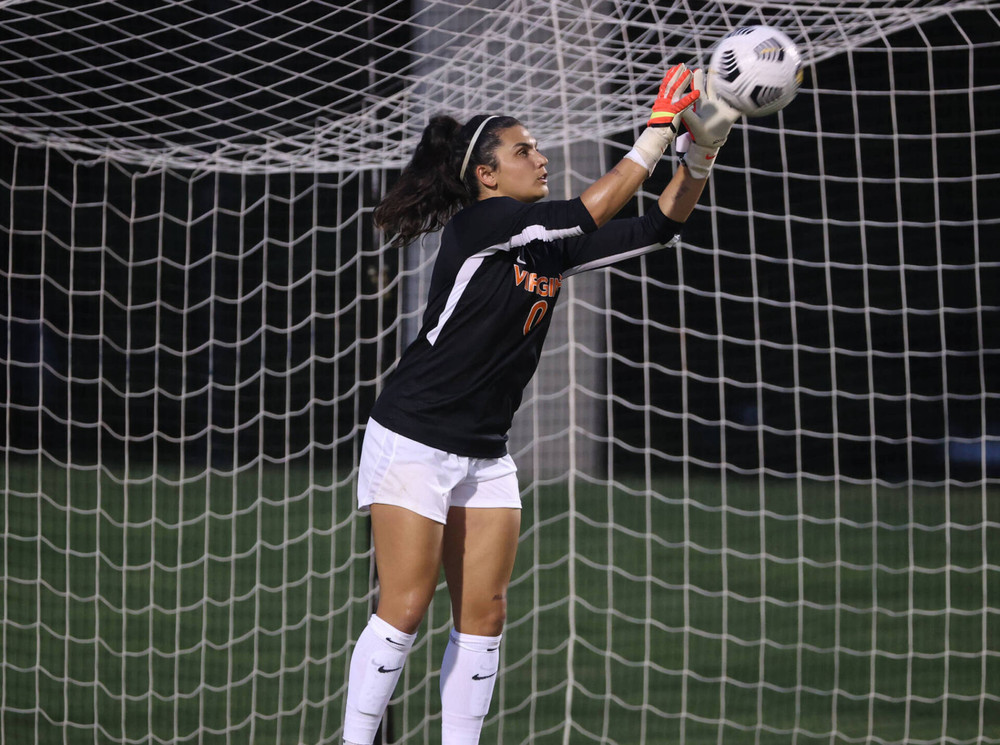 At last season's College Cup in Cary, N.C., UVA lost to Florida State in a penalty-kick shootout after the ACC rivals played 110 scoreless minutes. Later that night, Santa Clara ousted North Carolina 3-1. In the NCAA championship game, the Broncos topped the Seminoles in a penalty-kick shootout.
Santa Clara returned a strong core from its 2020-21 team and remains a formidable opponent.
"Any time you get to play a top-10 team and any time you get to play a team that's out of the West Coast, on the East Coast, it's huge," UVA goalkeeper Laurel Ivory said after the game Thursday night. "They're a really, really great team. I think we showed a lot of grit today. I think it was a really, really good test for us, to see that we came out on top like that was amazing. I think every single person brought it today, including everyone on the bench and everyone on the field."
One of those players on the bench, unfortunately for the Hoos, was senior Rebecca Jarrett, a team leader and All-America candidate. Jarrett suffered a knee injury near the end of a practice this week, Swanson said, and was on crutches Thursday night.
After Godfrey scored against Santa Clara, she sprinted to the UVA sideline and shared an embrace with Jarrett.
A second-team All-ACC selection last season, Jarrett was named to the College Cup's all-tournament team. In the Cavaliers' first four games this season, she totaled a team-high nine points, on three goals and three assists.
"You have these things, and they happen in sports and they happen in life," Swanson said, "and when they do, I think, you find out about your team and you find out about one another."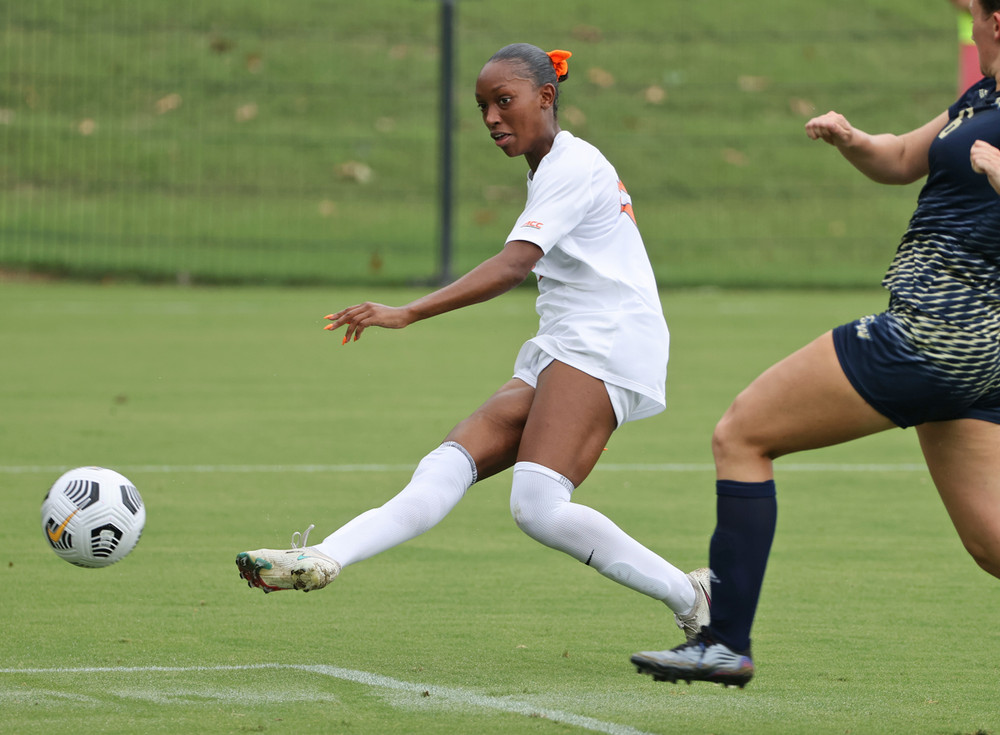 The NCAA granted an extra year of eligibility to student-athletes who competed in 2020-21, and several Cavaliers who were listed as a seniors last season chose to extend their college careers. As a result, UVA has 34 players on its roster, more than usual, but "it's as tight a team as we've had as well," Swanson said, "and I think that's because of people like Rebecca."
With Jarrett sidelined, Swanson said, he told the team that "the best thing we can do is go play for her. I thought that really showed in the way they competed last night, and there's no better statement you can make for a teammate than to play for them. I think it's a relationship piece. It was neat to see how the team responded to her when it happened, and of course last night during the game and before the game and after the game."
Godfrey is coming off a season in which she was named ACC Freshman of the Year and made the All-American second team. She finished her first season with 17 points, on four goals and nine assists. Four of those assists led to game-winning goals.
Through the Cavaliers' first four games this season, Godfrey had two points, on two assists. "I think Lia's been knocking on the door, though, and she's performed well," Swanson said. "Some tangible evidence of her contributions is good for her. We know we've got somebody on set plays that can score goals, and that's an important thing too.
"It was a timely goal, and I think it was great that Lia got it. We're going to have to figure out ways to make up for the loss of Rebecca and to try to get some more point production out of the team in different areas, and I think our midfield is one area."
To receive Jeff White's articles by email, click here and subscribe.