By Jeff White (jwhite@virginia.edu)
VirginiaSports.com
CHARLOTTESVILLE –– The first time Haley Hopkins set foot on Grounds was in July, when she moved into her apartment for the start of informal workouts with her new soccer teammates. But she had no reservations about choosing the University of Virginia sight-unseen.
"Enough people go here, and enough people love it, right?" said Hopkins, a graduate transfer from Vanderbilt. "So I was like, 'If it's a popular opinion that everyone loves Charlottesville, I don't really need to go visit and do this whole thing.' I went through that my sophomore year [of high school]. I feel like I'm old enough to have an understanding of exactly what I need and what I'm looking for."
Her instincts have proven correct.
"I love it so far," Hopkins said. "I think it's a great change of pace for me. I love the college town feeling. It's not too quaint, but not too city-like."
Hopkins, who grew up in Newport Beach, Calif., arrived at UVA with two seasons of eligibility remaining. She plans to attend physician assistant school one day, and she's taking classes in UVA's School of Education and Human Development this semester. In January, she'll start a master's of public health program in UVA's School of Medicine.
Even though she'd never been to Charlottesville until this summer, Hopkins had ties to the University. Her father, David, played football and, later, baseball for the Cavaliers. He was a right-handed pitcher whom the Texas Rangers selected in the 14th round of the 1982 Major League Baseball draft. That didn't play a major role in his daughter's decision.
"By no means was my dad being an alum of Virginia a big reason as to why I wanted to come here," Haley Hopkins said. "The program and the name speaks for itself. That was just more of a fun thing, the idea of playing a sport at my dad's alma mater."
UVA head women's soccer coach Steve Swanson didn't realize at first that Hopkins was a legacy, "but once I heard about that, I obviously got excited about that connection," he said.
At Vanderbilt, from which she graduated with a bachelor's degree in medicine, health and society, Hopkins redshirted as a freshman because of an injury. She earned All-SEC honors in each of her next three seasons and twice was named an All-American. Her 34 career goals for the Commodores are the second-most in program history.
If the SEC rules the college football world, the ACC has similar status in women's soccer. Coming out of Mater Dei High School, Hopkins recalled, she wasn't sure she could fare well at that level.
"I knew ACC soccer was so good," she said, "and I don't think I was as confident during that time. I think at that time Vanderbilt was exactly the perfect fit for me."
With her degree from Vandy secured, Hopkins wanted to test herself at another academically elite school, one with a soccer program that could compete for an NCAA title. She entered the transfer portal but, not wishing to be barraged with inquiries from college coaches, clicked the Do Not Contact tab on her profile.
"I had a pretty good idea and understanding of what I wanted from the [next] program after being at a school for four years," said Hopkins, who was the SEC Freshman of the Year in 2018. "You know exactly what you want, what you don't like, and what you look for in a program in terms of culture, success, coaching staff, team."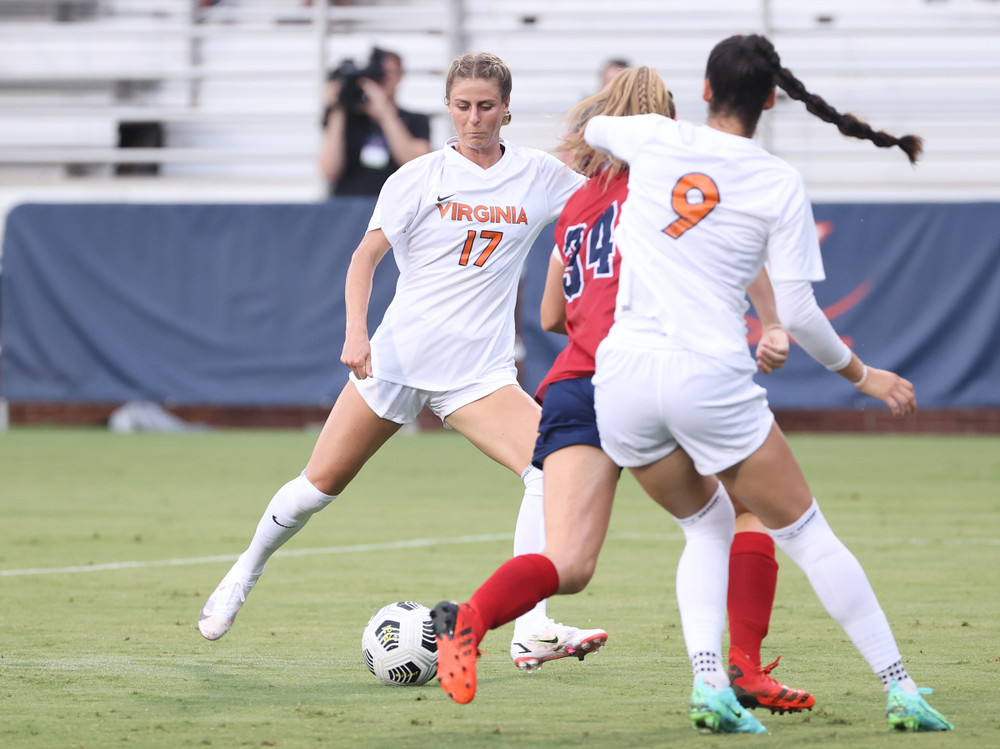 Hopkins was looking at several ACC schools. Unbeknownst to Swanson, UVA was one of them. Swanson saw the Do Not Contact designation next to Hopkins' entry in the transfer portal and thought she might have already selected a school.
"So it was kind of an interesting dynamic there for 24 hours before we finally got in touch with each other," Swanson said, laughing.
In Southern California, Hopkins had played for Slammers FC, and her club coach, Walid Khoury, helped her search for a new school. She connected with Swanson after he returned from the College Cup, where UVA had fallen to ACC rival Florida State in the semifinals, "and then probably two or three days later I committed," Hopkins said.
"Steve and the rest of the coaching staff went above and beyond in their recruiting," she said. "It was so evident how much care and how much time they invest in their jobs and their players and their team and the program, so it was really a fairly easy decision for me."
Swanson had no concerns about Hopkins' ability. "It was just a matter of if it was going to be a good fit or not," he said, "and I think when you speak to her and hear her and listen to her, it's not hard to be impressed by her maturity. I found it to be a really good fit. You never know until they actually come here, but I could say that even more now."
Hopkins had a "sense of nervousness" when she joined the Wahoos' player-run workouts on July 12, "but everyone was so nice and welcoming and we have very similar personalities, so it was a seamless transition."
Through eight games this season, Hopkins has three goals and two assists for No. 7 Virginia (7-1), which opens ACC play Friday at 5 p.m. against Wake Forest (8-0) in Winston-Salem, N.C.
The Hoos suffered a major blow when Rebecca Jarrett, who totaled nine points (three goals, three assists) in their first four games, suffered a season-ending knee injury in practice late last month.
"I think we all know we're going to miss her on the field," Swanson said, "but she's such a good leader. We'll miss her off the field as well, so there's a lot of things we're just getting used to."
Hopkins said Jarrett's injury was "just a horrible thing that happened and really, really sad. It's hard to fill those shoes, because she's so good and she's such a presence on the field and she's been an incredible performer. And so we're trying to figure out how best to work around that."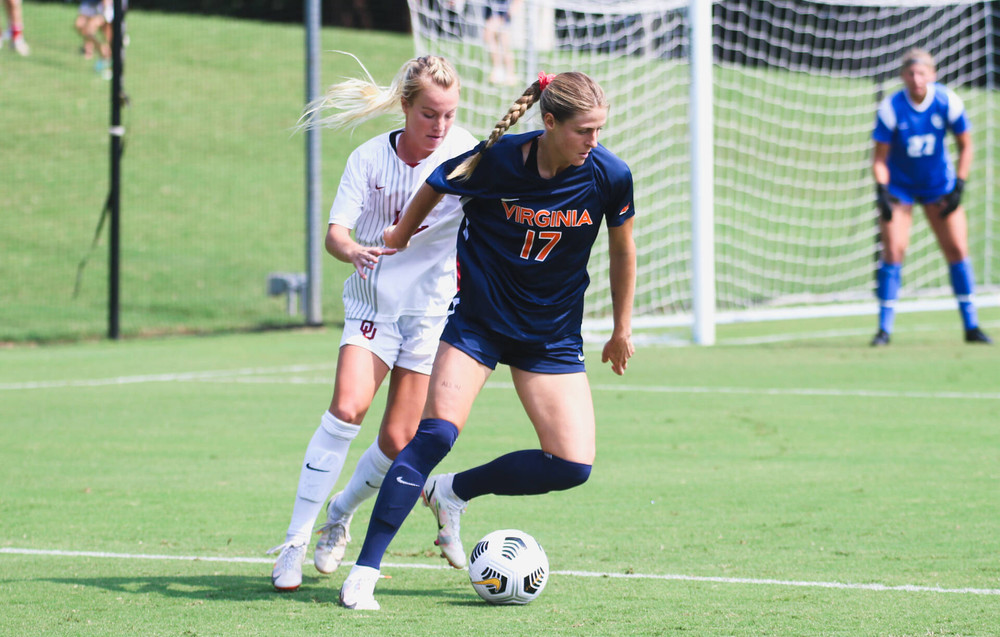 Jarrett, one of the fastest players in the college game, played primarily on right wing. UVA's coaches have tried Hopkins, who was a standout sprinter at Mater Dei, on the flank since losing Jarrett.
"I think Haley is versatile enough and has enough of a skill set to be able to play anywhere up front," Swanson said. "But obviously she's a goal-scorer, she likes to be in front of the goal, so the thing that we've been trying to do is figure out ways that we can get her in front of the goal as much as possible."
Before Jarrett got hurt, Swanson said, the Cavaliers were using Hopkins and Diana Ordonez together up top, "and I think that's what we're looking at now. We just have to adjust a little bit here and there. I don't think it changes what we were trying to do with Haley. We just have to try to figure out ways to make up for Rebecca."
For all of Hopkins' experience, Swanson said, "I still think there's a transition for her in terms of our team, getting used to the players she's surrounding herself with and understanding the terminology and the way we play and how we defend. So there's still learning going on, but I feel like you've got somebody that understands just what it takes to succeed at this level, and that's a good thing. Even though we haven't asked her to be a leader yet, because there are so many things that are new to her, I think in her own way she's leading, just by how she approaches every day, the way she approaches practice.
"She's done a really good job of integrating herself. I don't think she expected anything. She's worked hard to earn what she's got, and I think the team's responded to her. She fits right into our culture. She's been a tremendous addition, and I think she's only going to get better here as she gets more and more familiar with everything and we continue to play out the season."
Hopkins lives with teammate Alexa Spaanstra and two UVA field hockey players: Laura Janssen and Cato Geusgens. She's enjoying life as a Wahoo, and her father likes seeing her in blue and orange, too.
When she informed her dad that she planned to transfer another school, Hopkins recalled, "he was like, 'I'll support you no matter what, obviously, but I hope Virginia is on your list. Have you thought of Virginia?' and I was like, 'You know what? I have thought of Virginia. That would be kind of cool.' "
She could have chosen a West Coast school coming out of Mater Dei and again after graduating from Vanderbilt. Each time, though, Hopkins chose to challenge herself.
"California is always there to come home to," she said, "but I definitely saw college as an opportunity to really take my independence and grow that in a completely different part of the country. And that's exactly what Nashville and Vanderbilt were and now Charlottesville and UVA are."
To receive Jeff White's articles by email, click here and subscribe.