By Jeff White (jwhite@virginia.edu)
VirginiaSports.com
CHARLOTTESVILLE –– For the first time in nearly a decade, Robert Anae and Rod Smith are colleagues. To say their reunion pleases Anae, Virginia's offensive coordinator, would be understating the case.
Asked after practice Wednesday if he had time to talk about his relationship with Smith, Anae stopped and smiled.
"Oh, my gosh," he said. "This is a treat, now."
In 2012, Rich Rodriguez's first season as the University of Arizona's head coach, Smith was the Wildcats' co-offensive coordinator, along with Calvin Magee, and also coached their quarterbacks. Anae, a holdover from the previous coaching staff, oversaw the offensive line.
"That year at Arizona with Rod Smith and Rich Rodriguez and Calvin Magee, every day was Christmas for me," Anae said. "I'd been in one system for playing and coaching for forever, decades, and to now go to work and to be in a different type system, a system where your quarterback is not just that handoff guy, but is a threat elsewhere, man, every day I took so many notes. I was just a sponge, and in the process I got to make some really good friends. And that's kind of how the coaching thing works. You find people that you work with that you trust that are really good people."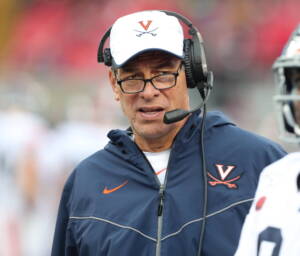 Smith stayed at Arizona through the 2017 season. Anae left in January 2013 to become offensive coordinator at BYU, his alma mater, under head coach Bronco Mendenhall. But Smith and Anae stayed in touch after their coaching paths diverged.
"He's always been so good to me, always been a great friend and colleague," Smith said Tuesday at the McCue Center.
And so when Illinois made a coaching change in December, the longtime friends reconnected and discussed Smith's options. Smith, the Fighting Illini's offensive coordinator from 2018-20, suddenly was out of a job, and "it just happened to work out that there was an opportunity to come here," he said.
This is Mendenhall's sixth year as head coach at UVA, and Anae has been offensive coordinator throughout his tenure. Anae mentioned to Mendenhall that Smith was available. After meeting with Mendenhall, whom he called "first class," Smith joined the Wahoos' staff this summer as a volunteer analyst.
"College football is volatile, with lots of pressure and uncertainty, and sometimes even really qualified and skilled people find themselves out [of work] for a time," Mendenhall said. "Sometimes it's a year, sometimes it's a season. And so UVA football is lucky that Rod was available."
Anae said: "Sometimes you fall on hard times, and I've been there as a coach a couple of times, and the longer you do it, the more the likelihood [of getting fired]. Those guys got let go [at Illinois], so he kind of had a free year, and he wanted to come here, and I said, 'Are you kidding me?' What a huge value he brings."
Under NCAA rules, Smith is not allowed to work directly with players, but he provides feedback and suggestions to the coaches.
"Basically, I'm another set of eyes," he said, "just to kind of watch and pick up things, see certain things that we can do better maybe, certain things we see on defense, and I'm in communication with Coach Anae for the most part. My job is to be someone that the other coaches, if they need to, can talk to about anything––what they're seeing, technique, anything­­––or I can bring something up as well."
Smith, who played quarterback for Rodriguez at Glenville State in West Virginia, brought extensive coaching experience to UVA. In addition to his stints at Arizona and Illinois, he's been co-offensive coordinator and quarterbacks coach at Indiana, quarterbacks coach at Michigan, quarterbacks coach at West Virginia, offensive coordinator and quarterbacks coach at South Florida, offensive coordinator at West Virginia Tech, and offensive coordinator at Urbana (Ohio) University, from which Smith has a master's degree.
"When you add more knowledge and more experience that fits with an existing culture, everybody benefits," Mendenhall said, "and it's a great resource for me to have another objective view coming into the program to see and comment on likes, strengths, dislikes, weaknesses, and just to hear it from someone else. So it's almost like having a program analyst come in to make a trusted assessment, which is awesome."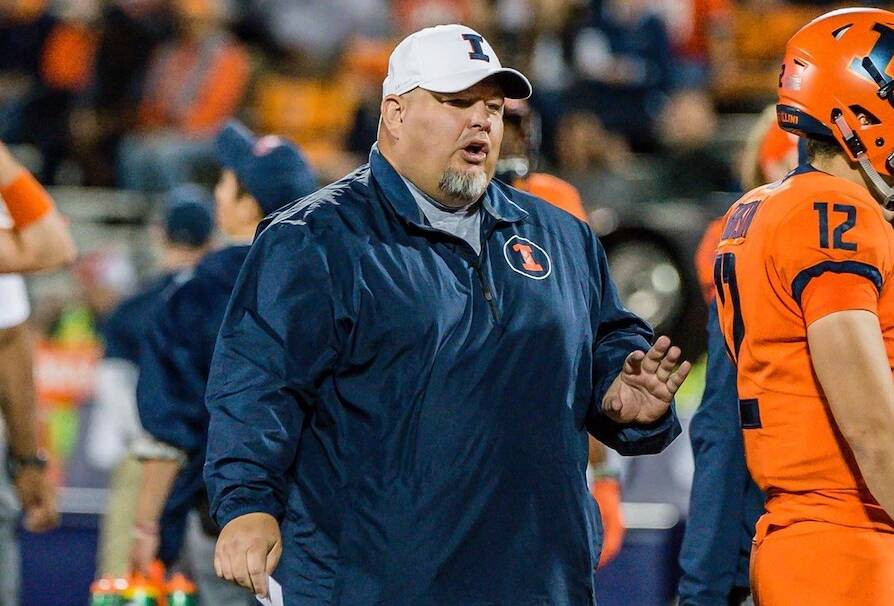 Smith grew up in Franklin, W.Va., about 40 miles northwest of Harrisonburg, but he has relatives in the Charlottesville area and spent a lot of time here as a boy, though not always under pleasant circumstances. When he was a ninth-grader, Smith said, he had to be life-flighted by helicopter for surgery to the UVA hospital after getting injured in a car accident.
Until this year, his only experience at Scott Stadium had come when he was a graduate assistant for Clemson. Led by Woody Dantzler, the No. 11 Tigers beat the Cavaliers 31-10 on Sept. 23, 2000.
Back then, dual-threat quarterbacks such as Dantzler weren't nearly as common as they are in today's game. Virginia has had two under Mendenhall: Bryce Perkins, who started in 2018 and '19, and his successor, Brennan Armstrong.
Armstrong, who's carried a team-high 20 times this season, is putting up huge numbers in the passing game for UVA (2-1 overall, 0-1 ACC). Heading into Virginia's Friday night clash with Wake Forest (3-0, 1-0) at Scott Stadium, the 6-foot-2 left-hander has completed 87 of 121 passes (71.9 percent) for 1,298 yards and 11 touchdowns, with two interceptions. In a loss to No. 21 North Carolina last weekend, Armstrong threw for a school-record 554 yards.
The Hoos are averaging 41.3 points and 559.3 yards per game.
Did Smith expect Virginia's offense to be this explosive? "I was hoping it would be," he said, smiling, "but you just never know until you actually come to see it in person and see the players and how all that fits together. But it has definitely exceeded my expectations."
Virginia opened the season with a 43-0 rout of visiting William & Mary. Even more satisfying for Smith was the Cavaliers' next game, a 42-14 victory over Illinois at Scott Stadium.
"It was definitely different," Smith said of facing his former team. "A lot of emotion went into it, because any time you plant your roots somewhere and you spill your guts and your blood in an area, there's emotions attached. I have nothing but love and respect for those kids, because we were around all those kids daily.
"It was definitely different being on the opposite side of them, but at the same time that phase of my life has moved on. I've embraced the new phase, and this is the new family, and I've been welcomed in a way that I wouldn't have imagined would happen. I'm extremely grateful for that, and it was definitely an exhilarating Saturday for me that we were able to play as well as we did."
Smith and his family live in McGaheysville, about 10 miles southeast of Harrisonburg. He commutes to Charlottesville every day.
"It's a beautiful drive," he said.
He misses coaching and looks forward to getting another full-time job. For now, though, Smith is grateful for the opportunity UVA has given him.
"I hadn't been in this situation ever," he said. "You have a coaching change, and basically it was during the pandemic. There weren't a lot of jobs available out there, and so you're kind of sitting here thinking, 'OK, now what do I do with my time?' When you're a coach, there's not a lot we do besides that. This was an opportunity to stay involved, to be hooked up with a first-class program and organization, with great men."
Whatever happens, Smith said, he'll be better for this experience.
"One hundred percent," he said. "I've learned so much just in my short time here. Whenever I go to another job, or if I'm fortunate enough to get a job someplace else, I will implement some of the things that I've learned here to what I already know. It's been great professional development for me. I've probably learned as much from these guys as they have for me, to be honest with you, so it's really cool."
To receive Jeff White's articles by email, click here and subscribe.