By Jeff White (jwhite@virginia.edu)
VirginiaSports.com
CHARLOTTESVILLE –– Jayden Gardner grew up in Wake Forest, N.C., about 20 miles from the North Carolina State campus. He put up big numbers in basketball for his AAU program, Team Loaded NC, and for Heritage High School, but NC State didn't actively recruit Gardner. Neither did any of the other ACC schools.
"Just bits and pieces," Gardner said this week. "Nothing serious."
A 6-foot-6 post player, Gardner was considered "undersized for this league," UVA associate head coach Jason Williford recalled Wednesday.
His many accolades notwithstanding, high-major programs wondered if "I was going to be able to duplicate that success at the college level," Gardner said, "which is always a question mark."
That's no longer an issue for Gardner, one of four new scholarship players in head coach Tony Bennett's program at Virginia. Before he became a Cavalier, he headed to Greenville, N.C., where he totaled 1,492 points and 703 rebounds in three seasons at East Carolina.
Gardner averaged at least 16.3 points and 8.5 boards per game in each of those seasons and established himself as a star in the American Athletic Conference, a league whose other members include Houston, Memphis, Cincinnati, Temple and Wichita State.
He was a double-double machine for the Pirates. Gardner didn't get any taller or change his playing style at ECU, Williford said. "He just showed everybody that he could be productive at that level."
UVA point guard Kihei Clark, who's listed at 5-foot-9, had to answer similar questions coming out of high school.
"Everybody knocked Kihei for his size, but he's been that size all his life," Williford said. "He's had to figure it out. Well, Jayden's been undersized and figured out how to score. I think all of that translates."
Gardner transferred to Virginia after the 2020-21 school year and has two seasons of eligibility left. He's expected to start at power forward this season and has impressed in the short time he's been on Grounds.
"Very much so," Williford said. "We're going to need him to score and rebound, and I think those two things he does very well."
From a team that won the ACC's regular-season title last season, UVA lost its top four rebounders and six of its top eight scorers, including frontcourt starters Sam Hauser (16 ppg, 6.8 rpg), Jay Huff (13 ppg, 7.1 rpg) and Trey Murphy III (11.3 ppg, 3.4 rpg).
Gardner, who wears jersey No. 1, won't be the tallest post player in the ACC, but he might be the strongest. A chiseled 246-pounder, he can overpower defenders inside.
"He's a tank," said Williford, who likened Gardner's physicality to that of former UVA forward Anthony Gill.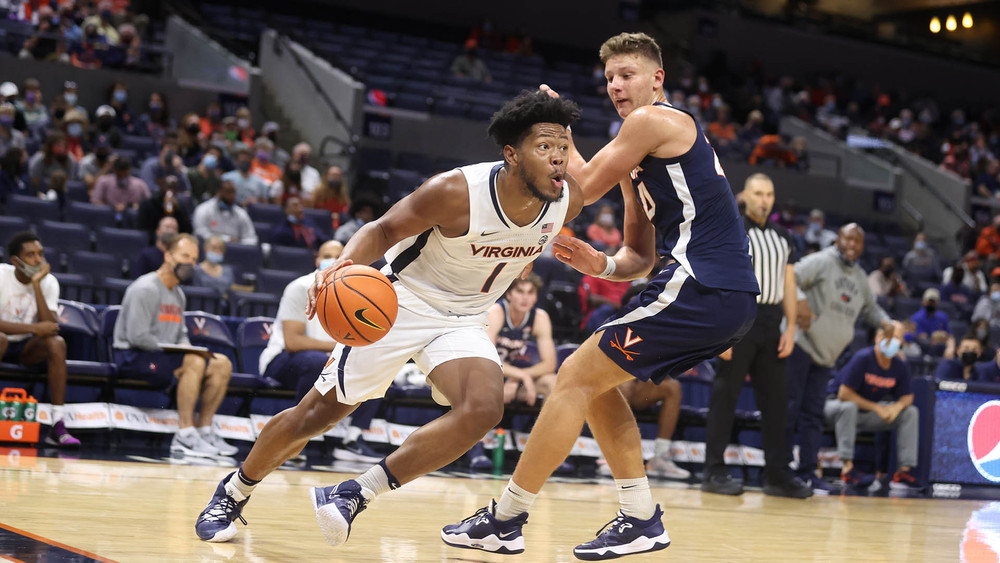 Gardner looks like he could be playing tight end for Bronco Mendenhall at Virginia, and the football coaches at Heritage High did their best to persuade him to try that sport. He focused on hoops in high school, however, and twice was named first-team all-state.
He's one of three North Carolinians on UVA's roster, along with center Kadin Shedrick (Holly Springs) and guard Carson McCorkle (Raleigh). Growing up, Gardner said, he'd watch the Wahoos whenever they played one of the four ACC teams from North Carolina.
"It was always a great game," he said.
Among the Cavaliers he remembers from those battles is Isaiah Wilkins, whom Gardner now sees daily at John Paul Jones Arena. Wilkins, a 2018 graduate of UVA, returned to his alma mater this summer and rejoined Bennett's program as a graduate assistant.
A two-time member of the ACC's all-defensive team, the 6-foot-8 Wilkins has played professionally in the NBA G League, New Zealand, Poland and Germany, and he's a willing tutor to the current Cavaliers.
"He's just a great resource," Gardner said.
So is Mike Curtis, the Cavaliers' renowned strength and conditioning coach.
"He's very technical, all about the science of things," Gardner said, "and it's been interesting, because I've never had [programs] like these to help with my body and stuff like that."
In practice, Wilkins is often matched up against Gardner.
"Some days I just try to specifically guard him to give him different looks," Wilkins said. "He's been great. He works so hard. He's open to new ideas and listening, so he's been awesome to work with."
Bennett is heading into his 13th season at Virginia, which won the national title in 2019 and has become a fixture in the NCAA tournament. During Bennett's tenure at UVA, few players mastered his trademark Pack Line defense better than Wilkins did. Gardner said he's still a work in progress at that end of the court, "but progression-wise, it's getting better for me every single day."
Such growing pains are normal for newcomers, Wilkins noted. "So he's going through that, but he's picking it up pretty quickly, which is awesome to see."
In the ACC, Gardner figures to find himself guarded by "bigger guys and maybe more athletic guys," Wilkins said, "but he's been handling it all. He's an interesting kid, where he's able to get his shot on different defenders. My job in practice is to try to make it tough on him, and he obviously scores better than I ever could have.
"He's physical when he needs to be, he's finesse when he needs to be. So I think he kind of had all of that figured out, and now it's just about being prepared for the different things he'll see in the ACC. But he's playing well."
In the Cavaliers' Blue-White intrasquad scrimmage at JPJ this month, Gardner posted game highs in points (18) and rebounds (10) and also had two assists and one blocked shot. The biggest challenge for Gardner so far, Williford said, has been "just learning how we play in general. The small things––making the right pass, being in the right position defensively, all of the nuances of what we do and what's made us good––he's still trying to figure that stuff out."
When Gardner entered the transfer portal in late March, the response overwhelmed him.
"That was probably the craziest 24 hours in my life," he said, "getting calls from essentially two-thirds of the ACC, half the SEC, and a couple other schools. It was a lot."
COVID-19 protocols meant conversations could be not in person, "so you have to decide who you like the best," Gardner said, "and then set up Zooms instead of visiting the campus. It was definitely a crazy process, but ultimately, I think, Virginia just stood out the most. It was just who they are as people, what they want to accomplish, and then the ACC stood out as well. And then Charlottesville is three hours from home, so it's not terrible on my family."
He committed to UVA without having visited, but Gardner said the transition has been smooth for him. Charlottesville reminds him of Greenville, and he likes being in a college town.
Gardner, who's majoring in Youth & Social Innovation in the School of Education and Human Development, is rooming with another transfer, guard Armaan Franklin, who came to UVA from Indiana.
"We're definitely building chemistry," Gardner said.
With the pandemic ongoing, attendance at JPJ was severely restricted last season, and that was the case at most East Carolina games, too. The atmosphere will be different this season. The Hoos have won 85 percent of their home games under Bennett, and Gardner can't wait to play in front of fired-up crowds again.
"I'm excited," he said. "It's been a while."
To receive Jeff White's articles by email, click here and subscribe.