By Jeff White (jwhite@virginia.edu)
VirginiaSports.com
CHARLOTTESVILLE –– The start of the college basketball season is less than a week away, and most teams have questions they're trying to answer. Virginia is one of those teams. But closed scrimmages the past two Saturdays––the first against VCU, the second against Georgetown––have given head coach Tony Bennett a better read on the Cavaliers' strengths and weaknesses as they prepare to host Navy late Tuesday night at John Paul Jones Arena.
Bennett's latest group bears little resemblance to the one that won the ACC's regular-season title in 2020-21. UVA lost its top four rebounders and six of its top eight scorers from that team, and its projected starters include two transfers: power forward Jayden Gardner (East Carolina) and swingman Armaan Franklin (Indiana).
"I think there's a newness to this team that we've discussed," Bennett said on a Zoom with reporters Wednesday, "and so we're still forging our identity. You say that every year at this time, but especially with a team that's newer."
The Wahoos have four newcomers: Gardner, Franklin and freshmen Igor Milicic Jr. and Taine Murray. Returning players include guards Kihei Clark, Reece Beekman and Carson McCorkle, forward Kody Stattmann, and centers Kadin Shedrick and Francisco Caffaro.
Against VCU and Georgetown, Bennett said, "I thought we played hard. I thought we were active in both of the scrimmages, and we've got some mobile guys on the interior, I think. Kadin and [Caffaro] are aggressive and active, and Jayden Gardner works hard. So there's mobility there. And then I think defensively, with Kihei and Reece, they are our two most experienced players. They know our backbone has to be trying to be as good as we can defensively on the perimeter."
The newcomers are "just continuing to learn their way," Bennett said, "but everybody's bringing value." Only 10 of the current Cavaliers joined the program as scholarship players, and "there's opportunity for almost all of them," Bennett said. "So it keeps guys ready and it does promote chemistry."
For the Hoos, there were probably more positives than negatives in the scrimmages, but much work remains. "It's just continuing to realize how important every possession is," Bennett said. "You see some sloppy play on both ends of the floor in those scrimmages, at least we did, and the rough edges need to continue to be sanded off and to become as good and as efficient as we can be, whatever that ends up looking like."
Franklin said: "I think the two scrimmages gave us a lot to gauge on and showed us what we need to work on … as a team. We had some good stuff, we had some bad stuff and some things we need to work on, but I think overall I think we played pretty well."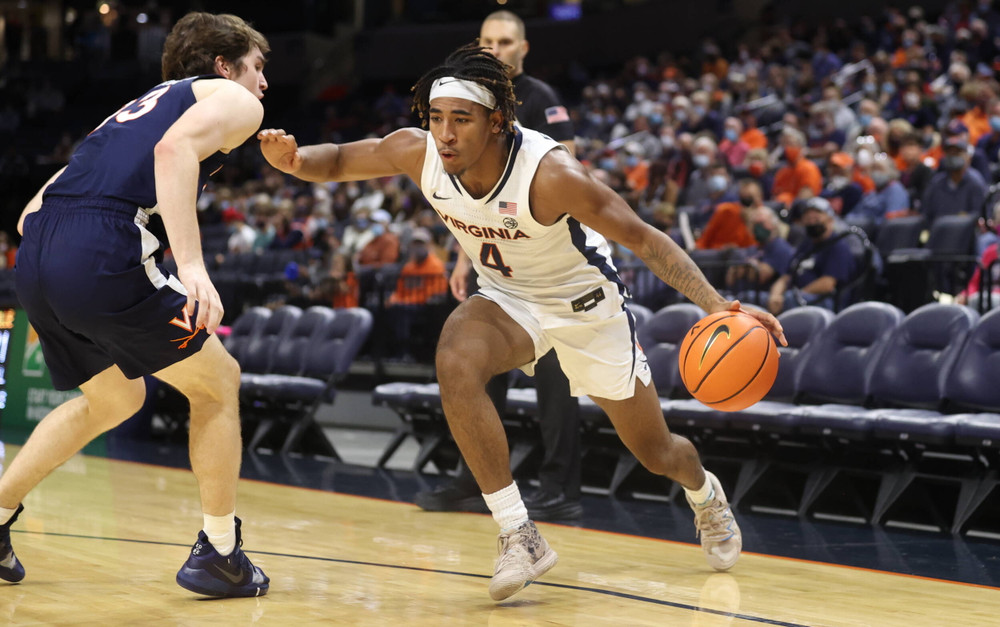 Under Bennett, the Cavaliers have won five ACC regular-season titles and two ACC tournaments, and they've become fixtures in the NCAA tournament. At the heart of their success has been the Pack Line defense, a man-to-man system devised by Bennett's father, Dick.
Franklin played for head coach Archie Miller at Indiana. The Hoosiers ran a version of the Pack Line, and that's helped Franklin's transition at UVA.
"It's just trying to fine-tune the little things," Franklin said Wednesday. "Being in the right position that's expected of you at all times and being in an athletic, defensive stance the whole time is something I have to get used to."
Gardner was unfamiliar with the Pack Line before enrolling at UVA, but he's learning quickly. "It's very effort-based and we practice it every day with effort and continuous hustle," he said Wednesday, "and we just go after it every day. That's the only way you get better at it. And seeing improvements from myself and everybody else."
At ECU, the 6-foot-6, 246-pound Gardner averaged 18.3 points and 8.3 rebounds per game last season.
"Jayden, he's a monster," Franklin said. "He's powerful, but he has a lot of finesse. He can shoot mid-range. He has a great post game and he's a great offensive rebounder."
The 6-foot-4 Franklin operates more on the perimeter. He averaged 11.4 points per game and shot 42.4 percent from 3-point range for Indiana in 2020-21.
Franklin "certainly can stretch [a defense]," Bennett said, "and you have to be aware of that, and that helps everyone else out."
Gardner and Franklin are roommates at UVA, where they're formed a strong bond.
"Just knowing you have somebody going through the same situation as you is helpful," said Franklin, who's from Indianapolis, "and to be living together figuring out this school, this campus, together is a big help. We're continuing to build on our chemistry together, on and off the court."
Gardner grew up in Winston-Salem, N.C., not far from Raleigh. He said he sees Franklin not only as a fellow transfer, "but a roommate, a brother, teammate. Just having a guy that's going through the same things you're going through and adjusting to different things, it always helps a situation."
Bennett said: "I'm glad they're here. When you bring in transfers, guys that are in their upperclassman years, my philosophy is, if at all possible, they need to come in to be a significant part of contributing and playing, and we're going to need both those guys to do that. And they're going to have those opportunities. That's one of the reasons I think they chose to come to Virginia. And so I've really enjoyed them and just getting to know them, learning their games. They've very coachable."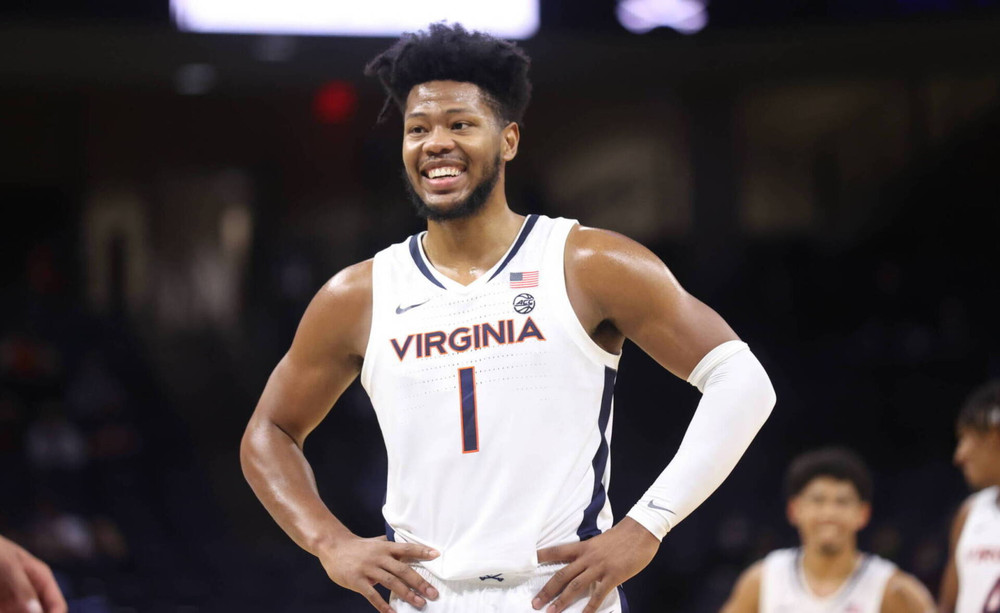 This is Bennett's 13th season at UVA, where most of the transfers he's taken have had to sit out a year before being eligible to play. Under the new NCAA rules, Franklin and Gardner are immediately eligible, and that means they have less time to learn the Cavaliers' system.
"There is an advantage when someone's in your program longer," Bennett said. "You can't deny that. Do you change how you are with them when they come in and play right away? Maybe you're a touch more patient, but still demanding, and that's what I've told our staff and I've told it to our players. We want to encourage, we want to be patient, and then we want to push, and just rinse and repeat. There has to be a level of patience and encouragement, but then we've got to hold the guys accountable and keep pushing and finding that that sweet spot."
Illnesses limited Shedrick and Stattmann to 11 and four appearances last season, respectively. Caffaro averaged only 6.9 minutes per game. The only returning players who had big roles in 2020-21 are Clark and Beekman, who'll start alongside each other in the backcourt again.
Both worked hard in the offseason to improve their outside shooting. The 5-foot-10 Clark shot 32.3 percent from beyond the arc in 2020-21. The 6-foot-3 Beekman shot 24.3 percent from long range and made only nine treys all season, though one of them, his game-winner against Syracuse in the ACC tournament, ranks among the most dramatic shots in the program's recent history. Clark totaled a team-high 113 assists, and Beekman was next with 75.
"Reece is a point guard, as is Kihei, but they're different kinds of point guards," Bennett said, "same with Ty Jerome and different ones I've had. Reece, he sets guys up, he creates, he touches the paint. he does things defensively. He was a first-year last year, so my hope is that with him aggressiveness comes in the right way. I want him to be more assertive and attack the paint, take more of an open shot when [it's there].
"You never can become someone you're not and try to say, 'Well, Coach, wants me to shoot more, so I'm going to shoot every single time I'm open.' That's not the way. You just become more aggressive and impact the game in the ways that you can. And I thought Reece as the season wore on––I go back to the Syracuse game where he hit the shot, even in the NCAA tournament game against Ohio––late in games there were times where he really took over. I'm trying to explain to him, just because Kihei is on the floor with you, you don't have to defer."
Clark has experienced a little bit of everything in a college career that Bennett called "fascinating." As a freshman in 2018-19, Clark played a pivotal role on the team that won the program's NCAA title, and he made the All-ACC third team as a sophomore. In 2020-21, with shooters such as Sam Hauser, Jay Huff and Trey Murphy III around him, Clark settled into more a complementary role on offense.
"And now I hope," Bennett said, "[that with] all those experiences, from his first year as an important role player, to probably having to do more than he should have had to do his second year, to last year to now, he's kind of gotten to this point where he's going to have to find the right mix of aggressiveness, leadership, with being a great teammate, and that's going to be important for us and for this team to be as good as it can be."
To receive Jeff White's articles by email, click here and subscribe.