By Jeff White (jwhite@virginia.edu)
VirginiaSports.com
CHARLOTTESVILLE – For last season's NCAA tournament, the University of Virginia women's soccer team arrived in Cary, N.C., on April 26. The Cavaliers didn't return to Grounds until May 14.
For most of that period, Sydney Zandi was back in Charlottesville, some 200 miles from Cary, rehabbing her left knee. The NCAA, concerned about the potential spread of COVID-19, limited the number of people each team could have inside the tournament "bubble," and there was no room for UVA's injured players.
"That was pretty difficult," Zandi recalled Wednesday. "I was obviously so happy for the team for making it that far, but it's also hard when you're injured and you don't feel a part of the team, especially with COVID circumstances."
Adding to Zandi's sense of isolation was her roommate's absence. Midfielder Taryn Torres was in Cary, where the Wahoos won four matches before being eliminated by ACC rival Florida State in the College Cup semifinals.
"So I was basically completely alone for a few weeks, which was definitely weird," Zandi said. "Basically all of my friends were gone, and I was just sort of by myself with two or three other injured people, but I would only see them at rehab occasionally."
She didn't have to follow every one of the Cavaliers' tournament games remotely. Two spots opened up in the team's bubble before the NCAA quarterfinals, and Zandi and Anna Sumpter drove down to Cary, tested negative for COVID-19, and were on the sideline to see Virginia defeat TCU.
"It was so cool to be with the team," said Zandi, a midfielder from West Chester, Pa.
She was back outside the bubble for Virginia's NCAA semifinal against Florida State, but Zandi and the team's other injured players drove to Cary and watched the game from the stands at WakeMed Soccer Park.
Head coach Steve Swanson can't help but wonder how Zandi and Sumpter might have bolstered UVA in its postseason run. "Syd is just capable of creating and solving problems on the field, and she also can be a very good goal-scorer for us," Swanson said. "She can hit the ball well with both her right and her left foot, and she can create. She's good 1-v-1. Against better teams, you need players like that."
Another NCAA tournament is under way, and happily for the Hoos, Zandi is not a spectator this time. Zandi, who wears jersey No. 2, has started every game this season for Virginia (17-2-2), which hosts Milwaukee (19-1) in a second-round game Thursday at 7 p.m. at Klöckner Stadium.
"She's a special player," Swanson said. "She's a big part of our team, and she's one of those players that can make the difference at the critical times here in big games, and we value her an enormous amount."
UVA is one of the tournament's four No. 1 seeds. The Virginia-Milwaukee winner will face Alabama (11-9-1) or BYU (14-4-1), a No. 4 seed, in a third-round game Saturday at Klöckner.
The Cavaliers blanked visiting High Point 6-0 in the first round last Friday.
After missing the tournament last season, Zandi said, she's thrilled to be back on the field, and "to be able to play these games at home means even more. With the fans there, it's just a great atmosphere to play in."
Zandi is in her fifth year at the University. She has a bachelor's degree in foreign affairs and is taking classes this semester in the School of Education and Human Development's Professional Learner program.
She plans to pursue a professional soccer career in 2022, so this is her final NCAA tournament.
"Every game feels like there's more on the line, because it literally could be my last college game ever," Zandi said. "There's no security blanket anymore, so I think that is really beneficial. And there's a lot of people in the starting lineup [for whom it also] could be their last season, so it just makes everyone fight even harder."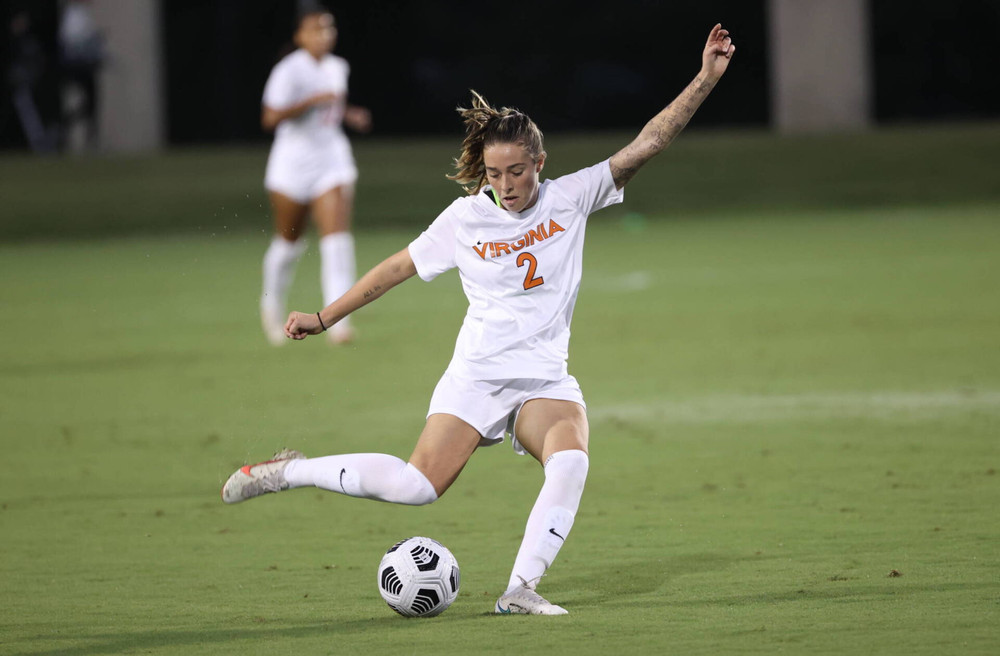 Zandi grew up in a soccer-centric family. Her father played at West Chester University, and she has an uncle who played at the University of Pennsylvania. Her brother, Zach, was a standout at Villanova University and now plays professionally for the Colorado Springs Switchbacks, who compete in the USL Championship. Her sister, Addy, played at Dickenson College.
A two-time All-American at Henderson High School, Sydney Zandi also starred for the Penn Fusion Soccer Academy club, and she's represented the United States at the U14, U15, U17 and U19 levels.
Among the colleges she considered were Penn State and Penn, but for various reasons she ended up looking elsewhere.
"I didn't really want to go to Penn State at the end of the day, just because so many people from my high school went there, and it was too close to home," Zandi said.
The prospect of attending an Ivy League school intrigued her, but Zandi wanted to play soccer at a higher level. UVA, she decided, offered the perfect mix of strong academics and elite soccer.
Swanson was thrilled to welcome the 5-foot-5 Zandi to his program.
"From the moment I saw Syd, I was really impressed by her ability, her technical ability and her ability to solve pressure," Swanson said. "When she first started out here, we actually used her at outside back, but she's just so valuable for us in the middle of the pitch. She's quick, she moves well off the ball, and her special quality is she can escape pressure really, really well."
As a freshman in 2017, Zandi averaged 41.3 minutes per game for the Cavaliers, whose season ended with a loss in the NCAA tournament's round of 16. She became a full-time starter in 2018, when UVA fell in the Sweet 16 again.
A back injury slowed Zandi in 2019, but she helped the Hoos earn a No. 1 seed in the NCAA tournament. She scored the first goal in Virginia's first-round shutout of visiting Radford. In the Cavaliers' second-round game, also at Klöckner Stadium, they suffered a stunning defeat, losing 3-2 to Washington State.
"I vividly remember that game," Zandi said. "It back and forth the whole game, and none of us expected the game to be like that. And I don't think we didn't take the game seriously. We definitely knew Washington State could compete, they would fight, but it was an unexpected loss."
The defeat taught the Hoos a valuable lesson about playing "with a target on our back," Zandi said, and they had ample motivation heading into the 2020 season.
Alas for Zandi, her fourth college season lasted only five games. She tore the anterior cruciate ligament in her left knee on Oct. 1, 2020, against Pitt at Klöckner Stadium.
"I don't think people realize, she was one of our best players right before she got injured, Swanson said. "In my opinion, she was fit, healthy, strong, very motivated. She had worked hard during that COVID summer, and she was just having an incredible year. Then the bottom fell out. She just got injured in that game, and that was just so hard to see."
Zandi had dealt with nagging injuries during her soccer year, but nothing as serious as a torn ACL.
"So it was very surprising," she said, "and it was a non-contact injury. It was just unfortunate. Immediately when it happened, I was like, 'I'm out for the season.' "
College soccer is usually a fall sport, but the NCAA altered its schedule during the pandemic, moving its tournament to the spring. While her healthy teammates practiced and played, Zandi rehabbed. When she returned to the Philadelphia area in the summer of 2020, she honed her skills with a soccer trainer and also had regular sessions with a physical therapist.
"I actually feel like it made my transition back into contact relatively smooth," Zandi said. "For being out for so long, it didn't feel as difficult as I thought it would have felt because I had trained so much on what I think is almost the hardest aspect: your technical ability. I felt like I had honed those skills, so I was pretty prepared to go into contact. You pick it up pretty easily. Once you start doing it again, the muscle memory comes back right."
Swanson said: "I think she's progressively gotten better as our fall has unfolded. So that's been positive from our perspective."
Zandi, who's scored two goals this season, is averaging 59.9 minutes per game. As with Torres, Swanson said, statistics don't always reflect Zandi's value to the team.
"Syd might be under pressure hard from somebody, and she'll break that pressure, draw somebody to her, play a ball to the open player, and that player will get an assist," Swanson said. "And those are the kind of qualities she has that may not show up on the score sheet at the end of the game."
For much of her time at UVA, Zandi figured she'd eventually pursue a "government-related" job, which is not surprising for a foreign affairs major. "Public policy has always interested me," she said. "I would probably need to go to grad school after soccer, so I've been thinking about that."
More recently, though, she's had a change of heart. "I've been realizing that although I do love foreign affairs and politics-related things, I don't know if it's necessarily my passion. I'm very into fashion and fashion-related things. So I think I would want to go to a grad program for fashion management or journalism of some kind, and then I would really like doing something in the fashion world."
Whatever career path she chooses, Zandi is thankful for her time at UVA.
"I definitely think this is the best choice that I could have made as far as my life," she said. "The balance of academics with soccer is just amazing. Virginia athletics as a whole has been so welcoming, and it's definitely a family. I appreciate the coaches and all the players so much, so it's been fantastic."
To receive Jeff White's articles by email, click here and subscribe.