By Jeff White (jwhite@virginia.edu)
VirginiaSports.com
CHARLOTTESVILLE –– Tougher tests await the University of Virginia men's basketball team, and its players and coaches would not try to suggest otherwise. That didn't keep the Cavaliers from enjoying themselves Saturday afternoon, however overmatched their opponent might have been.
"Overall, it was a great performance by the team," forward Jayden Gardner said after UVA defeated Fairleigh Dickinson 82-49 at John Paul Jones Arena.
Gardner, a 6-foot-6 transfer from East Carolina, led the way, hitting 14 of 18 shots from the floor and scoring 29 points, his high as a Wahoo. He departed to a standing ovation with 12:02 left in the second half.
"Gardner just put his Superman cape on, and we had no answer, literally," Fairleigh Dickinson head coach Greg Herenda said. "He's a big body, strong, he's patient, and he's really good."
The Knights (0-10), playing their ninth road game of the season, came out in a man-to-man defense. Virginia (8-4) scored inside on its first three possessions, after which Fairleigh Dickinson switched to a zone that proved effective initially. The Hoos led by only five points with six minutes left in the first half.
"We hung in the game for a while until Gardner realized, 'Hey, no one's guarding me. No one's boxing me out,' " Herenda said, "and that's the difficulty of going zone. You don't have a responsibility [defensively]. So it was a Catch-22 on our part."
At the break, UVA led by 15 despite having missed all three of its 3-point attempts. The Cavaliers heated up from outside in the second half, hitting 9 of 14 shots from beyond the arc.
Freshman forward Igor Millic Jr. was 3 for 4 from 3-point range, as was sophomore guard Carson McCorkle. For the final 10:48, all five Virginia starters watched from the bench as reserves such as Milicic (nine points), McCorkle (career-high nine points), sophomore Malachi Poindexter (career-high seven points), and freshman Taine Murray (three points) added to the lead.
"It's always good when the game gets separated to get other guys [in]," head coach Tony Bennett said.
Poindexter, a graduate of nearby St. Anne's-Belfield School, turned 21 on Saturday. "So what a cool day for him," Bennett said.
The Cavaliers' starters were happy to cheer on their understudies in the team's final non-conference game.
"They're young guys starting their college journeys, and they're going to be big-time players here," Gardner said. "And they can really shoot it and it's nice to see their confidence grow. That's what you take away from games like this, when you get the opportunity to get those guys in."
Virginia was coming off a 52-49 loss to JMU in Harrisonburg. A long break for final exams followed that Dec. 7 game, and the Cavaliers used their practice time wisely.
"After that JMU loss I feel like we just kind of came together," said sophomore guard Reece Beekman, who had a game-high six assists Saturday. "This last week of practice, we've been locked in, more focused, doing the little things that we know can help us win. So I definitely feel like this game can be a confidence-booster."
Bennett said: "We were, I thought, pretty efficient and purposeful and intentional in how we trained in this period over the exam break, and now we have to keep chasing improvement and keep enjoying each other through the ups and downs."
Gardner isn't the only transfer on the UVA roster. Armaan Franklin, a 6-foot-4 guard who began his college career at Indiana, scored 12 points Saturday on 5-for-8 shooting. Only one of his field goals was a 3-pointer, but that shot prompted loud cheers from the crowd and smiles from Franklin's teammates.
Coming into the game, Franklin had missed 19 straight 3-point attempts, and his first two shots from beyond the arc were off the mark Saturday. He shot 42.4 percent from 3-point range as a Hoosier in 2020-21.
"Just seeing him every day and working out with him daily, I know he's a great shooter," Beekman said. "I know what he's capable of. So just him hitting that, I feel like it's going to help his confidence a lot and just help us overall as the season goes on.
"I know he can make the shots. I know he believes that he can make the shots. Every player or person goes through like a rough stretch."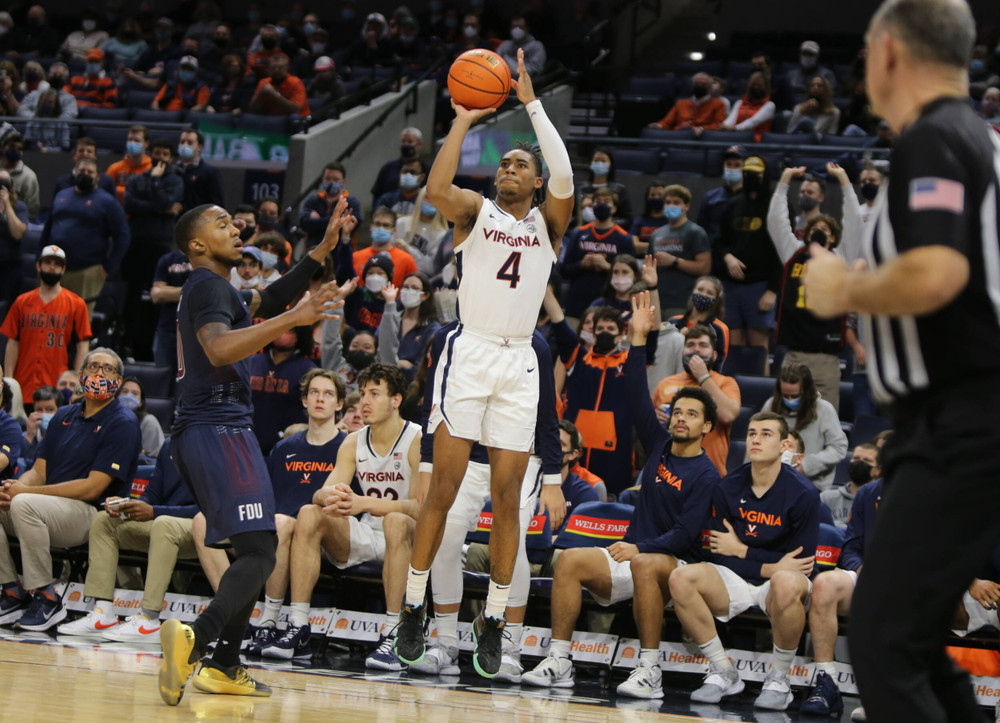 UP NEXT: Virginia won its ACC opener Dec. 3, beating Pittsburgh on a last-second shot by Gardner at JPJ. The Cavaliers return to conference play Wednesday when they host Clemson in an 8 p.m. game to air on ACC Network.
The Tigers, 0-1 in the ACC, improved to 8-4 overall with a win over South Carolina on Saturday night.
UVA has won 11 straight over Clemson and leads the series 79-52. They'll meet again Jan. 4 at the Tigers' Littlejohn Coliseum.
ONE FOR THE AGES: Members of Virginia's 1971-72 men's basketball team were honored on the court during the first TV timeout Saturday. The star of that team, which finished with a 21-7 record, was Barry Parkhill, who on Dec. 11, 1971, scored 51 points in a 117-83 win over Baldwin-Wallace at University Hall. That's still a program record.
UVA athletics director Carla Williams, who also celebrated a birthday Saturday, presented Parkhill with a commemorative basketball during the ceremony. Parkhill is Virginia's longtime associate AD for development, and the court in the men's practice gym at JPJ is named for him. He's also one of Bennett's close friends.
"He's a special man," said Bennett, whose family lived in the same Albemarle County neighborhood as Parkhill's for about five years. "I haven't met too many people who don't like Barry."
Bennett smiled. "Maybe [sports psychologist] Bob Rotella on the golf course at times."
A two-time All-American, Parkhill scored 1,437 points in his three seasons on the varsity.
"He said, 'You would have liked to coach me on the offensive end, but not on the defensive end,' " Bennett said. "I don't buy that, because he is a fierce competitor, and I'm really grateful for what Barry has meant to me as a friend but of course to the program … I'm grateful for Barry, and [51 is] a lot of points."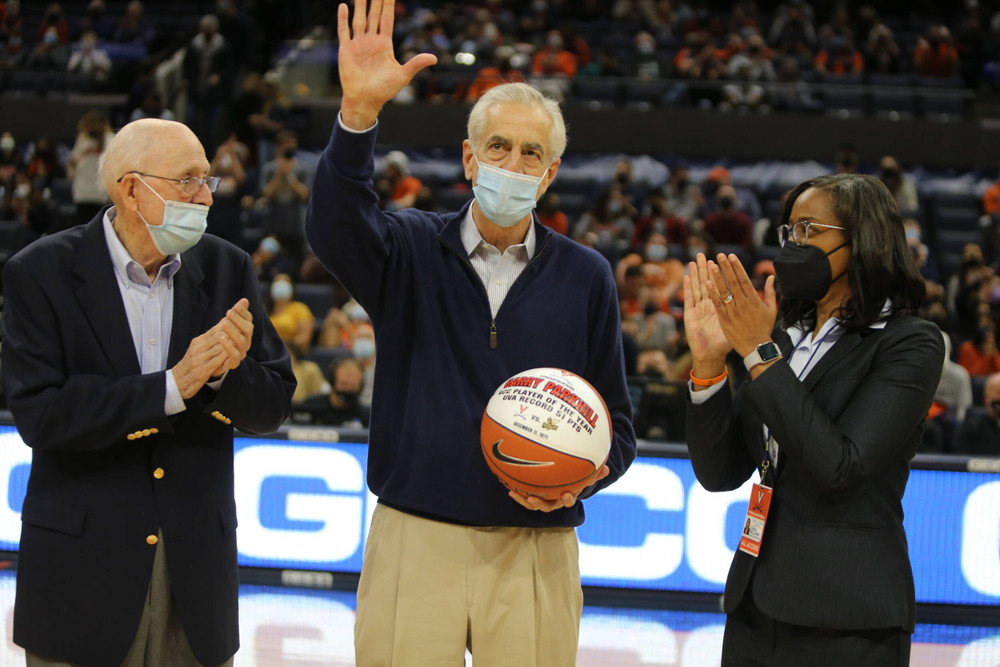 SOUND BITES: The 82 points were a season high for the Cavaliers, who held the Knights to 28.8-percent accuracy at the other end. Among the postgame comments:
* FDU head coach Greg Herenda: "Winston Churchill once said, 'When you're going through hell, just keep going.' And that's what we're doing … We're a young team, and we tried really hard, but we didn't have enough today. But I'm proud of my team."
* Bennett: "I really liked our defensive collectiveness, how we were active on the ball and got them to the end of the shot clock … They weren't uncontested shots. And so I encouraged [the team] in that regard at halftime, and I thought they came out in the second half with that same kind of alertness defensively."
* Bennett on living down the street from Parkhill: "I could only [last] about four or five years, and I had to get out of that neighborhood. He drove me nuts. No, I'm just kidding. Barry was great."
* Bennett on the 6-foot-10 Milicic, who's from Croatia: "He's not afraid to take a shot, which is important. You want that assertiveness and he's got good size. He's just got to keep attacking, being in position, being sound offensively, as do our whole team and all those guys, because obviously as you get in ACC play the athleticism [increases] and a lot of teams will find matchups and they're going to try to attack you."
* Bennett on Gardner: "He plays hard. I just want him to keep getting better and better … I was excited to see him keep attacking, and he's got a great motor and his attitude is really good."
* Beekman on the loss to JMU: "It stung a little bit for a couple of days after. We just got to move forward and look forward to ACC [play]. So we're gonna use that game as motivation and just learn from that game and better ourselves as a team."
* Beekman on the COVID-19 outbreaks that are hitting college and pro basketball: "I know none of our players have COVID or anything, so it's not close to home, but just seeing all the other games like being canceled and NBA players having to sit out, it definitely brings back memories of last year, and it's kind of scary."
* Gardner on Fairleigh Dickinson's 15 offensive rebounds: "[That's] stuff we have to clean up for ACC [play], because you can't give ACC opponents second-chance opportunities."
To receive Jeff White's articles by email, click here and subscribe.