By Jeff White (jwhite@virginia.edu)
VirginiaSports.com
CHARLOTTESVILLE –– There's no easy remedy for what ails the University of Virginia men's basketball team. UVA shoots poorly from the perimeter and has few players who can create shots for themselves off the dribble. The Cavaliers defend tenaciously, but they don't have an abundance of height or athleticism.
"We've got a small margin of error," said Tony Bennett, who's in his 13th season as Virginia's head coach.
That was apparent again Wednesday night. Against Clemson, an opponent the Wahoos have dominated under Bennett, their flaws were exposed. Virginia shot 21.7 percent from 3-point range (36.6 percent overall), turned the ball over 14 times, and gave up eight offensive rebounds in a 67-50 loss at John Paul Jones Arena.
Virginia (7-5 overall 1-1 ACC) had won 11 straight games in the series and hadn't lost to the Tigers at JPJ during Bennett's tenure.
Clemson (9-4, 1-1) scored 24 points off turnovers, shot 47.5 percent from the floor, and outrebounded Virginia 35-26. The Tigers' reserves outscored their UVA counterparts 17-0.
"When your margin of error is pretty thin, all those things matter," Bennett said.
Virginia, which trailed by eight at the break, surged early in the second half. A 8-0 run capped by a Kihei Clark 3-pointer cut Clemson's lead to two with 17:33 to play, and the fans at JPJ came alive.
Alas, they had little to cheer the rest of the way. After a Clemson miss, the Hoos took possession with a chance to tie or take the lead. But they turned the ball over, and the Tigers ran off seven straight points to regain control.
The Hoos went more than 11 minutes without making a field goal, a stretch that Armaan Franklin finally ended with a pullup jumper at the 6:30 mark. By then, Clemson held a commanding lead, and there was no late-game drama.
"We've got a lot of work to do," Bennett said. "That's real. That's a very solid team we played, and we'll just we'll keep working to improve. I just kept telling the guys, 'Just keep battling and keep battling and keep trying to be as tough as you can.' "
Sophomore guard Reece Beekman led the Cavaliers with a career-high 20 points. His previous high was 12 points, and he matched that with 6:28 to play in the first half. Until Wednesday night, when he was 3 for 5 from beyond the arc, the 6-foot-3 Beekman had never made more than one trey in a college game.
Against Clemson, Beekman hit his first 3-point attempt and shot with confidence thereafter.
"It felt good," he said, "because I've been struggling a little bit. I've been coming in extra and getting shots up, so seeing a couple fall tonight it felt good."
Beekman "played a good game," Bennett said, "and we need probably three or four guys to be chipping in and doing that."
Franklin, a 6-foot-4 transfer from Indiana, continued to struggle from 3-point range, missing 6 of 7 attempts Wednesday. He was 4 for 6 from inside the arc, however, and finished with 13 points and a team-high eight rebounds.
For the Cavaliers' frontcourt players, this was a game to forget. Jayden Gardner missed 7 of 9 shots from the floor. Igor Milicic Jr. went scoreless in 10 minutes off the bench. Kadin Shedrick blocked a career-high six shots, but he and UVA's other center, Francisco Caffaro, had two points and two rebounds between them.
Clemson, meanwhile, received significant contributions from 6-foot-10 PJ Hall, 6-foot-8 Hunter Tyson, 6-foot-6 Naz Bohannon and 6-foot-7 Ian Schieffelin.
"Our big guys aren't going to give us a ton of points," Bennett said, "but they have to keep challenging themselves to be on the glass, to get us some offensive rebounds, defensive rebounds, and just anchor that defense."
The Hoos don't have many interior options, and Shedrick and Caffaro "are getting great opportunities," Bennett said. "These are the opportunities that they desired, they wanted, that I want them to get. And you grow through these experiences when you go against those physical good players. And you just keep showing up and getting better."
On several possessions, Clemson scored on contested late-clock shots, negating the Cavaliers' solid defense.
"It kind of stings a little," said Beekman, who had a game-high three steals.
Bennett said: "That seems like it's happened a lot this year, where you're there [defensively] and guys, whether it's a bank shot or a tough shot, [score anyway] … We have some challenges, obviously, to score the basketball, and so we're trying to hang our hat on the defense. So those did hurt certainly."
From a team that won the ACC's regular-season title in 2020-21, Virginia lost six of its top eight scorers. Three of those players are on NBA rosters this season. This always figured to be a challenging season for the Cavaliers, who have become fixtures in the NCAA tournament under Bennett, and more tests await them in the ACC.
"You keep battling," Bennett said. "You just keep working. We've played good stretches of basketball. and we've played some poor stretches of basketball, and that's playing itself out."
Bennett didn't mince words with his players after the game. "I said, 'We're going to find out in this room [if] we have the group of guys we can go through adversity with, and then keep trying to grow from it and just keep showing up and keep knocking.' That's all you can do in these spots. But can we get this turned around? Absolutely. You pursue that, and no matter what you just keep getting better."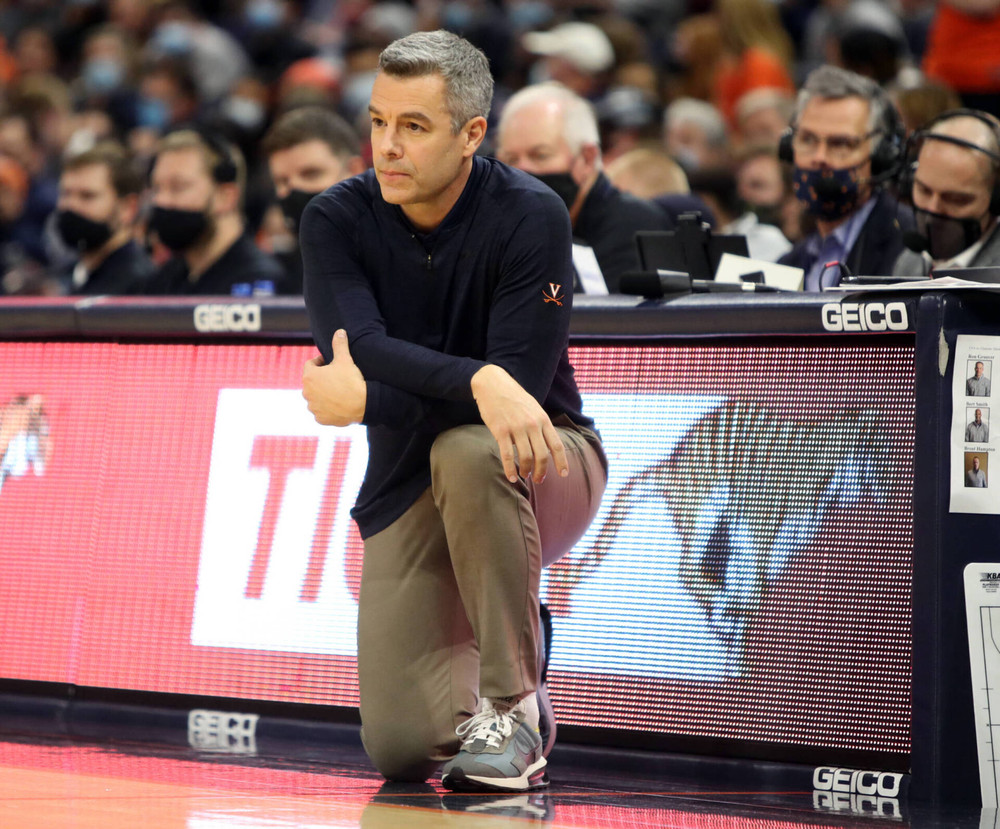 SPECIAL GUEST: At the first TV timeout, UVA's new head football coach, Tony Elliott, took the court to a standing ovation from the fans at JPJ. Elliott came to Virginia, coincidentally, from Clemson, where he played and coached.
"As you heard in the video, I'm a patient person," Elliott told the crowd, "and I patiently waited for the right time and the right university. And the time is now and the place is Virginia … I've only been here a short time, but I can already tell that this is a special place."
PACKING THEIR BAGS: After a break for Christmas, the Hoos will play three straight road games, all against ACC foes.
That stretch starts Jan. 1, when UVA meets Syracuse at the Carrier Dome. Then comes a Jan. 4 rematch with Clemson at Littlejohn Coliseum. Four days later, Virginia faces North Carolina in Chapel Hill.
UVA's next home game is Jan. 12 at 9 p.m. against Virginia Tech.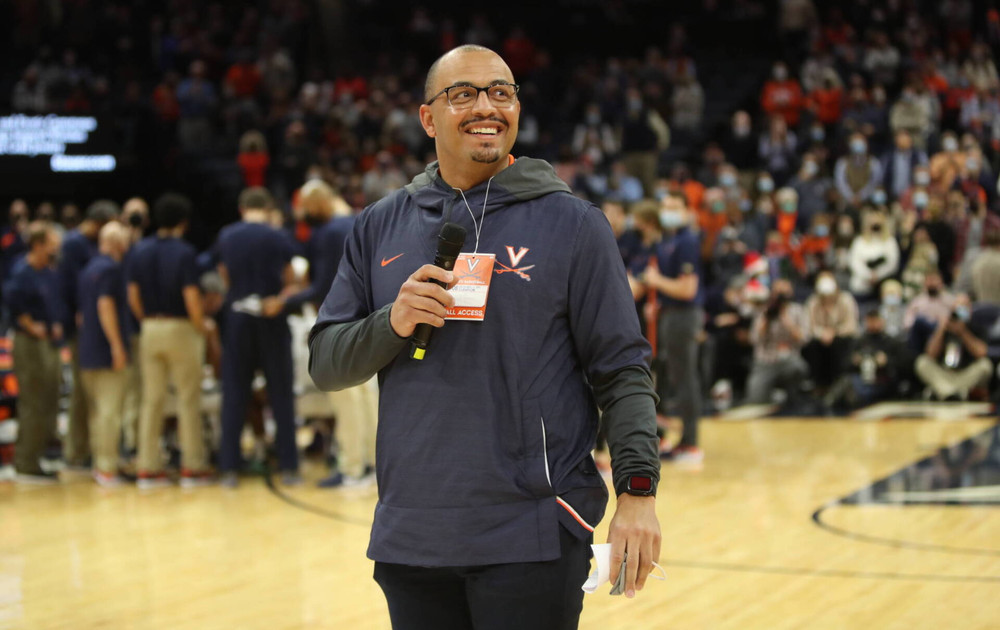 SOUND BITES: Not since Feb. 26, 2011, when the Cavaliers fell 63-44 to Boston College, had they lost by 17 or more points at JPJ. Among the postgame comments Wednesday night:
* Bennett on his team's shooting: "We got some good looks but couldn't knock 'em down."
* Bennett on Beekman: "I was happy that Reese kind of attacked a little more and was more assertive and aggressive offensively."
* Beekman: "I feel like my teammates and my coaches always tell me, 'Stay aggressive, stay aggressive,' knowing that we need that. So, that's always the mindset coming in, but tonight I just kind of took what the defense gave me."
* Clemson head coach Brad Brownell on the Cavaliers' turnovers: "I think they had 14 in the game and that's really rare for them. I thought our defense was good. I thought we were disruptive, flying around, active. Guys were playing really hard ,and I think it was evident in how we rebounded and our defensive turnovers forced."
* Brownell on UVA's poor shooting: "Sometimes it can get hard. The basket can get small sometimes when you're at home and you don't make a few. It's almost worse shooting with your crowd, because your crowd's moaning a little bit. I don't know that we did anything drastically different throughout the game. I just think our guys did a good job. I think we guarded them hard, tried to contest a bunch of shots and really made sure that they didn't get easy ones like layups around the rim, offensive rebounds, transition off turnovers."
* Brownell: "It's been a long time since I've had any success [against UVA], and the first time I've won here. First time in a long time we've beat those guys. I've got a ton of respect for the way they play and obviously how successful they are, the type of program they have. They do things at an extremely high level. It's really hard to beat them. It's a great challenge and so when you do finally get one like tonight, you're really proud of your team because you know your team really had to execute and play well, and fortunately we were able to do it."
To receive Jeff White's articles by email, click here and subscribe.